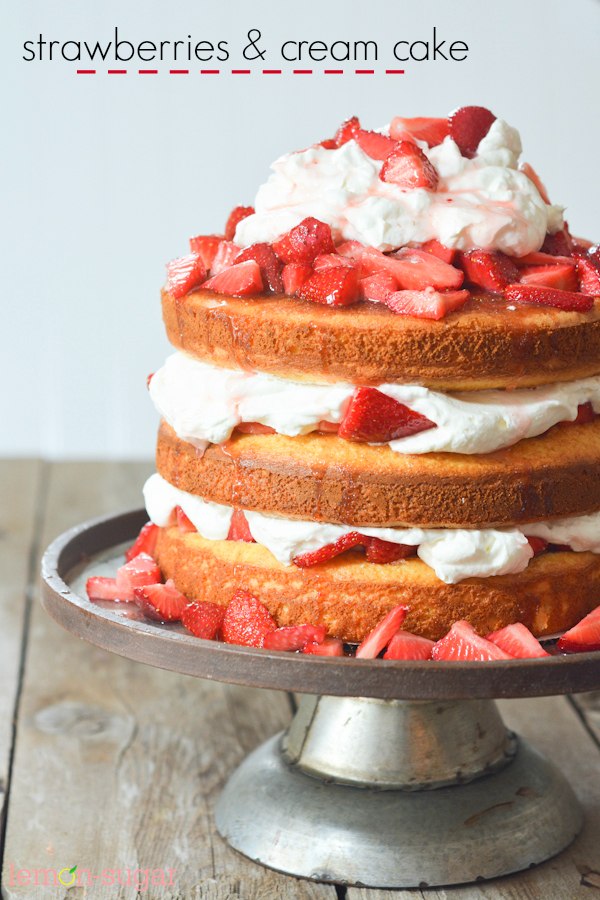 This cake makes me think spring thoughts.  Warm, breezy, budding-tree, blooming flower, happy spring thoughts.  And even though we are still a couple of weeks away from St. Patrick's Day (and post-season college basketball – the official start of springtime for me), I'm ready.  I'm over winter, I'm over cold weather, and I'm over cooped-up kids.  So, Strawberries & Cream Cake?  Do. Your. Thang.
I don't mean to complain – I do appreciate the changing seasons – but dude.  I'm done with it.  I'm craving time in my garden, home grown vegetables, farmers marke, longer evenings and warm sunshine.  This cake is a regular for us over the summer months, so I felt like breaking it out and sharing it with you all might just hurry things along.  Plus, it's Y-U-M.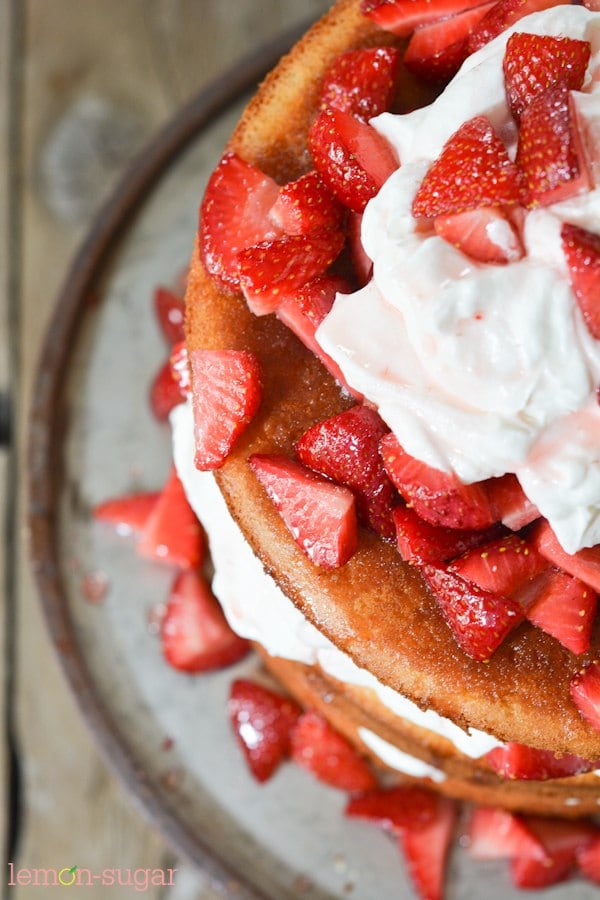 The very best thing about this recipe is that it's super easy.  The cake even uses a doctored up box mix as the base – and it's just a matter of putting all of the ingredients in a bowl and beating them together.  I'd almost call it a dump cake (sort of) but my brother-in-law ruined that term for me forever.
Don't ask.
Then, bake the cakes in round cake pans, and level them off with a serrated knife.  This does two things – it helps keep the cakes level, but it also creates a porous surface to absorb the strawberry syrup.
If you've never had macerated strawberries, you're in for a treat.  Just chop up the berries and put them in a big bowl, then cover them with sugar and let them sit for an hour or so.  They will naturally juice, which will combine with the sugar and leave you with the sweetest, most delicious strawberry syrup you've ever had.  Then, you pour the syrup over the top of the cake, and it soaks deep into the pores of the cake.
You have to use fresh whipped cream.  You have to – it makes the cake.  The fake stuff that comes in a tub at the grocery store is too sweet, and won't work.  You are going for strawberries and CREAM, not strawberries and chemically-oily stuff.  (Can you tell I'm not a fan?)  Just don't do it.  I'll know, and I'll be disapproving.  😉

This cake is definitely best eaten fresh, but if you have to, you can keep it in the refrigerator for a few hours until it's time to serve.  I love it because it's delicious (obvs) but also because it's rustic and impossible to mess up.
And if you're sadly allergic to strawberries, try substituting other berries – or even fresh peaches.  Either way, I hope you love it.
Enjoy!

Strawberries & Cream Cake
Disheveled yet elegant, easy but complex, this three layer cake is sure to impress your guests. The cake absorbs the sugared strawberry juice, and the whipped cream brings it home. Enjoy!
Ingredients
For the cake:
1 box white or vanilla cake mix
1 cup all-purpose flour
1 cup sugar
1 cup sour cream
1 cup water
4 eggs
2 teaspoons vanilla extract
1 teaspoon almond extract
½ teaspoon salt
Whipped cream
1 pint heavy whipping cream
⅓ cup confectioners (powdered) sugar
1 teaspoon vanilla extract
Strawberries:
3 pounds ripe strawberries
1 cup sugar
1 teaspoon vanilla extract
Instructions
Strawberries:
Wash, hull and quarter 3 pounds of strawberries, and place in a large bowl.
Sprinkle cut berries with a 1 cup of sugar. Set aside to macerate.
Cake:
Preheat oven to 350 degrees (F)
Prepare three 8-inch round pans with parchment and cooking spray. Set aside.
In a large bowl, combine all of the cake ingredients. (Yes, all of them!)
Beat ingredients until completely combined and smooth - about 3 minutes.
Evenly divide batter among the cake pans. I use a kitchen scale to make it easy.
Bake for 25-35 minutes (depends on your oven) or until a cake tester comes out with wet crumbs. Don't overbake.
Allow to cool completely on a wire rack.
Once cool, prepare whipped cream.
Whipped cream:
In a large glass bowl, beat whipping cream until it begins to firm and forms very soft peaks.
Add confectioners sugar and vanilla extract, and beat until very stiff - you want it to hold its shape under the weight of the cakes.
Assembly:
On your serving plate, place one layer of cake upright. If your cake is domed, cut the rounded part off with a serrated knife so it's flat.
Spoon about a cup of strawberries and juice over the cake in an even layer. Top with a layer of whipped cream.
Repeat with the other two layers. Be generous with the sugared strawberry juice, it helps flavor the cake!
Store in the refrigerator until ready to serve.
Enjoy!
5
leave a comment your way - using facebook or disqus: