This blueberry breakfast cake is reminiscent of a shortcake, slightly sweet and bursting with fresh blueberries and undertones of crisp lemon.  The crunch from the turbinado sugar lends a satisfying crackle, and reminds you that breakfast is meant to be delicious.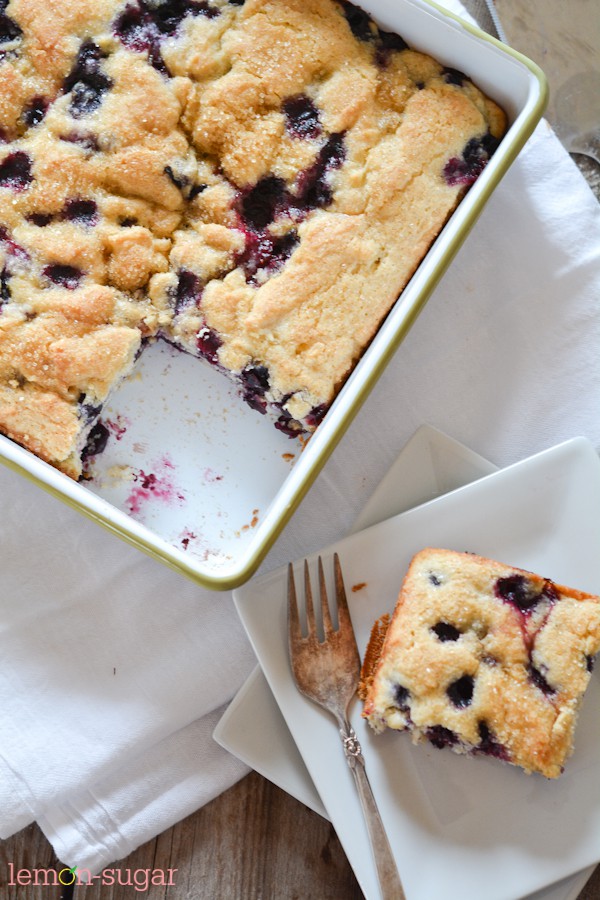 Hi everyone!  I'm back!  Not that I was really gone, but I took a bit of a self-prescribed break from the blog last week.  My kids were sick, I was sick, my kids were sick again – it was just a really crummy week.  I didn't have much time or energy to be in the kitchen, so I decided just to observe Spring Break and take. a. break.
It's funny though, when I don't blog I really miss it.  I found myself itching to try some new recipes, and it took all I had not to force it.  Fortunately, we're finally all feeling better, my kids are back in school and I'm back to baking up a storm.  TONS of new recipes coming your way – because if I can't be in the kitchen, I'm definitely thinking about it!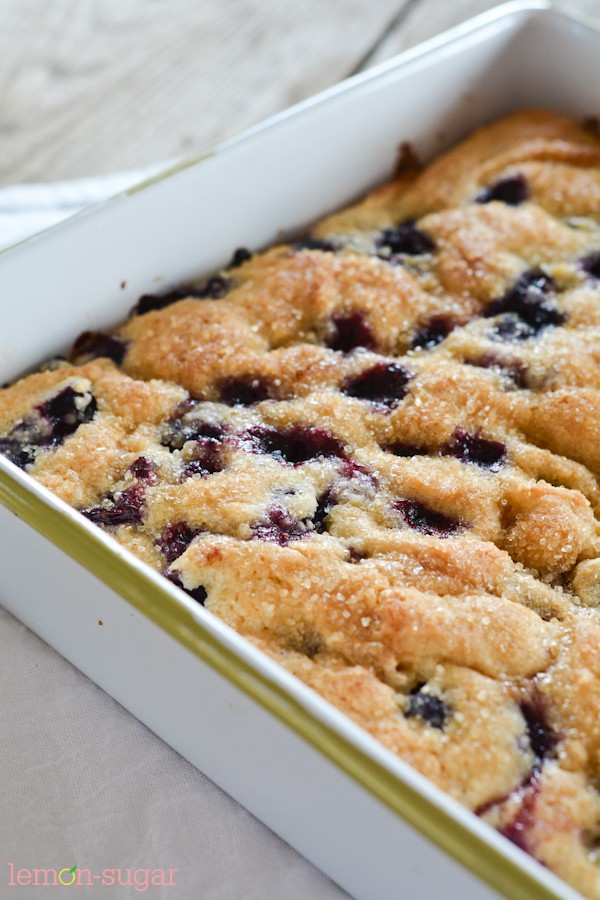 I've mentioned before that we really struggle with breakfast at our house.  Mornings are SO hectic – our schedules require us all to leave at different times, so it just feels like a domino-effect of chaos every morning.  If I don't have everything ready to go and just so – it's just a mess.  My oldest daughter is not a breakfast eater, my youngest only wants yogurt, and me?  I can usually find a smooshed granola bar in the bottom of my purse to eat on the way to work.  My husband has it easy – he gets to escape before the girls even get out of bed.  For all I know, he's whipping up quiche and fresh berries before he leaves for work.
So, my long-winded point is that it's always appreciated when I have something quick and easy ready to go in the mornings.  The girls both LOVE this cake, and I can nuke it in the microwave for 10 seconds and give them a glass of milk and we're set.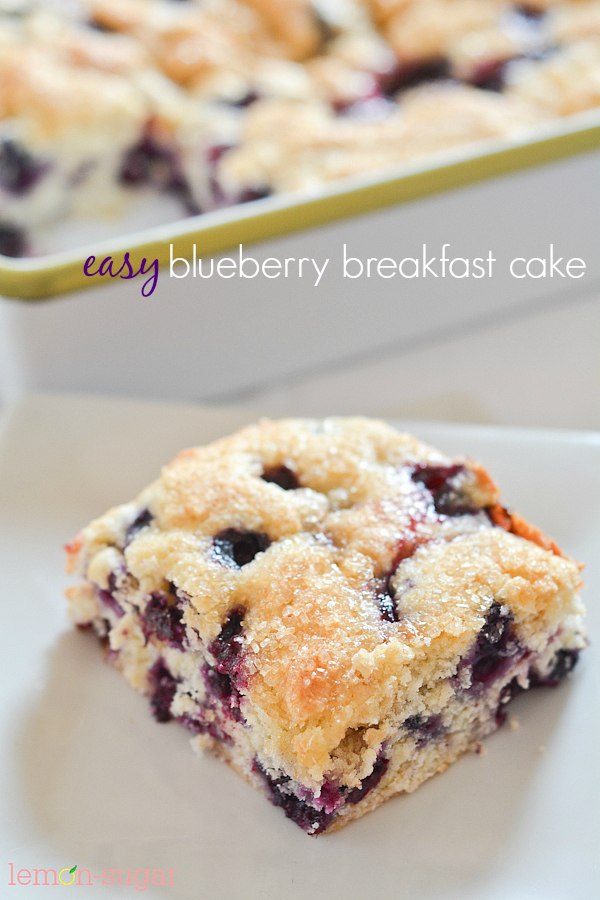 My favorite part of this cake is the crackly sugar topping.  I use a generous sprinkling of turbinado sugar, and it makes it extra special.  If you're feeling especially aberrant, try a little pat of butter on top.
If you're gonna eat cake for breakfast, you might as well do it right.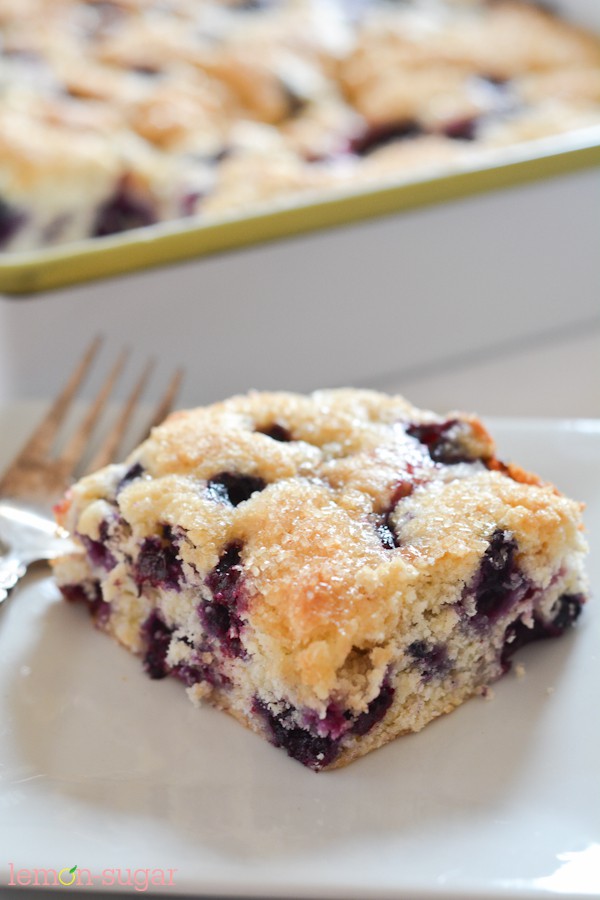 Plus, coffee.  This and a mug of piping hot coffee?
Yay.  Breakfast.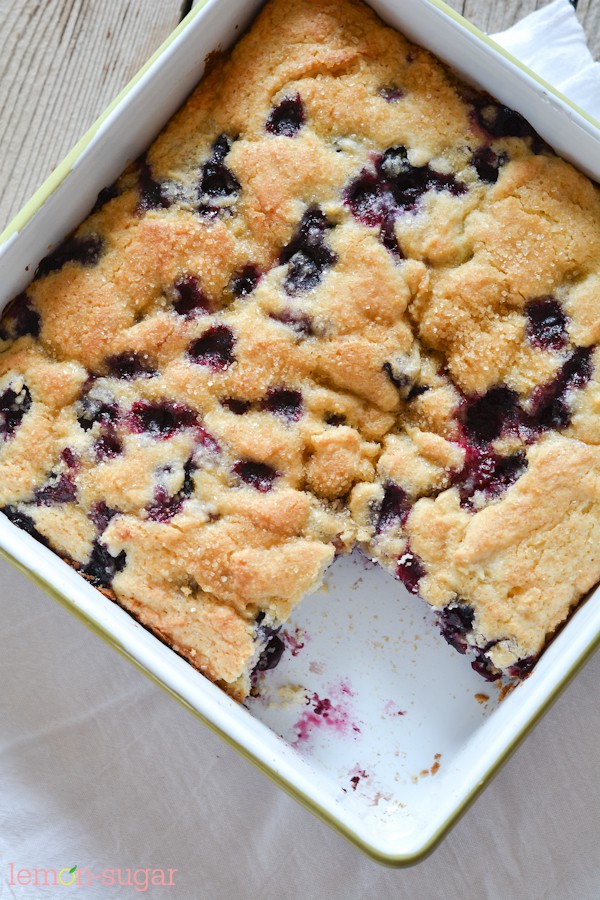 I've used fresh and frozen berries for this recipe, and both work perfectly.  I've even used the smaller wild blueberries – and they might be my favorite.  They're just a little bit tart, which I loooove.
If you aren't a lemon person, feel free to omit the lemon zest.  It's not an overpowering flavor, but you can definitely taste it – I like the freshness it brings to the cake and I wouldn't change a thing.
I hope you love it – enjoy!

Blueberry Breakfast Cake
This blueberry cake is perfect for breakfast or a light dessert. Similar to a shortcake, the crumb is dense and just slightly sweet, and is swimming with fresh, juicy blueberries. Recipe source:
Alexandra's Kitchen
Ingredients
½ cup unsalted butter at room temperature
2 teaspoons lemon zest
1 cup sugar
1 egg at room temperature
1 teaspoon good-quality vanilla extract
1 and ¾ cup plus ¼ cup all-purpose flour, divided
2 teaspoons baking powder
1 teaspoon. kosher salt
2 cups fresh blueberries
½ cup buttermilk
1 Tablespoon turbinado sugar, for sprinkling on top (or use regular sugar)
Instructions
Preheat oven to 350 degrees (F), and prepare a 9x9 square pan with cooking spray. Set aside.
In a large bowl, beat butter, sugar and lemon zest together until light and fluffy.
Add the egg and vanilla. Beat on medium speed until completely combined.
In a small bowl, whisk together 1 and ¾ cup flour, baking powder and salt.
Toss remaining ¼ cup flour with blueberries, and set aside.
Add and a third of the flour to the butter and sugar mixture. Beat until just moistened.
Add half the buttermilk, and beat until just combined.
Add half of remaining flour, followed by remaining buttermilk, and then the remaining flour, beating until just combined after each addition.
Carefully fold in blueberries, taking care not to smash them.
Spread the batter into the prepared pan. Sprinkle with turbinado sugar.
Bake for 35 to 45 minutes or until a cake-tester comes out clean.
Allow to cool 15 minutes before serving.
Enjoy!
11
leave a comment your way - using facebook or disqus: