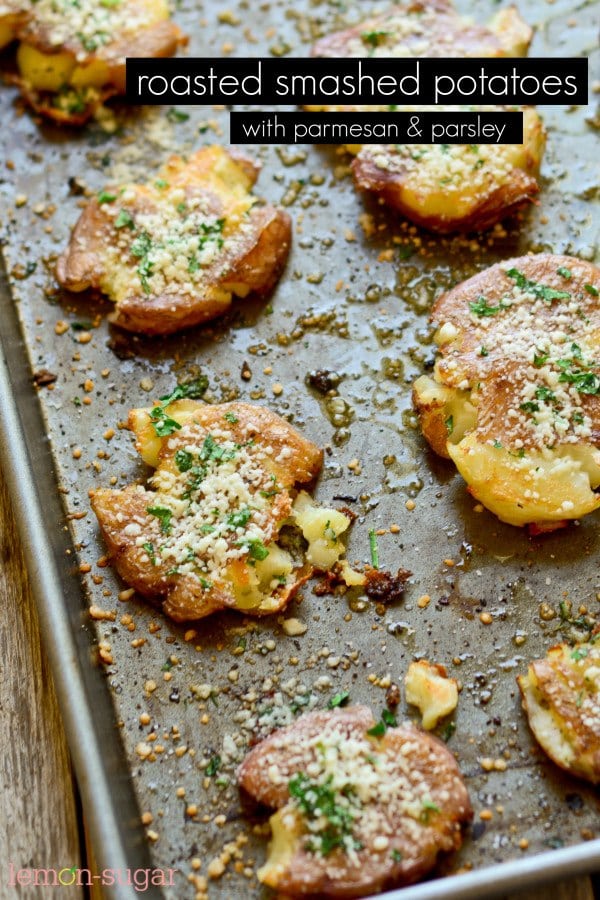 Anyone who knows me well knows how much I love potatoes.  Mashed, scalloped, baked, fried – I love them all.  My guiltiest pleasure of all is a recipe my husband makes occasionally – simple, buttered potatoes – they're just boiled potatoes smothered in butter and just barely mashed.  They are SO indulgent and soooo good.  I'd share that recipe with you, but I have a feeling I'd be kicked off the internet by the snark police.  (They'd ♥ them too, if they'd just try them.  No one can resist buttered potatoes.)
But these are right up there too, and they are definitely a little better for you.  My girls love them too, even though they pick off the "green stuff" first, which I'm pretty sure must be a law of childhood, so I don't really say anything about it.
We like to make these with grilled chicken and corn on the cob – so it would be nice if spring would just hurry up and get here so we can grill again, thankyouverrymuch.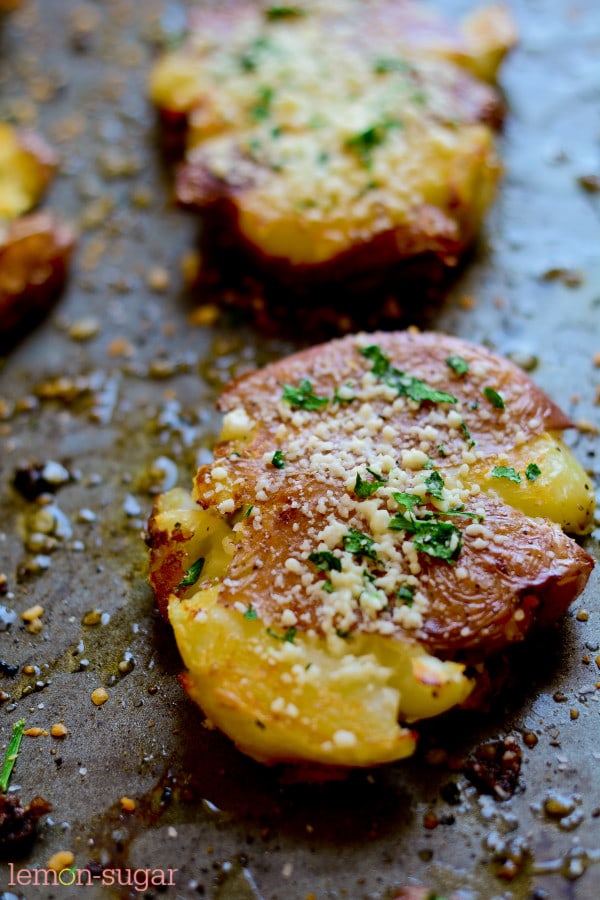 So, these are super easy.  Clean your potatoes and throw them in a big pot of water.  Boil until tender, then smash 'em, drizzle with olive oil and sprinkle them with salt and pepper, and then bake them.  Then, flip them, sprinkle with parm and parsley, and bake a few minutes more.
Then let them cool.  Don't be like me and burn your mouth.  Every.  Single.  Time.
The olive oil helps crisp up the skin, so when you bite into them, you get a little hit of crispness before you get into the creamy, tender potato.  We like a lot of parmesan on ours, so they all have a little extra bite and saltiness.
So yum.
I just use a flat plastic spatula to smash mine, but you can use anything that works – the bottom of a glass, a flat potato masher, a spoon even.  Just smash them until they're about a 1/2 inch thick, and try to keep them in one piece.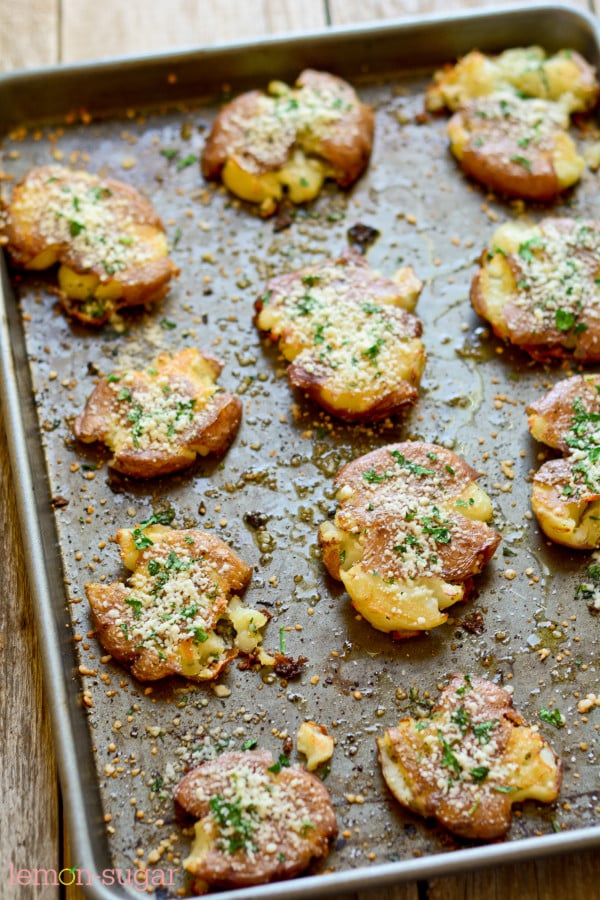 If you like, you can mix up the flavors, too.  Add a bit of minced garlic, or some greek seasoning for a fun twist.  Or mimic the flavors of a loaded baked potatoes by adding some cooked, crisp bacon, green onions, cheddar cheese and a hit of sour cream after they come out of the oven.
Ok now, 'scuse me.  I need to go try that.
Hope you love these!  Enjoy!

Roasted Smashed Potatoes
Ingredients
12 small red potatoes (1-1/2 to 2 inches in diameter; 1-1/2 to 2 pounds total)
1 teaspoon salt
¼ cup olive oil
¾ teaspoon salt
½ teaspoon ground black pepper
¾ cup freshly grated Parmesan cheese
2 tablespoons finely chopped fresh Italian (flat-leaf) parsley
Instructions
In a large saucepan, place cleaned potatoes (unpeeled) and cover with at least an inch of water.
Add a teaspoon of salt to the water, and bring to a boil.
Once boiling, reduce heat and simmer until potatoes are tender, about 25-30 minutes.
Drain potatoes.
Preheat oven to 450 degrees F.
Move potatoes to a non stick or foil-lined 15x10x1-inch baking pan, and allow the potatoes to cool for about 10 minutes.
Using a potato masher, a large spoon or the palm of your hand, lightly press down on each potato to smash to about ½-inch thickness, keeping each potato in one piece.
Using half of the olive oil, brush on potatoes.
Sprinkle half of the salt and pepper on potatoes.
Bake, uncovered, for 10 to 15 minutes or until bottoms are lightly browned and crisp.
Turn potatoes; brush with the remaining olive oil and sprinkle with the remaining salt and pepper.
Bake for 10 to 15 minutes more or until potatoes are lightly browned and crisp.
In a bowl combine cheese and parsley. Sprinkle on potatoes.
Bake for 2 to 3 minutes more or until cheese is melted.
Enjoy!
77
leave a comment your way - using facebook or disqus: