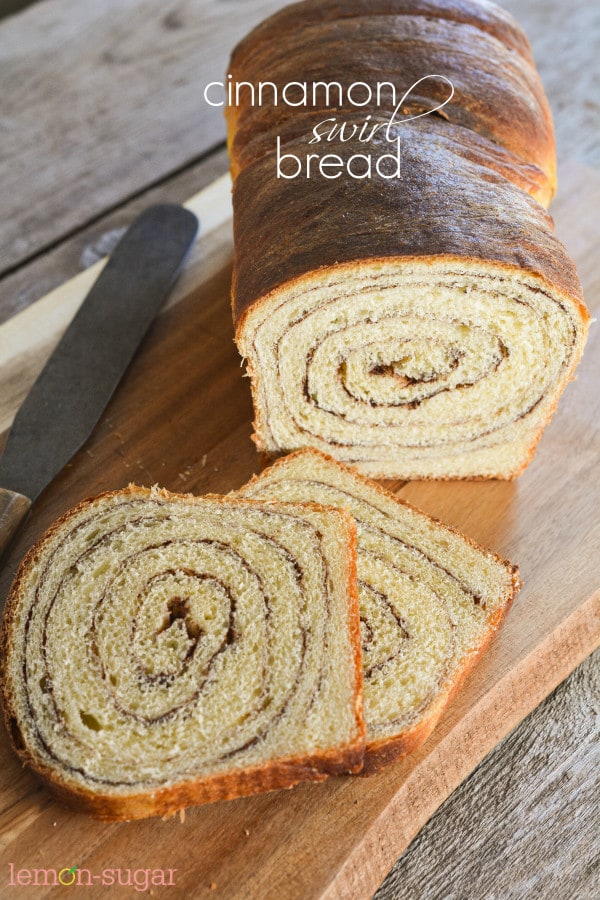 There are few things more rewarding in the kitchen than a successfully made bread recipe.  Whether it's your favorite pizza dough, cinnamon rolls, a buttery dinner roll or just a loaf of sandwich bread, there's something about fresh bread that makes you feel like a rock star in the kitchen.  I don't know how many times I've made bread (it's a lot) but even so, every time the yeast starts to do its thing, I do a little happy dance.
The thing about bread, though, is that it's a commitment.  The kneading, the rising, the rising AGAIN, the perfect not-too-humid-not-too-dry conditions – it's kind of daunting and sometimes it's just not worth it.
Except that it's always worth it.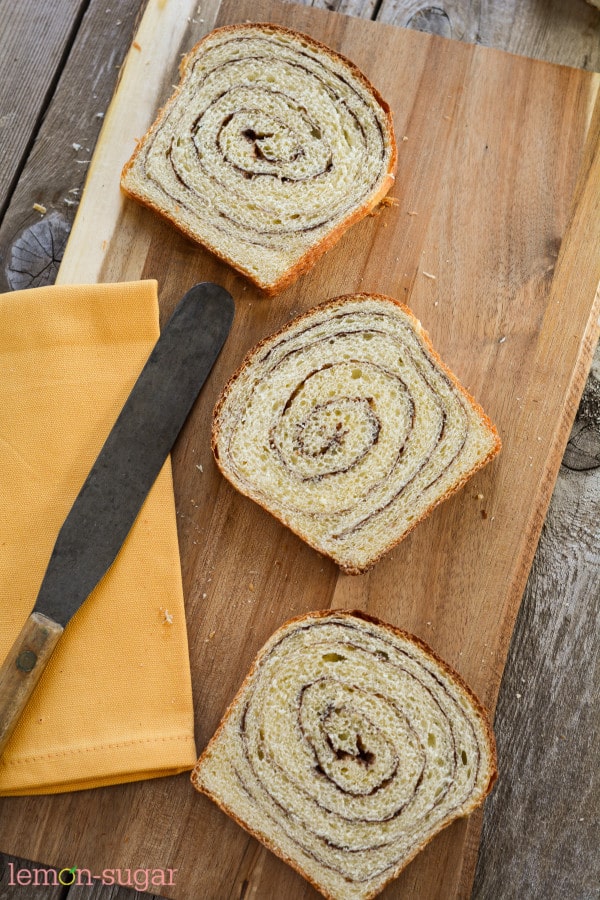 When I was a kid, I remember my mom spreading butter, sugar and cinnamon on bread, popping it under the broiler in the oven, and baking it until the sugar and butter sizzled. When it cooled, the sugar would form a bit of a crust, and the butter would soak into the bread a little bit, helping it toast to a golden brown.  The whole house would smell like cinnamon, and that little treat – the toasted cinnamon-sugar bread – it was a pretty awesome just-for-no-reason snack.  The snap of the sugar, the warmth of the cinnamon and the memory of the buttered, toasted bread takes me immediately back to my childhood.
This is why I made cinnamon swirl bread.  Because I was thinking about the broiled cinnamon sugar toast, and I thought – you know, that'd be AMAZING on a good cinnamon bread.
So, it happened.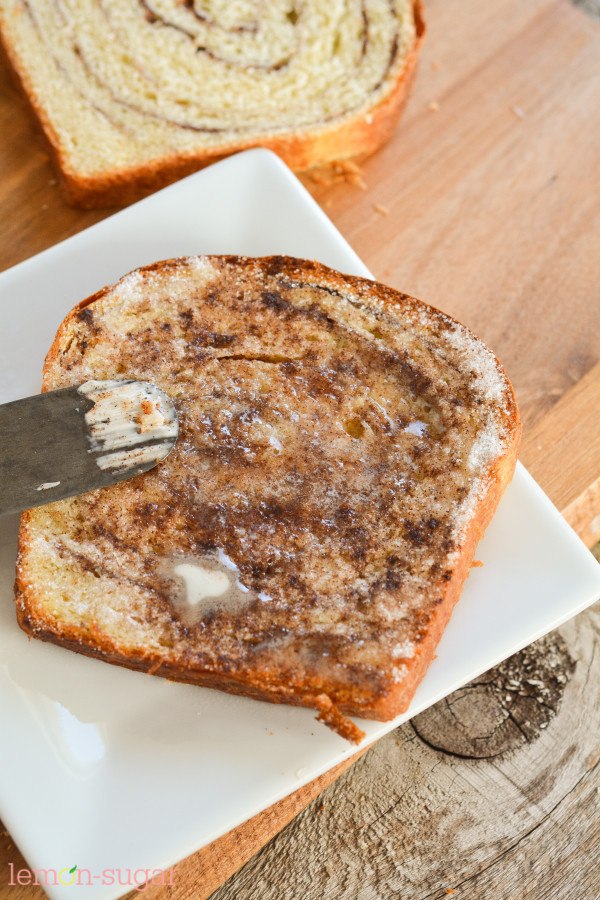 Really, if you're comfortable making a yeast bread, this recipe will actually be a breeze for you.  The dough is relatively easy – and once it rises it's a cinch to work with.  Once you roll it out into a long rectangle, you sprinkle it with cinnamon sugar, roll it up and put it in a loaf pan.  I think it's easier than cinnamon rolls myself – maybe not quite as quick as my one-hour cinnamon roll recipe, but still worth it.
It's always worth it, remember?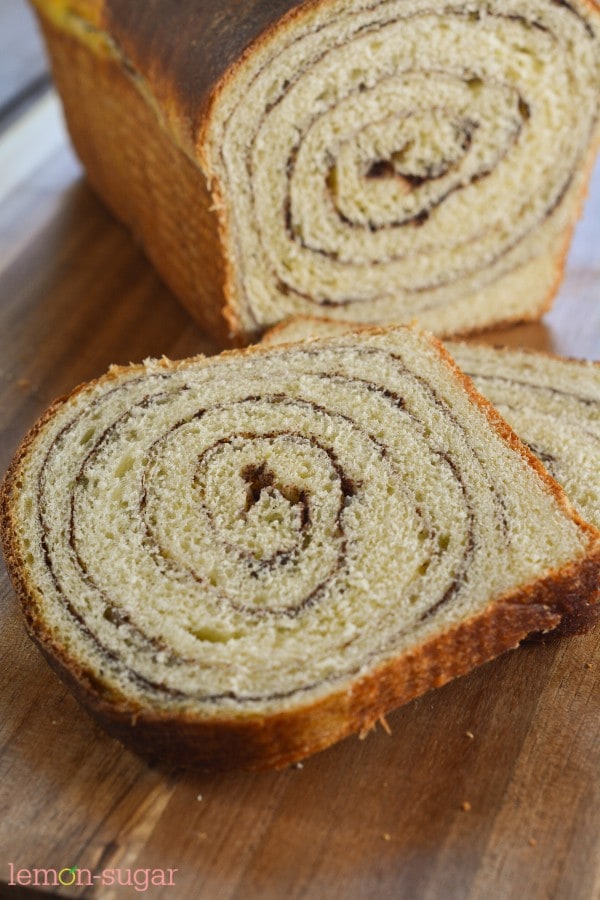 If you aren't super comfortable with yeast breads, I have a couple of quick tips for you.  One – new yeast.  Old yeast doesn't work.  Also, drafts and cool temps are the enemy of rising dough.  Try to find a warm place, and let your bread rise there.  (I always heat my oven up to about 170 degrees, then turn it off, and let my dough rise in the warm oven with the door shut.   Works every time.)  Don't handle the dough more than you have to, and follow the directions, exactly.   Yeast breads are not the time to improvise and try something new!
Hope you love it.  Cut it thick and it makes a YUM french toast.
Enjoy!

Cinnamon Swirl Bread
Nothing is more delicious than a good homemade bread - but this one is over the top delish. The warm cinnamon swirled into the dough makes it a fabulous candidate for french toast, but it's also great on its own, warmed with a pat of butter. Enjoy!
Ingredients
For dough:
1 cup Milk
6 Tablespoons unsalted butter
2 and ½ teaspoons active dry yeast
2 eggs
⅓ cup sugar
3 and ½ cups all-purpose flour
1 teaspoon salt
⅓ cup sugar
2 Tablespoons cinnamon
For eggwash:
For filling/pan prep:
About 1 stick softened, unsalted butter
Instructions
In a small saucepan, heat together butter and milk, until the butter melts. Don't allow the milk to boil. (This can also be done in the microwave.)
Allow mixture to cool until cool to the touch.
Sprinkle yeast over the top, and stir together. Allow to sit for 10 minutes; the yeast should bubble and foam.
In another bowl, whisk together flour and salt. Set aside.
In the bowl of a stand mixer, mix sugar and eggs with the paddle attachment until combined.
Add milk/butter/yeast mixture and stir to combine.
Then, add half the flour and beat on medium speed until combined.
Add the other half and beat until combined.
Switch to the dough hook attachment and beat/knead dough on medium speed for ten minutes. If dough is overly sticky, add ¼ cup flour and beat again for 5 minutes.
Coat a large glass bowl with cooking spray (or canola oil). Place dough into the greased bowl.
Cover bowl in plastic wrap and set it in a warm, draft-free place for at least 2 hours.
Turn dough out onto the work surface. Roll into a neat rectangle no wider than the loaf pan you're going to use, and about 18 to 24 inches long. Smear with 2 tablespoons room-temperature butter.
Mix sugar and cinnamon together, then sprinkle evenly over the butter-smeared dough. Starting at the far end, roll dough toward you, keeping it tight and contained.
Pinch seam to seal.
Smear loaf pan with softened butter. Place dough, seam down, in the pan. Cover with plastic wrap and allow to rise for 2 hours.
Preheat oven to 350 degrees.
Mix a little egg with milk, and smear over the top.
Bake for 40 minutes.
Remove from the pan and allow bread to cool.
2
leave a comment your way - using facebook or disqus: