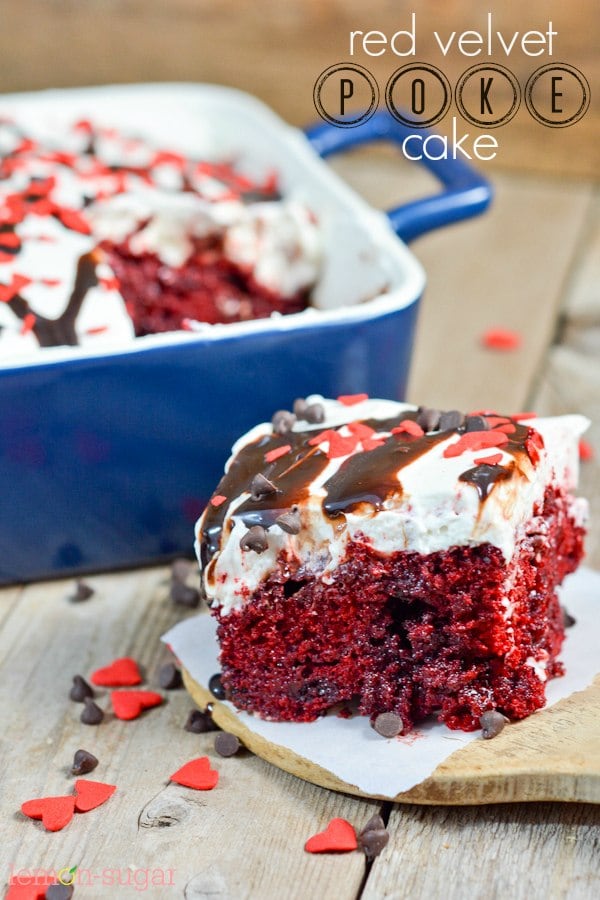 Yep.  Kinda obsessed with the ol' poke cake.
I actually have yet another one coming soon.  But since I'm 100% convinced that you can't have too many poke-cake recipes, I'm not going to worry about it one little bit.  The world cannot have too many poke cakes.
And it's possible that I say this about EVERY poke cake I make, but this one is my favorite.  There's actually no contest.  This is the best.  Until the next one, I know, but still.  So far – this is the best.
Red velvet cake.  Sweet cream and fudge infusion.  Cream cheese whipped cream frosting.  Did you catch that?  CREAM CHEESE WHIPPED CREAM FROSTING.  
It's a thing.  It's a gooooood thing.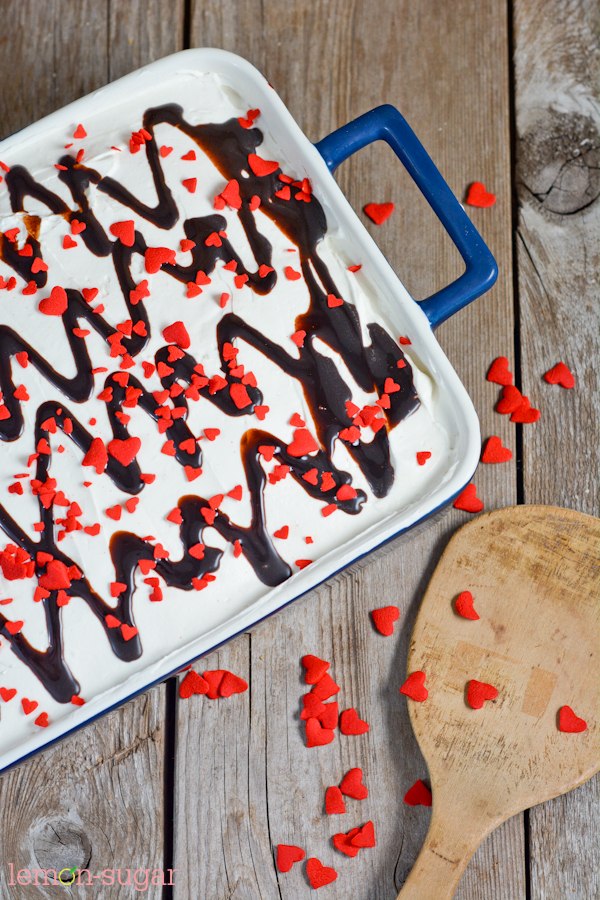 I did make a homemade red velvet cake using my old-standby recipe, but you can totally use a box mix.  There are so many other flavors going on that no one will notice, and it will save you some time.
Do NOT, though, use store-bought whipped topping.  Make your own.  It takes 5 minutes, and it's the best thing you'll ever have.  This is a no-Cool-Whip zone here.  Please…I implore you.  Just try this frosting.  Humor me.  Please.  (Yes, I'm begging.)
The cream cheese helps to thicken and stabilize the whipped cream.  It's not too sweet, it's just-right-tangy, and it takes this cake to a whole different level.  And then, you drizzle it with chocolate syrup and guys- it's fabulous.  The cake is cool and creamy, the frosting cuts the sweetness and adds a silky quality, and the chocolate brings it all together like one big poke-cake-happy-family.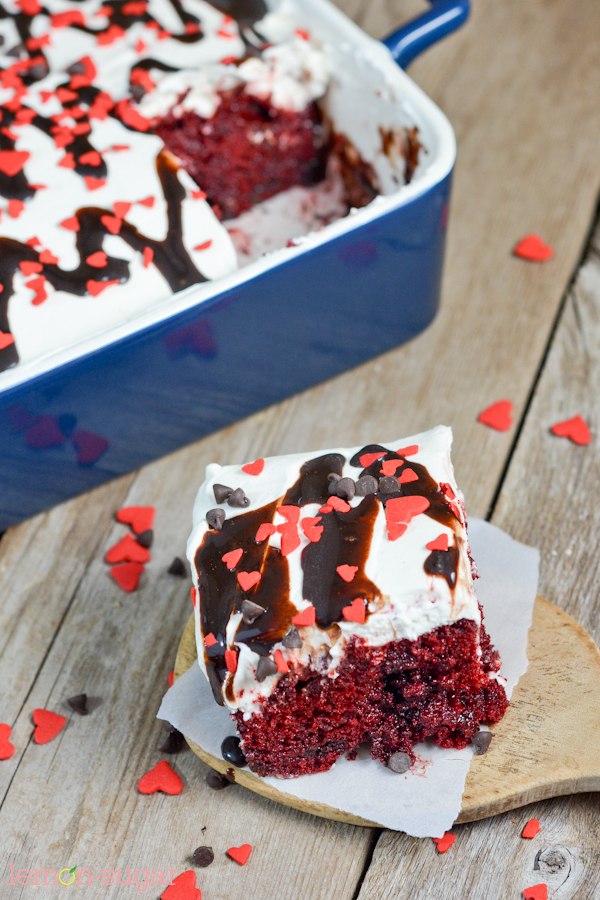 And, how perfect would this cake be for Valentine's Day?  I garnished with my favorite red heart sprinkles and a few mini chocolate chips, and let me tell you – it took everything I had not to eat more than my little tasting plate.
So good.
I hope you try it, and I hope you love it!  Please share it with your friends, too!
Enjoy!
Red Velvet Poke Cake
Red velvet cake infused with sweet cream and chocolate syrup is topped with a cream cheese whipped cream frosting. It doesn't get more decadent (or delicious) than this! Perfect for Valentine's Day, too!
Ingredients
Red Velvet Cake:
2 and ½ cups cake flour, sifted
1 tsp salt
2 Tablespoons dark cocoa powder
2 eggs at room temperature
1 and ½ cups sugar
1 and ½ cups vegetable oil
1 tsp vanilla extract
1 tsp red gel food coloring , or to color preference
2 tsp vinegar
1 and ½ tsp baking soda
1 cup buttermilk at room temperature
Cake add-in:
½ cup mini chocolate chips
1 Tablespoon all-purpose flour
Cake topping:
1 can sweetened condensed milk
¼ cup chocolate syrup
Frosting:
8 ounces cream cheese, at room temperature
½ cup granulated sugar
2 teaspoons vanilla extract
2 cups heavy cream, very cold
Instructions
Cake Instructions:
Preheat oven to 350 degrees and spray a 9x13 baking pan with cooking spray.
In a large bowl, whisk together cake flour, cocoa and salt.
In the bowl of a stand mixer using the paddle attachment, beat sugar and oil until well combined.
Add eggs one at a time, beating each until just combined.
Add vanilla and red food coloring.
Alternate flour and buttermilk in three batches – mixing well between each addition, starting and ending with the dry mixture. In a small bowl, stir together the vinegar and baking soda, then add to batter. Mix until just combined.
In a small bowl, mix together mini chips and flour. Sift off extra flour, then stir flour-coated chips into the batter. (The flour prevents them from sinking to the bottom.)
Pour the batter into the prepared pan.
Bake for 30-35 minutes or until a cake tester comes out clean.
Allow to cool on a wire rack for 5 minutes.
Using the handle of a wooden spoon, poke holes about ⅔ of the way down into the cake - about an inch apart.
Pour sweetened condensed milk over the top of the cake. Use a spatula to spread it over the top and guide it into the holes.
Repeat the process with the chocolate syrup.
Refrigerate cake for one hour, or until completely cool.
Prepare frosting.
Frosting:
In the bowl of a stand mixer fitted with the whisk attachment, beat the sugar and cream cheese together until light and fluffy.
Add vanilla and beat to combine.
Add half of the whipping cream and beat until just combined. Use a spatula to scrape the sides of the bowl.
Add the rest of the cream and beat on medium speed until frosting is very thick and creamy. This could take several minutes.
Spread frosting over cooled cake, and top with desired garnishes. I used chocolate syrup, heart sprinkles and mini chocolate chips.
Enjoy!
1
leave a comment your way - using facebook or disqus: