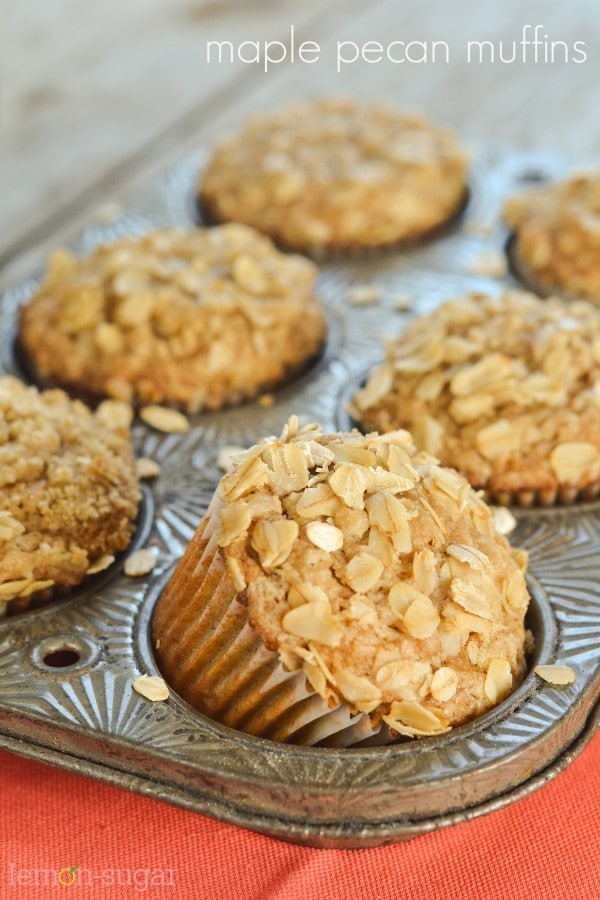 In my never-ending quest for simplicity in my weekday mornings, I always turn to easy, make-ahead meals.  Because, really – who has time to do all of the dressing, teeth-brushing, hair-brushing, backpack-packing and grumpy-kid quelling IN ADDITION TO whipping up a fancy breakfast?
Not me.  It doesn't even matter if we wake up earlier.  It's like my five-year-old knows precisely how long she needs to brush her teeth to make it take up exactly 99% of my morning.  She's all, "Oh, we have 45 minutes before we have to leave?  It's going to take me 44 minutes and 30 seconds to brush my teeth."
She's darling.
By the time we get to breakfast, we usually have no time.  Cups of milk and whatever portable food I've prepped go with us into the car, and that's just how it is.  As long as we have something homemade and relatively healthy, I've made peace with the fact that my backseat will be forever covered in crumbs.  And hey, their teeth are SUPER clean!  :/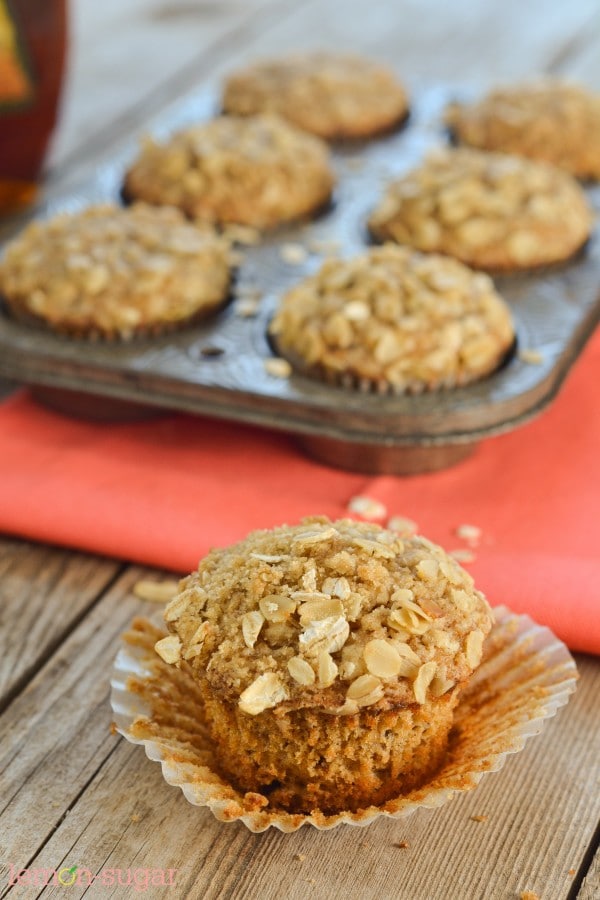 As far as quick and easy breakfasts go, this is a winner.  It's hearty enough to stay with you for a while thanks to the oats and pecans, but it's tasty enough that my kids enjoy eating it.  Personally, I love to heat mine up in the microwave for a few seconds and top it with a little pat of butter.  With my morning coffee, it's pretty delish.
The maple flavor isn't overwhelming, it's faint but you can definitely still taste it.  I love a good crumb topping,  so really I'm not sure how I'd improve upon this recipe at all.  It's pretty fantastic.  We store them in an airtight container and they stay soft and fresh for 3-4 days – maybe longer but I couldn't tell you because ours never last that long!
The original recipe included a maple glaze that was to be drizzled over the top, but I think it's overkill.  The crumb topping is already sweet, and the glaze just kind of made them sticky and harder to store.  So, no glaze here!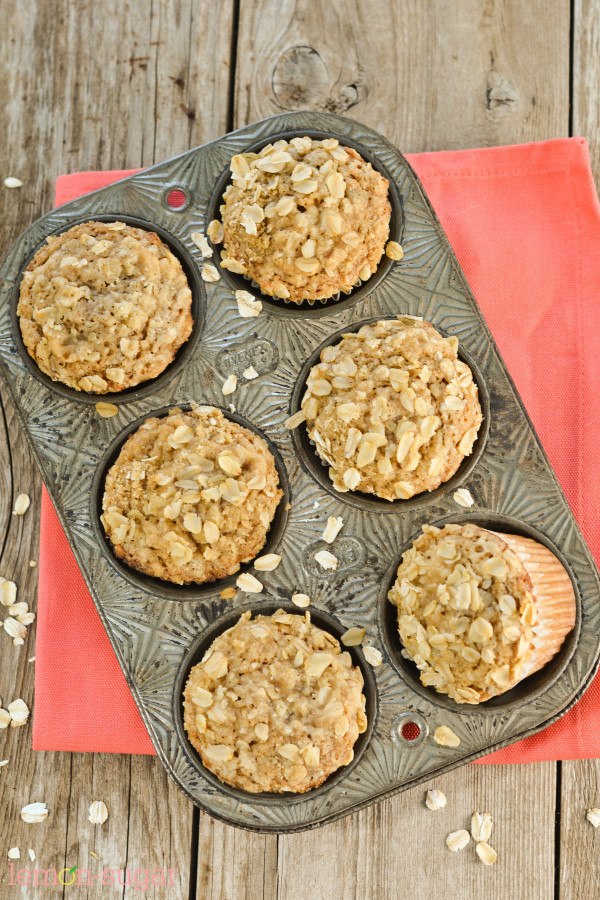 Hope you love them.  You could substitute applesauce for vegetable oil to up the health-factor even more.  It's a 1:1 ratio, so go for it and let me know if you try it.
Here's to peaceful mornings and messy backseats.  Enjoy!

Maple Pecan Muffins
Warm, slightly spicy and hearty, these muffins are a fantastic grab-and-go breakfast that will stay with you all morning. Great with a big mug of hot coffee!
Ingredients
Muffins:
1 and ¾ cups all-purpose flour
1 cup rolled oats
¼ teaspoon salt
3 teaspoons baking powder
½ teaspoon freshly ground cinnamon
¾ cup brown sugar
1 large egg,lightly beaten
1 cup milk
⅓ cup vegetable oil
1 tablespoon maple extract
1 cup chopped pecans
Topping:
2 tablespoons cold butter,cut into small pieces
¼ cup brown sugar
2 tablespoons all-purpose flour
2 tablespoons oats
Instructions
Preheat oven to 400 degrees (F).
Line a standard sized muffin pan with muffin papers and set aside.
In a large mixing bowl,combine all-purpose flour,salt,oats,cinnamon and baking powder. Whisk together and set aside.
In another mixing bowl,combine brown sugar and beaten egg.
Whisk egg and sugar together, and while stirring, and milk,vegetable oil and maple extract.
Combine egg mixture with cinnamon mixture. Stir well.
Fold in the walnuts.
To make a crumbling topping:In a mixing bowl,combine all ingredients and cut the butter in using a pastry tool until coarse and crumbly.
Fill prepared muffin papers until ⅔ of the way full.
Top with spoonful of crumbling topping.
Bake for 17-20 minutes,or until toothpick inserted in the center comes out clean.
Cool for 5 minutes in the oven, then transfer to a wire rack and let cool completely.
1
leave a comment your way - using facebook or disqus: