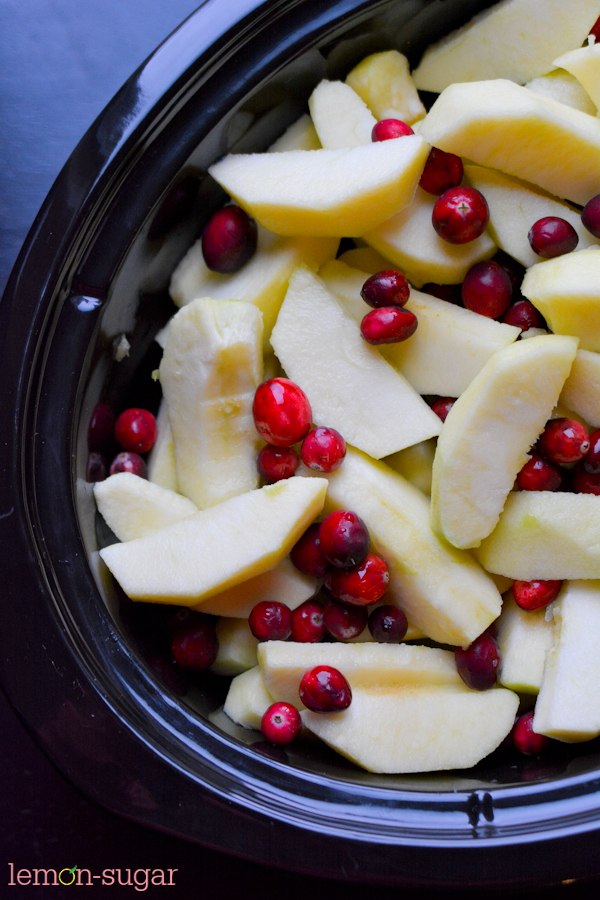 Who still has cranberries left from the holidays?  Anyone besides me?  I always stock up and freeze what I'm not going to use, because I firmly believe that cranberries aren't just a winter fruit.  It drives me crazy that you can't find them year round, so when I see 'em, I buy 'em.
Our CSA has been overly generous with our apple deliveries lately too – so much so that we haven't been able to eat them all quickly enough.  We eat them like crazy in my house, so when found myself looking at a fruit bowl with nearly 30 Jonagolds in it, I knew it was time for a good apple recipe.
It was a toss up – I could use one of my favorite apple recipes from the past, or I could go a new direction and try this one.  So, so glad I went with the new recipe. It's now one of my favorites, and has a permanent home in my pantry.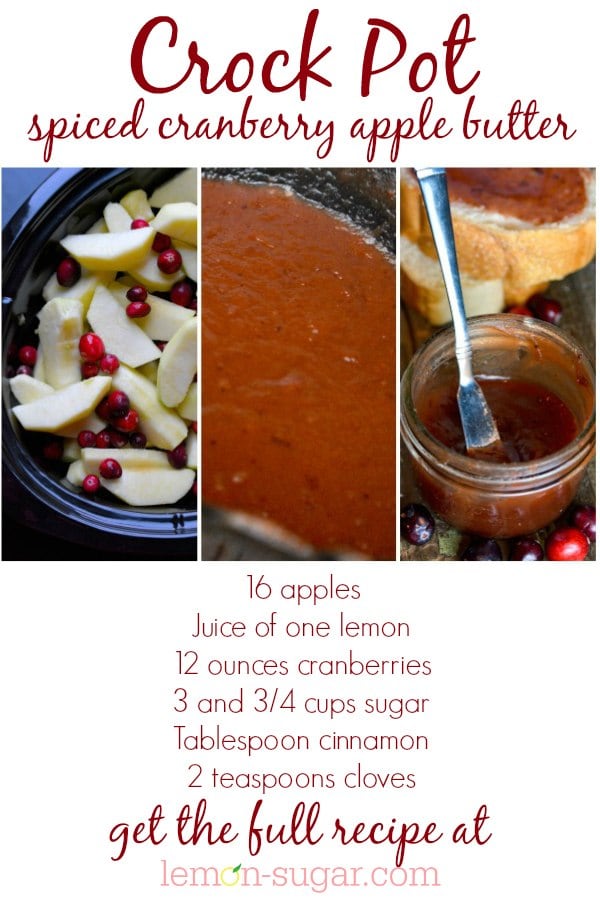 This stuff is, like, eat-with-a-spoon worthy.  I almost called it applesauce so I had an excuse – but seriously, I'm pretty sure our first jar didn't even make it to the bread.  Ok, I'm 100% sure.
PS – a warm English muffin with a pat of melt-y butter and a healthy serving of spiced cranberry apple butter?  There might not be anything better. Not. Even. Kidding.
The recipe below will fill up one of the bigger crock pots, so keep that in mind if you have a smaller one – you might want to halve it.  We filled up nine of the small pint jars, which make a perfect little gift.  It takes about 10-12 hours for the fruit to cook down, and an immersion blender helps at the end to smooth it all out.
Now, before anyone goes there, yes, there's a lot of sugar in this recipe, but when you break it down, it's not all that much by jar, and you really don't use that much per serving, so it's not quite as obscene as it looks.  Plus, the sugar helps to cut the tartness of the cranberries and enhance the flavor of the apples, so I'm not complaining.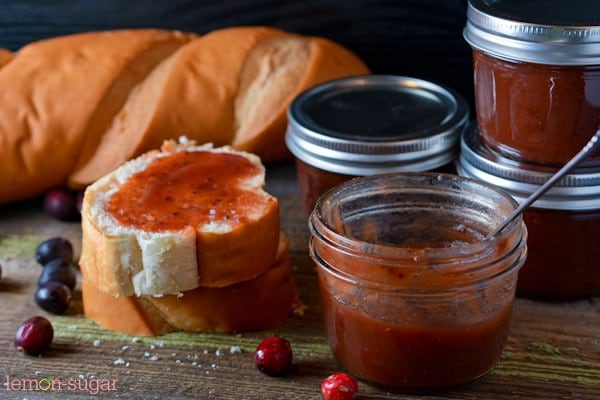 I store the opened jars in the refrigerator, and the unopened jars will seal enough to keep them in your pantry for a few months until you open them.  I haven't stored any at this point beyond six weeks, but I would think that if they're properly sealed they'll keep for quite a while.
Last week I stirred a little bit into my oatmeal, and this morning I had a little bit in my greek yogurt. I'm in love.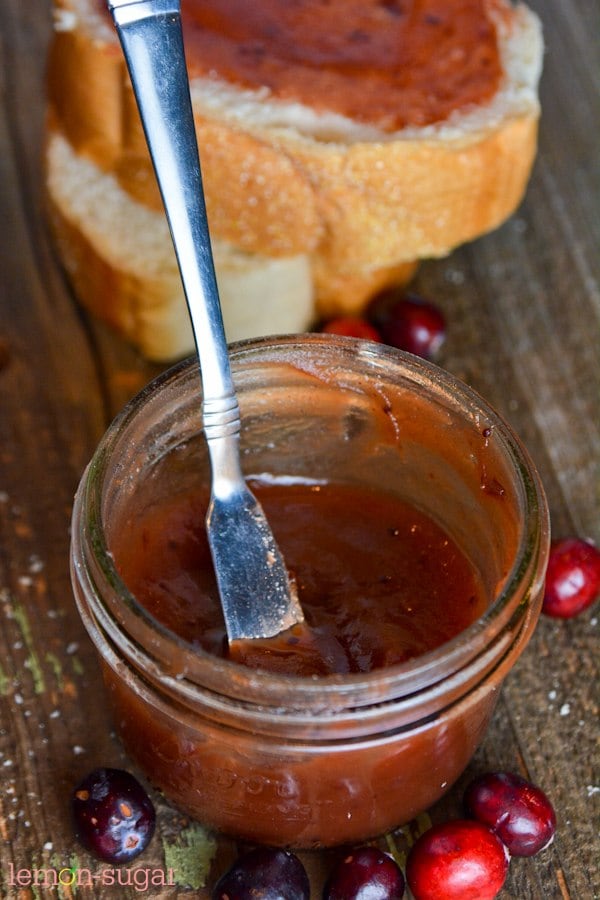 The spices are warm and pair perfectly with the apple-cranberry combo.  Your house will smell AMAZING.  You will eat it with a spoon.  You will love it.  The end.
Enjoy!

Cranberry Apple Butter
The addition of cranberries to this traditional apple butter brings out the flavor of the cinnamon and cloves, and you'll be fighting the urge to eat it straight out of the jar with a spoon. The cute pint jars make a perfect holiday gift, too!
Ingredients
16-20 apples (I used Golden Delicious) peeled, cored and sliced
Juice of one lemon
12 ounces fresh cranberries
3 and ¾ cup granulated sugar
1 Tablespoon ground cinnamon
2 teaspoons ground cloves
9 pint jars
Instructions
Peel, core and slice all of the apples. Add to crock pot until crock is mostly full.
Sprinkle apples with lemon juice as needed to prevent browning.
Add cranberries to crock.
Turn crock pot to high, and bake for 8 hours.
Add sugar, cinnamon and cloves, and stir to combine.
Heat on low for an additional 2 hours, or until both apples and cranberries are very soft.
Use immersion blender (or potato masher) until smooth.
Immediately pour into pint jars, the heat will seal the jars.
Enjoy!
0
leave a comment your way - using facebook or disqus: