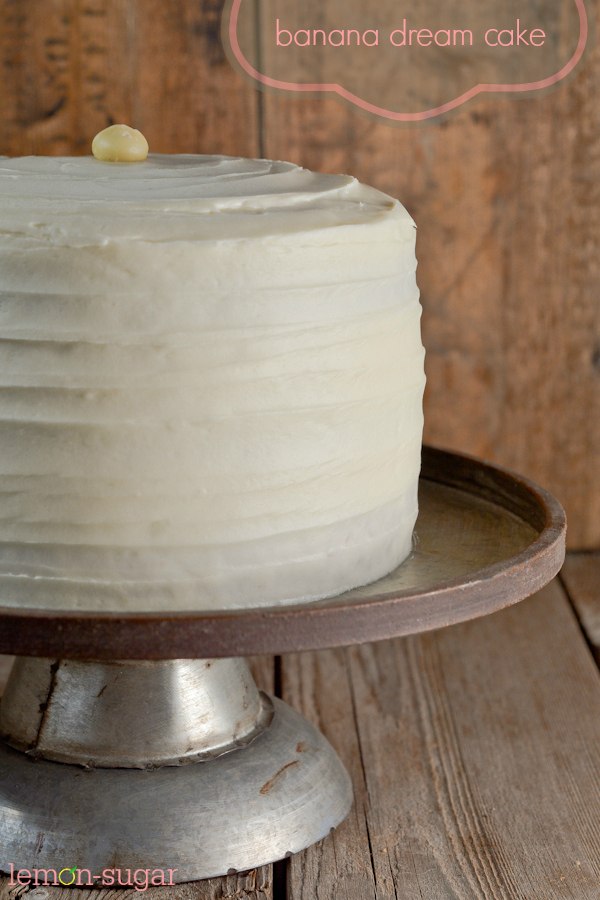 When it's named the Banana Dream Cake, it better be good.  I'm just going to cut the suspense here and tell you that it is, in fact, a dream cake.  It's dreamy, it's banana-y, and it's all covered in tangy-sweet-creamy-omgoshsogood cream cheese frosting.
Dream Cake, for sure.  The brilliant Jessica over at The Novice Chef has done it again.
I made this cake for our normal Sunday dinner a couple of weeks ago, and my brother is already requesting an encore for his birthday dinner next month.  I'm not gonna argue.  I might even order extra bananas in my CSA – so maybe I'll have to make it a few times.
You know, 'cause we can't waste perfectly good bananas.  Even if they're extra.  Even if they're ordered just to let them get old just so I can make this cake.
It all makes sense in my head, somehow.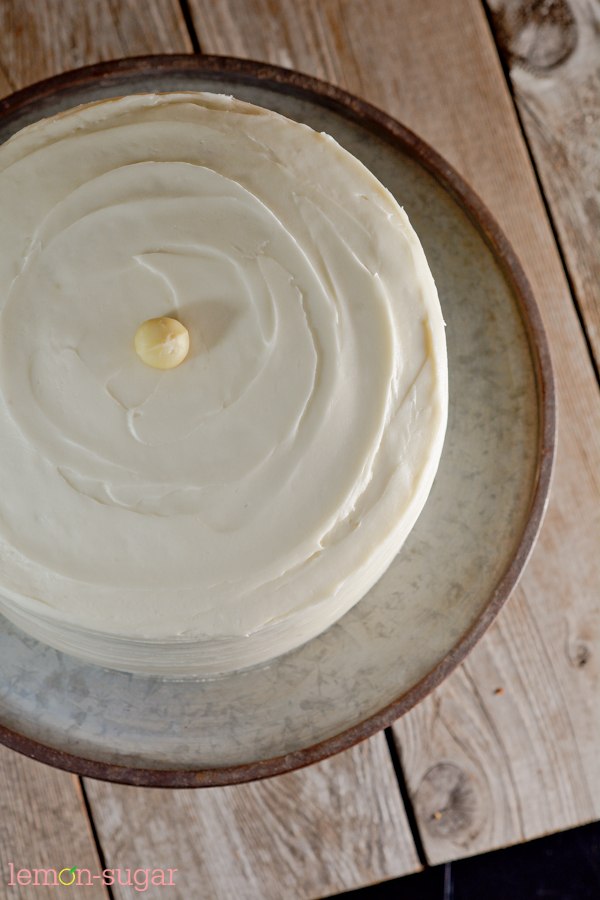 The magic behind the dream cake is in the cooking method.  Bake it low and slow, and right when firms up, you take it out of the oven and put it immediately into the freezer.  It stops the baking process and keeps the cake soft, crumbly, and just how you want a banana cake to be.
Just plan ahead.  Don't be like me and take the cakes out of the oven and realize your freezer is full.  There were frozen peas, tubs of ice cream and bags of pecans everywhere.
I'll sacrifice the peas for this cake any day, though.
Then, the cooled cake is frosted with a basic cream cheese frosting – tangy and sweet and a perfect offset to the light banana cake.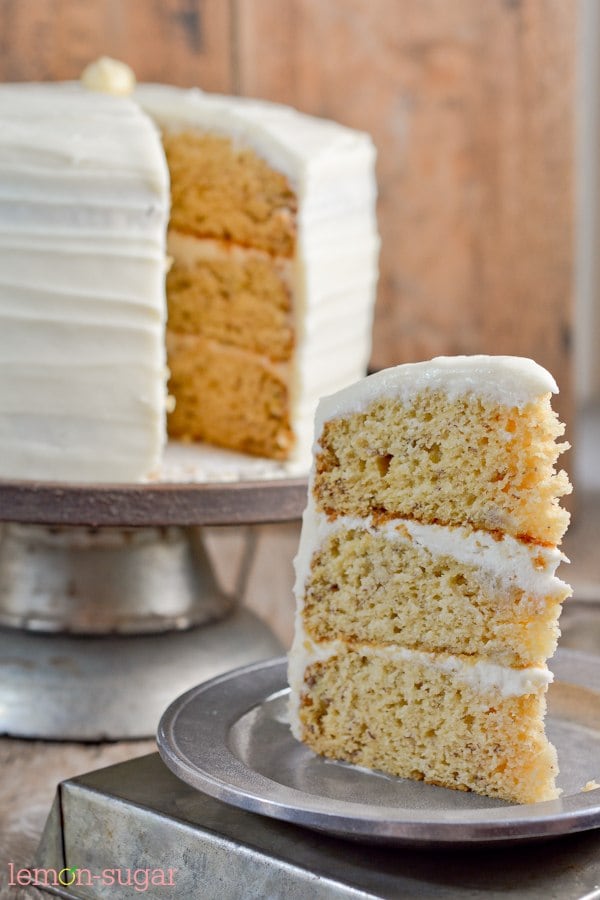 I like to fill and crumb-coat my cake before I finish the final coat of frosting.  I pop the cake back into the freeze for a few minutes after the crumb coat is applied, which makes the final layer easier to apply.
There are a few tools that make frosting a layer cake less stressful.  First, a good turntable helps – I am partial to the Ateco Cast-Iron turntable.  I also use offset spatulas to apply and smooth the frosting.  To get the subtle, horizontal ridges on the sides of the cake, I simply hold the tip of the largest spatula against the frosting and spin the turntable, gradually moving the spatula upwards as I spin.  It's cute and easy!
Another tip – when you slice a layer cake – use a large knife and wipe it clean with a towel after every slice.  If you spend all of that time getting your cake to look just so – you don't want to mess it all up when you cut into it!
Hope you guys love this one.
Enjoy!

Banana Dream Cake
Ingredients
Cake:
¾ cup unsalted butter
2 and ⅛ cups granulated sugar
3 eggs, room temperature
2 teaspoons good-quality vanilla extract
3 cups all-purpose flour
1 and ½ teaspoons baking soda
¼ teaspoon salt
1 cup milk
½ cup sour cream at room temperature
4 oz applesauce (I used cinnamon-flavored)
2 teaspoons lemon juice
1 cup mashed, very ripe bananas (between two and three medium bananas)
Frosting:
¾ cup unsalted butter, softened
¾ cup cream cheese, softened
6 cups confectioners sugar
2 teaspoons vanilla extract
¼ cup heavy whipping cream
Instructions
Preheat oven to 275 degrees (F.)
Prepare three 8-inch round pans with parchment paper and cooking spray. Set aside.
In a small bowl, mash bananas completely. Add lemon juice, stir to combine, and set aside.
In a larger bowl, combine flour, baking soda and salt. Whisk to combine.
In a large bowl, or the bowl of your stand mixer, cream together butter and sugar until light and fluffy.
Add the eggs one at a time, beating until just combined after each addition.
Add vanilla, sour cream and applesauce, and again beat until just combined.
Add the milk and the flour mixture alternately. Start with ⅓ of the flour mixture, then add half the milk, then another ⅓ of the flour, then the rest of the milk, ending with the remaining flour mixture. After each addition, beat until just combined - but do not overbeat.
Quickly beat in banana mixture.
Evenly divide batter among the three pans. I use a kitchen scale to ensure all of the layers are even.
Bake for 40-50 minutes
Frosting:
In a large bowl, cream butter and cream cheese until smooth.
Beat in vanilla.
Add confectioners' sugar and beat on low speed until combined, then on high until frosting is smooth.
Add whipping cream and beat until light and fluffy.
Frost as desired.
Enjoy!
0
leave a comment your way - using facebook or disqus: