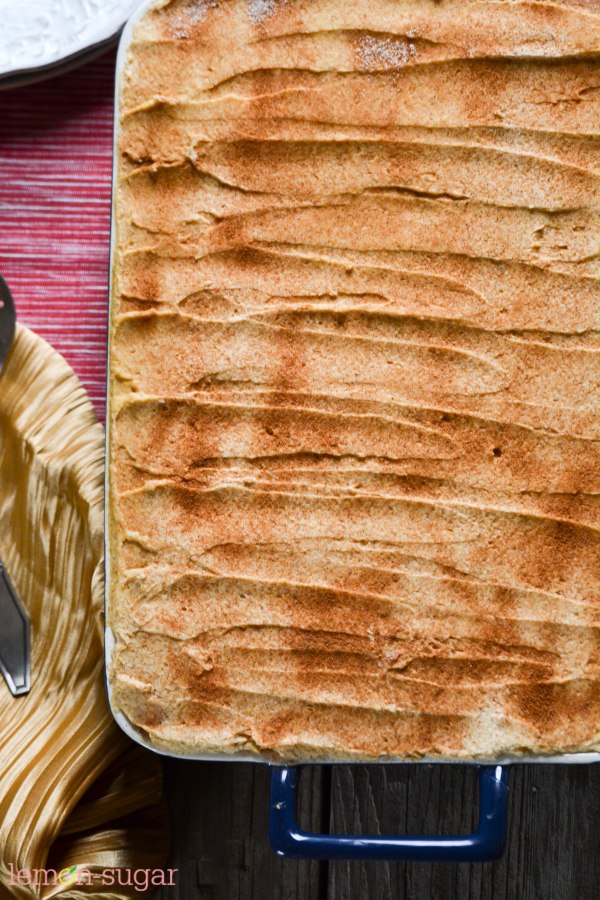 SO MANY Thanksgiving desserts, so little time.  How can I make all of the desserts?  I'm having anxiety – I need to make them ALL!  My Pinterest boards are FULL of pumpkin and there are four days until Thanksgiving.  #igiveup
You guys, we are mere days away from putting the pumpkin away for the year!  First, how the heck is that possible, and second – NOOOOOOO!  I'm not ready for mint and  white chocolate and toffee and cranberries and santa cookies yet!  I need another week – or two.  Or forever, please.  Who said pumpkin is a fall dessert, anyway?  Not cool, whoever you are.  #pumpkinforevah
I actually have a very full winter Pinterest board, too – and pages upon pages of recipes flagged in my magazines and cookbooks – and I'm sure that a month from now I'm going to be boo-hooing and lamenting the end of holiday dessert time – and begging you all not to leave me when you go on your January diets. #iknowhowyouare
I think I'll just go ahead and end every paragraph with a hashtag today.  #haha #notreally #lovemeahashtag
ANYWAY…pumpkin tiramisu.  Nothing fancy – it's like regular tiramisu, but it has pumpkin in it.  It's pumpkin-flavored tiramisu. It's simple, and it's awesome. But it's not quick – this isn't a last minute Thanksgiving dessert, so please go to the store tonight and buy some mascarpone, and then plan to make it on Wednesday night so it will be all ready to go on Thursday.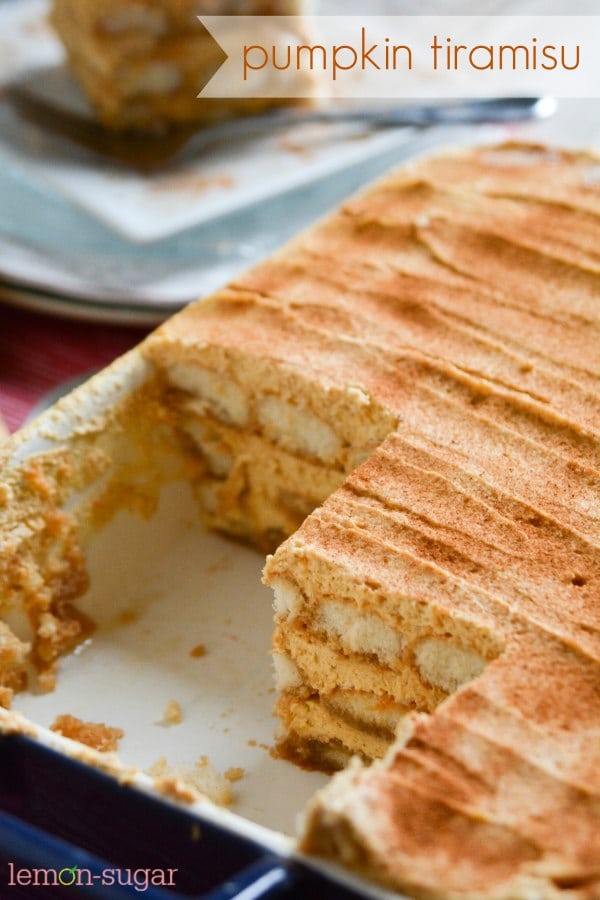 If you aren't familiar with mascarpone cheese, it's a lot like cream cheese – maybe not quite as tangy, but it has the same consistency and texture.  You can usually find it by the cream cheese in your grocery store, or with the specialty cheeses, and it's about $5 per 8 ounces (around here anyway).  The filling for a tiramisu is basically mascarpone cheese lightened up with whipped cream, and in this case, pumpkin.  The addition of warm fall spices and hazelnut liqueur instead of coffee liqueur makes this a true Thanksgiving treat.
I like to really saturate the ladyfinger cookies with the simple syrup – it keeps the dessert from being too dry – and that little kick from the hazelnut liqueur makes you really feel like you're enjoying a something special – which is what all dessert should be – something special.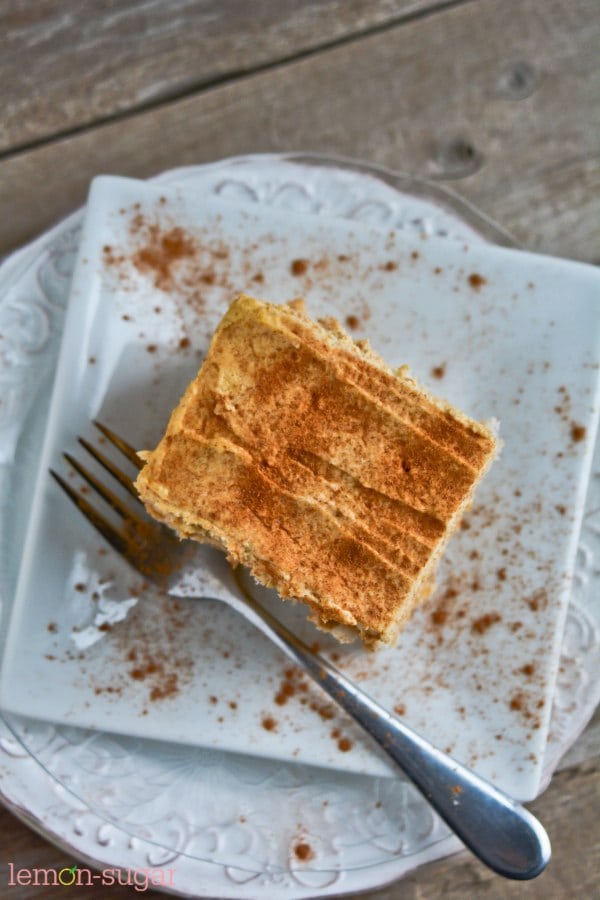 This is definitely not overly sweet – it is very rich and decadent, but not super sweet  – it's very much like a cannoli filling might be – and much like a cannoli,  a drizzle of honey would be fantastic here, too.
 Clear out some room in your refrigerator and give it a shot – and be sure to let me know what you think.
Happy Thanksgiving week, friends!
erin

Pumpkin Tiramisu
An autumn take on a classic, this pumpkin tiramisu will be a welcome addition to your holiday feast. Enjoy! Recipe source: Taste of Home Dec 2014
Ingredients
Syrup:
1 cup water
1 cup brewed coffee (strong is good)
⅔ cup sugar
⅔ cup hazelnut liqueur
Pumpkin mixture:
16 ounces mascarpone cheese
¾ cup canned pumpkin
5 Tablespoons sugar, divided
1 and ½ teaspoon ground cinnamon
½ teaspoon ground nutmeg
¼ teaspoon ground ginger
¼ teaspoon ground allspice
1 and ¼ cups heavy whipping cream
Assembly
54 crisp ladyfinger cookies
1 Tablespoon sugar
½ teaspoon ground cinnamon
Instructions
In a small saucepan, combine water, coffee, sugar and hazelnut liqueur; cook and stir over medium-low heat until sugar dissolves completely. Transfer to a shallow bowl, cool completely.
In a large bowl, mix mascarpone cheese, pumpkin, 3 Tablespoons sugar and spices until just blended.
In a small bowl, beat whipping cream until it begins to thicken. Add remaining sugar and beat until soft peaks form.
Fold whipped cream into mascarpone mixture. Do not over mix.
Quickly dip 18 lady fingers into coffee mixture, allowing excess to drip off.
Arrange in a single layer in and 9x13 dish.
Spread with 1 and ⅔ cups of cheese mixture.
Repeat layers twice.
Mix sugar and cinnamon and sprinkle over top.
Refrigerate, covered, at least 8 hours or overnight.
2
leave a comment your way - using facebook or disqus: