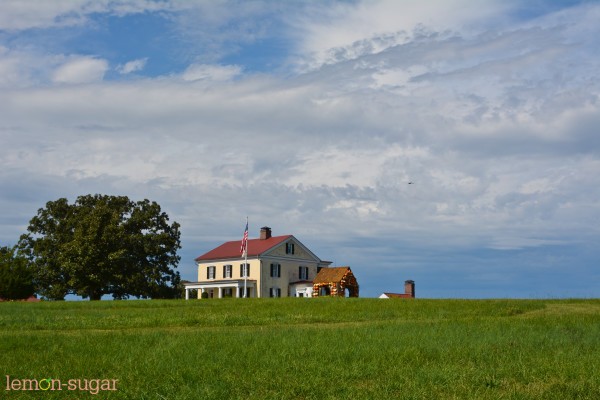 I'm just going to apologize in advance.  This is going to be one of those picture heavy posts, and it pains me to say that I cut it waaaaayyy down from my original selection of photos.  But there's just so dang much to see, so hang in there and trust me on this one!
A couple of weeks ago, I wrote about our last-minute anniversary trip to Eureka Springs.  We spent half of a day wandering around and eating our way through the city, then spent the evening at a fabulous cabin in the woods.  The next morning we got up and going really early to make the three-hour drive over to Little Rock.
Although we had a nice time in Eureka Springs, visiting P. Allen Smith's farm was actually the entire purpose of our trip.  We've been watching his show on public television for years, and have recently become enthralled with pretty much everything about his home and farm.  He's a cook, a farm-to-table one at that, practices green and sustainable farming and gardening, he has heritage chickens and bees…and with the exception of no swimming pool, pretty much leads our dream life right there, perched up on top of Moss Mountain in northern Arkansas.
We had some serious jealousy happening, all. day. long.
I'm not going to get into the details about P. Allen Smith, you can read about him here if you like.  There's just to much to tell in one blog post.  I will tell you that we enjoyed every second of the tour, and it was worth the price of admission, for sure.  I'll stick to the highlights of our day and just encourage you to make the trip yourself!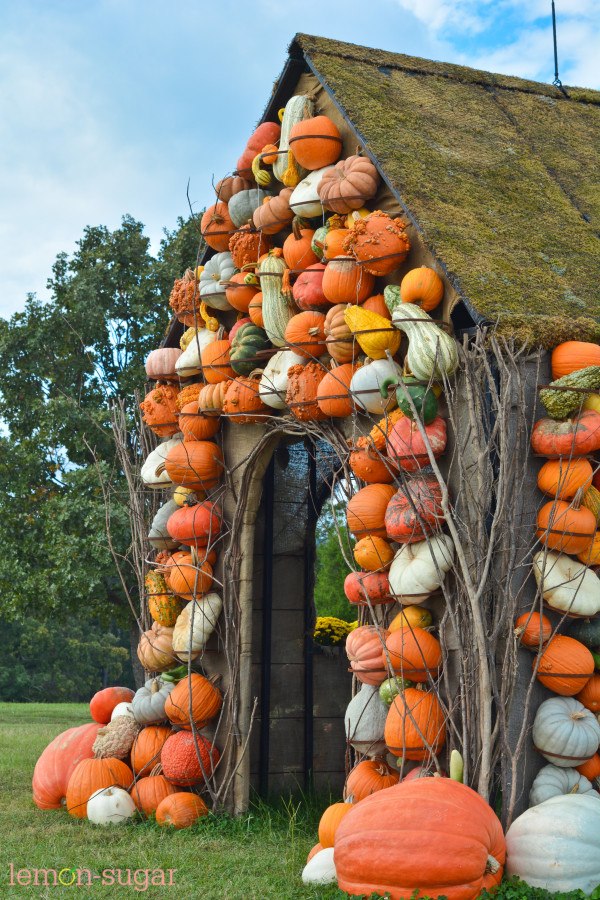 The tour started in his front yard, under a 300-year old oak tree.  The house and the farm were decked out with fall decorations, including these amazing pumpkin houses.  Much to everyone's excitement, P. Allen Smith came out of the house to start the tour.  He apparently doesn't appear for every scheduled tour, so we were definitely excited to see him!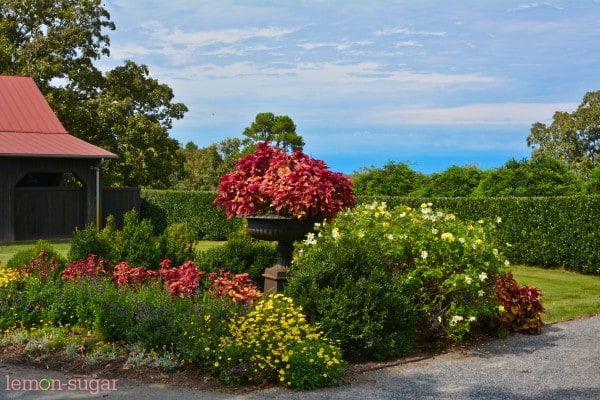 After a quick photo session with P. Allen Smith, he welcomed all of us (about 50 people) into his home.  We stood in his living room, sat on his couches, and listened to him talk about his art, his books, his decor and inspiration for the design in his home.  After speaking for 15 or 20 minutes, he allowed us to wander through the house, asking questions, just looking around.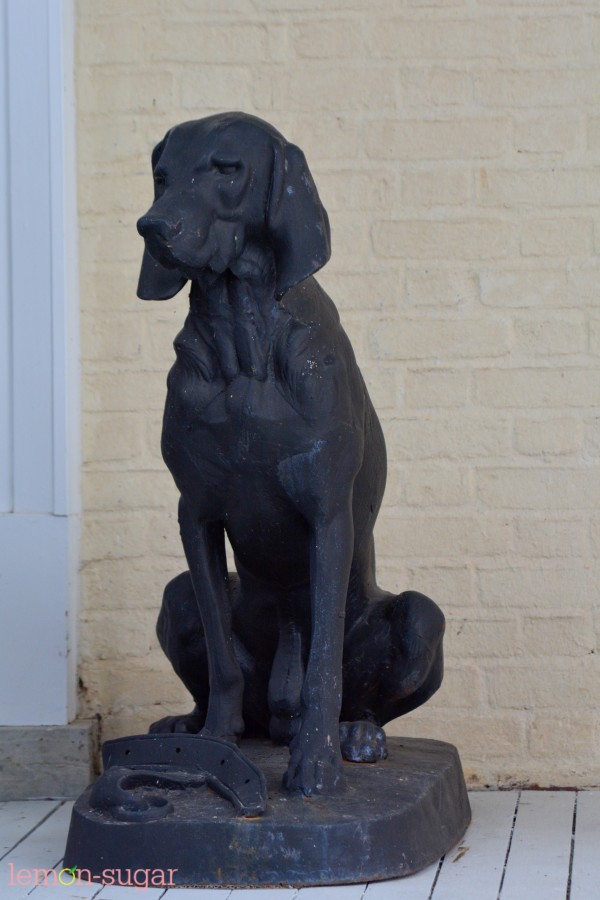 Of course I was most excited to see the kitchen, but my favorite room in the whole house was the sleeping porch.  Overlooking the Arkansas River Valley, the view was spectacular and I can't think of anything better than sleeping outdoors on this gorgeous porch on a warm, southern night.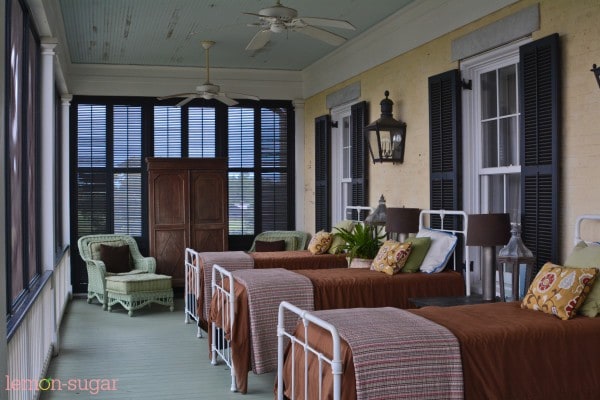 The kitchen was lovely, mostly white and decked out with top of the line appliances and fixtures.  The marble countertops were the perfect palate for the ever-changing kitchen seasons, and it was both elegant and kitschy at the same time.  You could tell that it was lived in, used and a real, working kitchen – but it was GORGEOUS.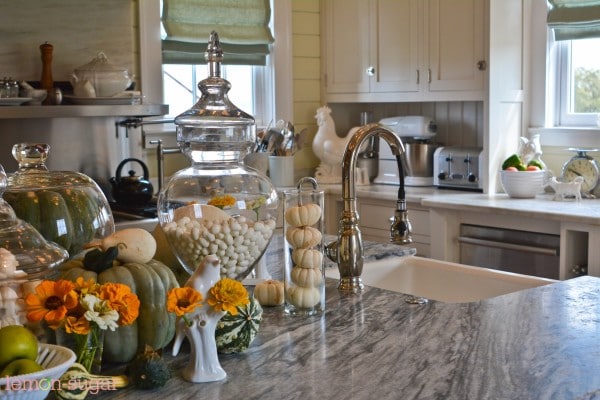 After about an hour in his house, it was time for a bit of shopping in the gift shop, a book signing and lunch.  He has a fantastic barn-inspired gift shop on the property, and it's full of SO, SO much fun stuff.  You can check it all out online, here.   The prices are very reasonable and it's almost impossible to walk in and not walk out with an armful.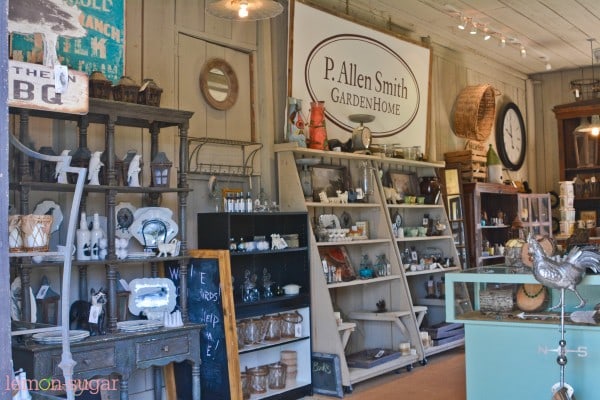 P. Allen Smith signed a couple of cookbooks for us and my husband had to drag me out of there before I spent our entire vacation budget in one place.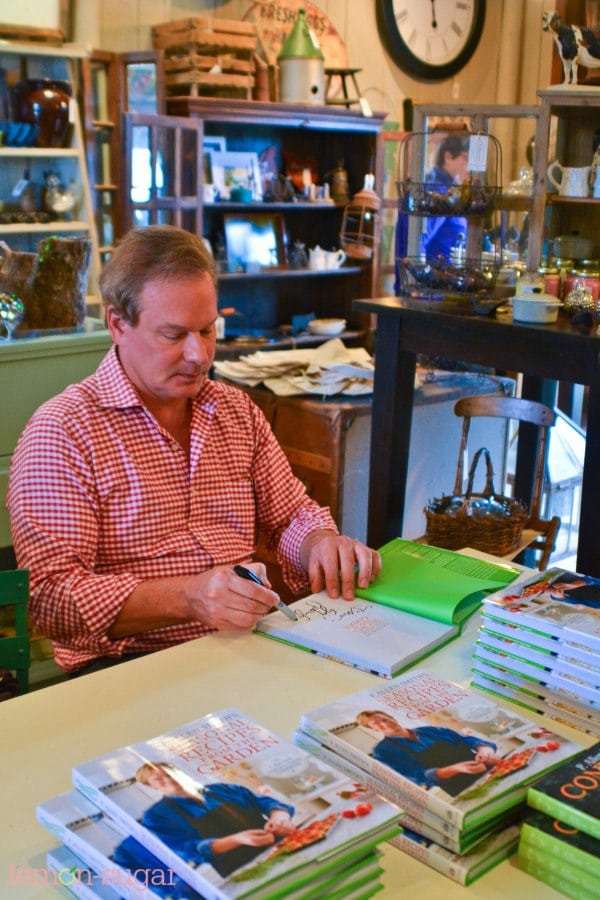 Moss Mountain Farm hosts plenty of events and weddings at the farm, mostly hosted out of this gorgeous barn right next to the house.  They had a huge white tent set up the day we were there in anticipation of a wedding, and it was absolutely idyllic – a great place to celebrate. Lunch was served inside the barn – and this might have been my very favorite part of the day.  The setting was fantastically gorgeous, and the food – well, it was AH-MAZZZZING.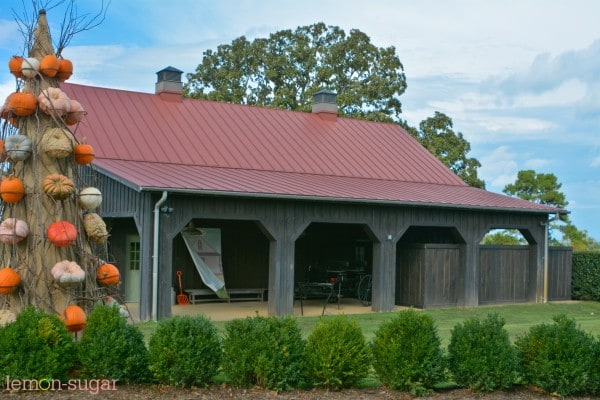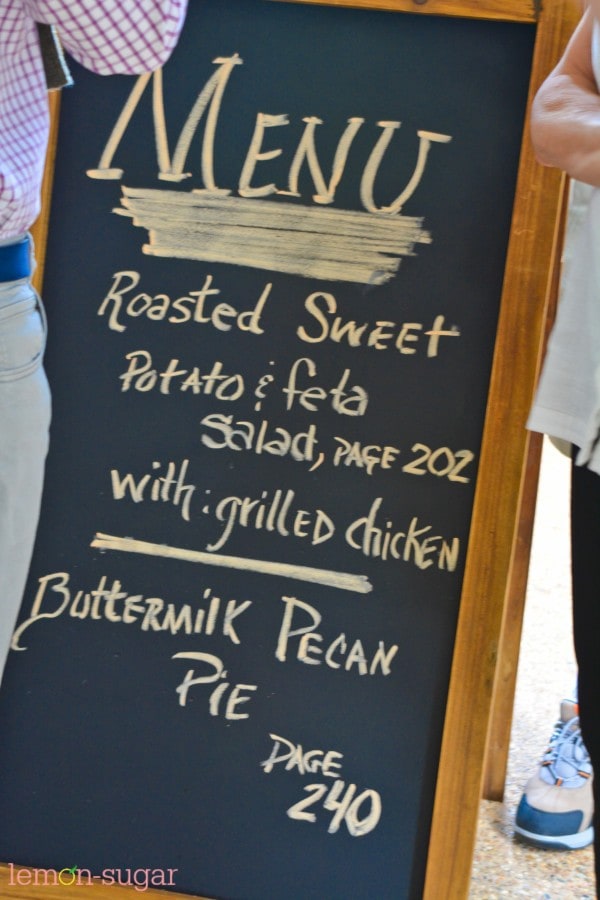 So as you can see, lunch was a delicious fall salad with spinach, roasted sweet potatoes and perfectly grilled chicken  It was, without exaggeration, one of the best salads I've ever had, and I've replicated it already a number of times since we've been home.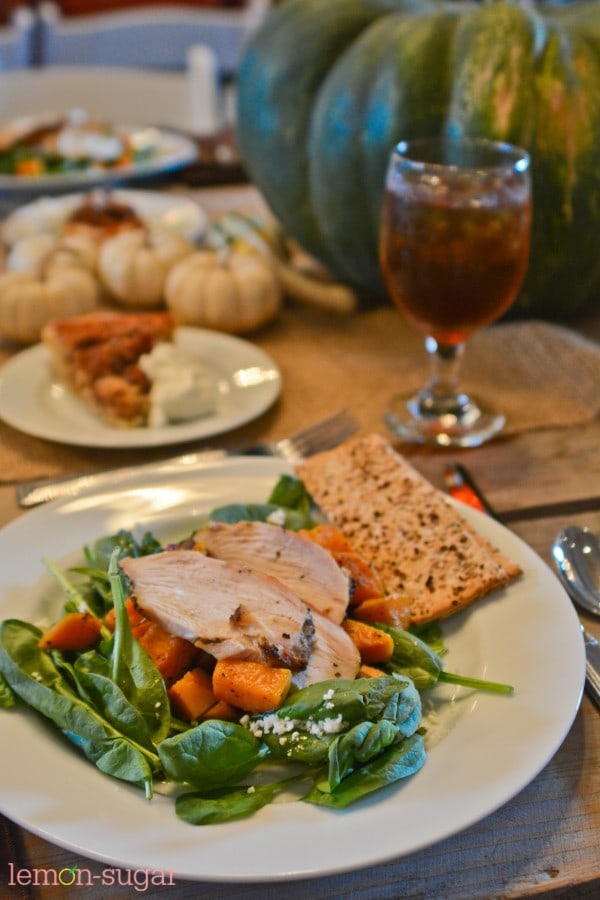 But folks, lets talk about the pie.  Buttermilk pecan pie.  Again, without exaggeration – best pie I've ever had.  Hands down.  It will be on the blog soon, so be on the lookout – your Thanksgiving needs this pie.
You need this pie.
Actually, I need this pie – again.
So, so good.

P. Allen Smith surprised us all again by jumping up after lunch and speaking to all of us again – telling stories, answering questions – my husband is so infatuated with him that he actually raised his hand and asked a question, too.  (I was like, "WHAT?  WHO ARE YOU?")
I think he asked him how many acres he actually works – mostly because I think he wants to replicate everything P. Allen Smith does and is wondering just how much land we'll need.
Ha.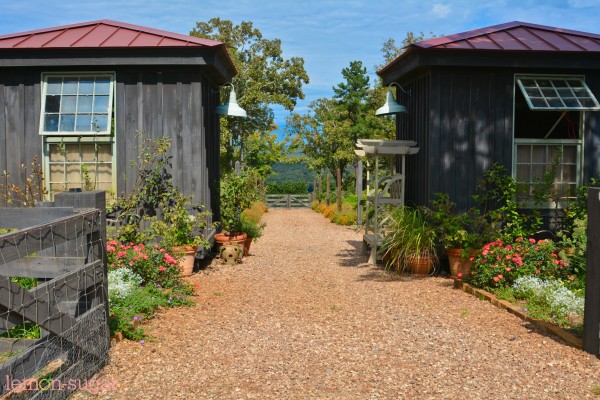 After lunch, we took a walk through the farm and the gardens.  The vegetable gardens were not only beautifully planned and executed, but they were all perfectly healthy and of course did exactly what they were supposed to do.  The photo above is of the entrance into his one-acre vegetable garden.
Envy.  I had some envy.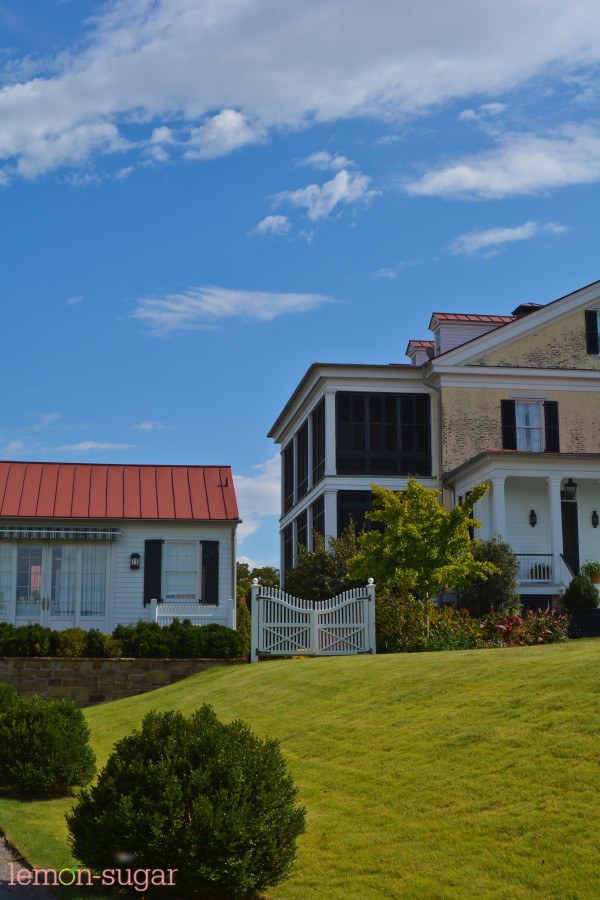 Beyond the vegetable gardens, the orchard and the perfect rose garden, wandering through was was essentially his backyard continued to be awe-inspiring, breathtaking and I couldn't get enough.
But – here's where my jealousy-meter went off the charts.
He has kitchen-slash-photography studio cottage. It's where he films many of his TV segments, and I was practically drooling, folks.  I just sat there and stared at it for a while.  I'm not going to lie, I had some fantasies of standing next to him on his show, showing him how I make my favorite cinnamon rolls and just being BFF's for life.
Check out just how perfect, you guys: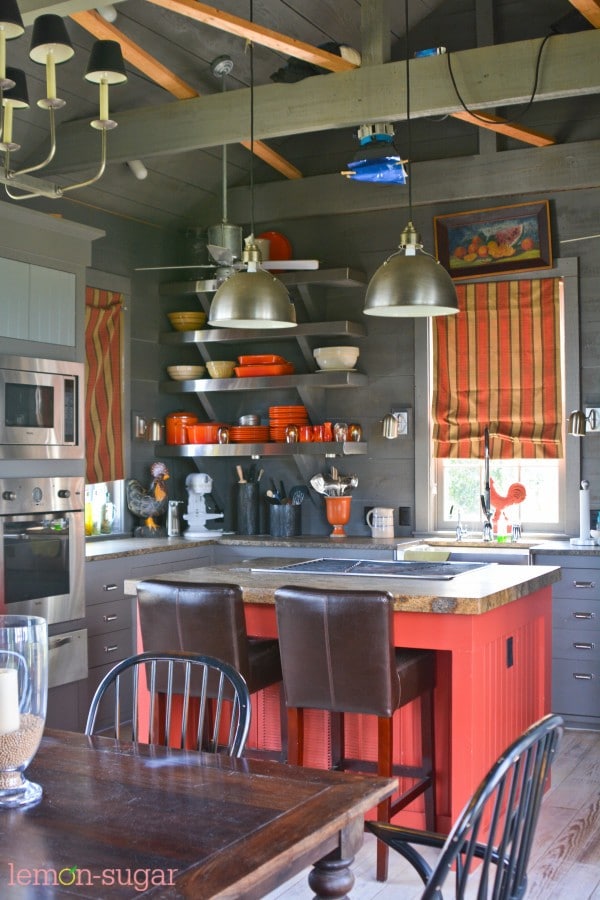 After the gardens, we hung out with his impressive flock of heritage chickens for a while – if you're a chicken person it's really very impressive.  We said hi to his donkey, pet the goats and took a nice slow stroll through the property before it was time to go.
We really didn't want to leave.  P. Allen Smith is my people.  I encourage all of you visit the farm if you're in the area – and let me know if you go so I can go with you.
Thanks for reading, back in a couple days with some new recipes!
erin
1
leave a comment your way - using facebook or disqus: