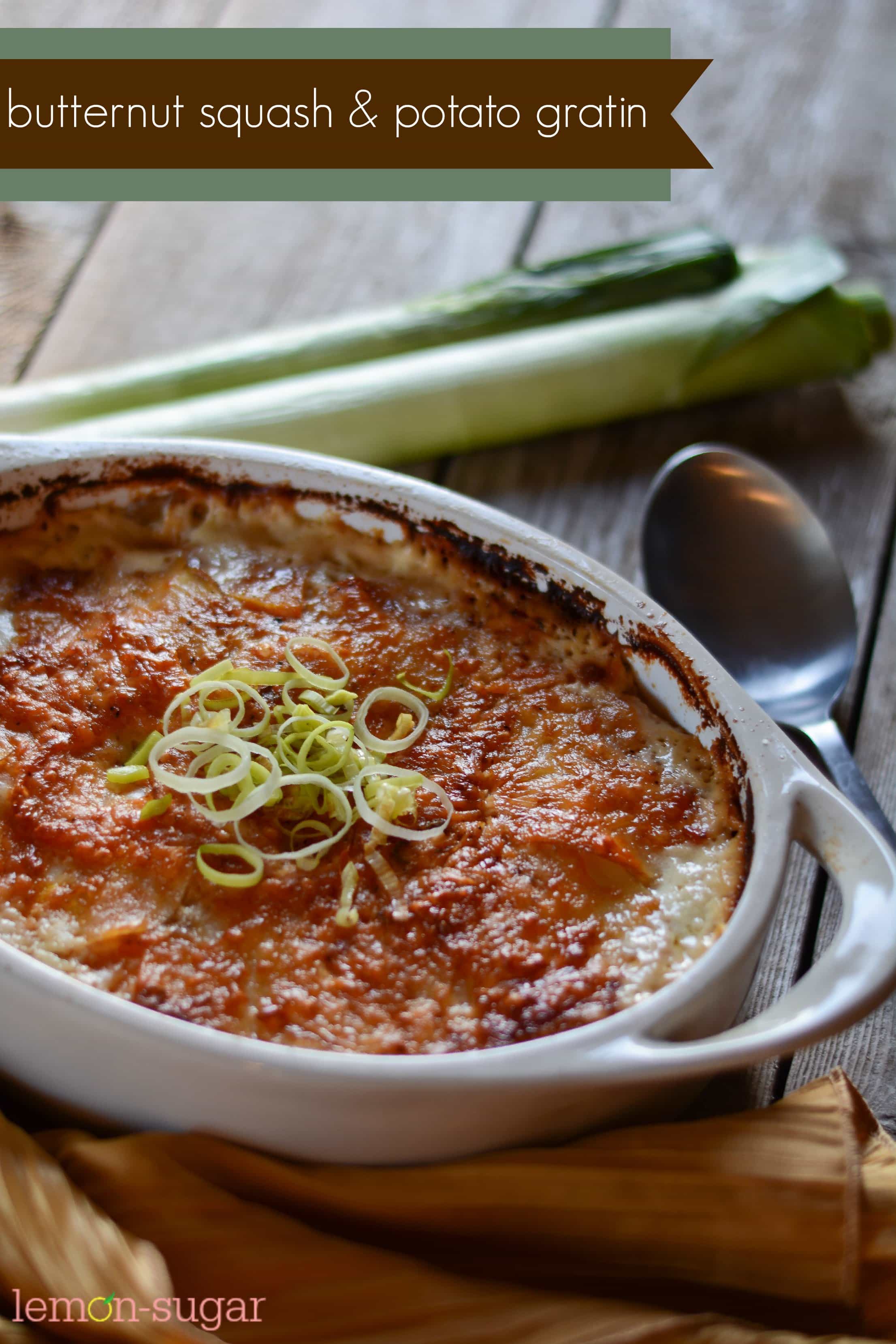 I am a Thanksgiving traditionalist.  I want the same dishes on my Thanksgiving table, year after year.  And for me, it's not even about the turkey – it's about the sides.  Mashed potatoes, gravy, homemade noodles, dressing (not stuffing), homemade rolls, sweet potatoes, real cranberries, my Grandma's salad, green bean casserole and, if we have time, scalloped corn.
I know there are tons of fabulous recipes out there and amazing Thanksgiving dishes that would make a great addition to my table, but dang it, our meal is a tradition and changes are not allowed.  Ever.  Don't you mess with my once-a-year feast.  Just don't.
So, since I'm such a stick-in-the-mud about Thanksgiving dinner, I like to spend the weeks ahead of the holiday trying out new recipes.  And while most of them don't make the cut into our tradition ('cause that would be breaking tradition, duh…) I do like to experiment and try new things.  And because I'm a HUGE fan of potato gratin and a huge fan of butternut squash, this totally spoke to me and I knew I had to make it.
It's fab.
It's rich and creamy and delicate – the potatoes and squash make a great combo, and seriously, you could put melted Fontina cheese on just about anything and make it taste a bazillion times better.  It's a FACT, yo.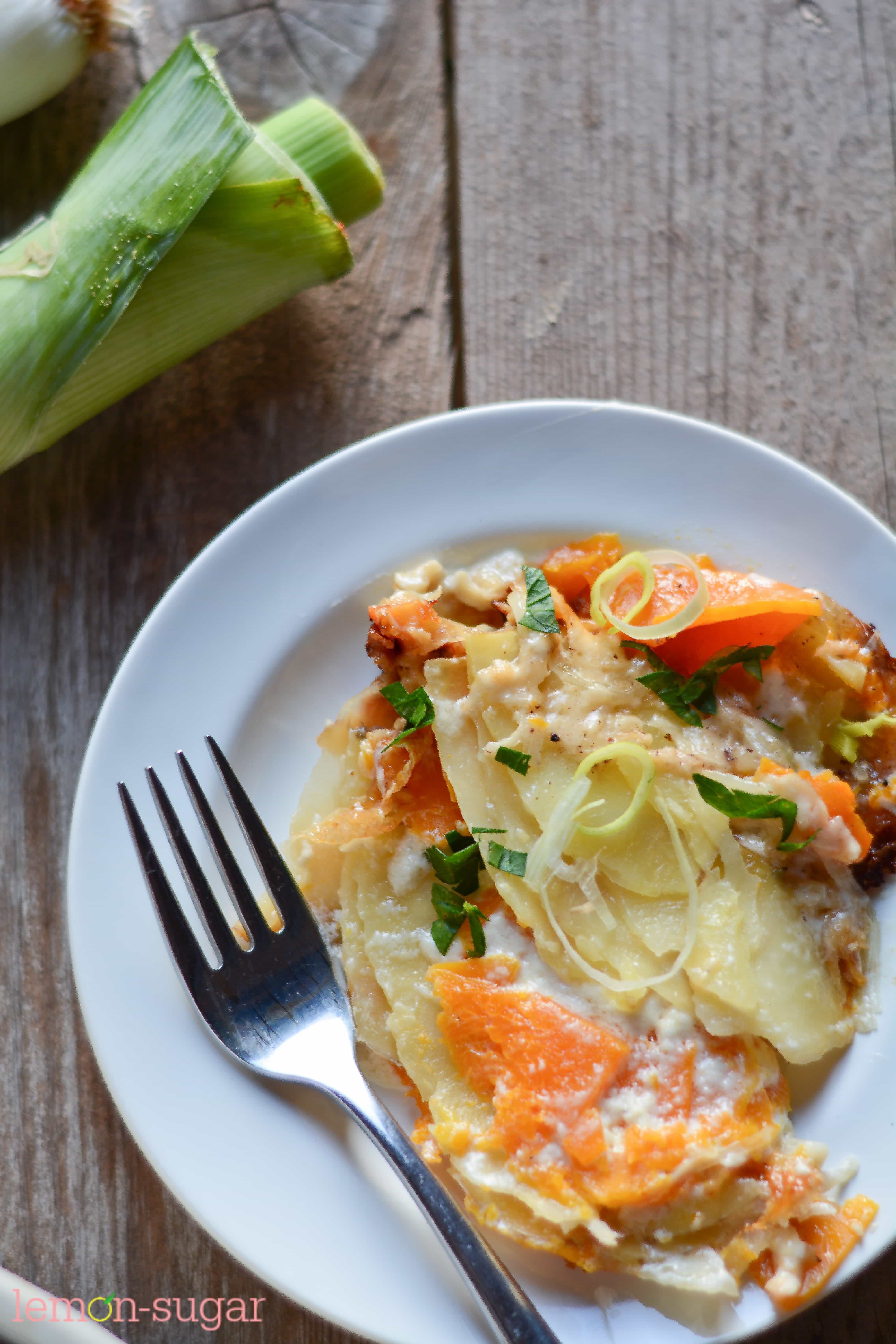 Every time I cook with leeks I'm reminded how much I love leeks and always wonder why I don't cook with them more.  The flavor is a delicate onion flavor – it's not overpowering or tear-inducing like your typical white or yellow onion, but it has just enough kick to add a little something extra to your recipes.  I don't know why I don't rely on leeks more – I should.
So yes, leeks are good.  And, they're pretty.  Did you see the photo from my Instagram account a while back?  So pretty.  Well, if you're the kind of person that thinks thinly sliced onions can be pretty.  Which I am.  (And are you following me on Instagram?  Do it!)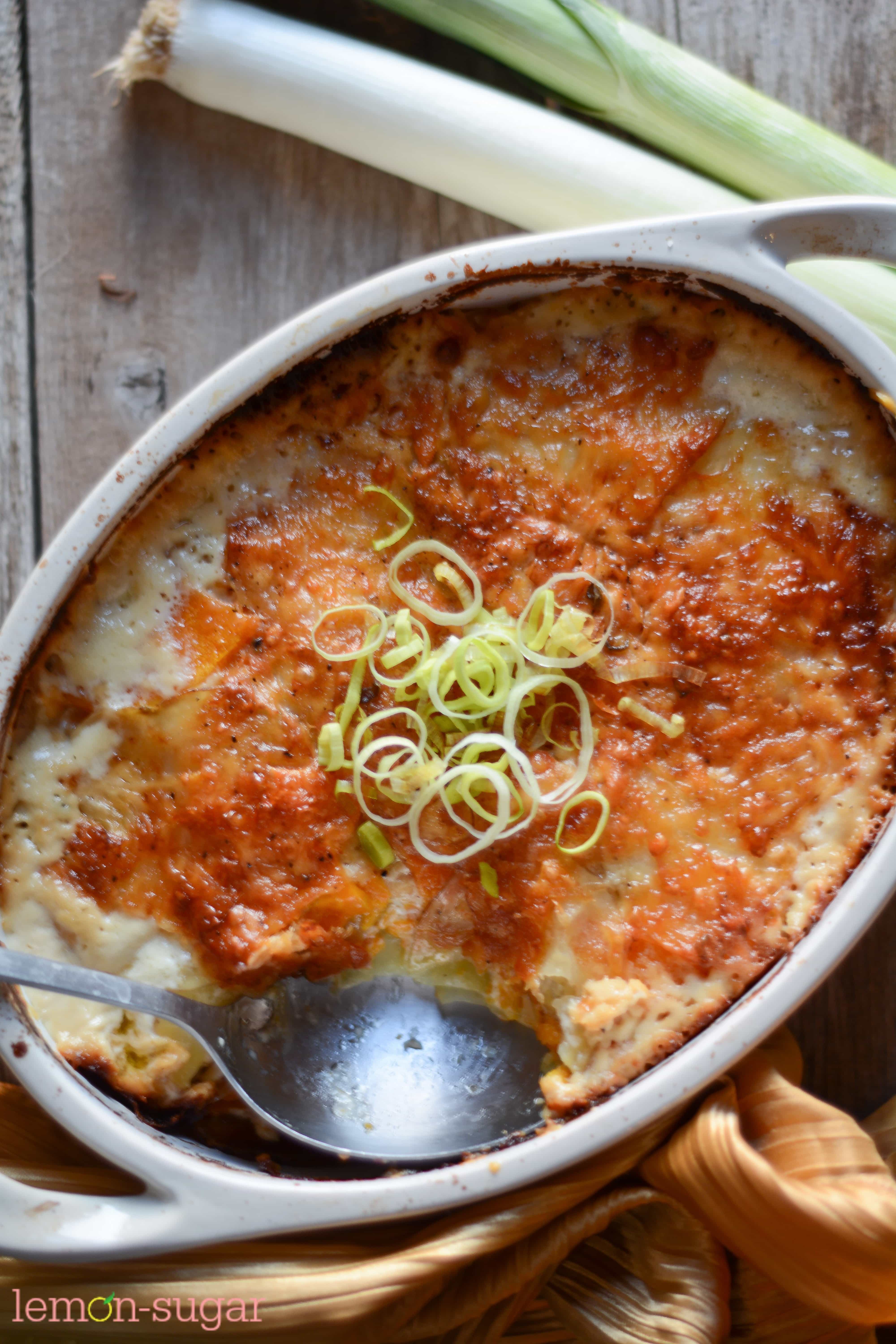 Even though this recipe sounds a bit fancy, it's really very easy.  The trick is to prep your ingredients first and then it's just a matter of a quick assembly job.  I have a great, inexpensive mandolin that I use to slice up veggies – it's light weight and fits in my drawer and does the job, every time.
I'd highly recommend this for a new Thanksgiving side dish – let me know if you give it a try!
Enjoy!
Butternut Squash & Potato Gratin
An autumn take on traditional potato gratin, the flavors are deep and comforting, and are sure to warm you up on a cold fall evening. A perfect Thanksgiving side dish!
Ingredients
4 medium Yukon gold potatoes, thinly sliced
1 small butternut squash (about 1.5 pounds), peeled, seeded and thinly sliced
½ cup thinly sliced leek
1 Tablespoon snipped fresh sage
1 teaspoon salt
½ teaspoon ground nutmeg
¼ teaspoon ground black pepper
8 ounces Fontina cheese, shredded (about 2 cups)
1 and ½ cups whipping cream
Instructions
Preheat oven to 350 degrees (F), and grease a 3-quart baking dish with butter or cooking spray, and set aside.
Prepare potatoes and squash, and set aside.
Slice leeks, snip sage and shred cheese. Set aside.
Layer half of the potatoes, squash and leek in baking dish.
Sprinkle with half of the salt, nutmeg, sage and pepper.
Sprinkle with half of the cheese.
Repeat the layers.
Pour the cream over the top of the dish, and cover tightly with foil.
Bake, covered for 1 hour and 20 minutes.
Uncover, and bake for about 30 minutes more or until potatoes and squash are fork-tender.
Let stand for 15 minutes before serving.
Enjoy!
0
leave a comment your way - using facebook or disqus: