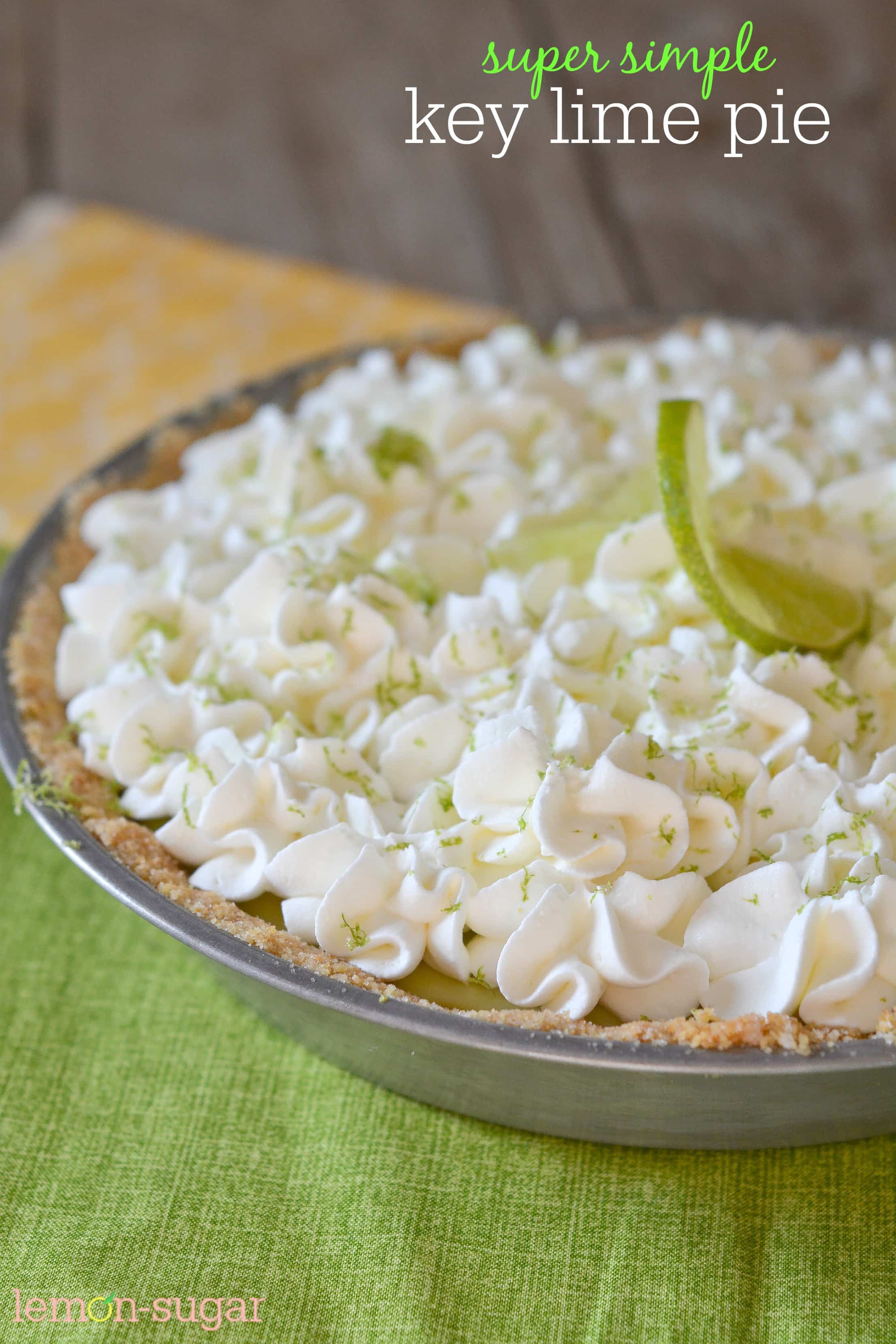 You know when it's the end of October and November is just around the corner and you're all like, "I don't want winter to be here," so you think of the summery-est dessert you can and make it?
Yup.  Just happened.  The end of October just screams Key Lime Pie, doesn't it?  No?
You guys, how in the world is summer overrrrrrrrr?  That had to have been the shortest summer on record.  My summer went like this:  5 year old birthday party, June at the ballfields, vacation at the beach, back to school, boom.  Now the leaves are falling off the trees and there's not a darn thing I can do about it.
Luckily I received a bag of key limes in my produce delivery.  And luckily I had a full carton of whipping cream in the fridge.
Every time I type "luckily," I think of the scene from Legally Blonde with the lucky scrunchie.  Ha.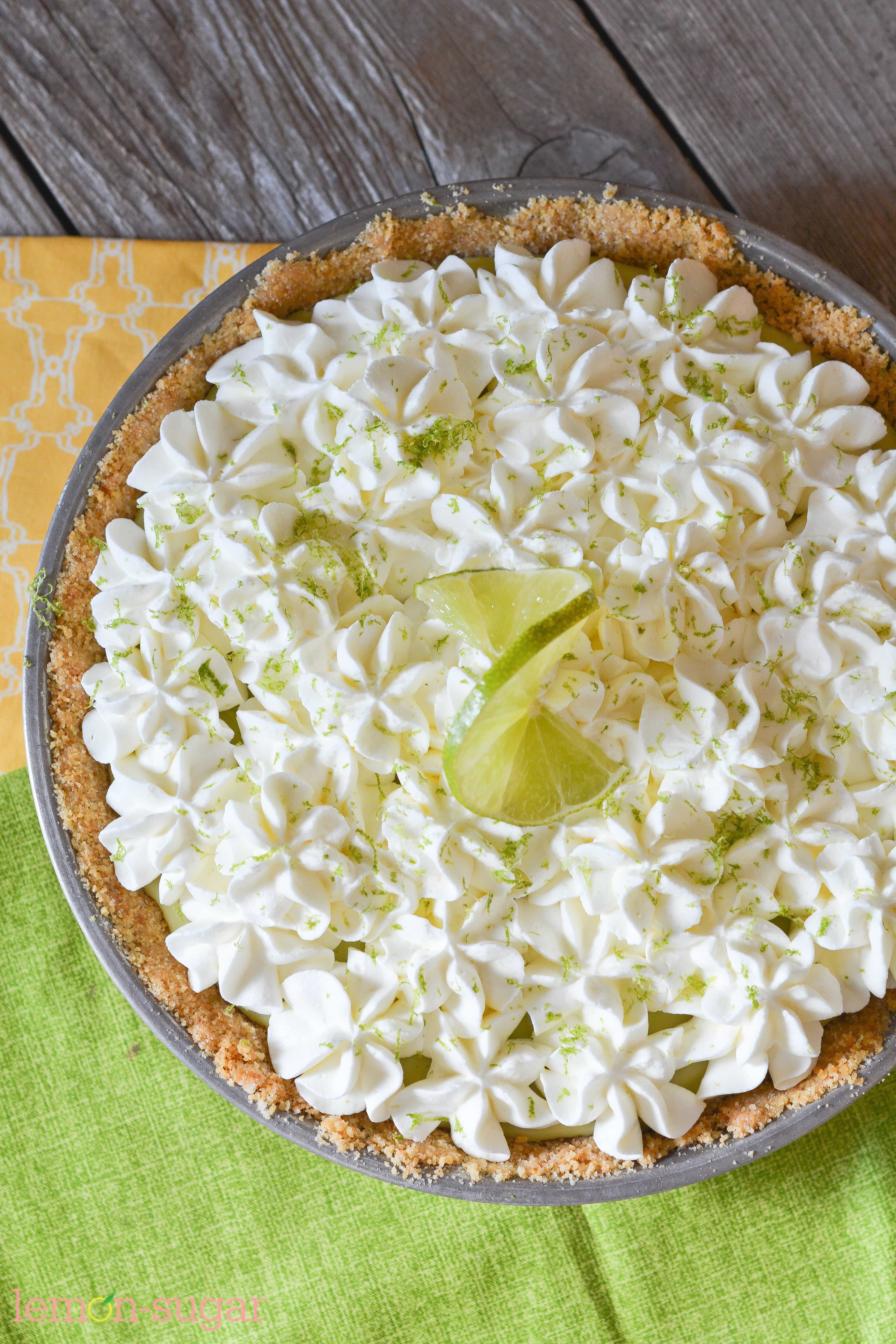 So, yeah, I made Key Lime Pie.  But this isn't just any Key Lime Pie, it's the easiest recipe ever, and it  has a fantastic flavor and texture.  You can even skip the graham cracker crust recipe and buy a store-bought if you like to save MORE time.
The ingredients?  Key lime juice.  Sweetened condensed milk.  Sour cream.  Whipped cream.
That's IT!
So, you make the crust, whisk together the other ingredients, bake for a few minutes, cool in a warm oven, then refrigerate. EASY.
There aren't a lot of desserts out there that are really just that simple.  This will for SURE become a go-to dessert for me from now on.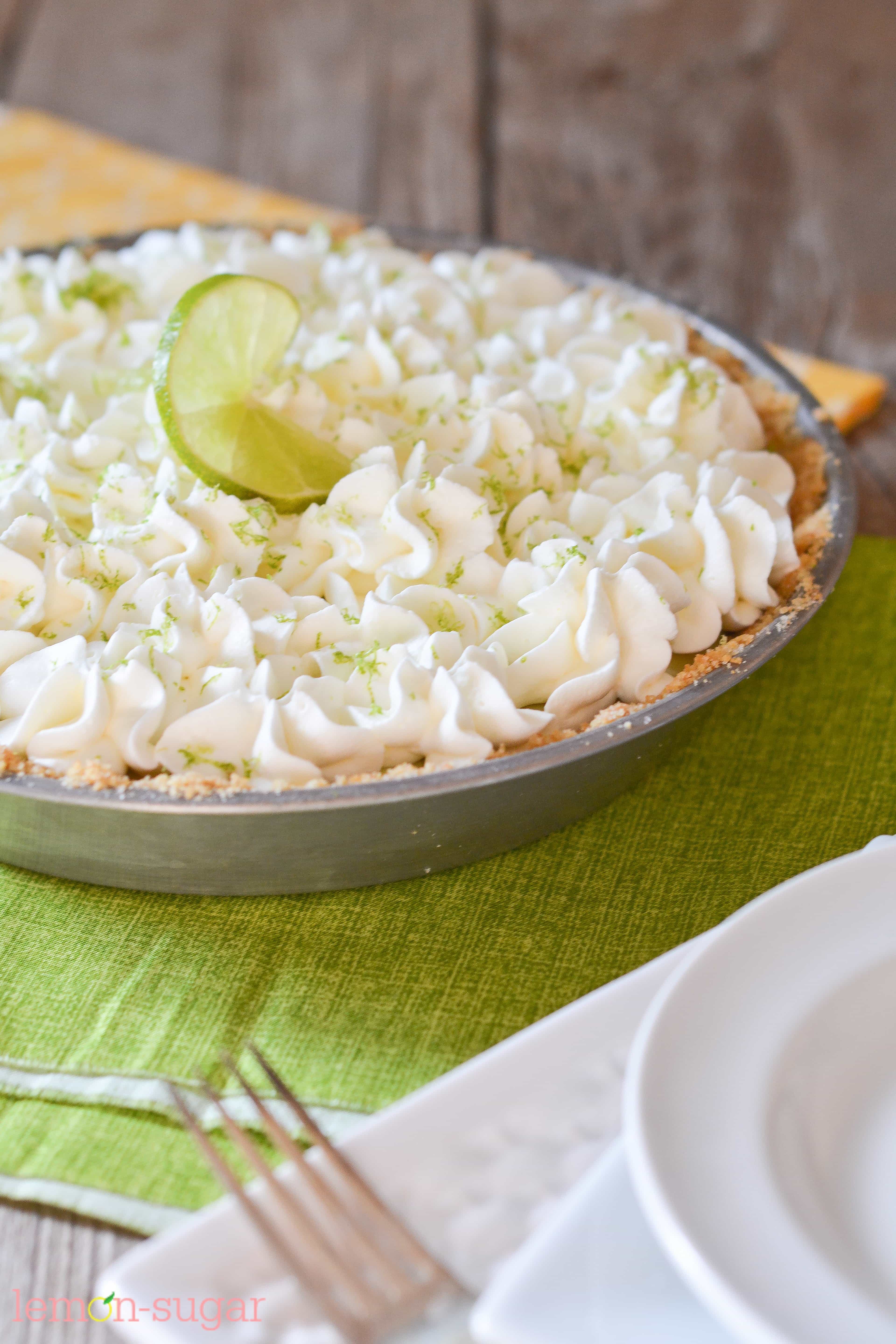 I've had a number of key lime pies in the past, they're really one of my favorite desserts of all time.  I love the pairing of the sweet-tart custard and the salty-sweet, buttery crust.  The whipped topping cuts the citrus flavor just enough to allow a burst of flavor in your mouth before it melts into a creamy, silky, close-your-eyes and sigh kind of experience.
One bite of this pie and it's summer on the beach again.  Palm trees, seagulls, crashing waves everywhere.
Don't wake me, please.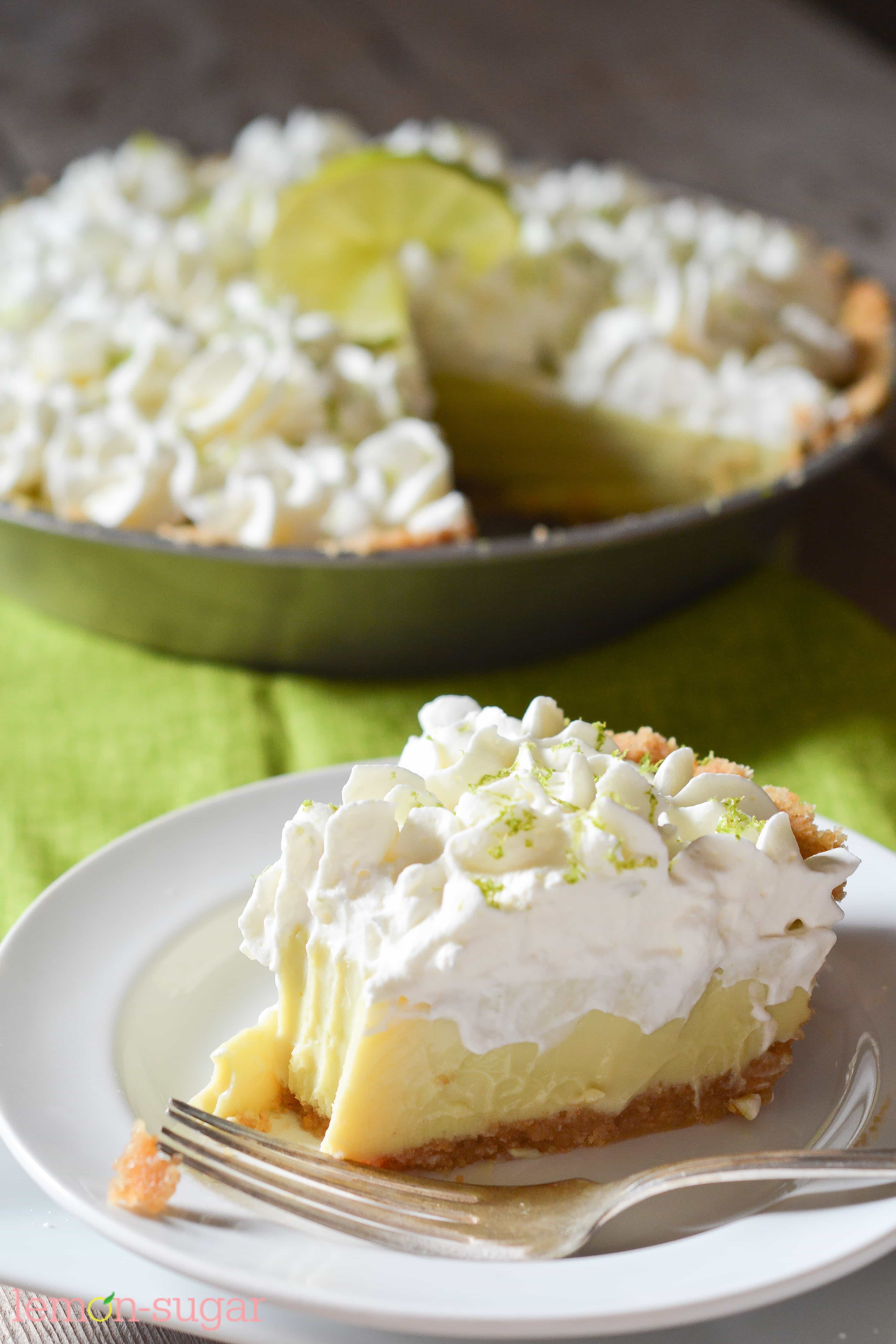 You can see that it sets up nicely, and it will keep in the refrigerator for quite a few days.  You can go heavy or light with the whipped topping, but of course I always think that more whipped cream is better than less whipped cream.  A little sprinkle of crisp green lime zest makes it awfully easy on the eyes, too.
I can't say enough about this pie – if you are a key lime fan you've just got to try it.
Hope you enjoy!
♥erin
Super Simple Key Lime Pie
This super-simple key lime pie will make it feel like summertime in your kitchen, no matter what time of year it is! Recipe source:
Your Home Based Mom
Ingredients
For crust:
1 and ¼ cups graham cracker crumbs
¼ cup granulated sugar
5 Tablespoons unsalted butter, melted
For filling:
2 (14 oz) cans sweetened condensed milk
½ cup sour cream
¾ cup key lime juice, fresh-squeezed if available
Grated lime zest for garnish
Whipped cream:
1 cup heavy whipping cream
¼ cup powdered (confectioners) sugar
Instructions
Preheat oven to 350 degrees (F).
In a medium sized bowl, combine graham cracker crumbs, melted butter and sugar. Stir until crumbs are completely moistened.
Press into the bottom of a 9-inch pie plate. Set aside.
Wipe out the bowl and combine sweetened condensed milk, sour cream and lime juice. Whisk until completely combined and smooth.
Pour into prepared pie crust.
Bake for 10 minutes, then turn oven off and allow the pie to sit in the oven for 30 minutes.
Refrigerate to chill, pie should be cold when serving.
Beat whipping cream until peaks form. Add confectioners sugar and beat to combine.
Top with fresh whipped cream, and enjoy!
12
leave a comment your way - using facebook or disqus: