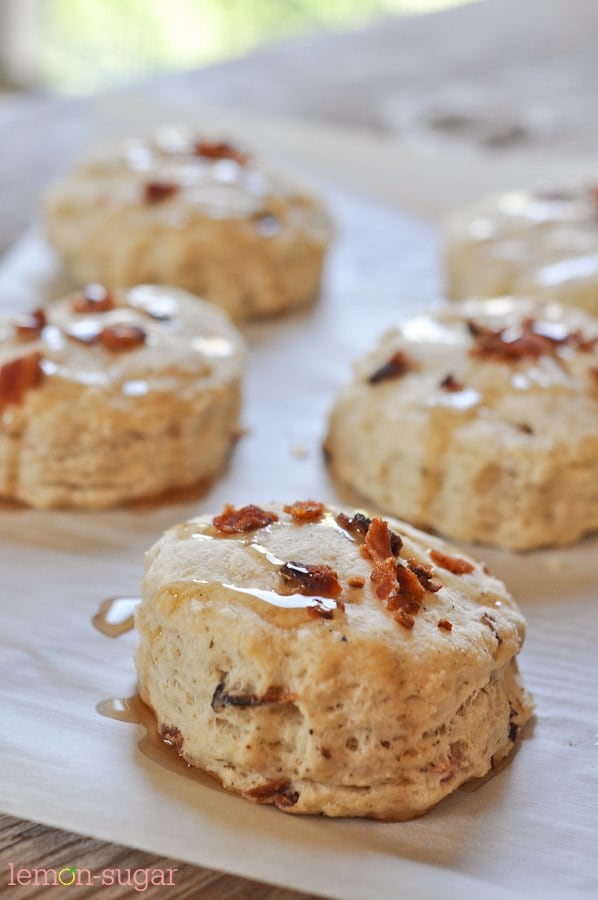 I like to tell people that I don't really like bacon.
If we're being honest thought, that's really only half true.  I DO like bacon, but I do NOT like chewy, gummy bacon.  I like it verrrrrrry crispy.  Otherwise, forget it.
Know what else I like?  Biscuits.  So, you know -might was well combine them, right?  Because then, you can put a nice fried egg and some cheese in the middle of it, and you'll die and go to crispy bacon heaven.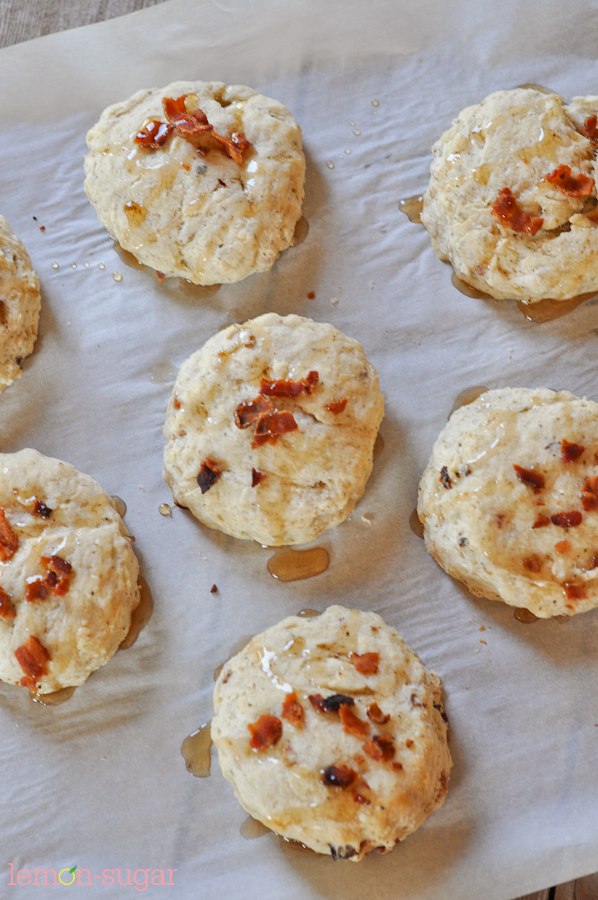 Every Sunday, we make a big, family breakfast.  It usually involves waffles at the insistence of my family, but occasionally I put my foot down and make something else – usually before my family even knows what's going on – otherwise it's waffles, every. single. week.
They're good waffles, though, you should try them.
I'm usually a savory-breakfast kind of girl, so when I found this recipe I had to try it right away.  It's a peppery, light, homemade biscuit, and it's infused with (crispy) bacon pieces.  Perfect for breakfast sandwiches, and totally delish on their own with just a drizzle of maple syrup.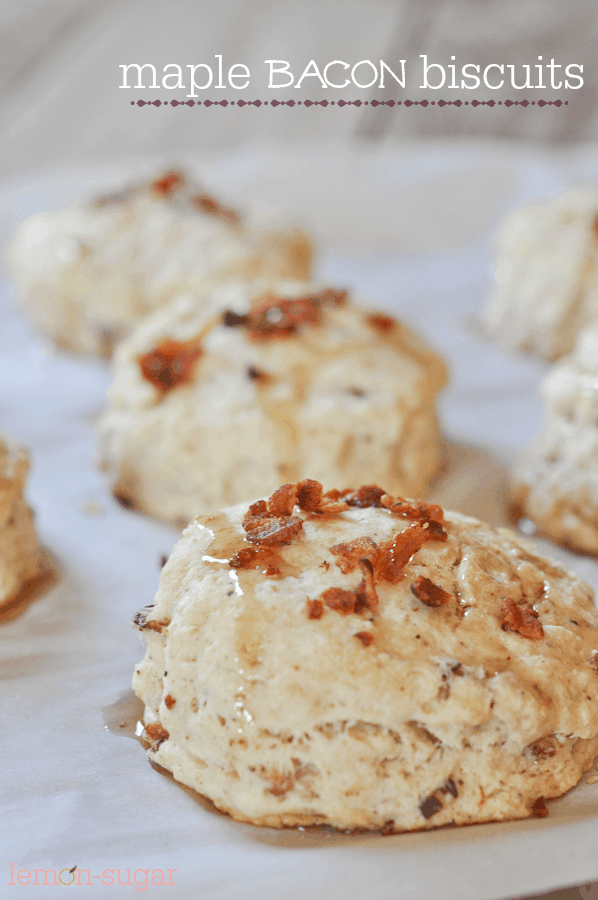 I always find it surprising  how simple homemade biscuits are to make – they take just a few minutes more than popping open a can, and the payoff is totally worth your effort. However, there are a couple of tips that will take your homemade biscuits from good to great though, so take note:
1) Make sure your baking powder is fresh.  I do a lot of baking, and I replace mine about once every six-eight weeks.  I know they say you can keep it for up to six months, but the older it gets, the less it works.  It's an inexpensive ingredient, so replace it often.
2) Make sure your butter is very cold.  If your butter melts, the biscuits won't be flaky, they'll be flat and greasy.  Use a good pastry cutter and cold butter, and you'll be fine.
3) Don't over-handle your dough.  The less you touch it, the better your biscuits.  The heat of your hands will melt the butter – see #2.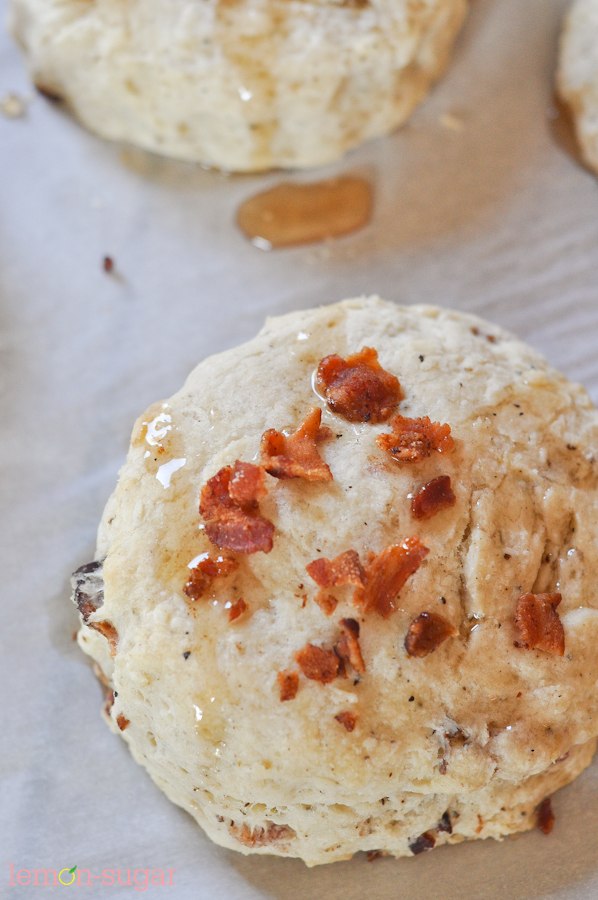 As far as the bacon goes, I always, always, always cook my bacon in the oven on a cookie sheet.  No mess, it cooks evenly and is always perfectly crispy.  Here's a great guide if you're interested. I love that there is no mess to clean up – just throw away the foil and you're done.  LOVE.
Plus, crispy bacon.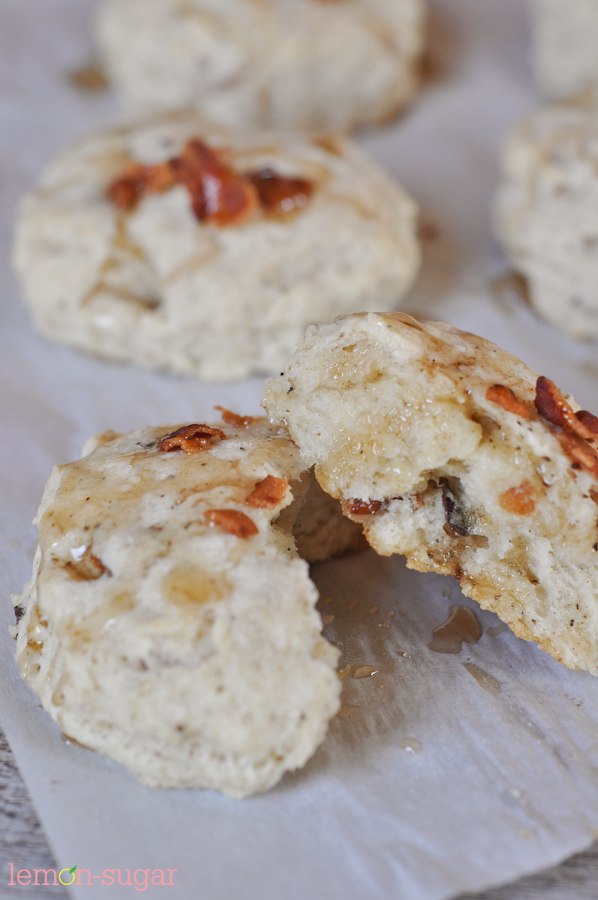 If you aren't into peppery biscuits, just reduce the amount of pepper or eliminate it all together.  And if you're into maple syrup?  Add more!  My favorite breakfast sandwich on this biscuit was a cheese and scallion scrambled egg topped with a bit of mayo and sliced avocado. So. Good.
Hope you love this simple recipe as much as we do.
Enjoy!
♥erin
Maple Bacon Biscuits
Savory bacon biscuits are drizzled with a touch of maple syrup for sweetness. Perfect for breakfast sandwiches or on their own, this biscuit is sure to be a crowd pleaser! Recipe source: Adapted from BH&G Breakfast & Brunch 2014
Ingredients
3 cups all-purpose flour
1 Tablespoon sugar
1 Tablespoon baking powder
1 teaspoon cracked black pepper
¾ teaspoon cream of tartar
½ teaspoon salt
¾ cup (12 Tablespoons) unsalted butter, cut into ½ cubes at last minute
1 and ¼ cup buttermilk
6 slices crumbled bacon, divided
¼ cup maple syrup
Instructions
Prepare bacon, and crumble it. Set aside.
Preheat oven to 450 degrees (F).
In a medium sized bowl, whisk together flour, sugar, baking powder, pepper, cream of tartar and salt.
Cube the butter, then add it to the flour mixture.
Use a pastry cutter to cut the butter until the mixture resembles coarse crumbs.
Make a well in the center of the flour, and add buttermilk and crumbled bacon, reserving 2 slices of bacon for garnish.
Use a fork to stir it until just moistened.
Turn dough on to a lightly floured surface, and shape into a disc. Roll it with a rolling pin until it's 1 inch thick.
Cut with a 3-inch round biscuit cutter, dipping cutter into flour as needed.
Reshape, re-roll and re-cut as necessary until all of the dough has been used.
Place biscuits 1-inch apart on a baking sheet lined with parchment paper.
Sprinkle tops of biscuits with remaining pieces of crumbled bacon.
Bake for 16 to 18 minutes or until golden brown.
Drizzle hot biscuits with maple syrup, and enjoy warm.
0
leave a comment your way - using facebook or disqus: