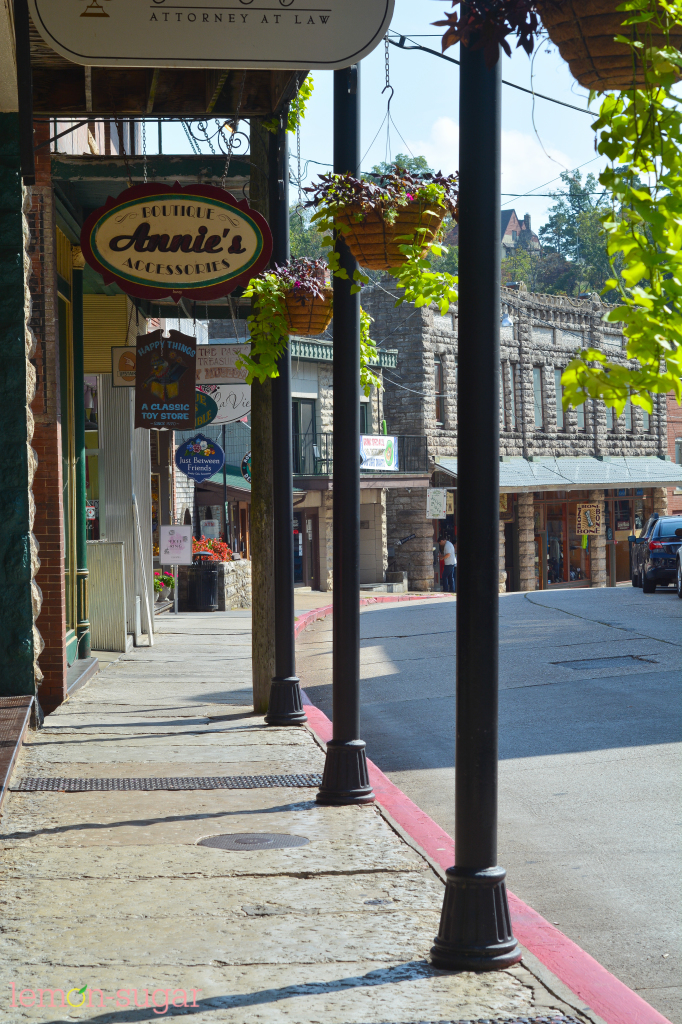 Last weekend, my husband and I made the quick drive down to the Eureka Springs/Little Rock Arkansas area for a long weekend.  We originally had grandiose plans to recreate our honeymoon for our ten year wedding anniversary, but it didn't work out with our kids' schedules and childcare and all of those other grown-up responsibilities that we have these days.  So – Arkansas it was.
I'm actually kind of glad that things worked out the way they did.  A week on the beach in Mexico would have been FAB-ulous but our quick little getaway took us on a lovely little adventure and we both had a really unexpectedly great time.
So, no recipe today, but instead the first of a two-part look into our little road trip.
The drive from Kansas City to Eureka springs was just over four hours, but wow – four hours of peace and quiet in the car with no fighting, no oblivious headphone-singing, no kicking-the-seat and inevitably spilling anything and everything they touch KIDS in the back of the car – whole different ballgame.  We talked, sipped our Starbucks, sang along to bad songs on the radio and took in the gorgeous scenery of the Ozark mountains.  It's the little things.
Neither of us had been to Eureka Springs since we were kids, so we weren't really sure what to expect.  One minute we were driving through winding hills and the next minute, the town was before us.  And it's an ADORABLE, quaint, lovely little town.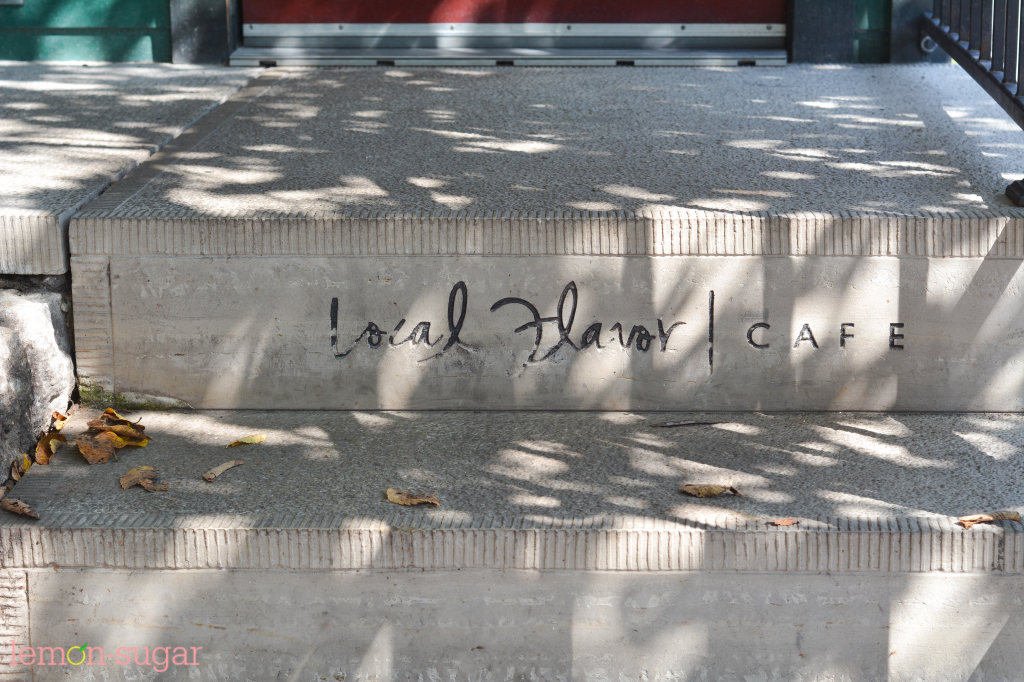 Since we pulled into town right at lunchtime, our first stop was a little restaurant that got great reviews everywhere I looked, the Local Flavor Cafe.  We snagged a cute little table right by the window, so we enjoyed some people watching while we ate our lunch.  I had goat cheese salad and quiche and my husband had a tilapia sandwich.  Both were delish.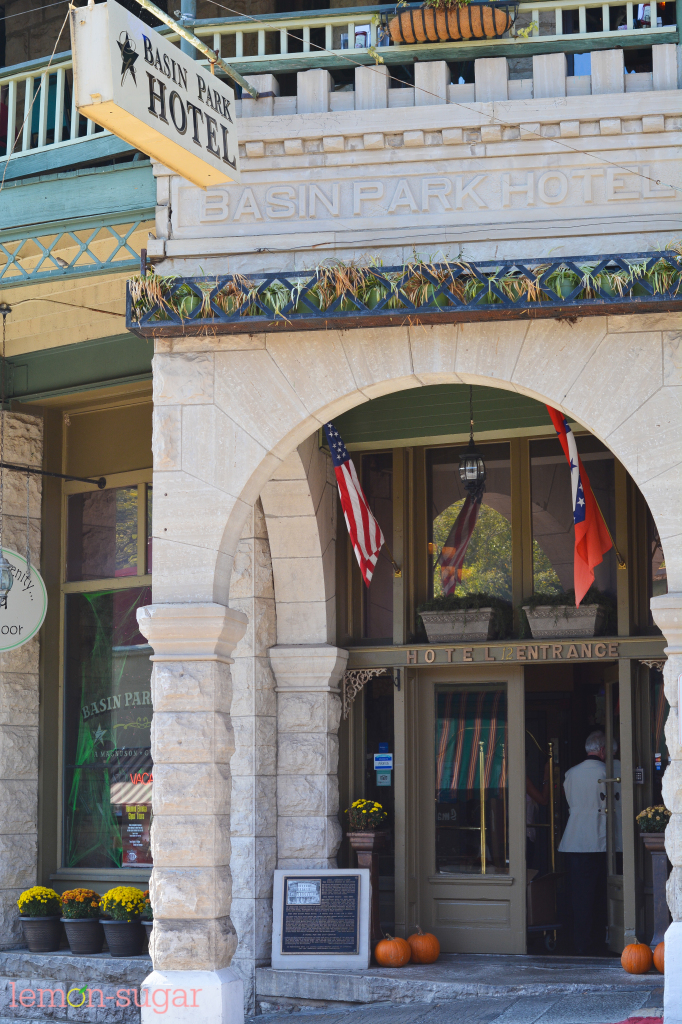 After lunch we took to the streets and did some shopping and exploring.  There are SO MANY little shops that it was hard to focus, but we started at one end of the strip and worked our way down to the other – which really was no small feat, it took nearly three hours to see what we wanted to see.  The shops are about half touristy and half artsy with a few vintage and antique shops scattered in there as well.
Of course, my favorites were the candy shops – complete with huge candy cases and every flavor of fudge you could possibly imagine.  I think we came home with four varieties of fudge – from salted caramel to pumpkin spice – and they all made me very happy.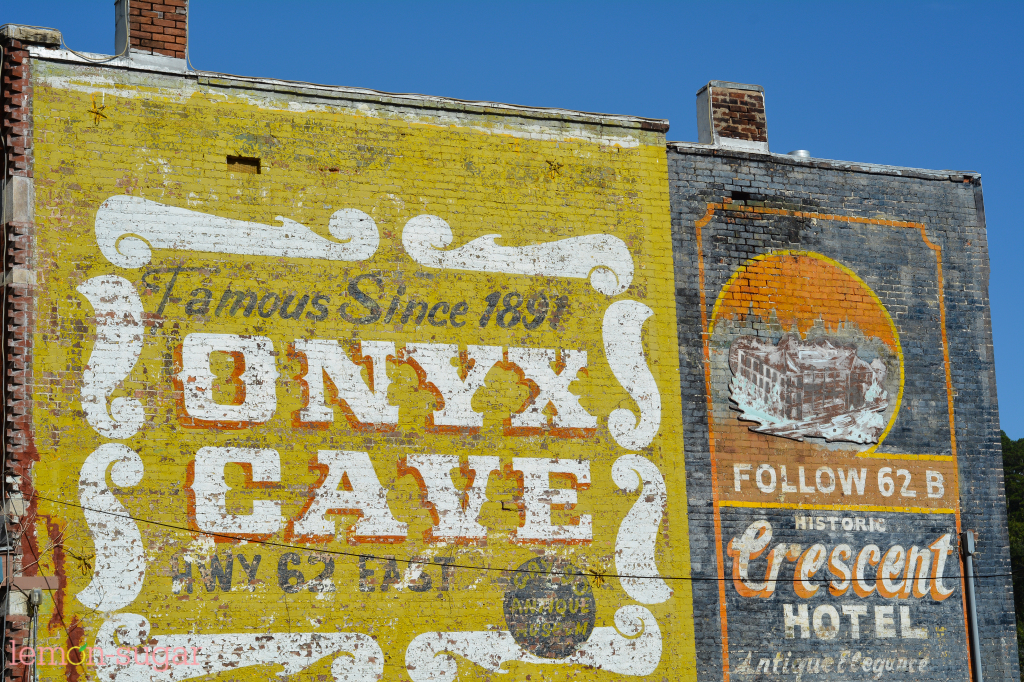 We only had an afternoon to explore – but honestly that was enough for us.  After a while, the stores all started to look the same.  We were hoping there would be a few more vintage shops but overall it was a great afternoon of window shopping and exploring the town.
And PS – the people-watching is INSANE.  I'm not sure I've ever seen such a melting-pot of people in such a small area.  From bikers to hippies to artists to extremely wealthy, to families, couples, older folks – seriously an odd combination of people.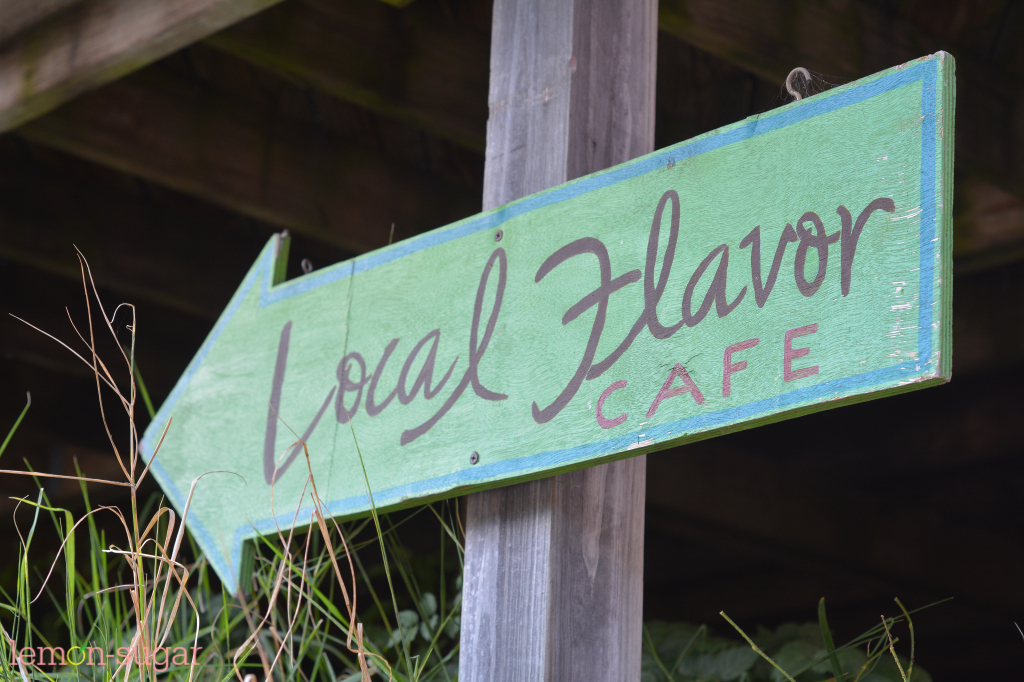 Since we were wiped out from shopping and wandering around all afternoon, we jumped back in the car and drove around for a while – we checked out all of the old hotels, the bed-and-breakfasts, and the newer part of town. We had to drive by the famous Crescent Hotel, which is apparently haunted (and precisely the reason I refused to stay there) and it's gorgeously big and old.  Lovely.  But scary, so no.
I can't talk about it, but if you want to read more about it, knock yourself out.  Scary.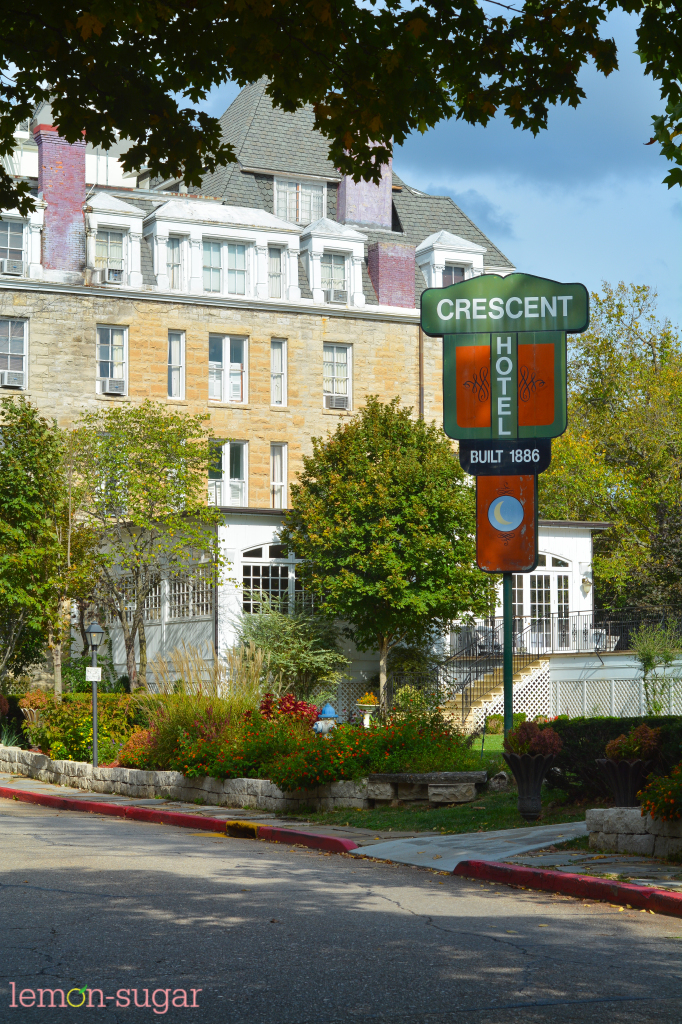 We actually stayed in a fabulous cabin off the beaten path a bit – and I can't say enough great things about "The Barn" at Cinnamon Valley.  The location was perfect – quiet, peaceful and beautiful.  The cabin was immaculately clean, comfortable and such a relaxing retreat after a long day of shopping.  There are eight other cabins to choose from, so if you are ever in the area, I can't recommend it highly enough.  Go there.  Stay there.  (Click on the link for pictures of the inside!)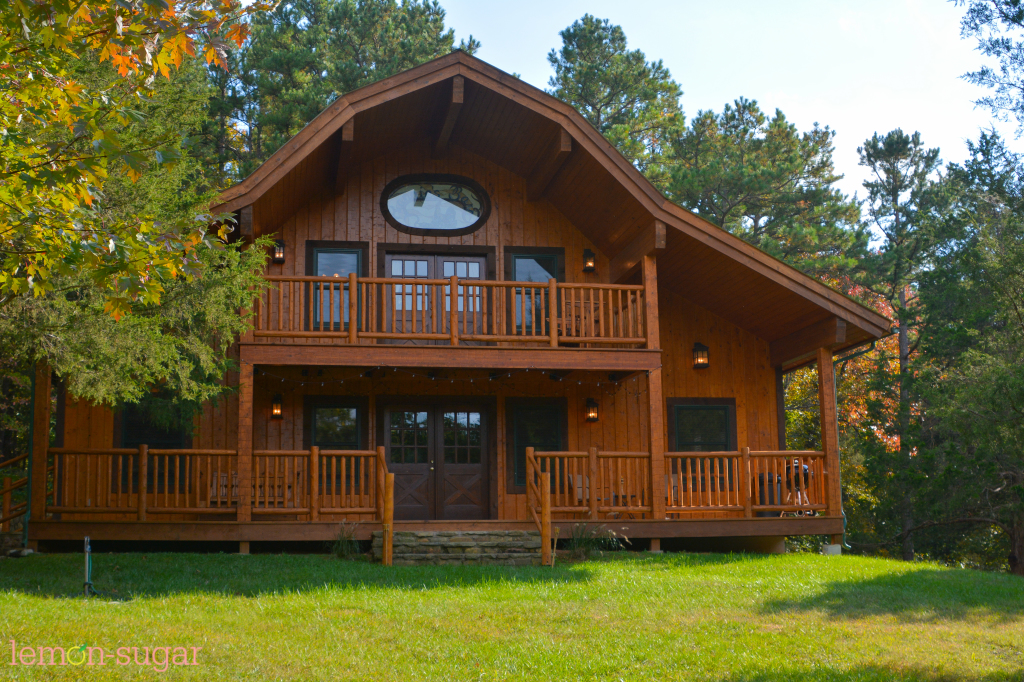 We weren't starving at dinnertime so we agreed upon a wine and cheese bar for dinner.  Holy yum, that was a fabulous idea. There is a fabulously gorgeous little restaurant on the strip called The Stonehouse and I have a major crush on them now.  This little gem alone was worth the drive to Eureka Springs.  An amazing selection of wines and cheeses, knowledgeable sommelier, live music and outdoor patio makes this momma waaaay happy.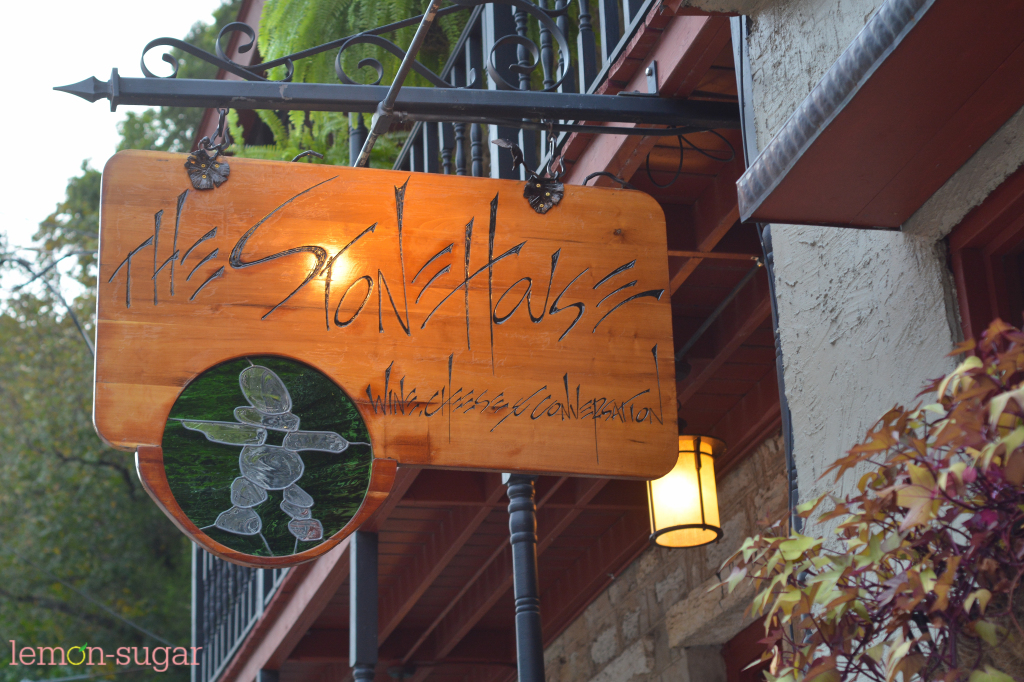 You can choose from several different cheese platters complete with fresh bread, fresh fruits, veggies, dipping sauces – the works.  We couldn't decide so we went big – we ordered the Cosmopolitan Tray and were perfectly satisfied, and very pleased with our wine pairings.
It's yum, you guys.  I don't even have words for it.  Just – yum.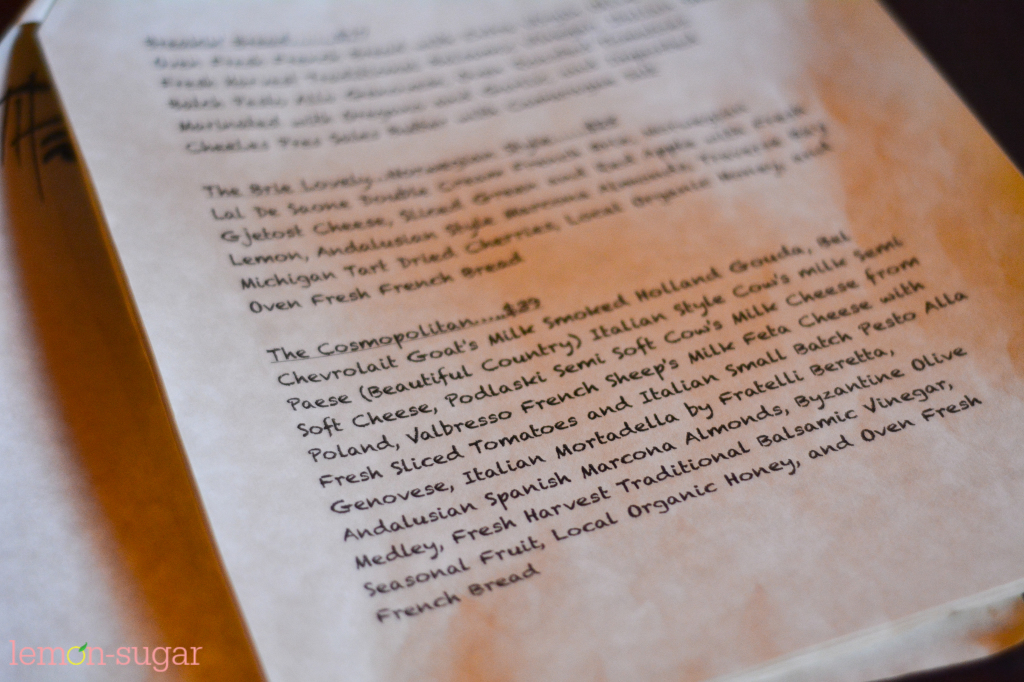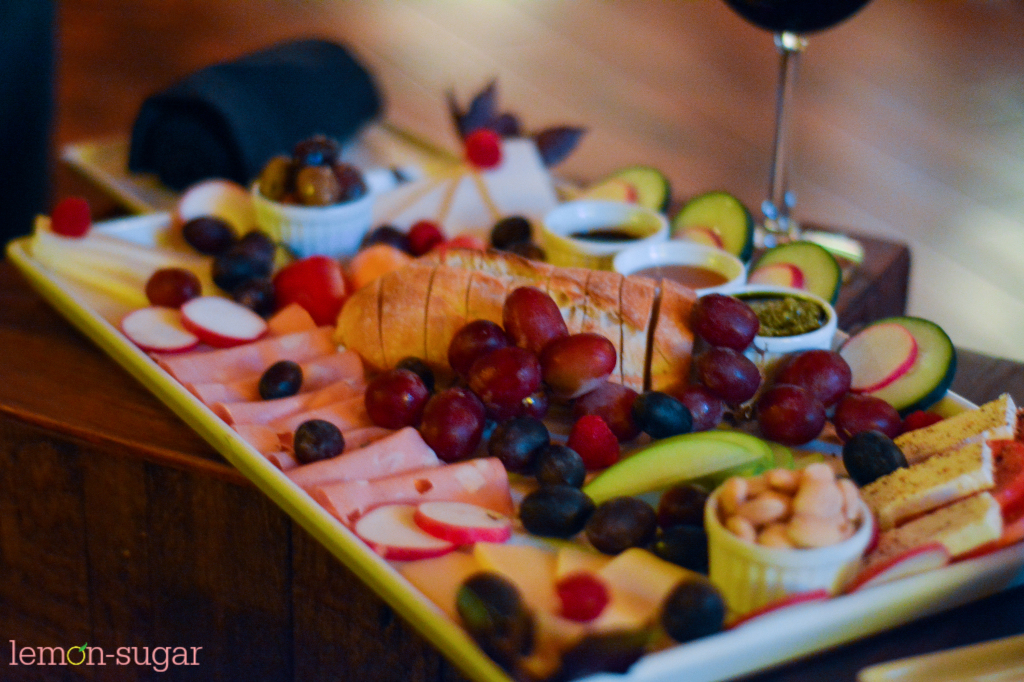 We had to get up and moving really early the next morning, so it was an early night, but our 12 hours in Eureka Springs was lots of fun.  The drive was beautiful, the people were very friendly, and the foodies in us were totally happy!
Stay tuned for part two of our little vacation – with a fun giveaway included.  Thanks for taking the time to read about our adventures – until next time, Eureka Springs!
0
leave a comment your way - using facebook or disqus: