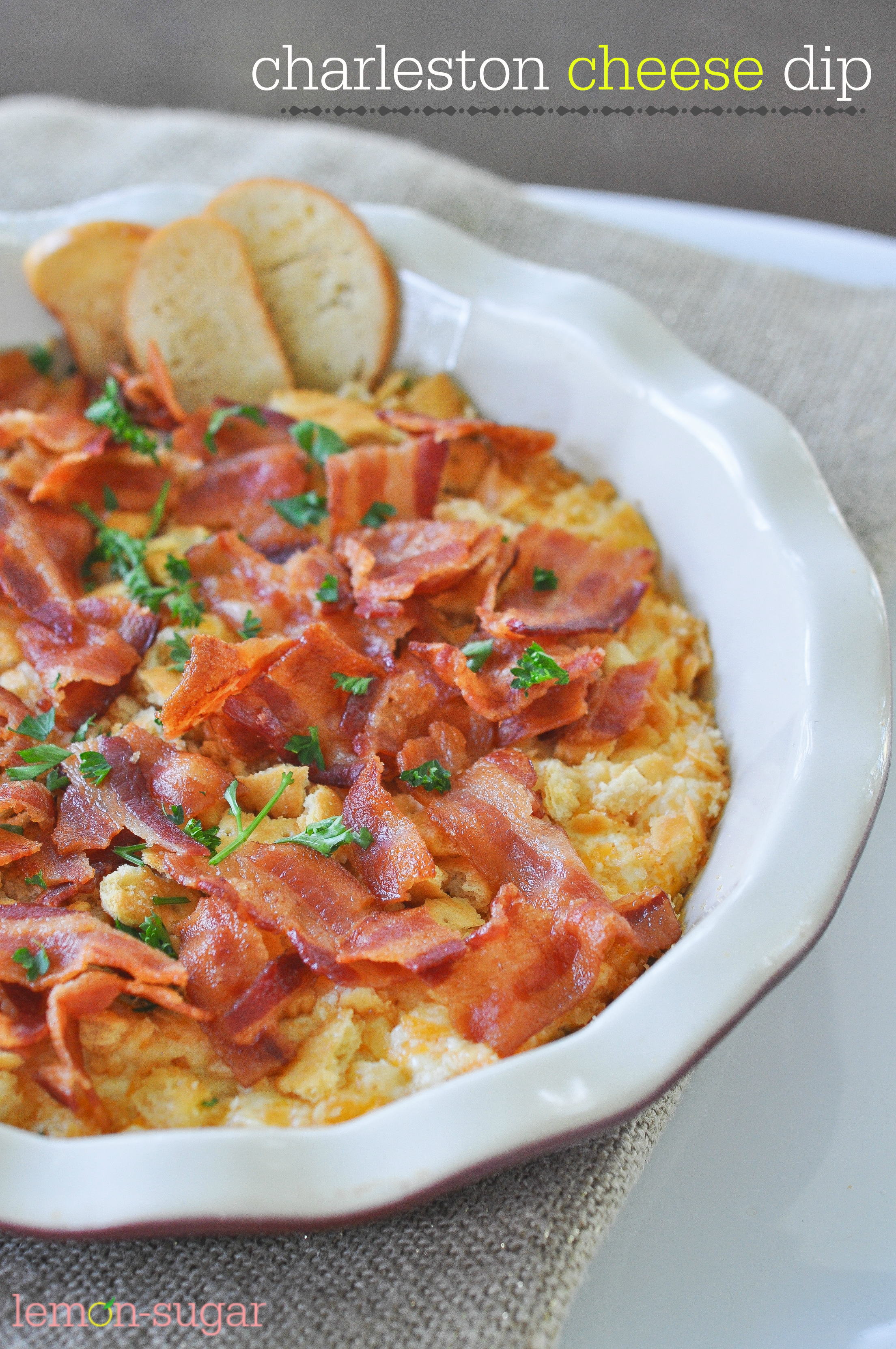 Yay, dip!  I LOVE me a good dip.  Like the guacamole homer I am, I get WAY excited when I see a good seven-layer dip at a party (my sister-in-law makes a GREAT one, I'll have to share it soon) but I'm all about trying new dip concoctions, too.
Except, never put shrimp in my dip.  Just don't, k?  I'm weird about shrimp.
And now dip looks and sounds funny, 'cause I've written it way too many times.
Dip, dip, dip.
This dip, though – bacon and cheese.  Not one single weird thing about that.  It has texture from buttery cracker crumbs, tons of flavor from the cheese and bacon, and just a hint of freshness from the green onions.
LOVE me some dip.
You know you have a winning recipe when you can put it together in just a few minutes, too.  When you pull a bubbling, cheesy dish out of the oven when your guests arrive, you're going to look like a super hero.  A dip-makin' super hero.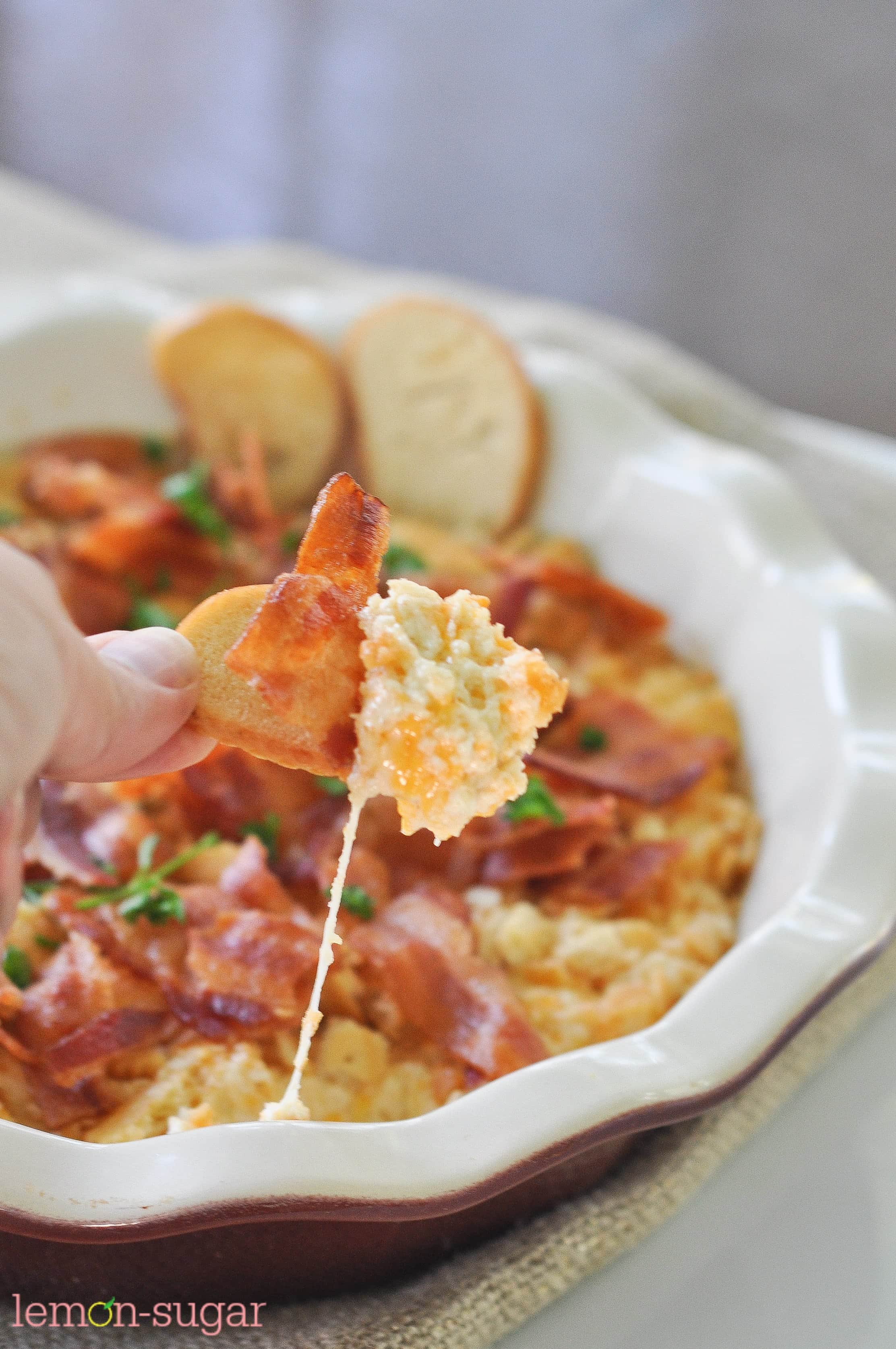 I have a few rules about this.  One – crispy bacon.  Make it in the oven, and make it crispy.  It just makes a much more pleasant dip experience when you avoid the chewy bacon.
Two – serve it with bagel chips.  Something about the crispy bagel chip with the creamy cheesy goodness – so good.
And three- make sure you have friends around to help you eat this.  Otherwise, you'll do some serious dip-damage and eat the whole darn thing.
Since we're right in the midst of football season, this is a great recipe to have in your repertoire.  Be ready to share the recipe, everyone will be asking for it!
Enjoy!
Charleston Cheese Dip
A super-easy and very tasty dip is full of cheesy, bacon-y flavor. It goes together in just minutes and is sure to please at your next party!
Ingredients
½ cup mayonnaise
One 8-ounce package cream cheese, softened
1 cup grated sharp Cheddar cheese
½ cup grated Monterey Jack cheese
2 green onions, finely chopped
1 dash cayenne pepper
8 butter crackers, crushed, such as Ritz
8 slices bacon, cooked and crumbled
Corn chips, crackers or bagel chips, for serving
Instructions
Preheat the oven to 350 degrees (F).
In a small bowl, combine the mayonnaise, cream cheese, shredded cheeses, green onions and cayenne pepper. Mix well.
Transfer the mixture to a shallow baking dish, I used a 9-inch pie pan.
Top the mixture with the crushed cracker crumbs and bake until heated through, about 15 minutes.
Remove the pan from the oven and top with the crumbled bacon.
Serve immediately with corn chips, crackers or bagel chips.
Enjoy!
Nutrition Information
Serving size:
8-10 servings, as appetizer
11
leave a comment your way - using facebook or disqus: