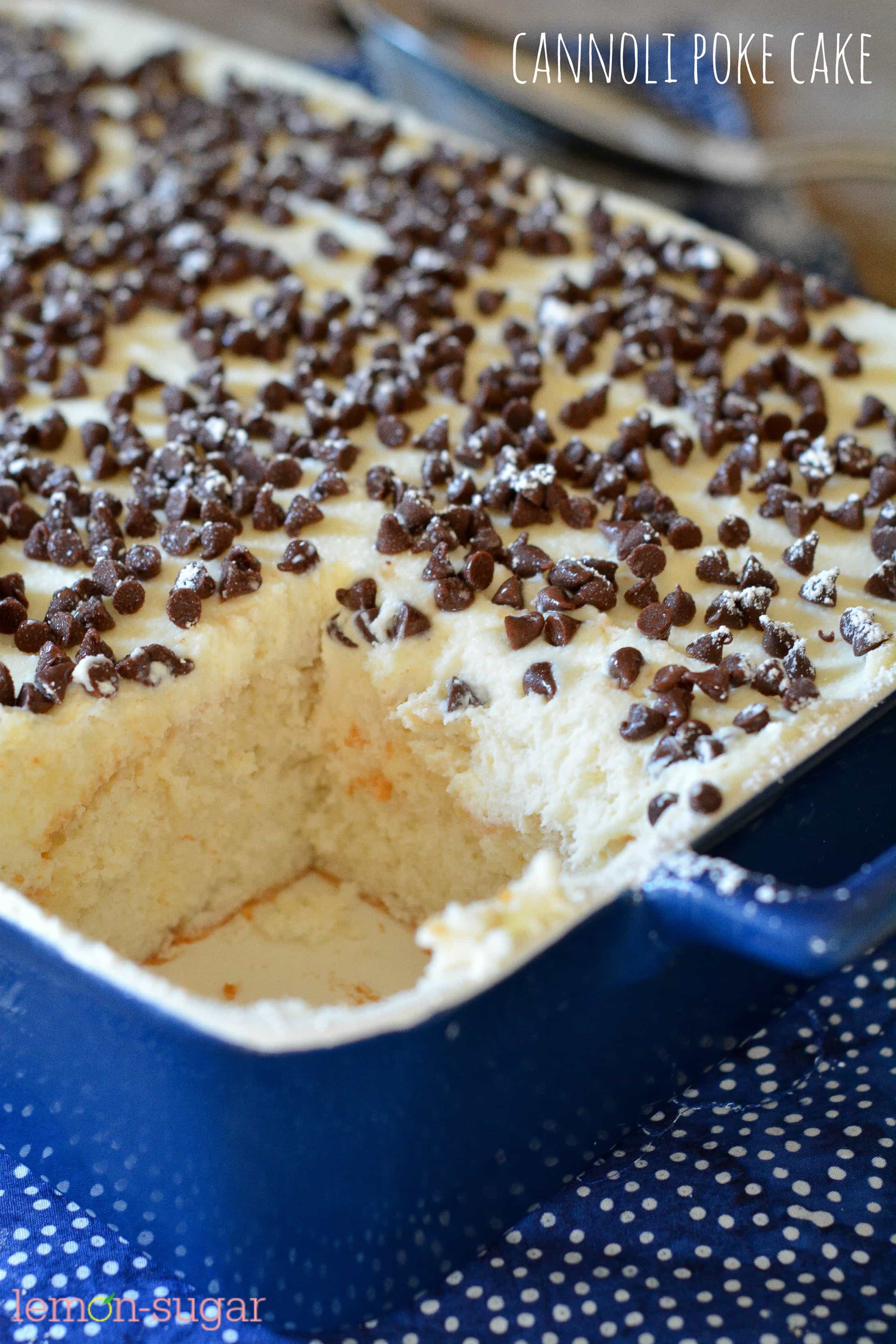 There is a darling little restaurant in Kansas City called Cupini's that I just adore – it's cute, authentic, family-owned and operated and has some of the best pasta in the city.   The pasta is all homemade and totally delicious, but I think my favorite part of visiting the restaurant is the FABULOUS dessert case.  It's full of beautiful pastries, cakes, tiramisu, creme brulee – you name it.
And the cannoli – oh, the cannoli.
The shell is delicate and crispy, and the filling is light and sweet and oh. so. fantastic.
So, when I saw this recipe for this cake, it happened, immediately.  I love me a good ol' poke-cake, so I knew this had to be a winner.
I was right.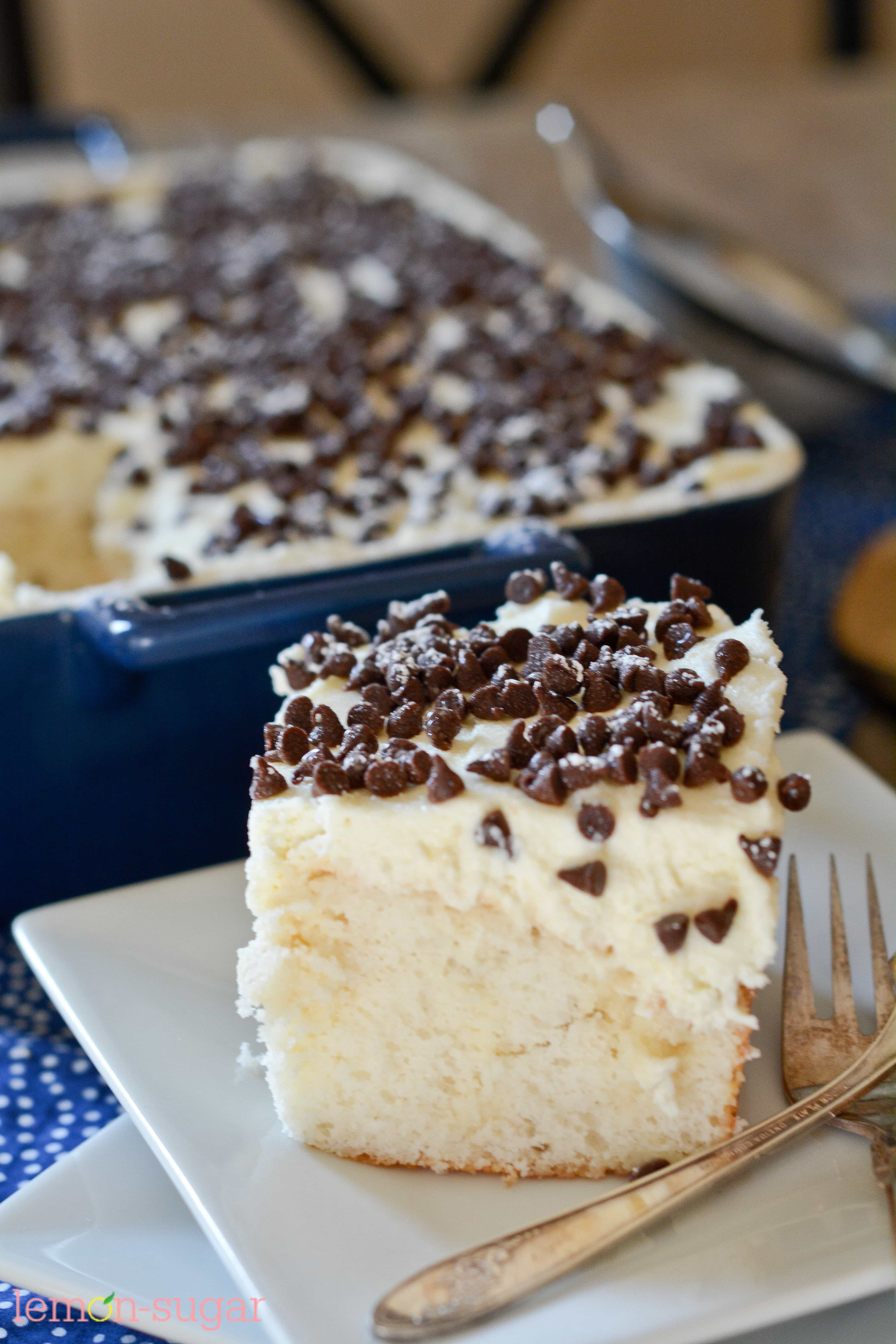 The thing about this cake that really appealed to me was that it's not at all a typical cake.  The frosting is sweet, but it's not "buttercream-sweet."  It's creamy, it's rich, and when you get a little burst of chocolate, it's like a little bonus – an extra bit of flavor – and it's ALL good.
Plus, it's super-easy to make. You all know that I'm not a huge fan of boxed cake mix, but they definitely have their place – especially when you're doctoring them up and turning them into a poke cake.  Infusing even a boxed cake with sweetened condensed milk masks that artificial flavor and no one will ever know.
Unless you have a food blog and tell them all.  😉  No shame here!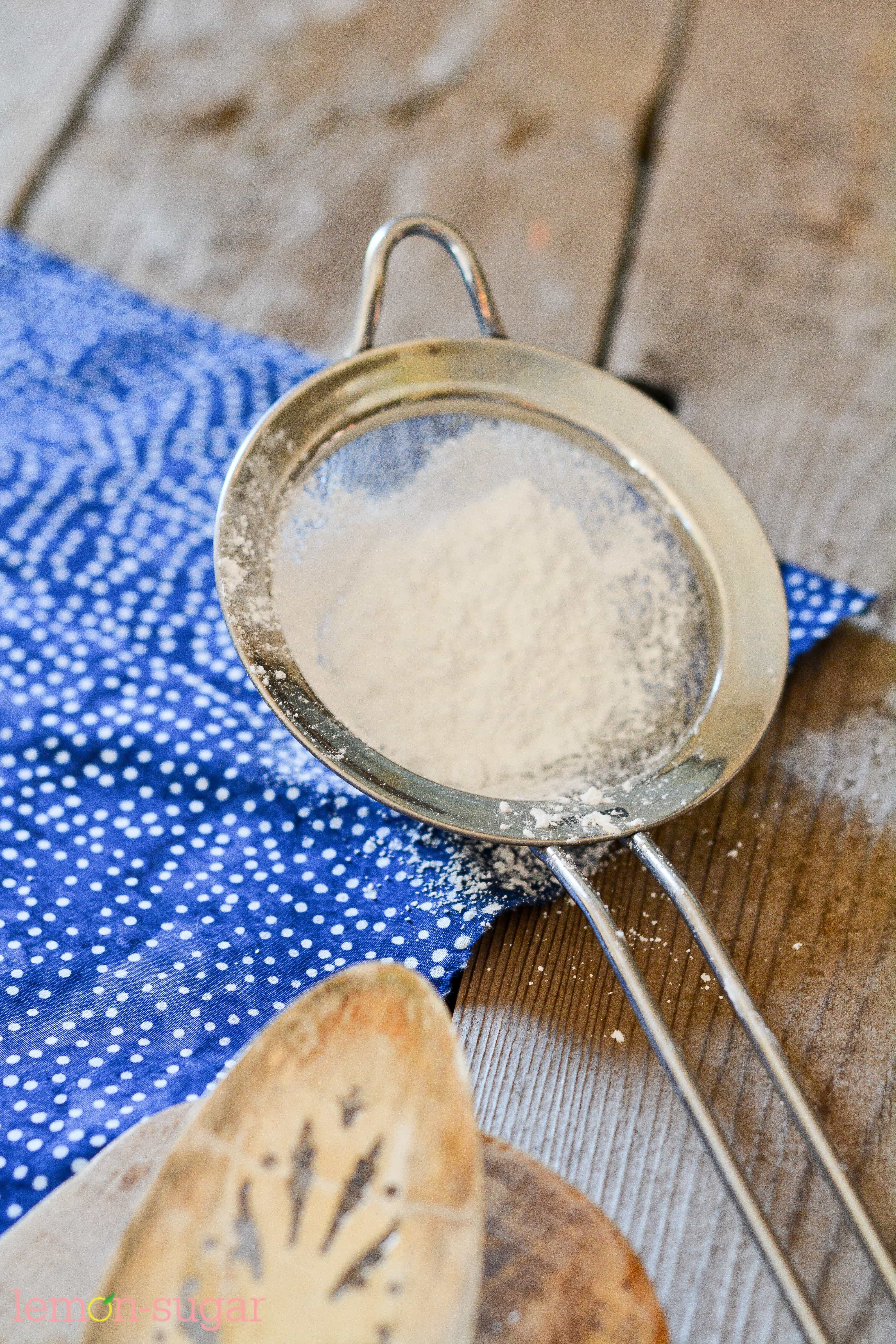 Be sure to top your cake generously with mini chocolate chips – the recipe calls for 1/2 cup, but I'm pretty sure I used more than that.  And give it a good dusting of powdered sugar too – but do that right before serving.  If you dust with powdered sugar and then put it in the fridge, the sugar will dissolve and you'll lose the effect.
My kids did not love this cake – I think the frosting (which is actually the same recipe as cannoli filling) is a little bit sophisticated for them – especially when they're expecting a sugary buttercream.
Sorry, kids.
More for me.
#notsorry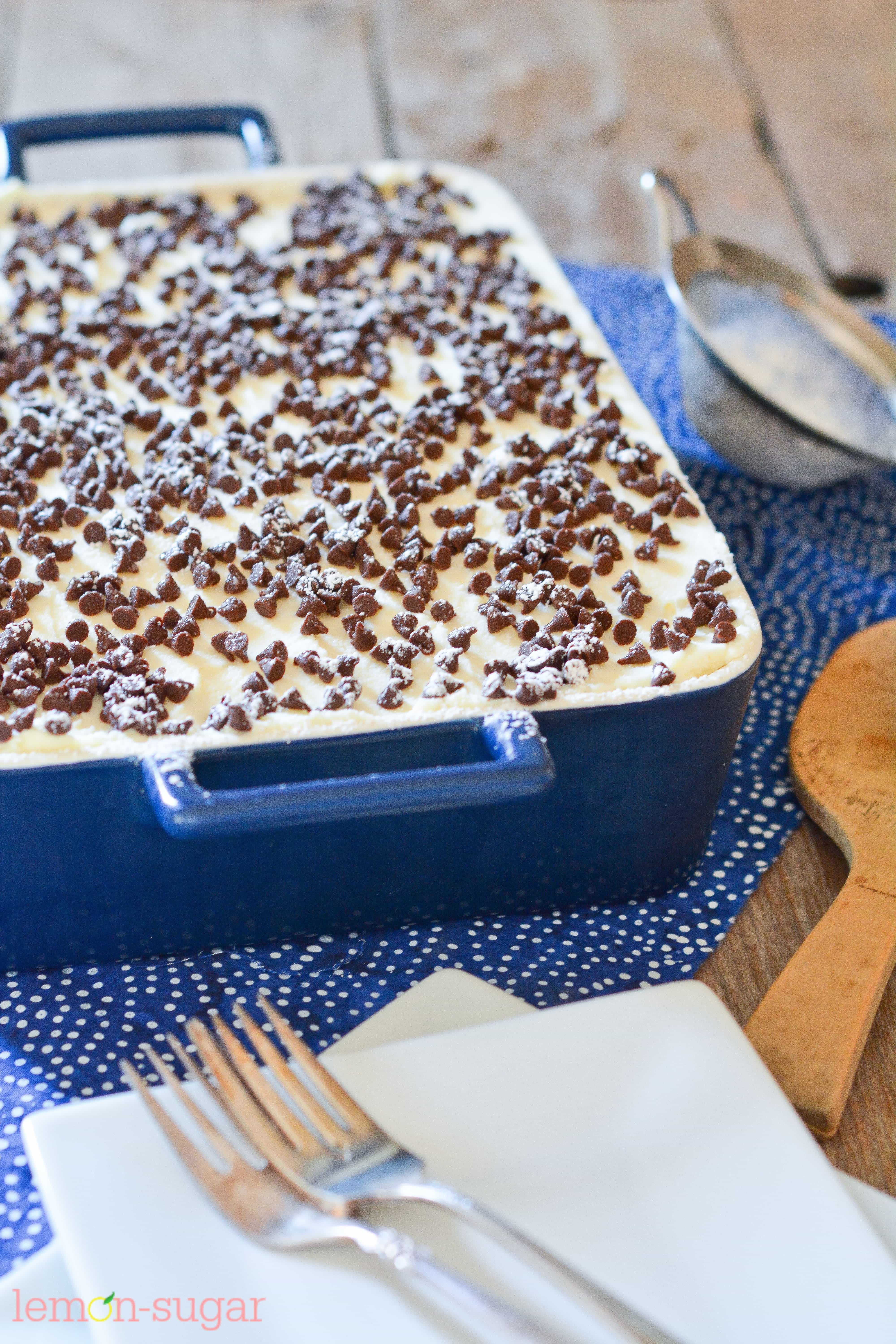 I love to make this cake when I'm serving an Italian dinner – it goes great with a big lasagna, salad and toasty bread.  I think my friends at Cupini's might even approve of the shortcut.  Ok, well – maybe not.  It's hard to compete with the best, but I'm happy to use this as a shortcut when I can't get the real thing!
Hope you love it – enjoy!
♥erin

Cannoli Poke Cake
A delicious take on a traditional cannoli, this cake is rich, decadent and super easy to make! Recipe source:
Life Love and Sugar
Ingredients
1 box white cake mix, plus ingredients on box
2 (14 ounce) cans sweetened condensed milk
1 and ½ cup ricotta cheese
1 and ½ cup mascarpone cheese
1 teaspoon vanilla extract
1 cup powdered sugar
½ cup mini chocolate chips
powdered sugar, for dusting
Instructions
Bake cake according to directions on box for a 9x13 pan, and allow to cool completely.
Using the end of a wooden spoon, poke holes all over the top of the cake, about an inch apart.
Pour one can of sweetened condensed milk over the top of the cake, then cover and refrigerate the cake for 1-2 hours.
In a large bowl, combine the ricotta, mascarpone and vanilla, and beat until smooth.
Add powdered sugar and beat until completely combined. Add sweetened condensed milk, a Tablespoon at a time, until proper frosting consistency is reached.
*Note: due to variances in ricotta cheese consistency, your frosting thickness might be affected. If it's too thick, add additional sweetened condensed milk. If it's too thin, you can add additional mascarpone and/or powdered sugar.
Remove cake from refrigerator, then spread frosting over the top of the cake.
Garnish with mini chocolate chips and sprinkle with powdered sugar.
Store covered in the refrigerator until ready to serve.
Enjoy!
119
leave a comment your way - using facebook or disqus: