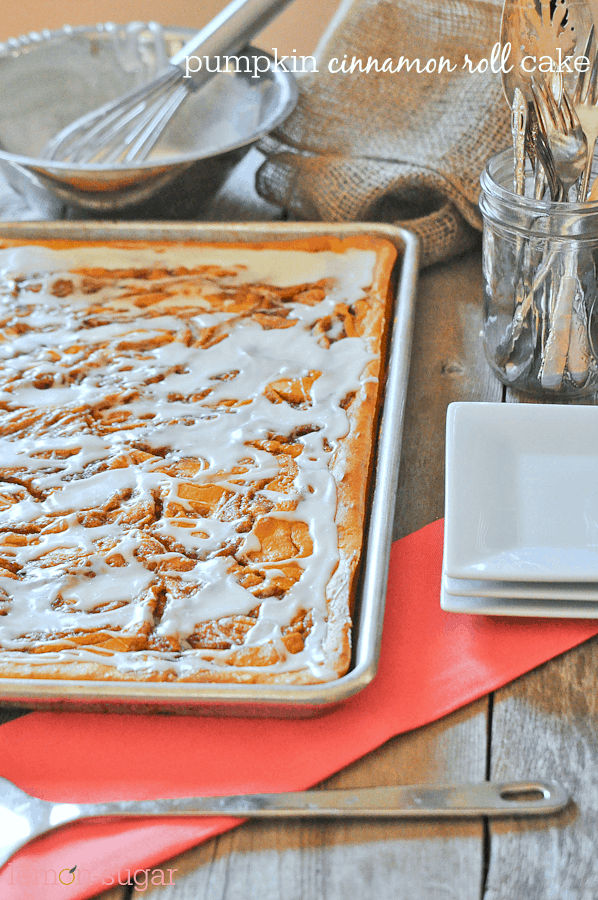 Helloooooo!  Happy fall!
Ok, I know it's not "technically" fall yet, but it was so beautifully autumn-like today that I think it's time to take the leap.  It's time to close up the pool, plant mums and start buying cans of pumpkin by the case.   I usually try to wait until after my birthday (in mid-September) before I whip out the pumpkin recipes, but the chill in the air this morning just put me in the mood!  This felt like a perfect transition recipe – quick, easy, and all of the flavors I love about the season in one place.
It's pretty yum.
It's also one of those dump-everything-in-a-bowl and mix recipes.  Sometimes, those are the best kinds.  Actually, who am I kidding?  Those are ALWAYS the best kinds.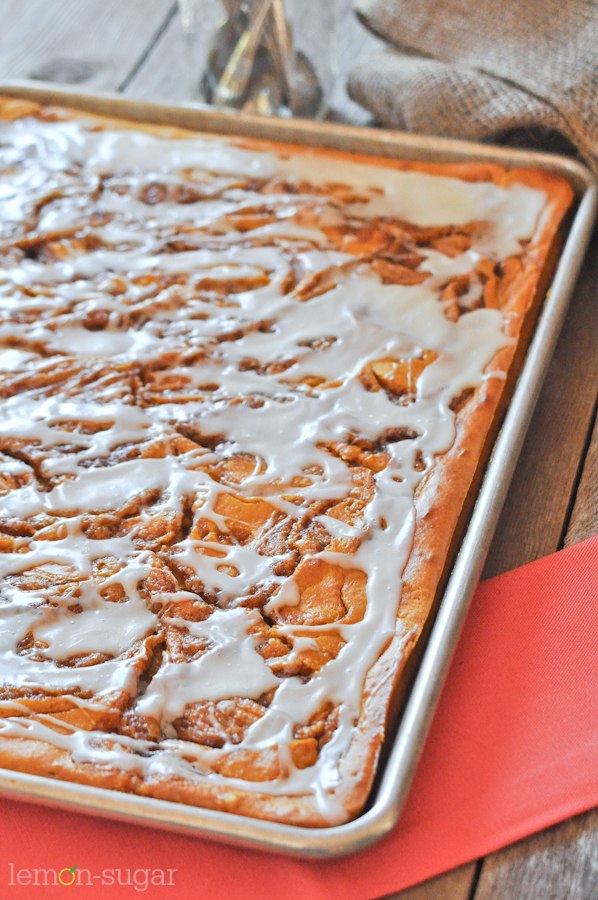 Side note – I have a lot of questions about these sheet cake pans – I use them a lot, and I think I have accumulated about 10 of them over the years.  My favorites are the light aluminum ones, because they bake more evenly.  They're the best cookie sheets I've ever used, especially topped with a Silpat mat or a sheet of parchment.  Love 'em.  You can usually find them very inexpensively at baking supply stores, but if you don't have access to a good one, there's always Amazon.
So, this cake has a bit of an unexpected texture – it's not terribly "cakey," but almost has a custard-like texture.  It's not exactly pumpkin-pie like, but the best way to describe is like a very, very moist cake.  With sugar and cinnamon swirled throughout.  Yes.  Pretty darn yum.
Especially warm.  With coffee.
I so love fall.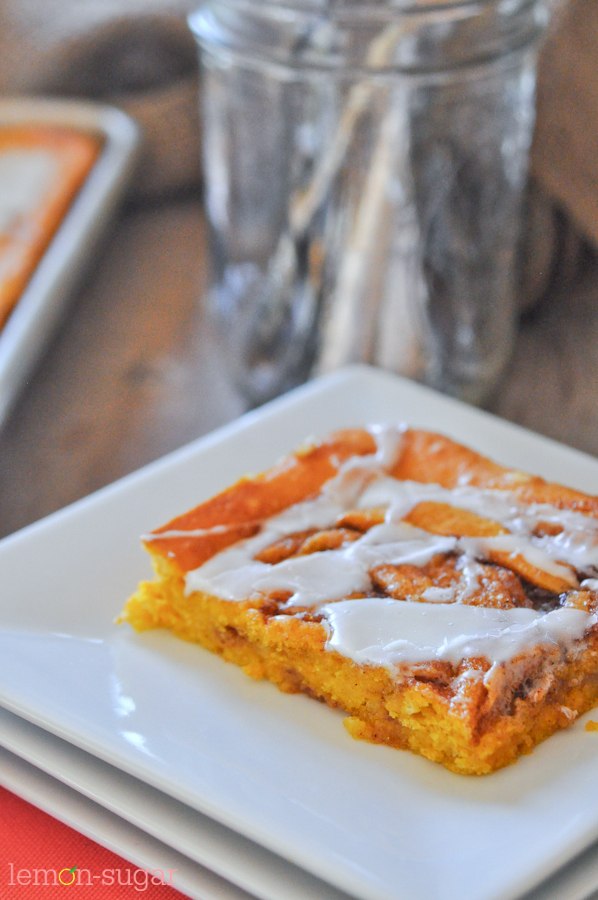 So, don't tell my husband, but I think this might be breakfast for the girls tomorrow.  They really wanted pumpkin muffins but I just can't make myself mess up the kitchen again tonight.  And this is BASICALLY the same thing, right?
Basically.  In lazy-momma world, I guess.
Whatever.  They'll love me forever, cause this is like, what breakfast dreams are made of.
Happy fall, ya'll.
Don't forget, if you haven't yet, make sure you stop by my Facebook page and follow along – you can also find me on Twitter, Instagram and Pinterest!
Thanks for stopping by today!  Please leave a comment below to let me know you were here!  
♥erin
Pumpkin Cinnamon Roll Cake
If fall had a signature sheet cake, this would be it! All of the comforting flavors of fall in one place - this cake is easy and delicious! Recipe courtesy of
Picky Palate
Serves:
Approx 24 servings
Ingredients
For cake:
1 box yellow cake mix
4 eggs
½ cup canola oil (vegetable oil is fine)
½ cup buttermilk (milk is fine)
3.4 ounce box Vanilla Instant Pudding Mix
½ cup sour cream
15 ounce can pumpkin
For cinnamon-swirl:
1 stick (8 tablespoons) unsalted butter
¾ cup packed brown sugar
½ teaspoon ground cinnamon
For glaze:
¾ cups powdered/confectioners' sugar
¼-1/2 cup heavy cream (start with ¼ cup and add a little more cream if needed)
Instructions
Preheat oven to 350 degrees (F).
Coat a half-sheet pan (13x18) with cooking spray. Set aside.
In a large bowl (or a stand mixer) combine all cake ingredients (cake mix, eggs, oil, buttermilk, pudding, sour cream and pumpkin) and beat until completely combined, about 90 seconds.
Pour batter into prepared pan, and spread evenly.
Melt butter in a glass measuring cup in the microwave for approximately 30 seconds (don't over-heat, it will pop/explode all over your microwave)
Add brown sugar and cinnamon, and stir until completely combined.
Drizzle sugar mixture over the top of the cake, and use a butter knife to swirl the sugar mixture into the batter.
Bake for 30-35 minutes or until firm in the middle.
While the cake is baking, prepare glaze by combining powdered sugar and cream. Whisk to combine, and add more cream until the glaze is smooth and thick but runny.
Drizzle glaze over the top of the warm cake, and serve immediately.
Enjoy!
2
leave a comment your way - using facebook or disqus: