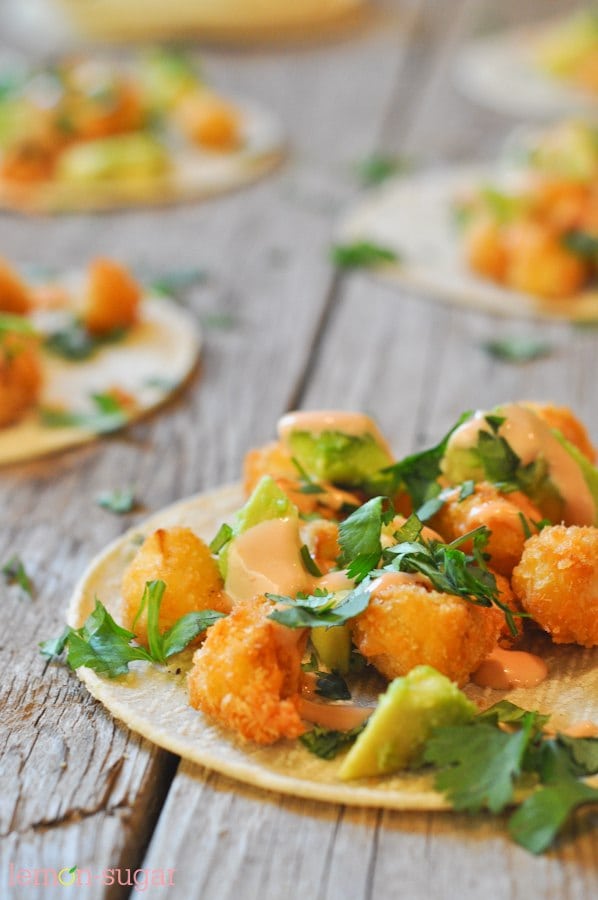 So, guys.  Gals.  Friends.  We need to talk.
This taco is LIFE.  CHANGING.
I'm not one to be overly dramatic (haha…no, seriously) about food, but holy-fried-middle-of-a-palm-tree-leaf, this is a tasty, tasty taco.
Uh, yeah.  The guts of this taco are totally fried palm tree leaves.  Wikipedia says so.  Well, if we're being technical, they're actually the inner core of certain types of palm tree leaves, but either way, I had no idea that they were even a thing.  Especially an edible thing.
PS, they're also called swamp cabbage, so do with that what you will.
I think I'll fry 'em up and eat 'em in a corn tor-till-uh.
Life changing.  Not. Even. Kidding.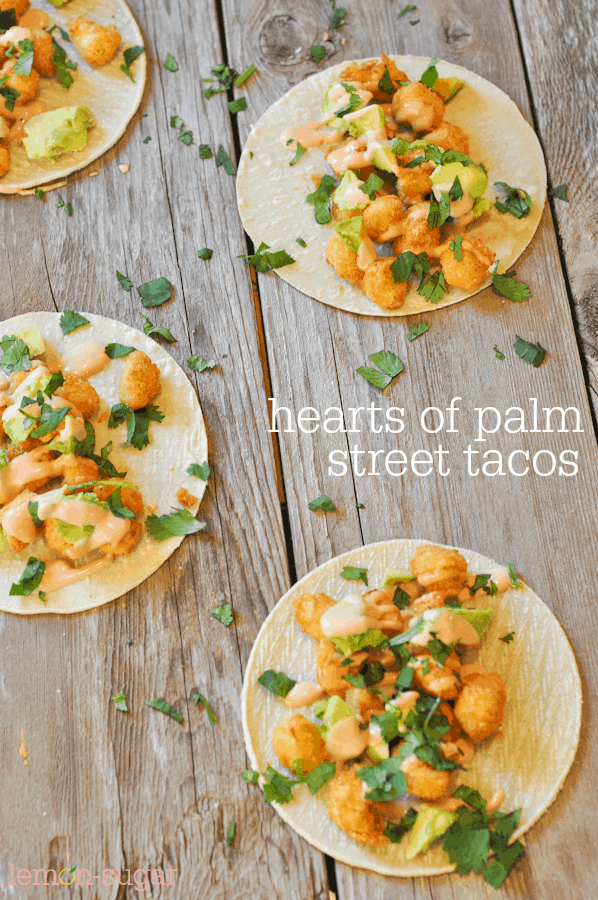 So, this taco is a pretty darn close replica of my favorite taco at a local restaurant here in Kansas City called Taco Republic.  I've been there many times before, and in fact they're one of my new favorite places to eat.  BUT, the only location is across town and not really conducive to a weekday lunch, so I don't get to indulge as often as like.
Last time I was there, I realized that there were only about four or five ingredients, and surely I could replicate it at home.
So I did.  And it TOTALLY worked.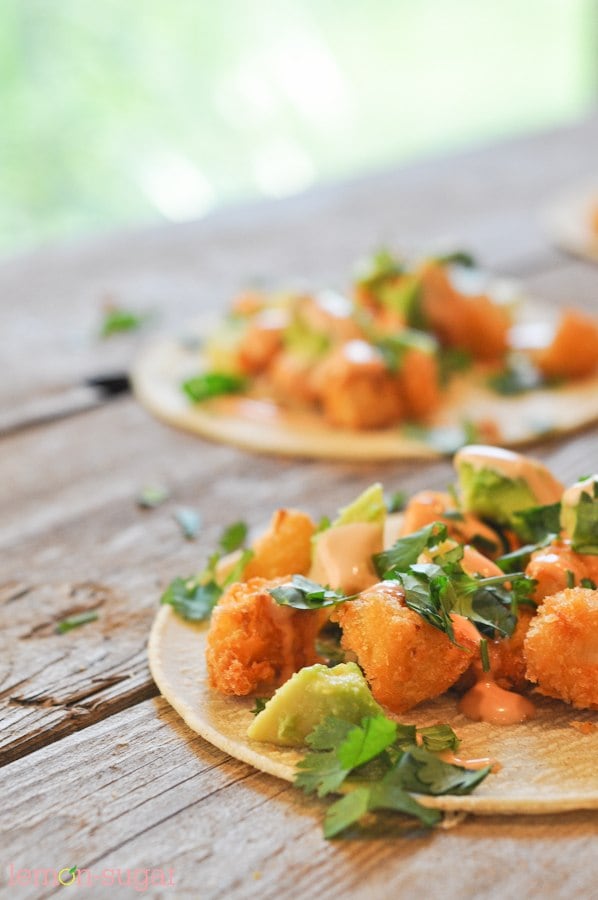 The recipe isn't really a recipe, it's more of a method.  With the exception of the salsa golf, the rest is just frying and assembling.
Ok, so I can't just leave that out there.  Yup, the pink creamy sauce is called salsa golf.
You'll never guess what's in it.  Definitely nothing salsa-y.
Ketchup and Mayo.  And lemon juice.
Brilliantly, wierdly simple.  Still not sure why it's called salsa golf, but after the hearts of palm research, I was kind of over it.  Plus, it's mysterious.  A delicious, mysterious, life-changing street taco.
This is why you read my blog.  😉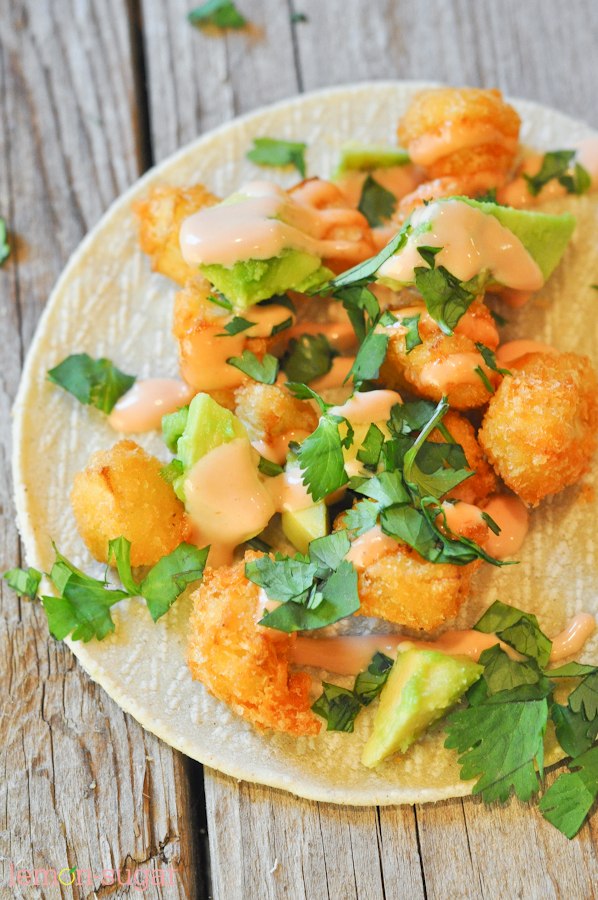 So – tips and tricks?  A few…first, use fresh corn tortillas if you can find them.  They're way better than your grocery-store version.
Second, try to fry your hearts of palm in small batches so you keep the oil temperature up around 350-375.  If you put too many in at once, you'll cool the oil too much and they'll be greasy.
Also, when you make the salsa golf, taste as you go.  It shouldn't taste like mayo OR ketchup – but a tangy combo of both.  If you taste one or the other, add the opposite to balance it out.  I put mine in a plastic squeeze bottle and it made it much easier, but you can just as easily drizzle it over the top with a spoon.
And finally, if you can find the pre-cut hearts of palm, they're much quicker – you might have to cut a few in half, but they're already almost the perfect size.
Apparently you can buy hearts of palm fresh, but definitely not in my little Kansas grocery store.  Canned worked just fine, so don't hesitate to go that direction.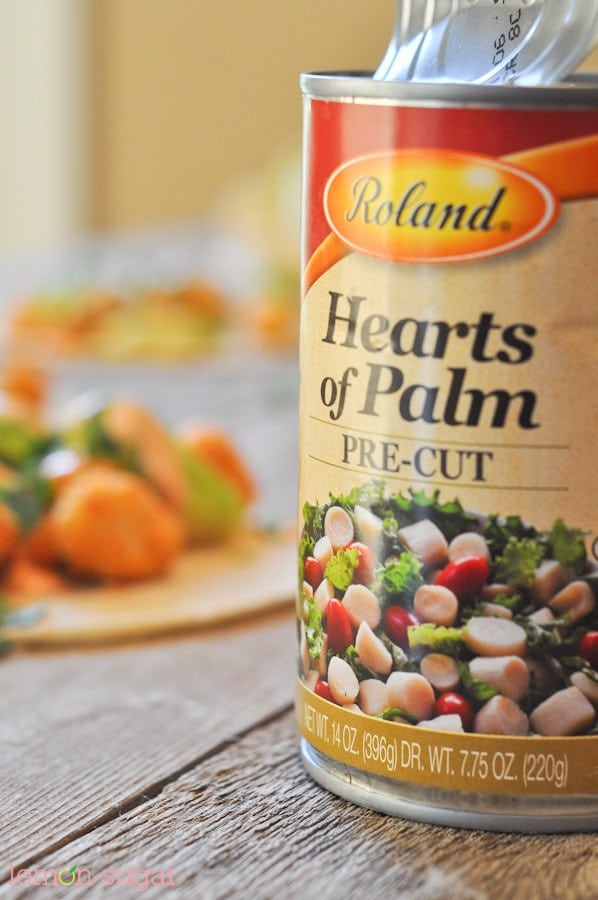 I'm not exaggerating when I say this is one of my favorite all-time recipes.  My husband agreed that they were delicious, too – so even the carnivores out there can appreciate this one.
Give these a go and let me know what you think.  Hope you love them as much as I did!
Enjoy!
Don't forget, if you haven't yet, make sure you stop by my Facebook page and follow along – you can also find me on Twitter, Instagram and Pinterest!
Thanks for stopping by today!  Please leave a comment below to let me know you were here!  
♥erin
Hearts of Palm Street Tacos
Inspired by the best dang taco I've ever had, this vegetarian street taco is quick and easy to make at home. Recipe source: Inspired by my favorite menu item at
Taco Republic
and adapted from
Saveur
Serves:
6-8 six inch tacos
Ingredients
Canola oil, for frying (enough to fill pan 2 inches deep)
2 cups Panko bread crumbs
1 cup flour
1 cup buttermilk
3 eggs
1 can hearts of palm, small pieces, cubed to ½ inch pieces
2 medium avocados, cubed
1 handful cilantro, chopped
6-8 - 6-inch round white corn tortillas
1 cup mayonnaise
6 Tablespoons ketchup
juice of a small lemon
Instructions
First, prepare all ingredients.
Chop cilantro, set aside.
Chop avocado, set aside. (sprinkle with lemon or lime juice to keep from browning, if necessary.)
Open and drain hearts of palm.
Chop hearts of palm into ½ inch pieces. Set aside.
Set corn tortillas out to bring to room temperature.
Prepare salsa golf:
In a small bowl, whisk together mayonnaise, ketchup and juice of a small lemon (1-2 Tablespoons of juice) until completely combined. Set aside.
Set up a dipping station:
Set three large, flat bowls (or pie plates) on your work space.
Fill one dish with flour.
Fill one dish with Panko bread crumbs.
In the third dish, whisk together eggs and buttermilk.
In a large dutch oven or cast iron skillet, heat oil to 375 degrees. Use a thermometer (insta-read or candy-type) for best results.
Breading process:
Several pieces at a time, place hearts of palm into flour. Toss to coat completely.
Tap off excess flour, then move coated pieces to the egg wash. Coat completely with egg, then tap off excess egg mixture.
Move to bread crumbs, and toss to coat completely. Place breaded pieces aside.
Repeat for all hearts of palm pieces.
Fry:
Once all of the pieces are breaded, and the oil is at 375 degrees, carefully place hearts of palm into the hot oil. I use a spider spoon, which makes it easy and safe.
Fry for 2-3 minutes,or until light golden brown.
Remove and place on a plate lined with paper towels.
Assemble:
Heat corn tortillas in microwave until just warm.
Lay tortilla flat.
Top with a few pieces of hearts of palm (about 6-8 per taco), a few pieces of avocado, a sprinkling of cilantro.
Drizzle with about a Tablespoon of the salsa golf.
Enjoy immediately.
3
leave a comment your way - using facebook or disqus: