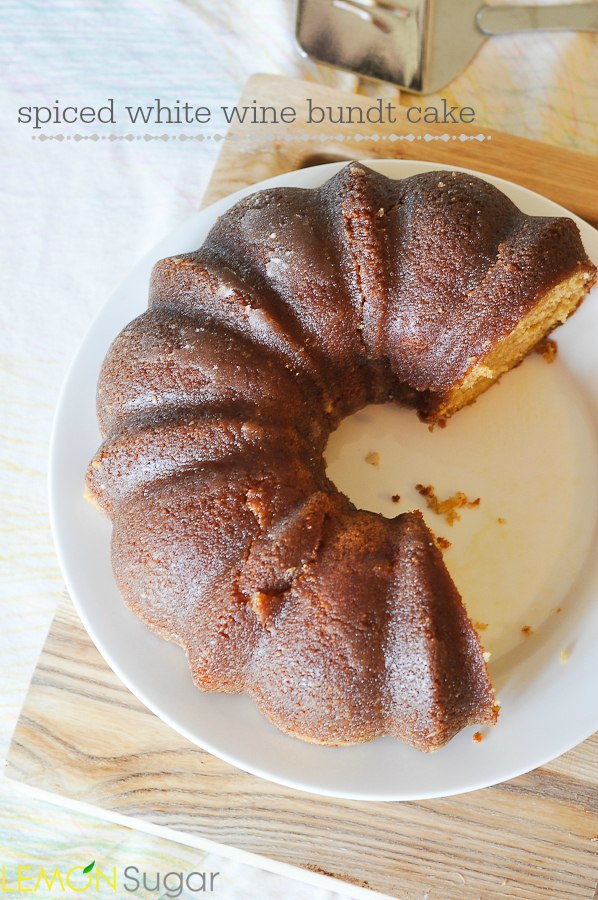 Yup.  Another bundt cake.
I have to confess, I'm a little bit obsessed with the bundt cake lately.  I think it's because they're way easy.  There are no layers, no lug-out-the-KitchenAid frostings, no fuss. And right now, I'm all about no-fuss.
What is it about this time of year?  It's SOOOOO busy.  The end of the school year, dance recitals, Easter, birthdays, graduations, weddings, etc. etc. etc. etc. etc. ETC.
SO busy.
And truth be told, all I want to do right now is be outside in the beautiful weather, working on my yard and soaking it all in.  That, combined with the fact that I haven't had a day off work in six months (!!) is enough to have me looking for and totally embracing the simple things in life.
Oh, and wine too.
Ahem.
So, this cake – it's easy, it's SO DEEElish, and yeah, it has some wine in it.  Wine and cinnamon, actually.  Weird, eh?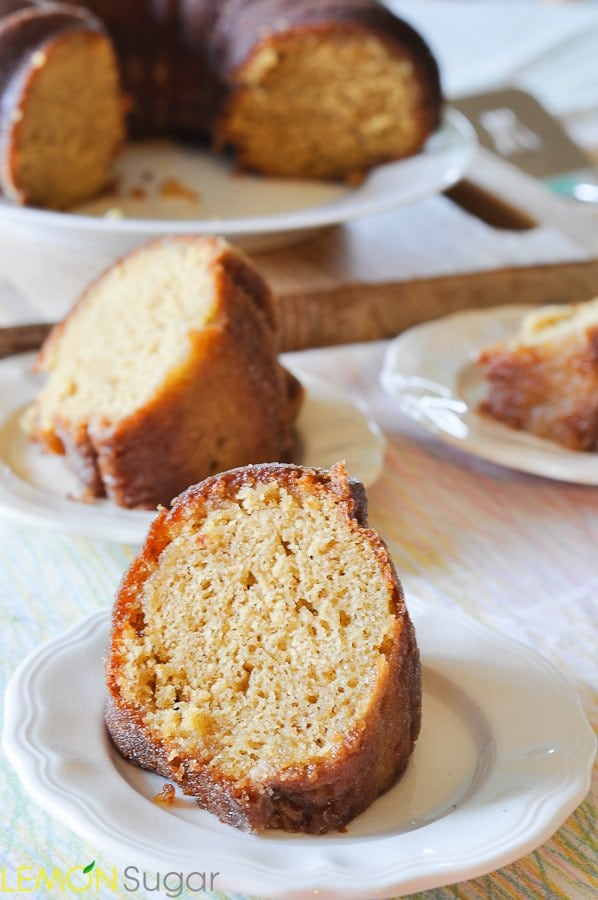 It's weird in a good way, though.  I have never had another cake like it.  It's light, super moist and very, very flavorful.  It's a bit spicy thanks to the cinnamon and brown sugar, and the crispy sugar-glaze coating is extra fabulous.
Thanks to the sugary glaze, it can be a little tricky to get out of the pan (mine stuck just a little, as you can see in the picture) but you won't care one little bit.
I hope you love it.  Enjoy!
Spiced White Wine Bundt Cake
This deliciously unusual cake has slight spice undertones, and is extremely tender and moist. The wine and sugar glaze is the perfect topping!
Ingredients
Cake ingredients:
1 box french vanilla cake mix
¼ cup brown sugar
¼ cup white sugar
1 box (3.4oz) instant vanilla pudding mix
2 teaspoons cinnamon
4 eggs
¾ cup water
¾ cup vegetable oil
½ cup sweet white wine
Pan prep ingredients:
2 Tablespoons flour
2 Tablespoons melted butter
Glaze ingredients:
½ cup unsalted butter
1 cup sugar
¼ cup white wine
Instructions
Preheat oven to 350 degrees (F).
In a small measuring cup, melt 2 Tablespoons of butter in the microwave.
Add the flour to the melted butter, and whisk together until smooth.
Using a pastry brush, generously coat the inside of a bundt pan with the butter/flour mixture. Set aside.
In a large bowl, combine all cake ingredients (cake mix, sugars, water, oil, cinnamon, wine, eggs and pudding mix.)
Beat with an electric mixer until fully incorporated, about 2 minutes.
Pour batter into prepared bundt pan.
Bake for 55 minutes, or until a cake-tester comes out clean.
While the cake is baking, prepare the glaze.
In a heavy-bottomed saucepan over medium heat, melt the butter.
Add the sugar and wine to melted butter, and stir continuously until sugar has dissolved. Set aside.
Take cake out of oven and place on a wire rack.
Immediately pour all of the glaze over the hot cake.
Allow to cool, then invert cake onto a serving plate, and enjoy!
1
leave a comment your way - using facebook or disqus: