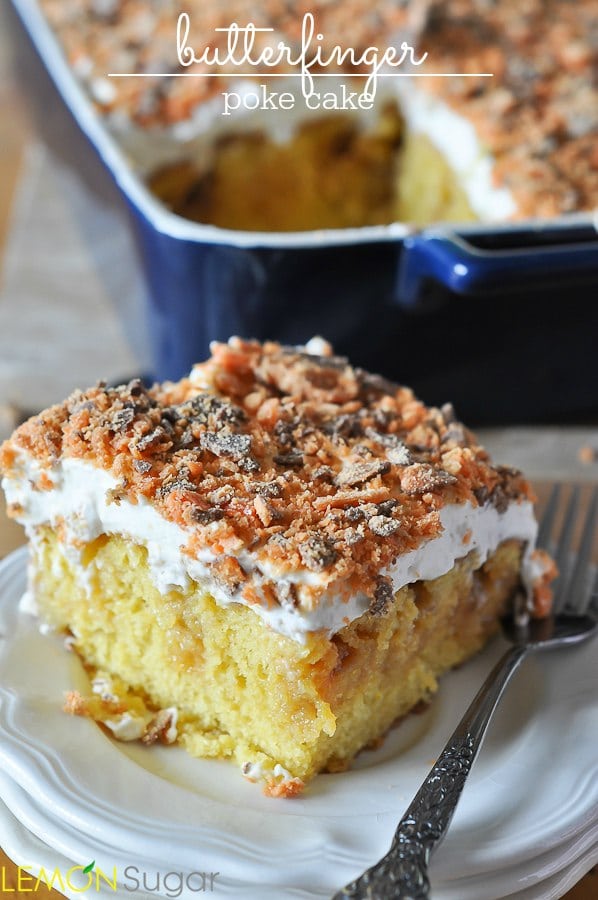 So, I have a small confession to make.  I've spent the last couple of weeks catching up on Pretty Little Liars.
"Catching Up" = watching it from the beginning because I can't remember where I left off.
I've watched 32 episodes of PLL in 13 days.
This does not make me proud.
I'm kind of obsessed, though.  It started when I was traveling on business, continued while I was recovering from an awful cold, and well, now I have no excuse.   Today though, I had a bit of a breakthrough.  Instead of plopping down on the couch for little marathon session, I actually did a little bit of baking.
It's nice, to be baking again, after quite a long hiatus.  I think my cold/flu/bronchitis/probablypneumonia is finally gone, my laundry is caught up, and I feel like a real-live human being again.
Perhaps a 14-year old human being, but once I'm caught up I'll start acting my age again, promise.  (PS – who is your favorite PLL?  I think I like Aria the best…)
Okay, anyway.  Cake.
This cake is kind of amazing.  I'm a big fan of the poke-cake anyway, but this one just really hit the spot today.  The cake is infused with caramel sauce and topped with homemade whipped cream, so really I don't see how you could possibly improve upon it.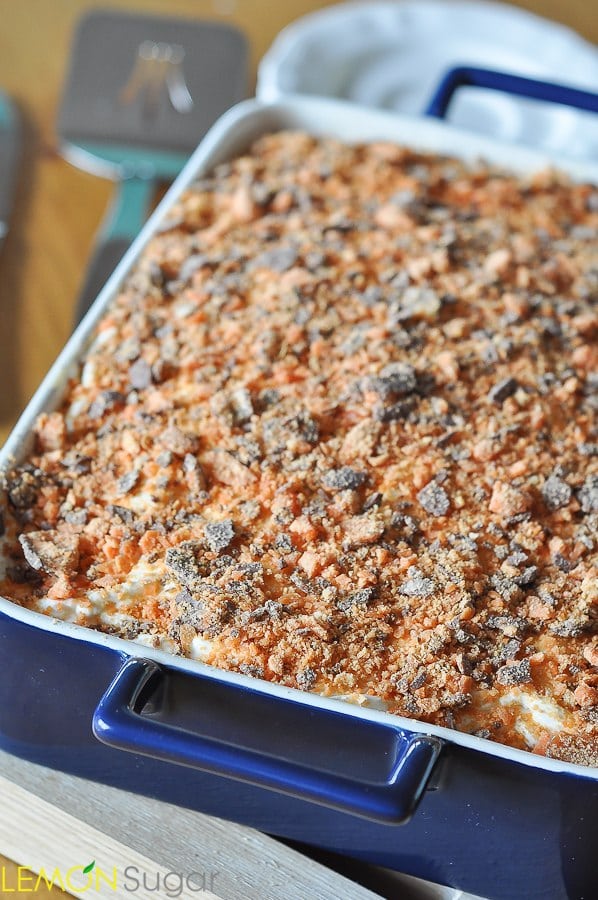 Although I made my own yellow cake, you can certainly use a boxed cake mix.  And homemade caramel sauce actually doesn't work very well in this recipe, so stick with store-bought and you'll be fine.
But please, PLEASE, do not use Cool Whip.  Take the extra five minutes and make your own whipped cream.  It will take your cake from good to AWESOME.
Hope you love it!  Enjoy!
Don't forget, if you haven't yet, make sure you stop by my Facebook page and follow along – you can also find me on Twitter, Instagram and Pinterest!
Thanks for stopping by today!  Please leave a comment below to let me know you were here!  
♥erin
Butterfinger Poke Cake
If you're a fan of a good poke cake, this recipe is for you. Fluffy yellow cake is infused with sweet caramel sauce and topped with perfect whipped cream. Recipe source: Adapted from
Chef-In-Training
Ingredients
1 recipe yellow cake, or your favorite box cake mix, and ingredients to prepare it.
1 can sweetened condensed milk
1 (16oz) jar caramel sauce
1 pint heavy whipping cream
⅓ cup confectioners sugar
1 teaspoon vanilla extract
3 Butterfinger candy bars, crushed into large crumbs
Instructions
Prepare cake, according to directions, in a 9x13 pan.
Allow to cool for 10 minutes, then poke holes in the top of the cake with the end of a wooden spoon. Holes should be approximately ¾ inch apart, and cover the whole cake.
Pour the can of condensed milk over the top of the cake, and spread evenly with a rubber spatula.
Then, pour the jar of caramel sauce over the top of the cake, and again spread evenly over cake.
Place cake in the refrigerator for 1 hour or until cool.
Once cool, prepare whipped cream.
Pour cold whipping cream into a deep, clean bowl.
Beat on high speed until cream begins to thicken, about 4 minutes.
Add sugar and vanilla, and continue to beat cream until completely thickened.
Spread whipped cream over the top of the cooled cake, and sprinkle. with crushed Butterfinger crumbs.
Return to refrigerator until time to serve, and store covered in refrigerator after serving.
Enjoy!
41
leave a comment your way - using facebook or disqus: