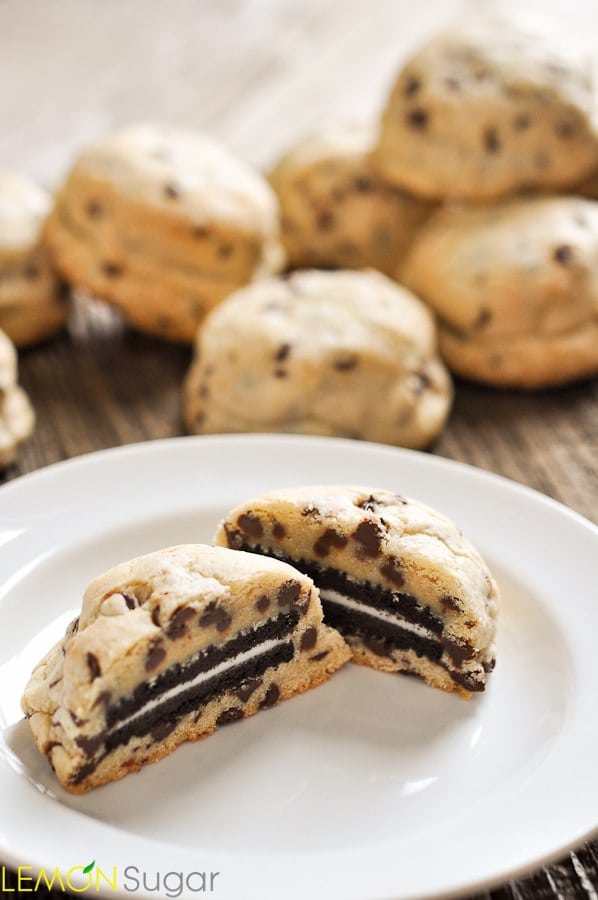 I have to say that I had very low expectations for this recipe.  It just didn't really appeal to me at all for some reason.  It wasn't until my brother requested these for this birthday dessert that I finally broke down and made them.
They are actually quite delicious.  The chocolate chip cookie is firm but soft, and even the Oreo cookie softens up a little bit in the middle of the cookie.  I will now humbly admit that I should've tried these years ago.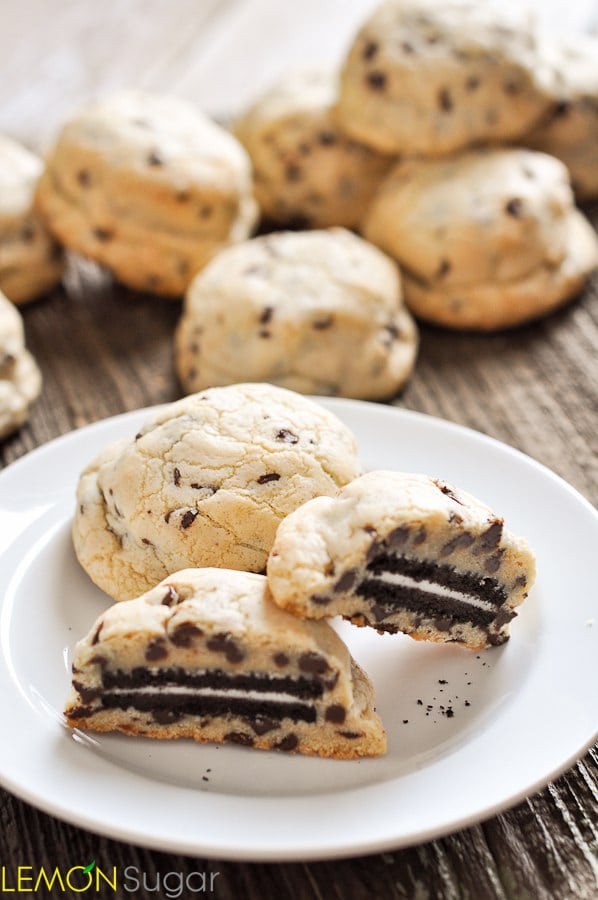 My girls got in on the fun, too.  Their little hands were perfect for molding the dough around the Oreo cookie, and anytime they get to help me in the kitchen they love it.  So if you have little ones, it's a great recipe to get them involved.
After you prepare the dough, take two small scoops of dough (about a Tablespoon each, or a small cookie-scoop worth) and place one on top of the Oreo, and one on the bottom of the Oreo.  Use your hands to mold the dough around the cookie and seal the edges.  Smooth the dough into a slightly flattened disc, and let them bake until they're just slightly golden brown.
These are ENORMOUS, so one cookie will be quite a commitment, but if you store them in an airtight container, they'll stay perfectly soft and ready to enjoy for a couple of days.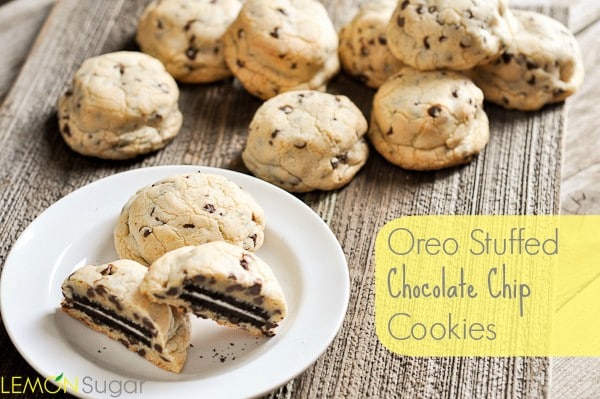 Be sure to line your baking sheet with parchment paper, and keep an eye on them while they're baking.  You don't want to overbake these, a crispy, dry cookie wouldn't not be good in this case.
Get the cold milk ready, and enjoy!
Don't forget, if you haven't yet, make sure you stop by my Facebook page and follow along – you can also find me on Twitter, Instagram and Pinterest!
Thanks for stopping by today!  Please leave a comment below to let me know you were here!  
♥erin
Oreo Stuffed Chocolate Chip Cookies
A tasty combo, this stuffed chocolate chip cookie is a fun snack for kids and perfect with a huge glass of cold milk. Enjoy! Recipe courtesy of
Amandeleine
Ingredients
1 cup (2 sticks) unsalted butter, slightly softened
¾ cup packed light brown sugar
1 cup granulated sugar
2 large eggs
1 tablespoon vanilla extract
3 and ½ cups flour
1 teaspoon salt
1 teaspoon baking soda
2 cups mini chocolate chips
20-24 Oreo cookies
Instructions
Preheat oven to 350 degrees (F).
Cream butter and both sugars together with an electric mixer until well combined.
Beat in eggs and vanilla, beating well after each addition.
In a separate bowl mix the flour, salt and baking soda.
Slowly add to wet ingredients, about ½ cup at a time until just combined. Do not over beat.
Stir in chocolate chips.
Using a small cookie scoop take one scoop of cookie dough and place on top of an Oreo Cookie. (Or about 1 Tablespoon of dough)
Take another scoop of dough and place on bottom of Oreo cookie.
Seal edges together by pressing and cupping in hand until Oreo cookie is enclosed with dough. Place onto a parchment lined baking sheet and bake cookies 10-14 minutes or until golden brown. Let cool for 5 minutes before transferring to cooling rack.
Store in an airtight container for up to 3 days.
Enjoy!
0
leave a comment your way - using facebook or disqus: