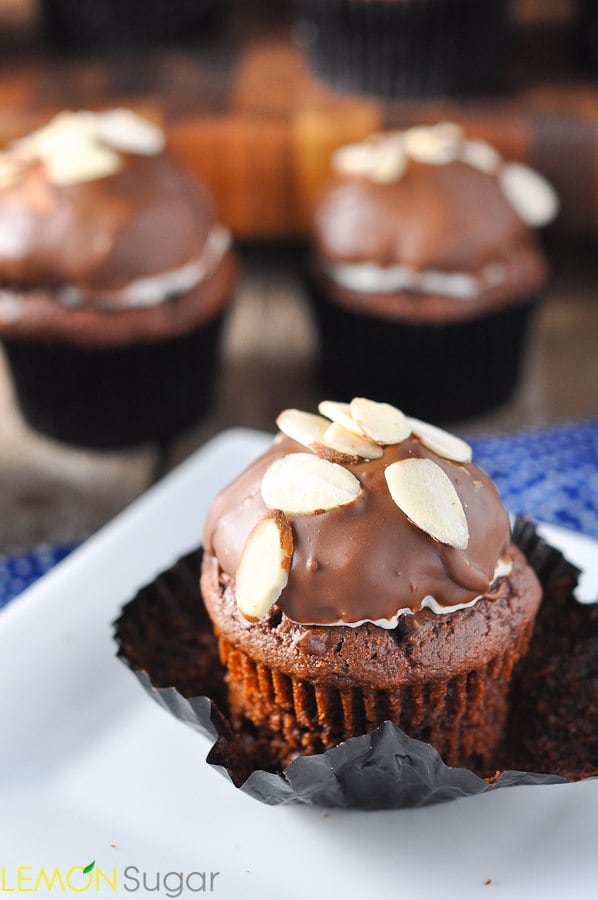 I'm pretty sure I told you in a recent post that we've cleaned up our eating habits in our household since the beginning of the year.  Nothing crazy, but just a renewed focus on eating healthy, real food and avoiding processed, chemical-ly food.  We don't do diets, because we've learned over the years that they just don't work.
I really don't have much trouble passing up all of the goodies that I bake anyway, a taste or two will usually suit me just fine.  But I've got to tell you that was not the case today.  These cupcakes are irresistible.   They are definitely a treat, and I definitely indulged, and I definitely didn't have one little tiny bit of regret.
If you love Almond Joy candy bars, you've GOT to make these.  The cake is a simple chocolate pudding cake, but the frosting is the real winner here.  The buttery coconut frosting is just like the inside of the famous candy bar, and then they're dipped in melting chocolate.  A quick sprinkle of almonds before the chocolate hardens will have you convinced that you're actually eating an Almond Joy.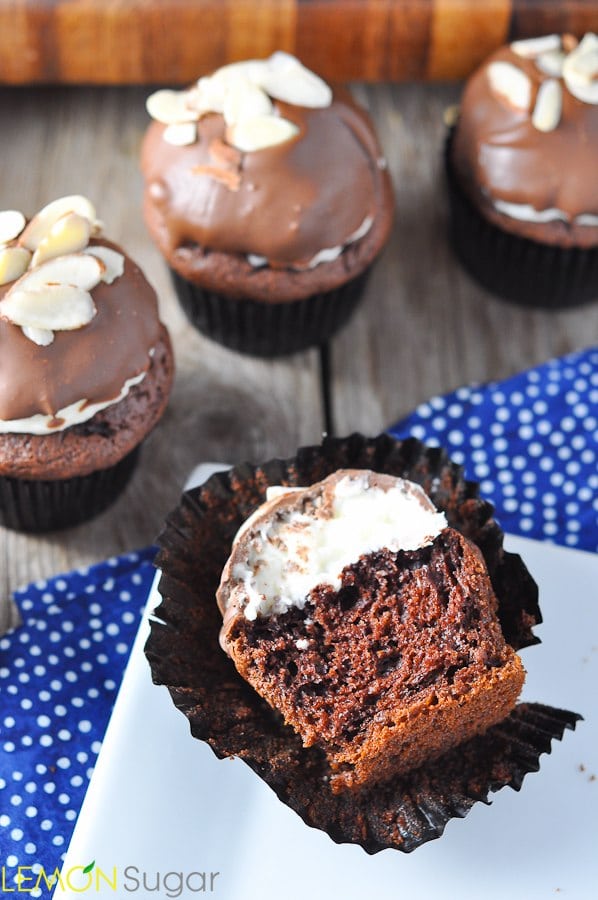 I know you're going to love these.  Give 'em a try and stop back by to tell me what you thought.
Enjoy!
Don't forget, if you haven't yet, make sure you stop by my Facebook page and follow along – you can also find me on Twitter, Instagram and Pinterest!
Thanks for stopping by today!  Please leave a comment below to let me know you were here!  
♥erin
Almond Joy Cupcakes
Just like the popular candy bar, these chocolate cupcakes are topped with a delicious coconut frosting and dipped in more chocolate. Delicious and fun! Enjoy! Recipe source:
Your Cup of Cake
Serves:
Approx 24 cupcakes
Ingredients
Cupcakes:
1 box Devil's Food Cake Mix
4 eggs
1 cup oil
1 small (3.4oz) package chocolate instant pudding
1 cup sour cream
2 teaspoons vanilla extract
Frosting:
½ cup (1 stick) unsalted butter, softened
8 oz cream cheese, softened
2 cups shredded coconut
1 teaspoon vanilla extract
3-4 cups powdered sugar
2 cups (about 1lb bag) chocolate melts
½ cup sliced almonds
Instructions
Preheat oven to 325 degrees (F).)
Prepare two cupcake pans (24 wells) with cupcake papers. Set aside.
In a large bowl, combine cake mix, eggs, oil, sour cream, vanilla and pudding. Beat with an electric mixer on medium speed for 60 seconds.
Evenly divide batter among cupcake papers, filling each about ½ full.
Bake 16-19 minutes or until a cake tester comes out clean.
Allow to cool completely on a wire rack.
Frosting:
While cupcakes are cooling, using the paddle attachment, beat together butter and cream cheese in the bowl of a stand mixer until smooth and creamy.
Add coconut and vanilla, and beat to combine.
Add powdered sugar, a cup at a time, until desired consistency is met.
Spoon frosting into a piping bag, and pipe a large dollop of frosting on to each cupcake.
Use a frosting knife to smooth the top of the frosting.
Melt chocolate according to package directions until completely smooth.
Dip each cupcake into the chocolate, and immediately top with a sprinkle of almonds.
Allow chocolate to set, and enjoy!
4
leave a comment your way - using facebook or disqus: