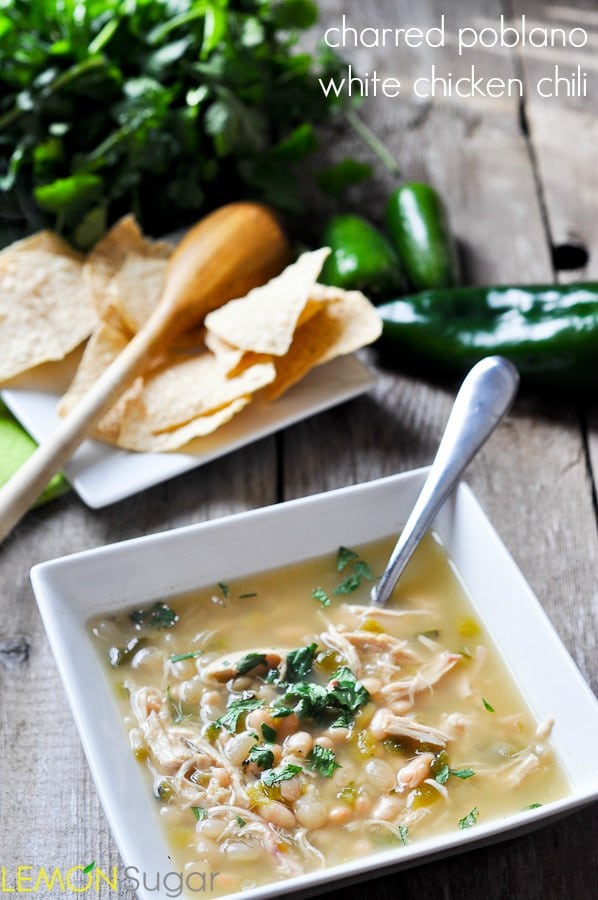 I had a heck of a time naming this recipe for you, because – I don't know.  This feels like a soup to me, but "White Chicken Chili Soup" sounds funny to me.  It's one teeny-tiny step away from a Rachael Ray made up word, like "stoup" or "sammie" or something equally annoying.
Disclaimer:  I love Rachael Ray, but I CAN'T DEAL with the made up words.  All of the time.   WHY, RACHAEL, WHY ALL OF THE PRETEND WORDS?  I know it's a combo between a soup and a stew, but there is NO reason to call it stoup.  NONE.   Oh, and the day she made "stoup and sammies?"  FOR REAL??!?!?!
I also can't deal with all of the capitalized letters.  Sorry.
*calming down*
So, this lovely little dish is a version of one of my mother-in-law's recipes.  I can still remember the first time she made it for me.  It was many years ago, and I was still in the uncomfortable, don't-want-to-ask-for-seconds-because-you-still-intimidate-the-crap-out-of-me phase of our relationship, but holy cow, it was good stuff.
I wasn't intimidated enough to ask for the recipe though, and I've been making it ever since, with a few little tweaks over time.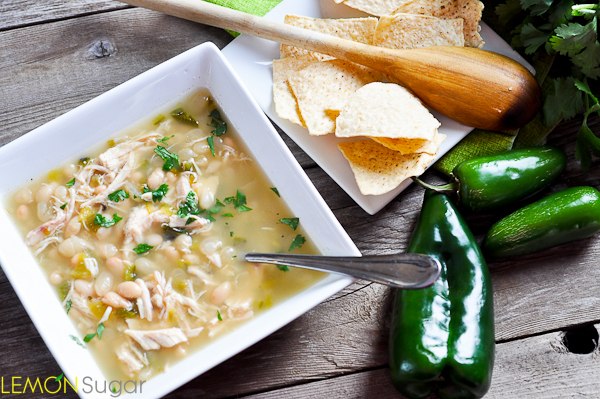 One of the biggest changes I've made to the recipe is that I just buy a rotisserie chicken at the grocery store, because it saves a ton of time.  I can have this chili on the table for dinner in just about 45 minutes, but most of that is simmer time.
(Simmer time = your house will smell awesome while you sit on the couch and do nothing.)
I also add poblano and jalapeno peppers to our chili, where my mother-in-law did not.  I've been on a charred poblano kick lately, and I HIGHLY recommend that you try it out.  If you don't have a gas stove, you can get the same result on your outdoor grill or even with a kitchen torch if you have one of those handy.  Essentially, you are just charring the skin of the pepper over an open flame, which gives it a deeper flavor and slightly cooks the inside of the pepper.  Once it's charred, the blackened skin wipes off and you're left with a very tasty pepper, perfect for white chicken chili.
Here's a handy visual for you if you're interested in giving it a try: (click here)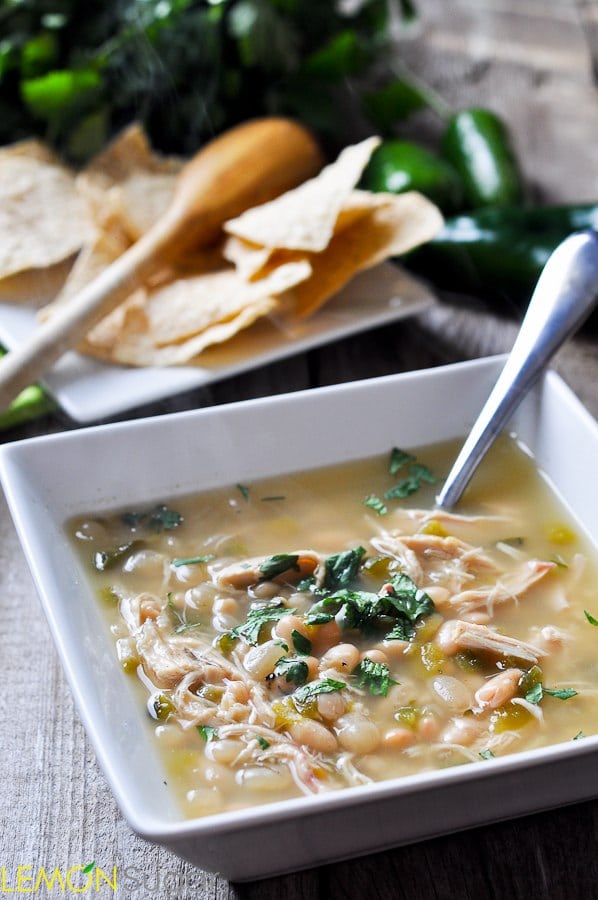 Awesome thing number 57,987 about this recipe: it makes a TON of chili, perfect for lunch leftovers later in the week.  I like to top mine with a little dab of sour cream, some chopped avocados and cilantro, and my girls like to eat theirs with topped with tortilla chips.
I have to say though, this is great because it's super, super healthy, very low calorie, and you totally feel like you've indulged after a big, warm bowl of this chili.  Plus, it's chili.  Once you get a good base down, it's very easy to adjust the flavor for your taste buds.
Hope you love it, and enjoy!
Don't forget, if you haven't yet, make sure you stop by my Facebook page and follow along – you can also find me on Twitter, Instagram and Pinterest!
Thanks for stopping by today!  
♥erin
Charred Poblano White Chicken Chili
This quick, easy and healthy white chicken chili finds depth in charred poblano peppers and is a delicious way to serve guilt-free comfort food.
Ingredients
1 rotisserie chicken, shredded
1 Tablespoon olive oil
2 boxes (about 8 cups) chicken stock, low sodium
4 (15oz) cans great northern beans, rinsed and drained
1 large poblano pepper, charred (directions below)
½ medium white onion, chopped
1-2 jalapenos, seeded and chopped (optional)
1 can green chilis, chopped
½ cup salsa verde
1 Tablespoon ground cumin
1 teaspoon black pepper
1 teaspoon garlic powder
1 teaspoon cayenne pepper
salt, to taste
Optional:
sour cream, for serving
chopped avocado, for serving
tortilla chips, for serving
cilantro, for serving
Instructions
To char pepper:
On a gas-stovetop or grill, lay pepper directly on grate over medium flame.
Carefully watch the pepper, and turn with tongs to char every side until black.
Allow to cool, then peel blackened skin from pepper.
Once cooled, chop into small pieces.
For soup:
Prepare all ingredients - drain and rinse beans, shred chicken, chop onion and peppers.
In a large soup pan or dutch oven, heat 1 Tbs olive oil over medium heat.
Combine chopped, charred poblano pepper, jalapeno (if using) and onion and heat until onion turns just slightly translucent.
Add remaining ingredients: chicken, chicken stock, beans, green chilis, and spices.
Stir to combine.
Simmer for 30-45 minutes. Taste, and adjust seasoning to fit your liking. Add salt as desired.
Serve with chopped avocado, sour cream, tortilla chips and cilantro.
Enjoy!
1
leave a comment your way - using facebook or disqus: