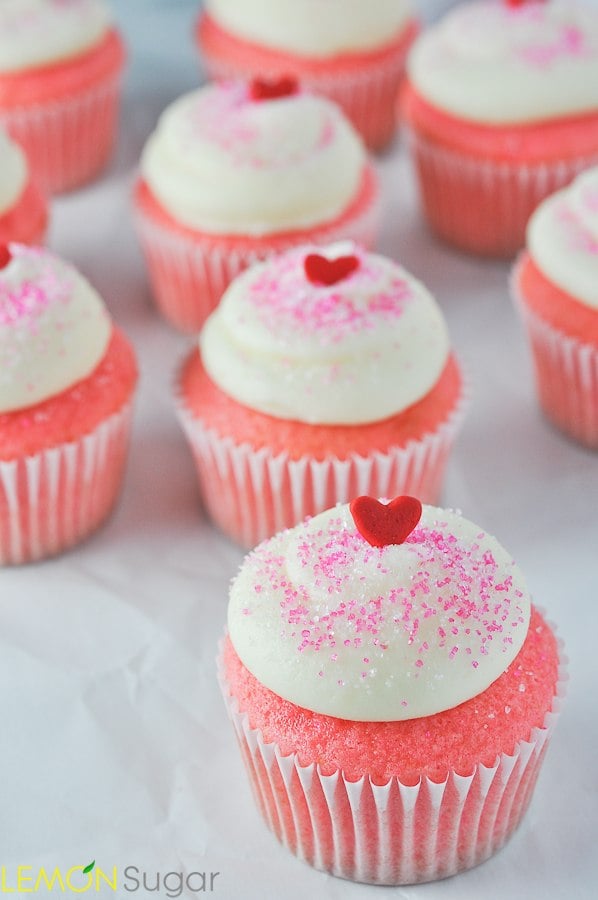 This is my second attempt at pink velvet cupcakes.  The first was bad, so very bad.  I don't understand, because that particular recipe gets rave reviews everywhere, but to me it tasted like a blueberry muffin, sans blueberries.  It was just kind of blah.  They were like little, pink, blueberry-less muffins.  Kind of sad little things.
So after going back to the drawing board and searching for an ingredient list with more flavors, I settled on this one from a Taste of Home cookbook.  I was immediately happier with the results, and even though I'm pretty sure my husband was rolling his eyes at me, I could even SMELL the difference while they were baking.  They smelled like cupcakes, not muffins.
I'm not crazy.  I've just made about ninety bajillion cupcakes in the last three years.  My nose knows.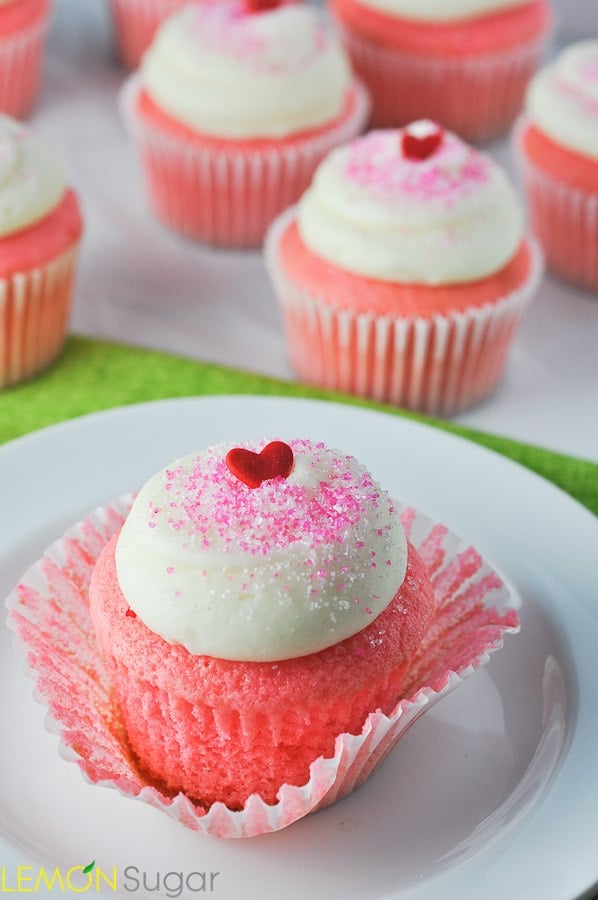 So, in my search, I also found myself asking what determines whether a velvet cupcake is actually velvet.  Turns out, it's the combination of a buttermilk-based cake and a cream cheese frosting.  And there is NOTHING wrong with that.
I actually was a little bit worried that the cream cheese frosting would taste weird on a vanilla cupcake, but it's perfectly delicious.  I even filled the cupcakes with a marshmallow filling to mellow out the tanginess of the frosting a bit, but it's not necessary if you don't want to mess with it.
Although, if we were playing Rock-Paper-Scissors, a filled cupcake would be the rock.  An unfilled cupcake would be the scissors.  Meaning, the filled cupcake would win EVERY time.
I have no idea what would be the paper.  My brain cannot fathom something that is lesser than an unfilled cupcake but greater than a filled cupcake.  I think that might actually be secret behind the flux-capacitor and what actually makes time travel possible.  So, when you figure it out, let me know.
Wow.
I don't even know.  Maybe I am just a little bit crazy.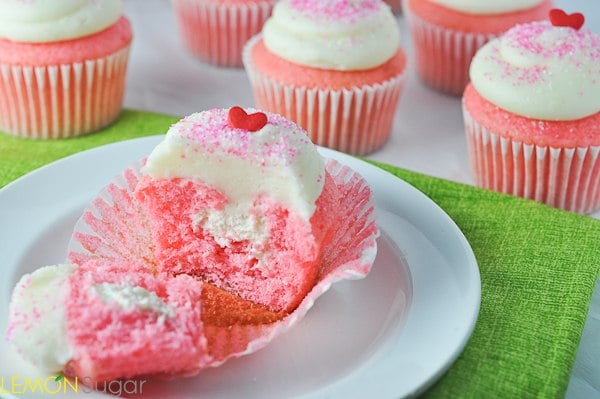 What I DO know is that these are adorable, they're perfect for Valentine's Day, and you're going to love them.
Enjoy!
Don't forget, if you haven't yet, make sure you stop by my Facebook page and follow along – you can also find me on Twitter, Instagram and Pinterest!
Thanks for stopping by today!  Please leave a comment below to let me know you were here!  
♥erin
Pink Velvet Cupcakes
A lighter and cocoa-free version of its red velvet cousin, the pink velvet cupcake is made with buttermilk and topped with the same delicious cream cheese frosting. A perfect treat for Valentine's Day! Enjoy! Recipe source: Taste of Home Best Loved Recipes
Serves:
Approx 24 cupcakes
Ingredients
Cupcakes:
1 cup unsalted butter, room temperature
1 cup granulated sugar
1-3 drops pink gel food coloring
3 eggs, room temperature
1 and ½ teaspoons vanilla extract
2 and ½ cups all-purpose flour
1 and ½ teaspoons baking powder
¼ teaspoon baking soda
¼ teaspoon salt
1 cup buttermilk
Filling
14 ounces Marshmallow Fluff/Creme
1 cup unsalted butter, softened
1 and ½ teaspoons vanilla extract
Cream Cheese Buttercream:
1 cup unsalted butter, softened
8 ounces cream cheese, room temperature
2lbs confectioners sugar
½ cup heavy cream
2 teaspoons vanilla extract
Instructions
Cupcakes:
Line two cupcake pans with paper liners. Set aside.
Preheat oven to 350 degrees (F).
In a large bowl of a stand mixer, cream together butter and sugar until light and fluffy.
Add food coloring, halfway through creaming.
Add eggs, one at a time, beating well after each addition.
Add vanilla and beat to combine.
In a medium mixing bowl, whisk together the dry ingredients (flour, baking powder, baking soda and salt)
Add ⅓ of flour to mixture, beat until just combined. Add ½ the buttermilk, and beat until just combined. Add ½ of remaining flour, beat until just combined. Add remainder of buttermilk, beat until just combined. Add the rest of the flour, and beat until just combined.
Fill cupcake lined tins ⅔ full.
Bake 18-22 minutes, or until cake tester comes out clean.
Remove cupcakes from pan, and cool completely on wire rack before filling and frosting.
Filling:
In a large bowl, beat together butter, marshmallow and vanilla until light and fluffy.
Spoon filling into a large piping bag fitted with a ¼ inch round or star tip.
Press the tip into the top of each cooled cupcake, and apply light pressure to fill cupcake. Filling will ooze out of the top of the cupcake, but it will be covered with frosting so that's ok.
Frosting:
In the bowl of a stand mixer fitted with the paddle attachment, beat together butter and cream cheese until completely combined and smooth.
Add confectioners sugar and beat on low.
Slowly drizzle cream into mixture and continue to beat on low just until mixture is moistened.
Add vanilla, and increase speed to medium.
Beat until light and creamy. Add additional cream a teaspoon at a time if needed.
Frost as desired.
Enjoy!
5
leave a comment your way - using facebook or disqus: