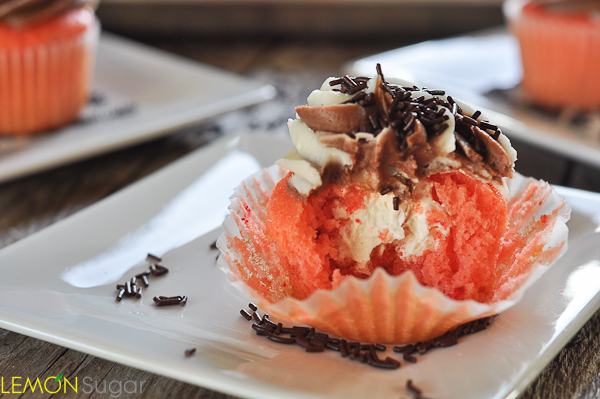 ho's ready for dessert?  Let me just tell you that I haven't had dessert (outside of taste-testing Iced Oatmeal Cookies and Chocolate Syrup Bundt Cake) since Christmas.  Like many of you I'm sure, we go on a bit of a detox at the first of the year to get off the holiday stuff-your-face-with-all-of-the-yum train, so our kitchen has been more spinach and less butter.
It's kind of sad, actually.
But really, it's good and it's nice to get back into the swing of things and focus on health and nutrition.  Which is why it's particularly hard to whip up a batch of these tempting little cupcakes and then just take pictures of them and not eat 16 of them.
It's practically torture.
PS – practically torture = absolutely torture.
I even took the finished product to my parents house, and I still came home with a dozen of them.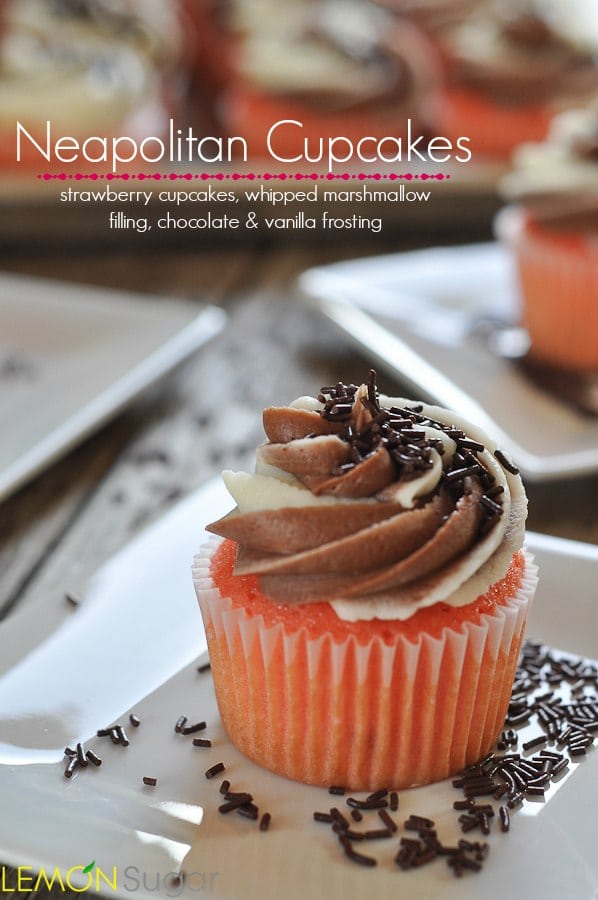 Now, they're staring at me from their little glass house on my countertop.  It's 9am, and I am talking myself out of eating a cupcake.
But you guys, they are SO good.  I'm not even a fruit with chocolate kind of person, but these work.  If you love Neapolitan Ice Cream, these are totally for you.  If you love strawberry and chocolate, these are for you.  If you are a living, breathing human, these are for you.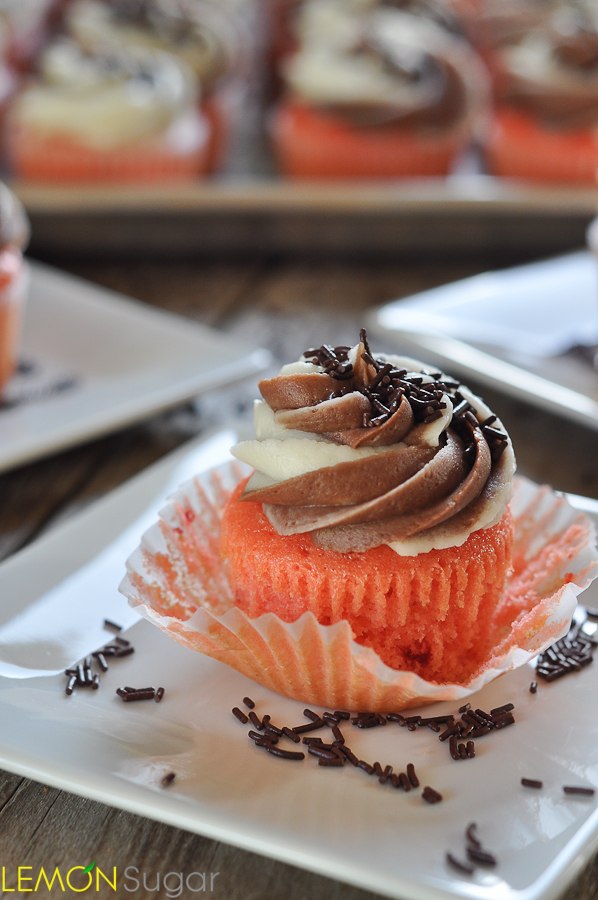 I have had a lot of questions and comments lately about frosting, so I wanted to take a few minutes to talk about it.  Most of the frosting recipes that I provide are to make the cupcakes exactly as I show them in my photos.
If you are using a butter knife to frost your cupcakes, ALWAYS cut the recipe in half.
Piping bags use a TON of frosting.  They just do.
Now, that being said, a piping bag will take your baking up a notch.  Your cupcakes will be prettier, and you'll have fun playing with all of the tips and methods depending on how you want them to look.
I should also note that piping bags aren't terribly expensive.  You can buy disposable bags for about a quarter a piece, or you can buy a reusable bag for about five bucks.  I have used both, and both work great.
You can buy tips for a couple of dollars a piece, depending on the size you buy.  I almost ALWAYS buy the jumbo tips, with the exception of the Wilton 1M tip, which is a large tip.  DO NOT buy the regular tips.  Don't.  They will never give you the look you want.
If you want more info on piping technique, check out this post from Make Bake Celebrate.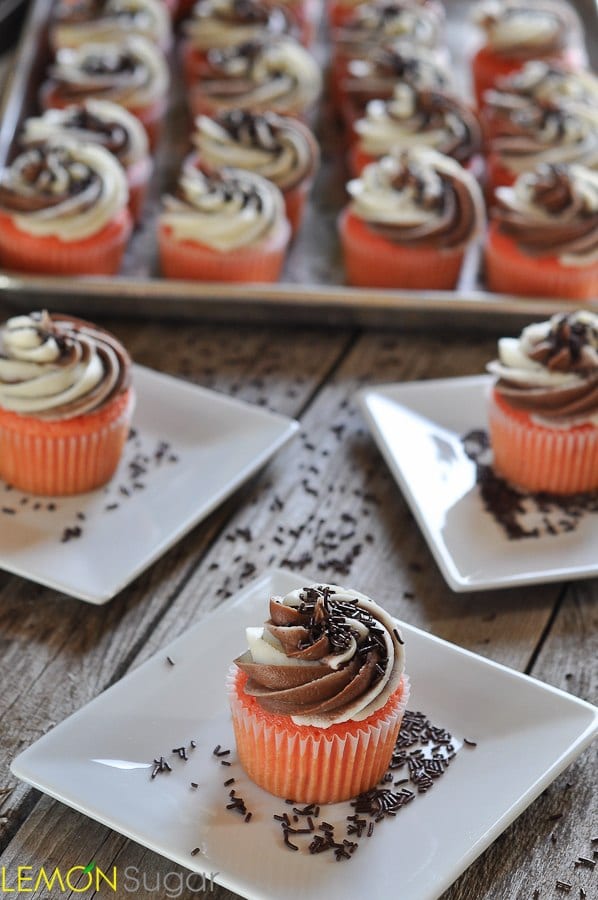 Now, as far as filling cupcakes goes, I used to use the cone method.  Lately though, I just use a smaller piping tip and push it down inside the cupcake and apply light pressure to squeeze some filling into the middle of the cupcake.  It works like a charm, and it takes just a couple of minutes to fill all of the cakes.
Just don't squeeze too hard or too fast.  Exploding cupcakes are a real thing.  Truuuuuusssssst me.
And, once you start filling your cupcakes, everyone will always expect all of your cupcakes to be filled.  My sibs actually express disappointment when they bite into an unfilled cupcakes.  They're spoiled.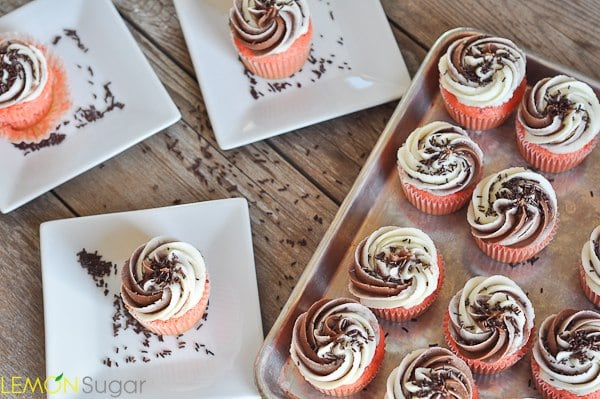 Hope you all enjoy these.  I'm going to do everything possible NOT to enjoy every single one of them today.  Torture, I tell ya.
Don't forget, if you haven't yet, make sure you stop by my Facebook page and follow along – you can also find me on Twitter, Instagram and Pinterest!
Thanks for stopping by today!  Please leave a comment below to let me know you were here!  
♥erin
Neapolitan Cupcakes
A true treat for Neapolitan Ice Cream lovers, this strawberry cupcake is filled with a decadent marshmallow filling, and topped with a swirled chocolate and vanilla frosting. Enjoy!
Serves:
Approx 24 cupcakes
Ingredients
Strawberry Cupcakes:
2 and ¾ cups all-purpose flour
½ cup cake flour, (not self-rising)
1 tablespoon baking powder
1 teaspoon salt
8 ounces (2 sticks) unsalted butter, softened
2 and ¼ cups sugar
3 large eggs
1 large egg white
1 cup whole milk
1 and ½ teaspoons pure vanilla extract
2 cups finely chopped strawberries
several drops of red/pink food coloring or gel paste
Marshmallow Filling:
1 cup butter, softened
2 (7oz) jars marshmallow fluff/creme
1 teaspoon vanilla extract
Chocolate Vanilla Swirl Buttercream:
2 cups (4 sticks) unsalted butter, softened
1 (2lb) bag confectioners sugar
1 teaspoon vanilla extract
¼ to ½ cup heavy whipping cream
¼ cup cocoa powder
Instructions
Cupcakes:
Preheat oven to 350 degrees.
Line two cupcake pans with cupcake liners; set aside.
Place strawberries in a small food processor; process until pureed, set aside.
In a medium bowl, whisk together flours, baking powder, and salt; set aside.
In a small bowl, mix together milk, vanilla, and strawberry puree; set aside.
In the bowl of an electric mixer fitted with the paddle attachment, cream butter on medium-high speed, until light and fluffy.
Gradually add sugar and continue to beat until well combined and fluffy.
Reduce the mixer speed to medium and slowly add egg and egg white until just blended.
With the mixer on low, slowly add half the flour mixture; mix until just blended.
Add the milk mixture; mix until just blended.
Slowly add remaining flour mixture, scraping down sides of the bowl with a spatula, as necessary, until just blended. Add food coloring if desired, and blend completely.
Divide batter evenly among prepared muffin cups.
Transfer muffin tin to oven and bake until tops are just dry to the touch, 22 to 25 minutes. (Mine only took 20 minutes, so keep an eye on them!)
Transfer muffin tin to a wire rack and let cupcakes cool completely in tin before frosting and filling.
Marshmallow Filling:
Place butter, marshmallow creme and vanilla in a large bowl.
Beat at medium speed until smooth and completely incorporated.
Spoon filling into a piping bag fitted with a small round, star or filling tip.
Using light pressure, insert tip into top of cupcake and squeeze filling into cupcake. Filling will ooze out of the top, but that's ok, you'll cover it with frosting.
Repeat until all cupcakes are filled.
Chocolate and Vanilla Swirl Buttercream:
In the bowl of a stand mixer fitted with a paddle attachment, beat butter until smooth and creamy.
Add powdered sugar, and beat on slow just until slightly incorporated.
Add cream and vanilla, and beat until light and fluffy. Add more cream if necessary to reach desired thickness.
Remove half of the frosting from the bowl, and spoon it into one side of a piping bag fitted with desired piping tip.
Set aside.
Add cocoa powder to remaining frosting, and beat to combine. Again, add more cream if desired to reach desired consistency, and scrape bowl to completely incorporated vanilla frosting.
Spoon chocolate frosting into the other side of the piping bag.
Apply pressure to the bag, and pipe frosting like you normally would.
Enjoy!
0
leave a comment your way - using facebook or disqus: