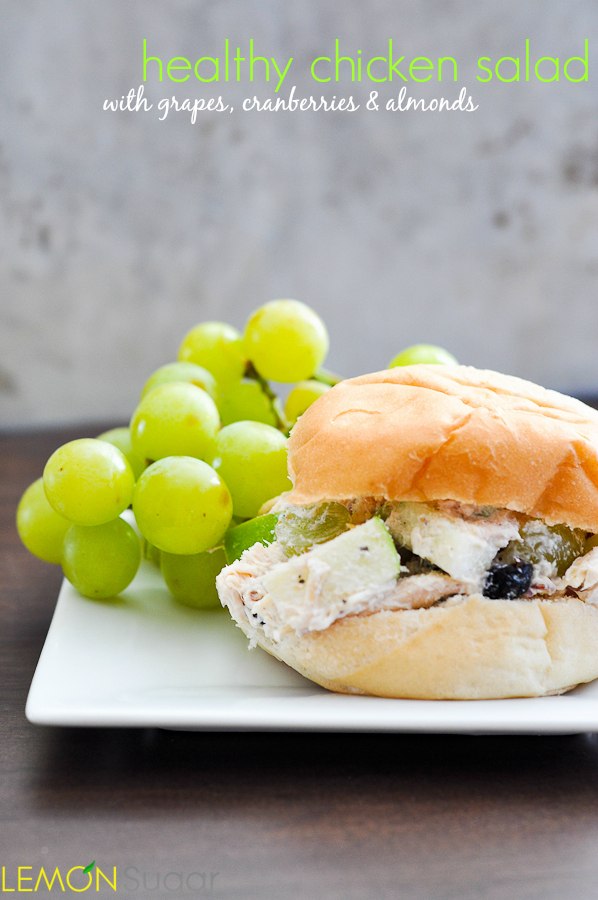 As I'm sure is the case with many of you, January always brings a renewed focus on health and fitness in our household.  The gluttony of November and December is long-gone, and the reality of dusty treadmills and suddenly snug pants starts to sink in.
So, we happily dig out our favorite healthy recipes, and wonder why we ever stopped eating them in the first place.  I don't know what it is about November and December – I know there's a lot of food around for the holidays, but for some reason, all of the bad habits start to set in – eating out too often, making poor decisions at the grocery store and unconscious face-stuffing…but why?
I mean, I'm as guilty as anyone – I have a blog entirely focused on sweets, treats and comfort food, for Pete's sake – but with the plethora of healthy recipes on the internet alone these days, there's really just no excuse.  Busy isn't an excuse anymore, either.
Our rule of thumb is to strive for 85% conscious, clean, real food. If we eat consciously 85% of the time, we can really enjoy that 15% – reserved for special occasions, drinks out with friends, and well, the occasional cupcake.
This particular recipe is a favorite of mine – not only is it super-duper easy thanks to rotisserie chicken, but it's just as tasty as it's calorie-laden cousin made with mayo. Greek yogurt is the best thing that's ever happened to me, I tell ya…it's tangy and creamy and you SERIOUSLY won't miss your mayo. We love this chicken salad as a wrap and as a quick sandwich, and if I leave the red onions out, my girls eat this up, too.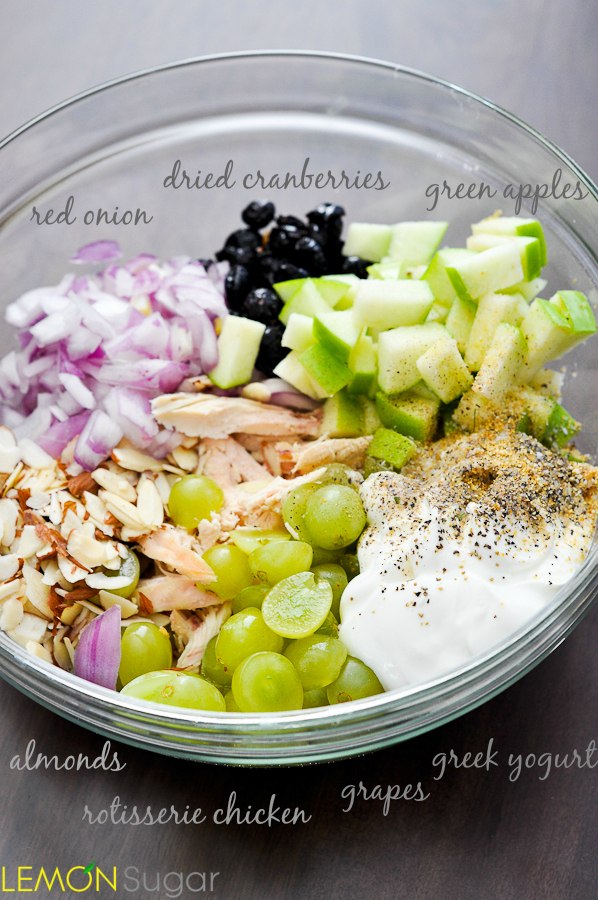 This is another totally customizable recipe – you can replace cranberries with raisins, grapes with dates or figs, almonds with walnuts, apples with pears…finding your favorite combo is part of the fun.
And, you'll feel good about what you're eating.  Oh, and did I mention it goes together in just a few minutes?  Bonus.
Enjoy!
Don't forget, if you haven't yet, make sure you stop by my Facebook page and follow along – you can also find me on Twitter, Instagram and Pinterest!
Thanks for stopping by today!  I'd love to hear from you, so be sure to leave a comment below!
♥erin
Healthy Chicken Salad
This quick and easy chicken salad replaces mayonnaise with greek yogurt for a healthy meal that you can feel good about enjoying! Recipe source: Adapted from
Damn Delicious
Ingredients
1 rotisserie chicken, shredded
1 green apple, coarsely chopped
⅓ cup dried cranberries
¼ cup slivered almonds
½ red onion, finely chopped
⅔ cup green grapes, halved
¾ cup greek yogurt
1 Tablespoon lemon juice
salt, pepper and garlic powder, to taste
buns, bread or wrap, for serving
Instructions
Shred rotisserie chicken, set aside.
Chop onion, apples and grapes, set aside.
In a large bowl, combine all ingredients. Stir to combine.
Season to taste, and serve as a sandwich or wrap.
Enjoy!
19
leave a comment your way - using facebook or disqus: