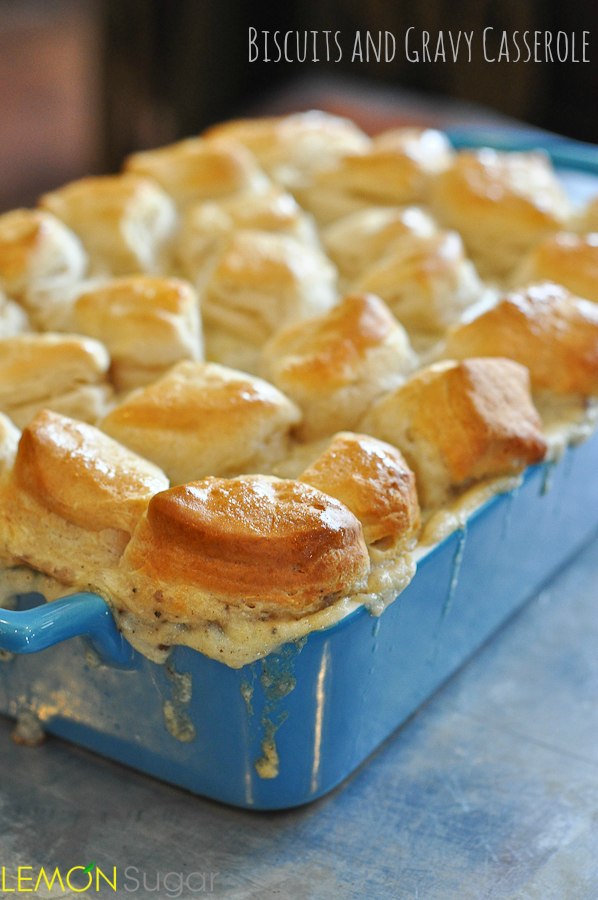 My dear brother-in-law has been staying with us over the last week.  It's awesome because of course I love it when he's home, and I get excited every year because he's someone new to cook for – another person to eat the holiday goodies that I'm inevitably churning out.
But the truth of the matter is that he really doesn't eat much.  He's not a breakfast person.  I know these things.  But I still, every single year, force new breakfast dishes upon him like he's going to change his mind and decide that he absolutely wants a big breakfast instead of his coffee.
I think he had one little bite of this.
One little bite.
He must have some serious self-control or something, 'cause there is no way that I was going to walk away from this one.  I mean, biscuits and gravy are fantastic on their own, but baking the biscuits IN THE GRAVY takes them up to an entirely different level.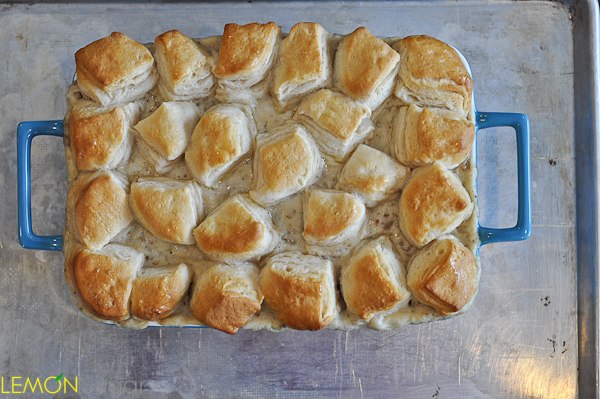 The biscuits SOAK UP THE GRAVY.  I was actually worried that the bottom layer of biscuits would get soggy, but they didn't.  They were like little, perfectly cooked biscuit dumplings or something.  Soaked in gravy.
Did I mention they are soaked in gravy?
The gravy gets all bubbly and extra creamy, and those biscuits find a way to cook just perfectly.
So, so good.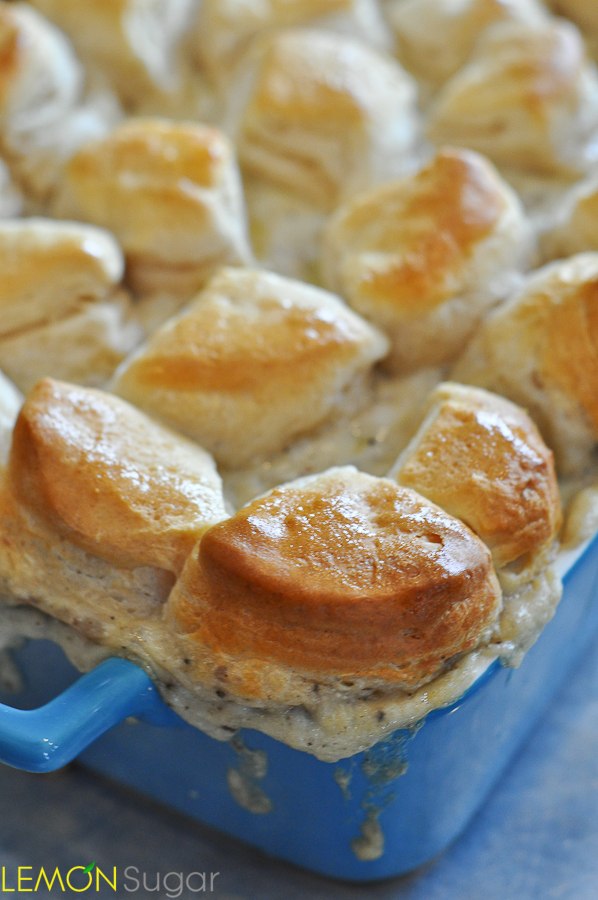 The awesome thing about this recipe is how easy it really is.  Of course store-bought biscuits take the convenience factor up considerably, but my favorite gravy trick makes easy work of the gravy, too.
Yes, I have a gravy trick.
And I don't know if it's actually a trick, but I didn't know about it until a few years ago and it's revolutionized my gravy-making. Yes.  REVOLUTIONIZED.
The trick is to just sprinkle the browned meat with flour to make a roux in the skillet.  Cook the flour-coated meat for a few minutes until the flour-flavor goes away, and THEN add the cream and spices.
Don't try to mix your flour into your liquid and then pour it in.  You'll get lumps.  Everytime.
Make the roux with the meat, and get lump-free gravy, without fail.
You're all like, "Duh, Erin.  That's like Gravy 101.  Where have you been?'
Well whatever.  It's my gravy trick, and it's totally worth sharing for those of you who aren't doing it.
Hope you love this one.  It's quick and easy, and super delish.  It was kid-approved, husband-approved, and I even caught my brother-in-law picking at the leftovers mid-morning.
He so wishes he was a breakfast person, I know it.
Enjoy!
Don't forget, if you haven't yet, make sure you stop by my Facebook page and follow along – you can also find me on Twitter, Instagram and Pinterest!
Thanks for stopping by today!  Leave me a comment below and enter to win!
♥erin
Biscuits and Gravy Casserole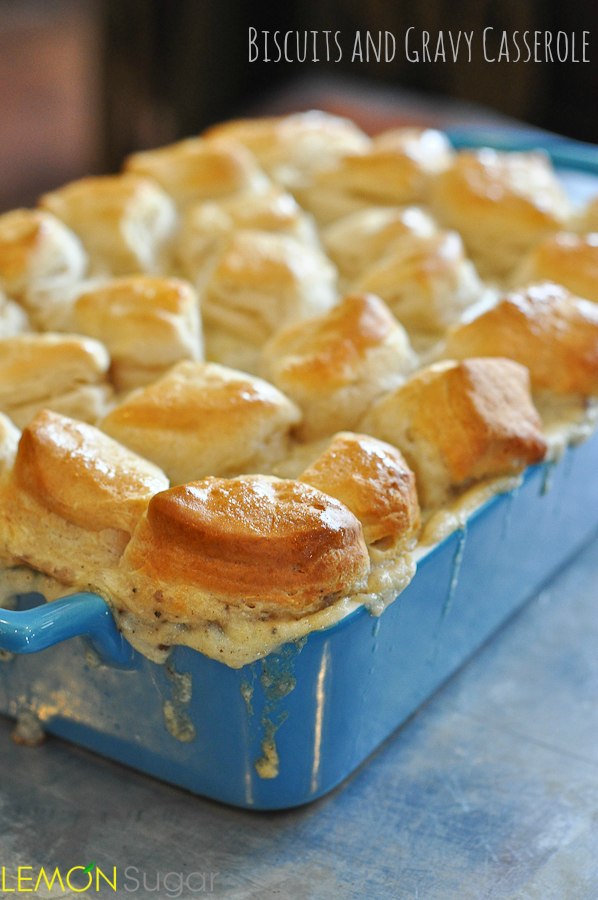 A different take on traditional biscuits and gravy, this easy breakfast casserole is a fun way to mix things up at the breakfast table.
Serves: Approx 8 servings
Ingredients
1 can large, flaky biscuits (such as Grands)
½ pound ground breakfast sausage
3 Tablespoons flour
½ teaspoon salt
½ teaspoon black pepper
2 and ½ cups milk
Instructions
Preheat oven to 400 degrees (F).
Prepare a small casserole dish (approximately 7x10) with cooking spray. Set aside.
Open biscuits, and cut biscuits into quarters.
Layer half of the quarters in prepared pan.
Bake for 10 minutes.
Meanwhile, prepare gravy.
In a heavy skillet, brown the ground breakfast sausage over medium high heat until fully cooked.
Sprinkle the cooked sausage with 3 Tablespoons of flour.
Use a wooden spoon to stir flour into sausage until completely absorbed.
Lower heat to medium, and cook flour/sausage mixture for 3-5 minutes, stirring frequently.
Add milk, and stir to combine.
Add salt and black pepper.
Stir frequently until mixture comes to a slight boil.
Taste, and adjust seasonings as desired. (I usually add more black pepper)
If the gravy is too thick, add a bit more milk. You want the gravy to be thickened but not too thick, not "globby," it should still be slightly runny.
Pour gravy over the cooked biscuits.
Layer the remaining uncooked, quartered biscuits over the gravy.
Place casserole dish on a baking sheet, and bake for 20-25 minutes or until golden brown. If they start to over-brown, you can cover with foil for the last 10 minutes or so.
Serve immediately.
Enjoy!
105
leave a comment your way - using facebook or disqus: