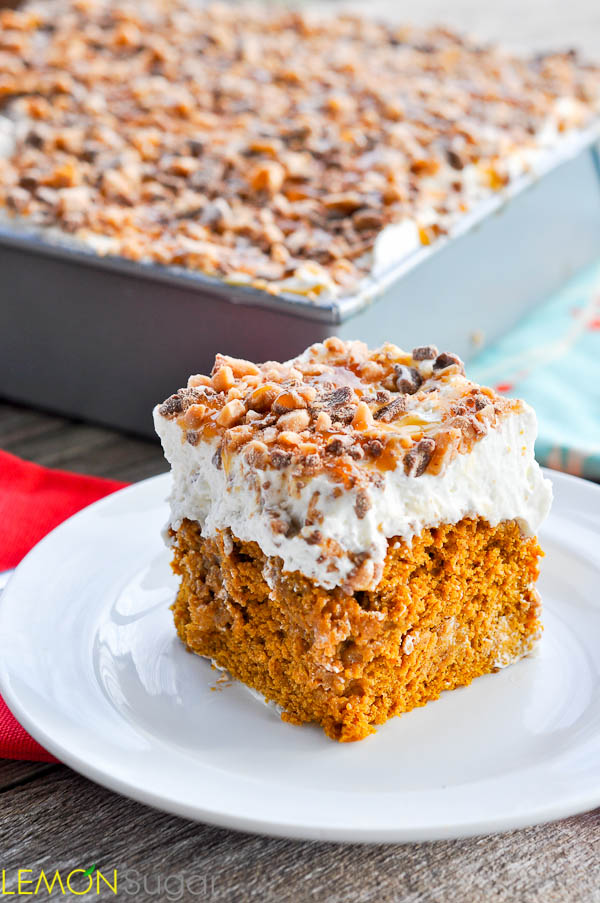 So, I don't really care what you call this cake.  Anytime you combine pumpkin, homemade whipped cream and caramel sauce?  Uh-MAZE-balls.  My last BTS cake has driven almost 120,000 visitors to Lemon Sugar, and is among one of my most requested desserts in my inner circle.
Inner circle?  That means my family.  I don't know why I called them my inner circle.  I'm clearly not Miley Cyrus.  I don't have an "inner circle."
But if I did, I would totally feed them BTS cake.
If you've never made homemade whipped cream, I want you to go to the store right now.  Right NOW.  It's super, super, super easy to make, and it will make you look like a rockstar.  And you'll eat it with a spoon.  And it will be ok. Well, more than ok.  It will be inner-circle worthy.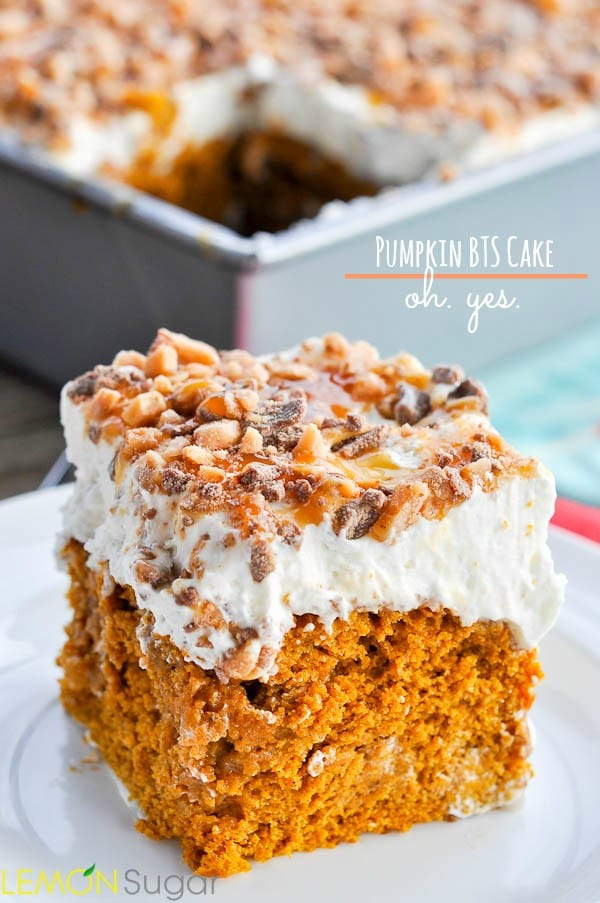 Once again, thanks to my redonkulously busy schedule these days, I started with a cake mix.  Ya'll know that I'm always an advocate for from-scratch baking, but I get it – life gets busy.  Sometimes life calls for a cake mix, and I'm just going to have to learn to be ok with that.
Ok, and I have to address this because it's going to come up.
The name of the cake.
I didn't name it, folks.
And if you're new here, BTS stands for "Better Than Sex."
I repeat.  I didn't name it.
And it's just a name.
And it's probably not meant to be a literal description.  It's probably intended to be a figurative illustration of a really darn good cake.
And that's all I have to say about that.
So, let's recap.  DELICIOUS cake.  Make your own whipped topping.  Boxed cake mix is fine in a pinch, and I DID NOT NAME THIS CAKE.
Enjoy.  It's fab.  I'll let YOU decide just how fab YOU think it is.
But I didn't name it.  😉
Don't forget, if you haven't yet, make sure you stop by my Facebook page and follow along – you can also find me on Twitter, Instagram and Pinterest!
Thanks for stopping by today!  Leave me a comment below so I know you were here!
♥erin
Pumpkin BTS Cake
The pumpkin version of Better Than Sex cake is sure to win over pumpkin fans everywhere. Recipe adapted from:
Something Swanky
Ingredients
1 box Duncan Hines Spice Cake Mix
1 (15 ounce) can pumpkin puree (not pumpkin pie filling)
1 (14 ounce) can sweetened condensed milk
1 and ½ cups heavy whipping cream
¼ cup powdered sugar
2 teaspoons vanilla extract
1 cup Heath Bar or toffee candy chips
Approx ½ cup caramel sauce, homemade or storebought
Instructions
Preheat oven to 350 degrees (F).
Prepare an 8x8 or 9x9 square baking dish with cooking spray. Set aside.
In a medium sized bowl, beat together spice cake mix and pumpkin puree. Mixture will be very thick. Beat until just combined. (Do not add additional ingredients called for on cake mix box. Only two ingredients requrired here.)
Spoon batter into prepared pan.
Bake for 35 minutes or until a cake tester comes out clean.
Allow cake to cool for at least 20 minutes.
Then, using the round end of a wooden spoon, poke holes all over the top of the cake, approximately 1 inch apart.
Pour the sweetened condensed milk over the top of the cake, and use a spatula to guide into poked holes.
Allow cake to cool completely.
Prepare whipped topping. In a large, clean bowl, beat whipping cream on medium high speed until soft peaks form.
Add powdered sugar and vanilla, and beat until stiff peaks form.
Spoon whipped cream over cooled cake, and spread with a spatula.
Top with toffee candy and caramel sauce.
Refrigerate until time to serve.
Enjoy!
1
leave a comment your way - using facebook or disqus: