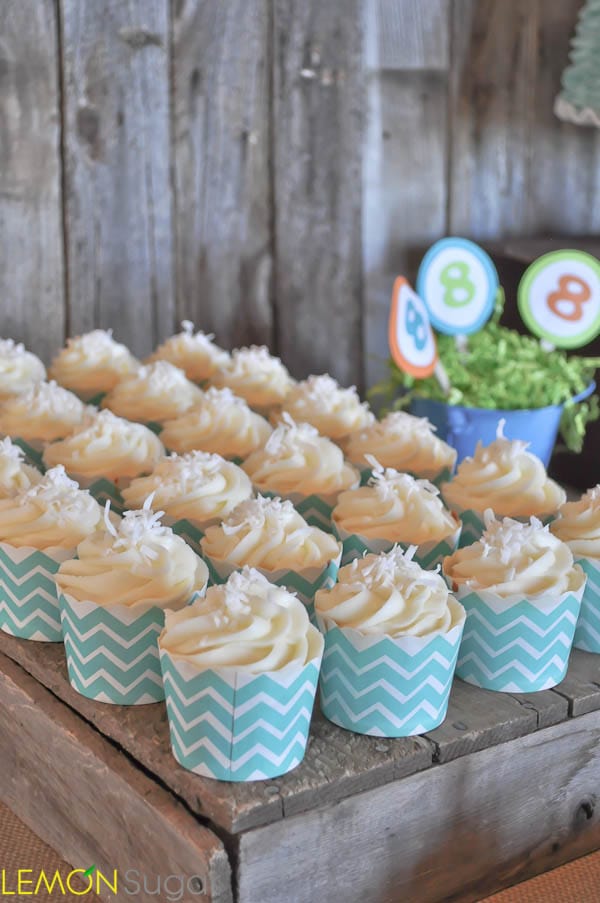 Well, I survived.  I survived my first party since I've gone back to work in an office environment, and it was a success.  Now, I didn't cook – it was catered, I just did the baking, and I had a little help from the candy aisle at the grocery store, but somehow I pulled off a cute little beach party in the middle of November and lived to talk about it.
My Madeline turned eight years old this week, and as much work as it was, creating a magical backdrop for her party was worth it.  It was worth the sleep deprivation, blisters on my fingers from tying balloons, the twisted knee from jumping off the bar stool I used to hang grass skirts from the walls, fifteen trips to different hobby stores in search of flower lei's (in November in Kansas…) and the huge wooden hut backdrop we built from salvaged wood.
It was worth it.  She is worth it.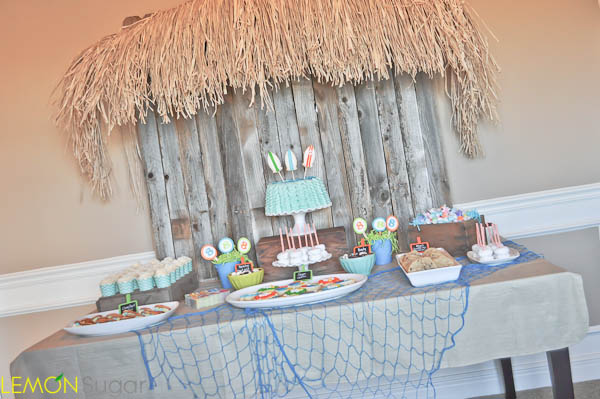 The dessert table is always the highlight of the party, and this year was no different.  A chocolate cake with aqua-blue "wave" frosting anchored the table, and was supplemented by lots of fun details like saltwater taffy, doughnut innertubes, clamshell cookies, decorated sugar cookies and coconut cupcakes with lime butter cream.
Plus, my Mom helped me out this year and brought some of her famous chocolate chip cookies.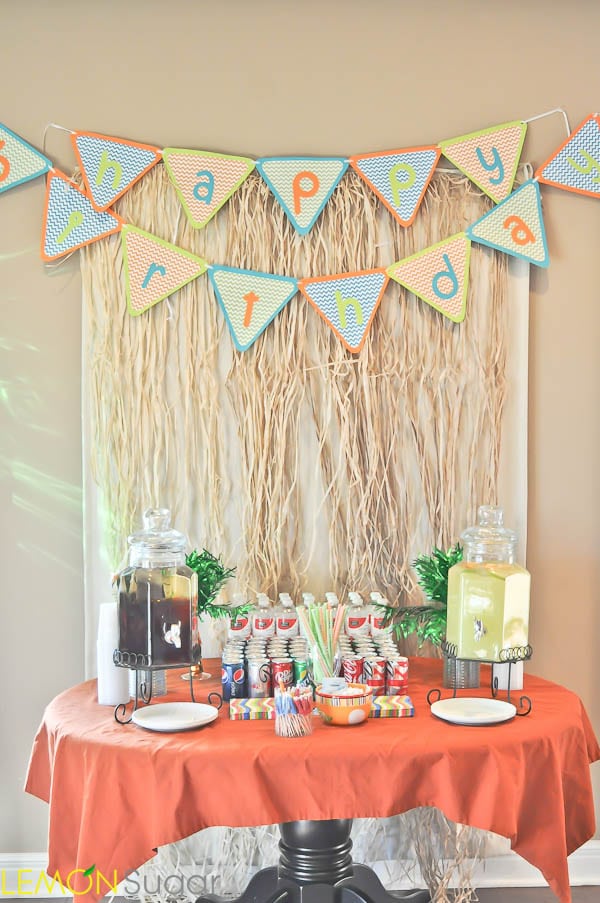 The beverage table was simple but cute.  My friend Sammie made an awesome pennant banner to frame the backdrop and help bring all of the colors together.  I try to give my guests as many beverage options as possible, so this year we had iced tea, citrus lemonade, soda, water and some (unpictured) adult beverages.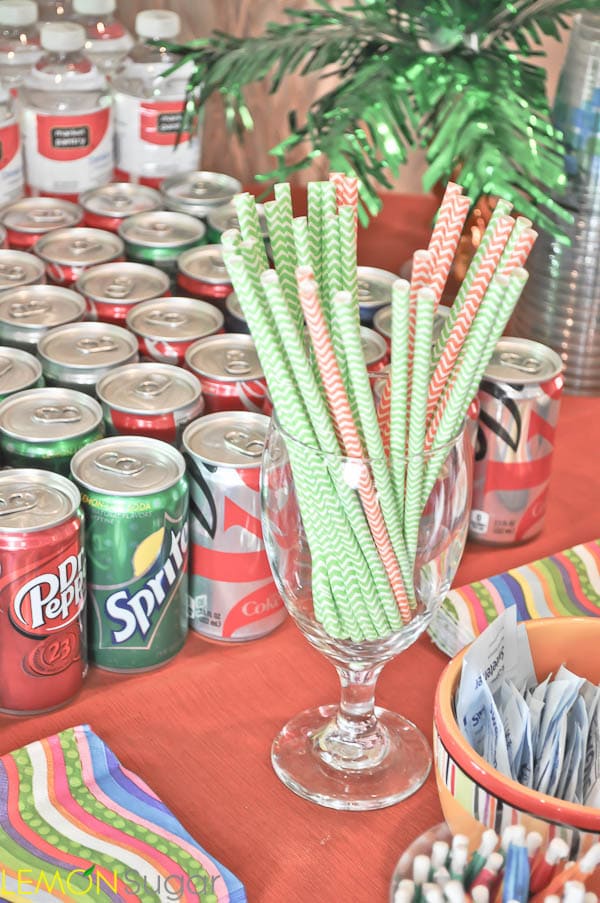 Chevron striped paper straws and little paper umbrellas made for cute touches, too.  Aren't all drinks a little bit better with a cocktail umbrella?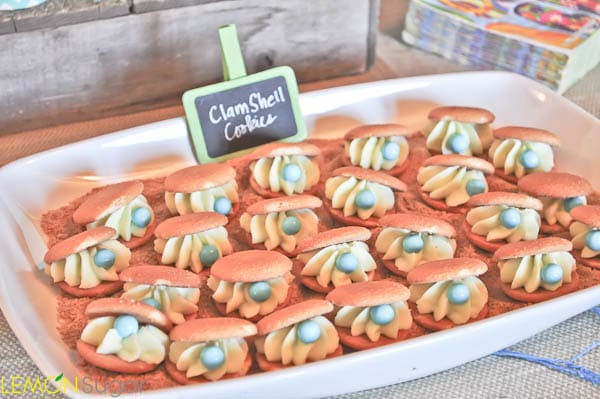 The clamshell cookies were an adorable Pinterest-inspired creation, and were quick and easy to put together.  A dollop of vanilla butter cream is sandwiched between two vanilla wafer cookies, and a Sixlet pearl is nestled in the frosting.  Cute, and not too bad for semi-homemade!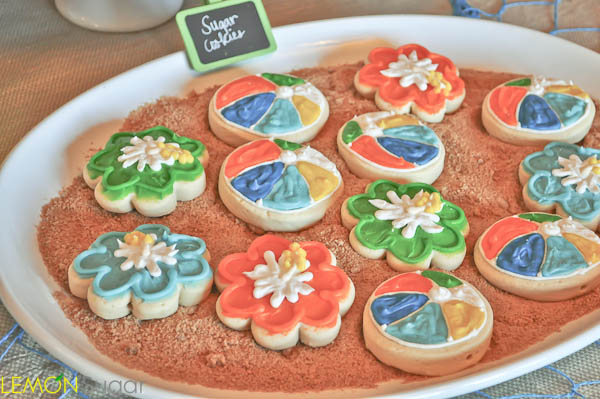 Big, thick sugar cookies were decorated in the colors from the party, hibiscus flowers and beach balls were displayed on edible sand (graham crackers and brown sugar, processed in a food processor.)  These were a HUGE hit with the younger kids.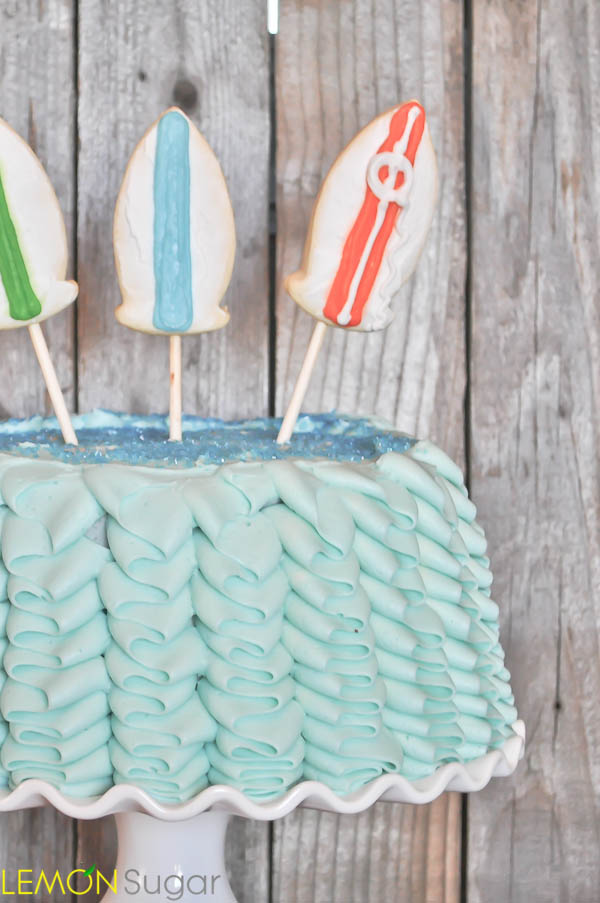 The birthday cake was a deep, dark chocolate layer cake covered in blue "wave" frosting.  The waves were created by using a large petal tip, and using the ruffle frosting technique.  I did bigger, slower ruffles to give the appearance of waves, and I think it turned out pretty cute.  Blue sprinkles topped the cake and more cookies adorned the top.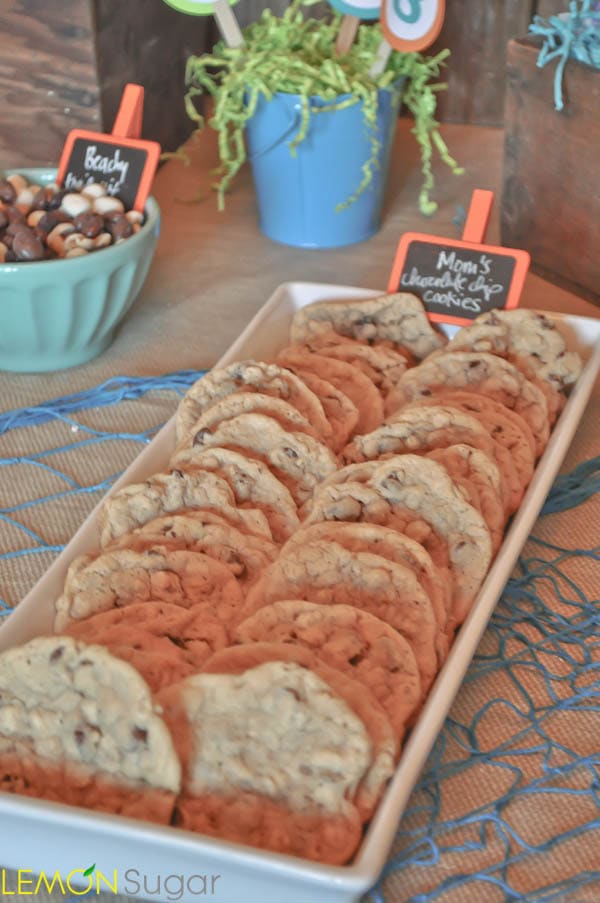 My Mom's chocolate chip cookies are famous around here, and I was super happy that she agreed to make them (after I called and begged.)  My dessert table was a little skimpy for my tastes, so Mom's cookies rounded things out nicely.  Plus, they're WAY yummy.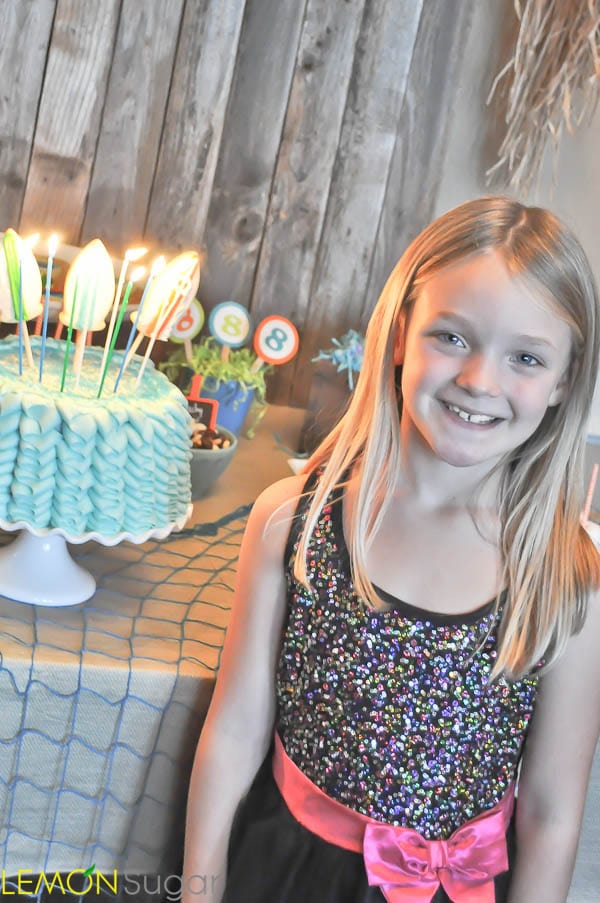 I can't believe my sweet little girl is eight years old already – I think about how much life has changed in the last eight years and I have to acknowledge just how blessed I am.  Two sweet, healthy little girls  make all of these elaborate birthday parties worth the time and effort.  They certainly give me a lot to celebrate!
Happy Birthday, Maddie.  Momma loves you! ♥♥♥
Hope you enjoyed the photos from our Beach Birthday party.  Back soon with a new recipe, so stay tuned!
1
leave a comment your way - using facebook or disqus: