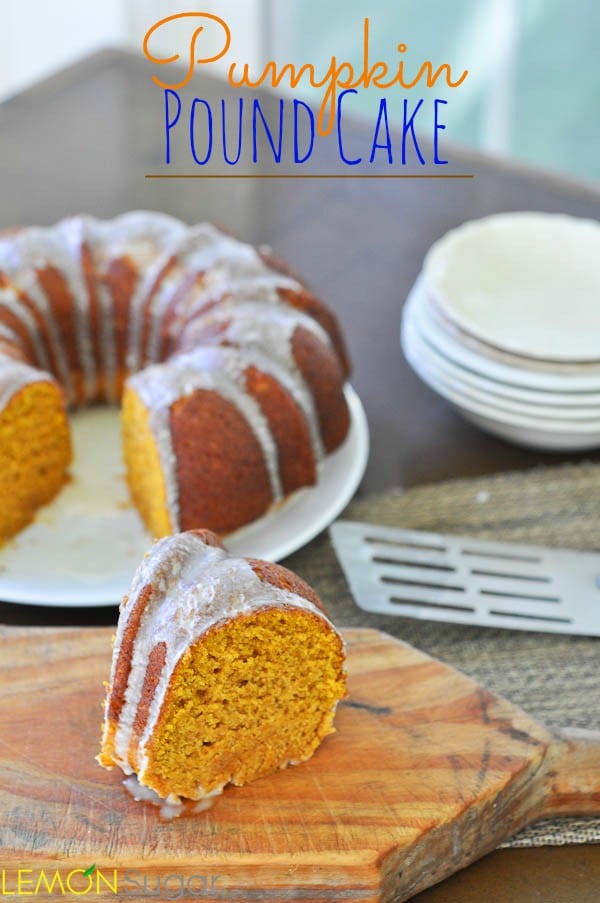 So, let me preface this by saying that I miss ya'll!  Life has been insane around here lately, and I haven't had time to be in the kitchen, or even much time at all to chat with everyone on Facebook, Twitter, Pinterest, Instagram and via e-mail.  My work schedule has changed, so getting the family into a new routine has been taking its toll on me this week.  Thank you all for asking about me and for all of the notes looking for new recipes!  I promise, they're coming soon and as soon as life settles a bit, I'll be back to my four or five posts-a-week schedule.
I do most of my baking on Saturday and Sunday, but last weekend I was busy shooting a video for Lemon Sugar (eek!)  so I spent every free minute of my day freaking out about that whole fiasco.  I can't wait for you all to see it, and I hope it's the beginning of lots of fun new videos here on the site.
Because I wasn't able to bake like I normally would, I chose to whip up this pumpkin pound cake instead.  It goes together really, really quickly and while it bakes, it fills your house with an amazingly drool-inducing pumpkin aroma.  It's comforting and warm, which is exactly what I needed when I was stressing about video-making.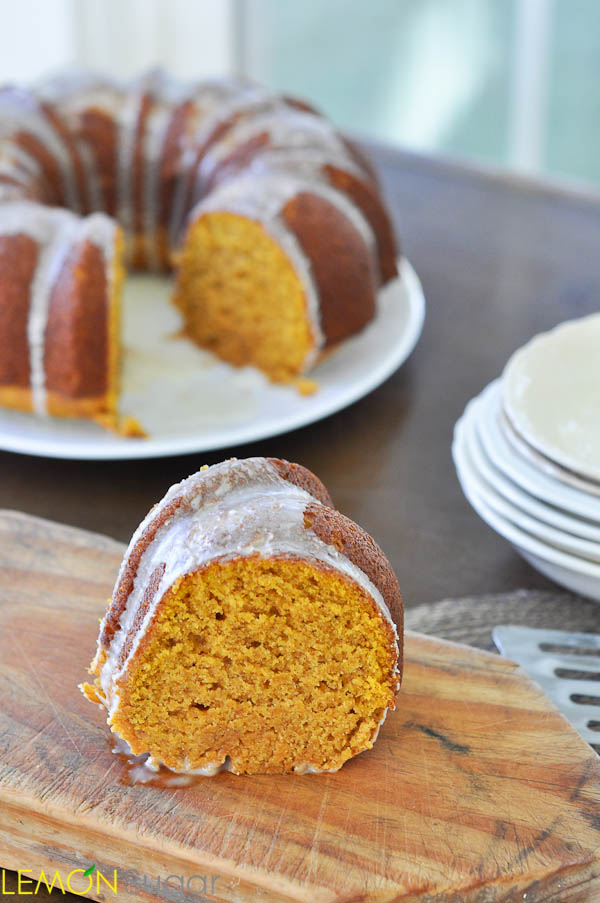 I like the simplicity of this pound cake, but if you want to up the fancy-pants factor, you could smother it with the best cream cheese frosting ever, or even some melted chocolate.  Also, note that this glaze recipe doesn't make a ton of glaze, so if you're a glaze-aficionado, you might want to double it.
This cake is warm, pumpkin-y, full of fall spices and incredibly tender and moist.  And again, it's a super, super easy recipe so really, there's no excuse not to whip it up right now.
Enjoy, everyone!  Wish me luck on the new schedule, I think I need it!
Don't forget, if you haven't yet, make sure you stop by my Facebook page and follow along – you can also find me on Twitter, Instagram and Pinterest!
Thanks for stopping by today!  Leave me a comment below so I know you were here!
♥erin
Pumpkin Pound Cake
This dense but moist pound cake packs a lot of pumpkin flavor in to each bite. Topped with a creamy glaze, this is the perfect easy, no-fail fall treat. Enjoy! Recipe Source:
Whipperberry
via
One Sweet Appetite
Ingredients
2 and ½ cups sugar
1 cup canola oil
3 eggs
3 cups all-purpose flour
2 teaspoons baking soda
1 teaspoon cinnamon
1 teaspoon nutmeg
½ teaspoon salt
1 can (15 ounces) solid-pack pumpkin
1 cup powdered/confectioners sugar
2-4 Tablespoons heavy cream
1 teaspoon vanilla extract
Instructions
Preheat oven to 350 degrees (F).
Coat a bundt pan generously with cooking spray, and set aside.
In a medium sized bowl, combine flour, baking soda, cinnamon, nutmeg and salt. Set aside. I
In a large bowl, whisk together sugar, oil, eggs and pumpkin.
Add the dry ingredients to the wet ingredients, and fold together with a large plastic spatula.
Pour batter into prepared pan, and bake for 60 minutes or until a cake-tester comes out clean.
Allow to cool in pan, then flip on to a serving platter.
In a small bowl, stir together confectioners sugar, cream and vanilla. Add more sugar or cream to reach desired consistency, which should be thick but pourable.
Drizzle over cooled cake, and enjoy!
0
leave a comment your way - using facebook or disqus: