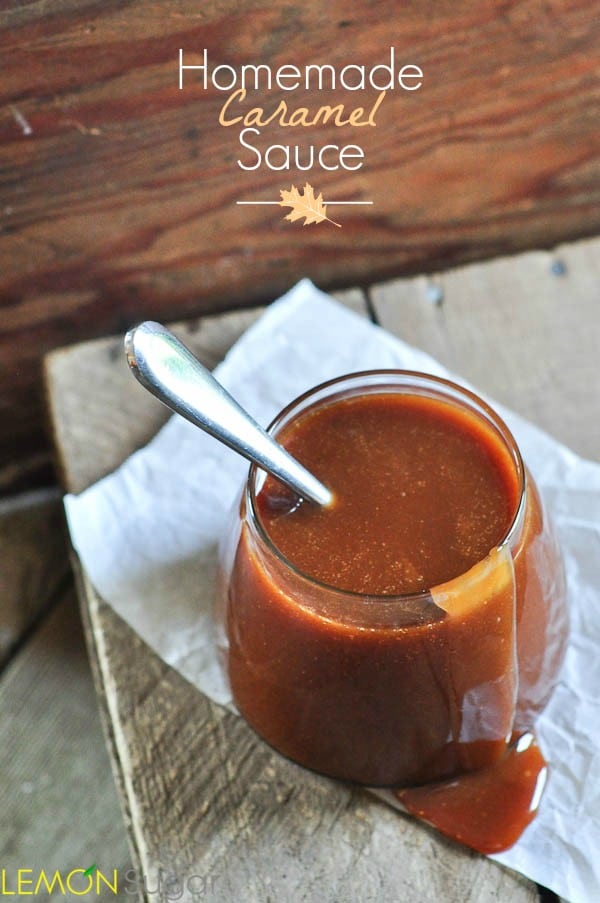 I had one of those days in the kitchen.  One recipe was a complete flop, and one of the layers of a cake I was making fell apart as I was taking it out of the pan.  Another recipe tasted good, but it didn't turn out the way I wanted it to (appearance-wise), so I'm going to have to make it again before I can share it with everyone.
So.  Frustrating.
Things like this always happen when I'm rushing, though so I guess I'm not surprised.  As we're adapting to our new schedules around here, I thought I would try get get all of my baking done in one day but it was just too much.  Next weekend I'll be spreading it out over a few days instead.  Live and learn, right?  Besides, I'm pretty sure my family might not appreciate four separate desserts at Sunday dinner.  Well – they might appreciate it, but their personal trainers and waistlines might not.
As I was assembling one of my (non-flop) recipes for later in the week, I realized that one particular element of the recipe was deserving of a post of its own.  This homemade caramel sauce makes frequent appearances within recipes here at Lemon Sugar, but it's great by itself, too.
It's especially amazing over ice cream.
It's also especially amazing straight out of the jar with a spoon.  I tested that theory approximately 6,459 times today.  You know, just to be sure.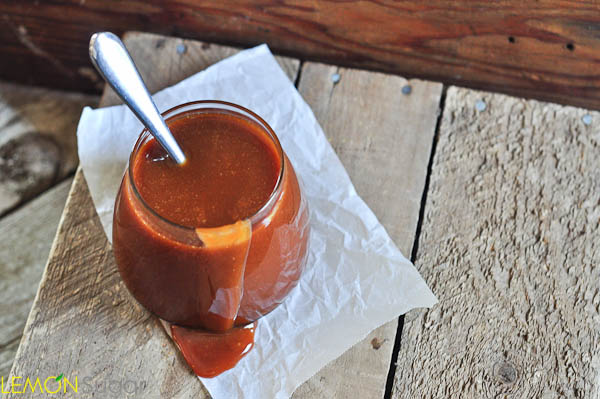 Now, I'm going to be a bit preachy here for a minute, but hear me out.
Caramel is made with boiling sugar.  That can be dangerous.  PLEASE, PLEASE, PLEASE keep the kiddos out of the kitchen when you have boiling sugar happening on your stove top.  When you add the heavy cream to the sugar mixture, it will boil up like crazy, so be sure you have a big enough sauce pan and that you keep your hands and face away from the bubbling, steamy reaction.  Also, don't stick your finger into the hot sugar to sneak a taste.  As tempting as it may be, trust me and let it cool before you taste it.  You don't want boiling hot sugar anywhere near you.
Ok.  End lecture.
Hopefully that little rant didn't scare you away from making this, because it's honestly the best caramel sauce you'll ever have.  It's a perfect blend of sweet, salty and creamy.  It's perfect for dipping apples, garnishing frosting, topping ice cream, or yeah – eating with a spoon.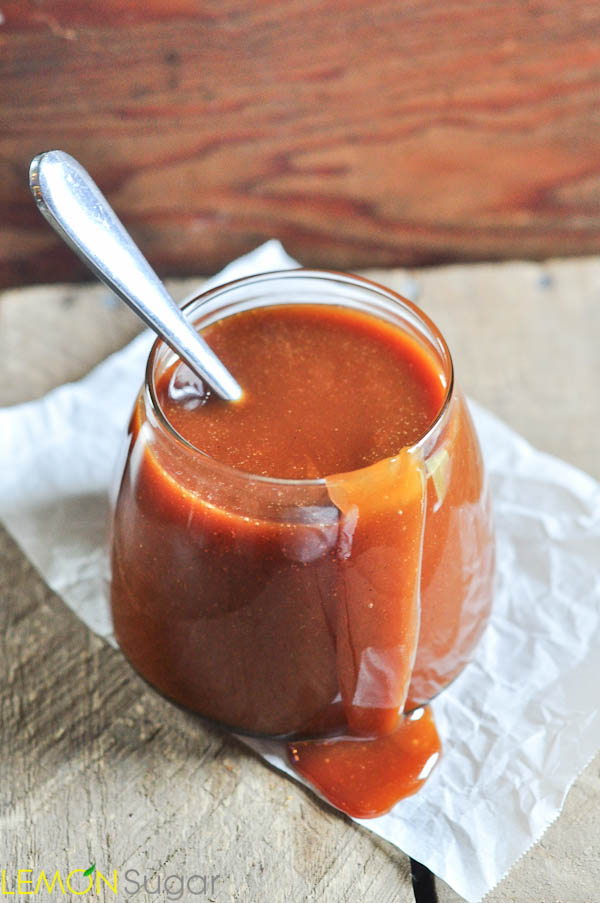 You can store this at room temperature for a couple of days, or you can keep it in the refrigerator for two or three weeks.  But let's be real, there's no way this is going to last for two or three weeks.
I added extra salt today (I used small-flake sea salt), because the recipe I was making called for salted caramel, so I just increased the amount in the recipe by 50%.  I also used extra vanilla bean paste (you can see the little black specks) because I wanted a strong vanilla flavor.
I know you can make this without a candy thermometer, but I never have so I'm not the best authority on that method.  I believe the basic rule is that you need to remove it from the heat as soon as it turns a dark amber brown color.
Hope you love it.  Enjoy!
Don't forget, if you haven't yet, make sure you stop by my Facebook page and follow along – you can also find me on Twitter, Instagram and Pinterest!
Thanks for stopping by today!  Leave me a comment below so I know you were here!
♥erin
Homemade Caramel Sauce
Homemade caramel sauce takes your favorite dessert up a notch, and it's easier than you think!
Serves:
About 1.5 cups of caramel sauce
Ingredients
1 and ½ cups sugar
1 and ½ Tablespoons light corn syrup
½ cup water
¾ cup heavy cream, heated until warm
3 Tablespoons unsalted butter, softened
¾ teaspoon sea salt
1 teaspoon pure vanilla extract
1 teaspoon vanilla bean paste (optional)
Instructions
In a large, heavy bottomed saucepan,
In a heavy saucepan (at least 5 cup capacity), stir together sugar, water and corn syrup.
Place candy thermometer over the side of the pan.
Over medium high heat, stir constantly until the sugar dissolves and mixture comes to a boil.
Allow to continue to boil, undisturbed, until syrup reaches 350 degrees and turns a deep, amber brown. This will take about 10 minutes.
Immediately remove from heat.
Carefully add heavy cream. BE CAREFUL, as the mixture will violently bubble and boil. Using a heat-proof spatula, stir mixture carefully until it begins to settle.
Add butter and salt, and stir until butter is melted and completely combined.
Allow to cool for 3-5 minutes, then stir in vanilla bean paste and vanilla extract.
Serve warm, and enjoy!
Important notes:
Hot, boiling sugar can be very dangerous. Please keep children away from the stovetop while preparing caramel sauce, and do not taste-test with your fingers.
Be sure your pan is big enough to hold at least 8 cups of liquid, and do not put your face or hands above the pot after adding the heavy cream.
Allow the caramel to cool in a safe place until the temperature is safely reduced.
0
leave a comment your way - using facebook or disqus: