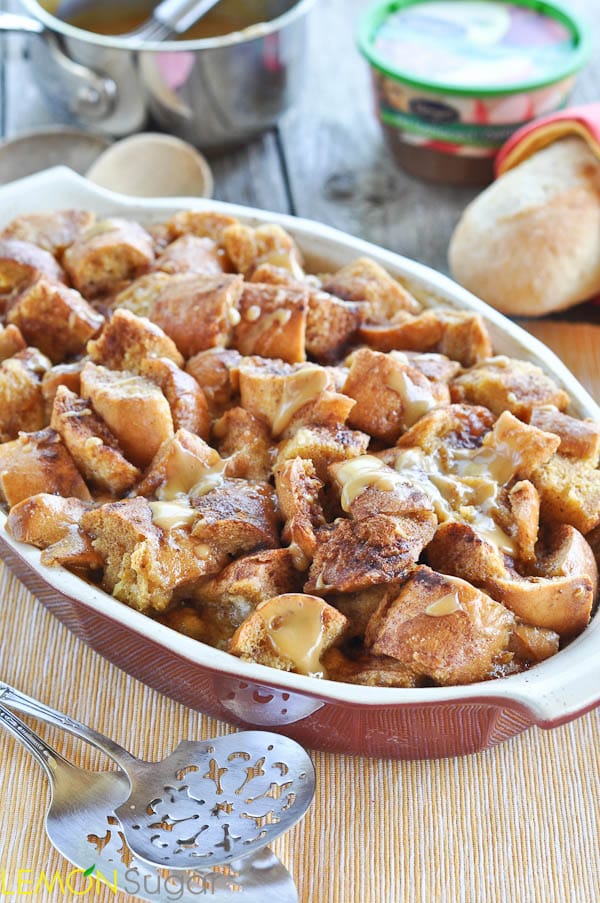 By now you know that I am a serious planner and organizer.  I plan all of my meals for the week before I head to the grocery store, including recipes that will show up here at Lemon Sugar.  While I'm always eager to share my new ideas with all of you, sometimes it's much harder to plan meals for my family. I'm always fighting the urge to stick to my tried-and-true rotation of 6-8 dinner options, mostly because they work for us and our schedule.  Some nights we have more time than others for dinner – sometimes it's on the run, sometimes I have enough time to make homemade bread.  (I love the homemade bread days!)
I'm always excited to discover new recipe resources, so when I was introduced to Marzetti KitchensSM it made my day.  This site is awesome, you guys.  It's overflowing with tons of great recipe ideas, from appetizers to salads and sandwiches to desserts.  There are quick and easy meals, and there are special occasion recipes as well.  Browsing the site, I was inspired to update my dinner rotation and now I have a (long) list of new recipes to try.
Of course I'm drawn to all of the dessert temptations, but I'm really excited about their salad options, too.  There are some seriously fantastic (and easy) recipes, and they're sure to inspire you to mix things up and try something new for your family. All of the recipes are approachable, easy to follow and there's even a great "Kitchen Tips" section. There are seasonal options, and they're all made with ingredients that can be easily found in your local grocery store.
Speaking of dessert temptations, let's talk about this bread pudding.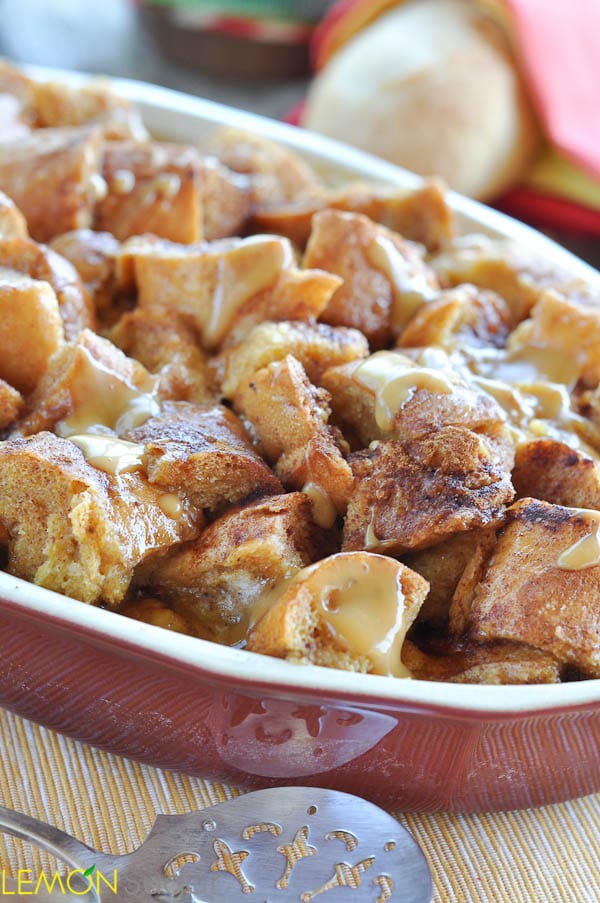 No, it's not just bread pudding.  It's CARAMEL bread pudding.  The custard is sweetened with Marzetti® Caramel Dip, and then topped with a creamy caramel rum sauce.  I followed the recipe exactly, with the exception that I cut my bread in slightly bigger pieces because I like a little bit of texture in my bread pudding, but that's just a personal preference.
The creamy caramel rum sauce is addictingly-tasty, and I had a hard time just drizzling it over the top of the pudding.  I was more inclined to eat it by the spoonful every time I walked through my kitchen. This is a fantastic recipe.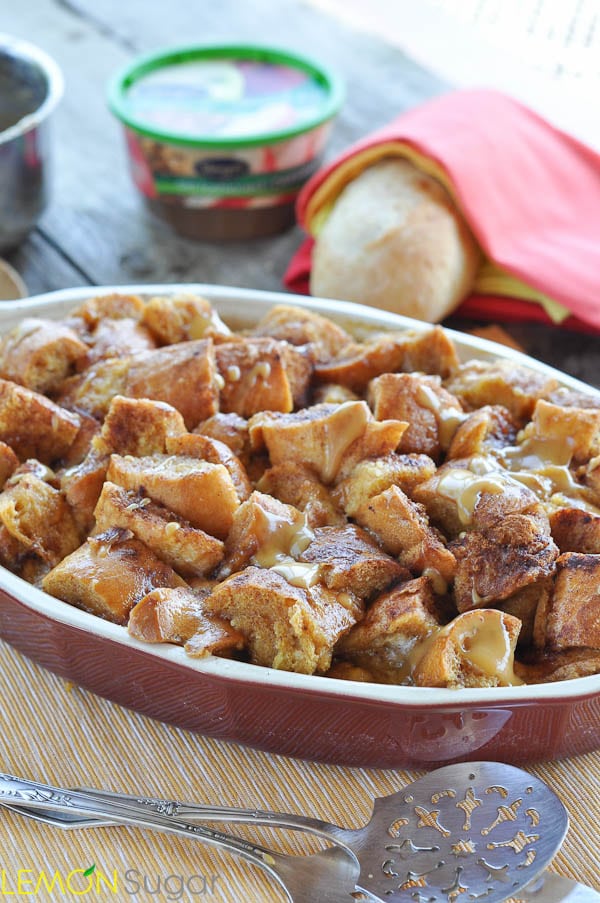 While this is amazing fresh out of the oven, it's great the next morning too.  The custard really sets up and the flavors develop in the refrigerator.  My girls had it for breakfast and they were really confused – we get to eat bread pudding for breakfast?
Why not, right?  It's like french toast, kind of, isn't it?  In a delicious egg-sugar-cinnamon-bread kind of way? I thought so. Speaking of kids, this does have rum flavoring in it, so if you're concerned, you can just omit it.  Replace it with rum extract or vanilla if you like.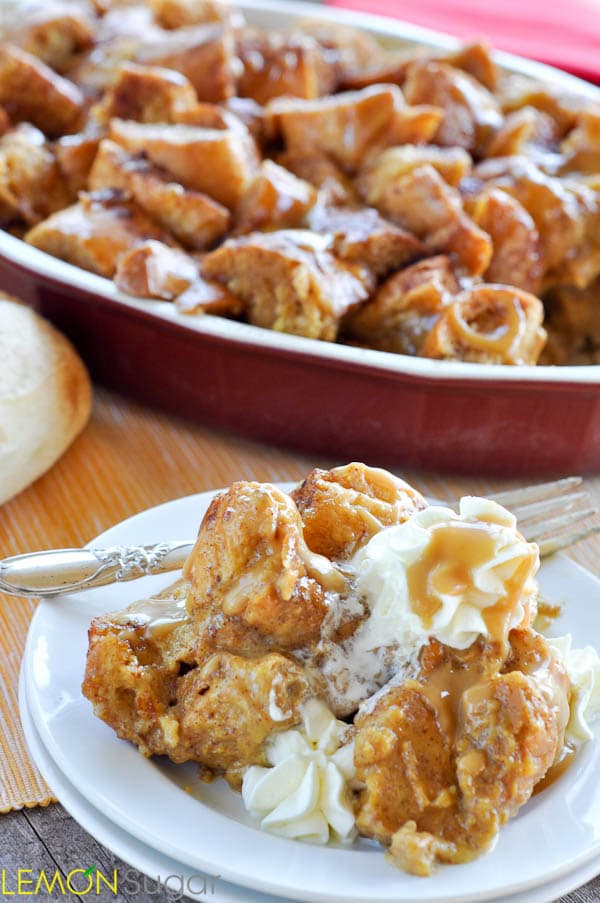 I urge you all to head over to Marzetti Kitchens to check it out – lots of great recipes that will definitely inspire you to try something new and break up your boring mealtime routines.
What Marzetti Kitchens recipe do you want to try?  Let me know below, and each comment will automatically be entered to win a $100 Visa gift card!
Hope you love this as much as we did.  Enjoy!
Don't forget, if you haven't yet, make sure you stop by my Facebook page and follow along – you can also find me on Twitter, Instagram and Pinterest!
Thanks for stopping by today! 
♥erin
Rules
No duplicate comments.
You may submit a total of two (2) entries using any of the following entry methods:
Leave a comment in response to the sweepstakes prompt on this post
Tweet (public message) about this promotion; including exactly the following unique term in your tweet message: "#SweepstakesEntry"; and leave the URL to that tweet in a comment on this post
Blog about this promotion, including a disclosure that you are receiving a sweepstakes entry in exchange for writing the blog post, and leave the URL to that post in a comment on this post
For those with who do not have Twitter or blog, read the official rules to learn about an alternate form of entry.
This giveaway is open to US Residents age 18 or older. Winners will be selected via random draw, and will be notified by e-mail. You will have 72 hours to get back to me; otherwise, a new winner will be selected. By posting a comment, entrant agrees that any or all of the submitted comment, whether randomly chosen as a Winner or not, may be reproduced on BlogHer's website and social media profiles, and those websites and social media profiles of its licensees, including T. Marzetti Company, in connection with this Promotion without compensation at the sole discretion of representatives of BlogHer (and without further notice of any kind).
The Official Rules are available 
here
.
This sweepstakes runs from 10/14/13-11/24/13
Be sure to visit the Marzetti Kitchens Brand Page on BlogHer.com where you can read other bloggers' reviews and discover more chances to win!
Caramel Bread Pudding with Creamy Caramel Sauce
This perfect bread pudding is swirled with caramel and topped with a creamy caramel sauce. Recipe source: Marzetti® Kitchens|http://www.marzettikitchens.com/kitchens/recipes/detail/65/caramel-bread-pudding-with-creamy-caramel-sauce]
Ingredients
Bread Pudding:
1 (16 ounce) container Marzetti® Old Fashioned Caramel Dip
1 (18-inch) French baguette, torn into 1-inch pieces
½ cup raisins
2 teaspoons rum extract plus ¼ cup water or ¼ cup dark rum
3 cups half & half
8 large egg yolks
Zest of 1 orange
2 teaspoons cinnamon, divided
1 Tablespoon pure vanilla extract
½ teaspoon salt
3 Tablespoons chilled butter, cut into bits
¼ cup granulated sugar
Creamy Caramel Sauce:
½ cup Marzetti® Old Fashioned Caramel Dip
⅓ cup heavy cream
2 Tablespoons dark rum
1 teaspoon pure vanilla extract
Instructions
Preheat oven to 300° F.
Butter a 9" x 13" baking dish and set aside.
Chop/tear bread, and place on a baking tray and bake for 15 minutes. Cool.
In a microwave safe bowl, combine raisins with rum extract and water and microwave for 45 seconds.
In a large bowl, whisk together half and half, egg yolks, one tub of Marzetti Caramel Dip, zest, 1 teaspoon of cinnamon, vanilla, salt and raisin mixture.
Add cooled bread pieces and mix to combine. Spoon mixture into a prepared pan and dot top with bits of butter.
In a small bowl, combine the remaining 1 teaspoon cinnamon with sugar and sprinkle over top of pudding.
Set pan aside for 15 to 20 minutes before baking.
Bring a pot of water to a boil.
Place bread pudding pan inside a large roasting pan. Carefully place on middle rack of oven. Carefully pour boiling water into roasting pan to create a water bath.
Bake 45 to 50 minutes or until pudding is set. Check pudding after 30 minutes of baking, cover loosely with aluminum foil if top of pudding is browning too quickly.
Cool 20 minutes before serving.
For Creamy Caramel Sauce, combine ½ cup of Marzetti Caramel Dip and cream in a saucepan over low heat and whisk until smooth.
Cook until thoroughly heated, about 5 minutes, remove pan from heat and whisk in rum and vanilla. Drizzle over top of individual servings.
1
leave a comment your way - using facebook or disqus: