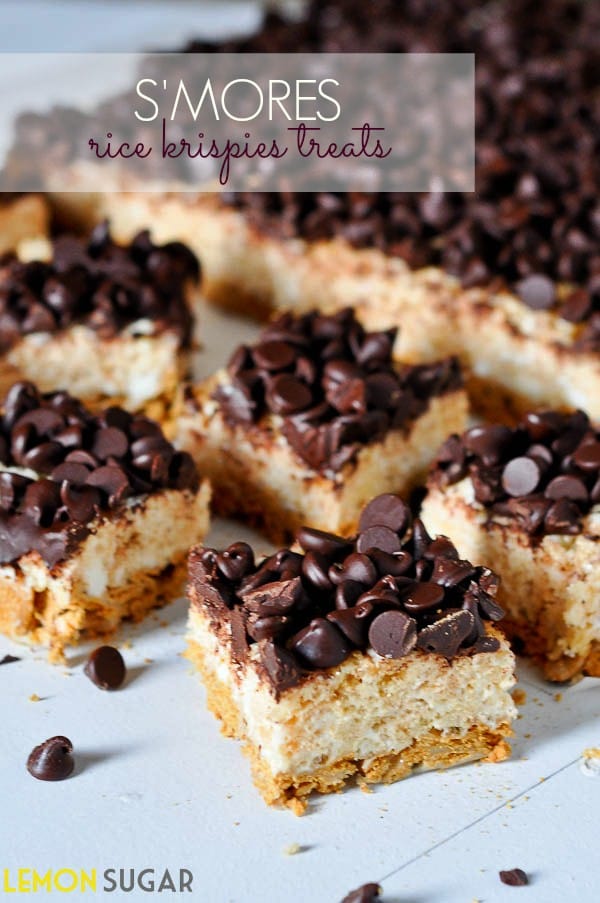 So, tomorrow is my birthday.
I'm going to spend the day making a birthday cake for myself.  How exciting is that?
Actually, I'm pretty excited.  I love making big obnoxious layer cakes, and I'm sure tomorrow's cake will be as big and obnoxious as they come.  And then I'm going to put a candle on it and make my family sing me happy birthday.  I wonder if they're as excited about this as I am?  Ha!
I usually do all of my baking for the week on the weekends, but this weekend I had the unfortunate experience of my first-ever migraine headache.  I rarely even get normal headaches, so I was a mess.  I was right in the middle of making these S'mores Rice Krispies Treats when I had to lay down and close my eyes for a few hours.
I have nothing my sympathy for you migraine sufferers out there.  It was awful.
Luckily, this little dessert is an easy one, so I was able to walk away for a bit and finish them up when I felt better, and I now have an excuse to bake on my actual birthday! Yay!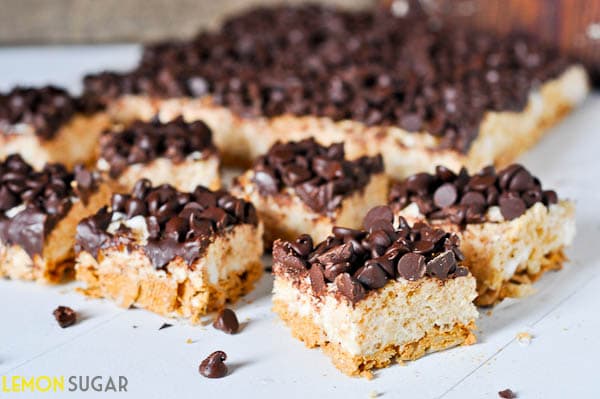 These are really very easy.  Two layers of marshmallow coated cereal and a melted chocolate chip topping, and you're done.  They really do have a s'mores quality with the graham cracker "crust" and the marshmallow layer hidden under the slightly melt-y chocolate.  They surely didn't last long around here, so we'll definitely make them again.
Plus, they're super tasty.  And super fast.  In dessert-land, that's a win-win!
Enjoy, and be sure to come back tomorrow to check out my birthday cake.
Don't forget, if you haven't yet, make sure you stop by my Facebook page and follow along – you can also find me on Twitter, Instagram and Pinterest!
Thanks for stopping by today!  Leave me a comment below so I know you were here!
♥erin
S'mores Rice Krispies Treats
A quick and easy variation on the traditional marshmallow krispie treat, this delicious snack is perfect for an after school snack. Recipe source:
Food Family Finds
Ingredients
Bottom Layer:
4 Tablespoons unsalted butter
3 cups small marshmallows
5 cups Golden Grahams cereal
Middle Layer:
8 Tablespoons unsalted butter
6 cups small marshmallows plus 3 cups, divided
7 cups Rice Krispies cereal
Top Layer:
1 12-ounce bag milk chocolate chips (or chunks, chopped)
Instructions
Preheat oven to 350 degrees (F).
Prepare a 9x13 baking pan with cooking spray and parchment. (Allow the flaps of parchment to hang over the sides of the pan for easy removal. Set aside.
Over medium heat in a large pot, melt 4 Tablespoons of butter, taking care not to let it brown.
Add 3 cups of marshmallows and stir slowly just until melted.
Remove from heat and mix in Golden Grahams cereal.
Pour the mixture into the prepared pan, and use the back of a spatula to press it down into an even layer. If it helps, coat your hands with cooking spray.
Using the same pot over medium heat, melt 8 Tablespoons of butter.
Add 6 cups of marshmallows and stir slowly just until melted.
Remove from heat and mix in Rice Krispies cereal, stirring until just coated.
Then add the remaining 3 cups of marshmallows and mix.
Spread Spread the mixture over the Golden Grahams mixture and use the same method to smooth it into an even layer.
Sprinkle chocolate chips over the top in an even layer.
Bake for 5 minutes, or until the chips soften.
Cut into squares, and enjoy!
4
leave a comment your way - using facebook or disqus: