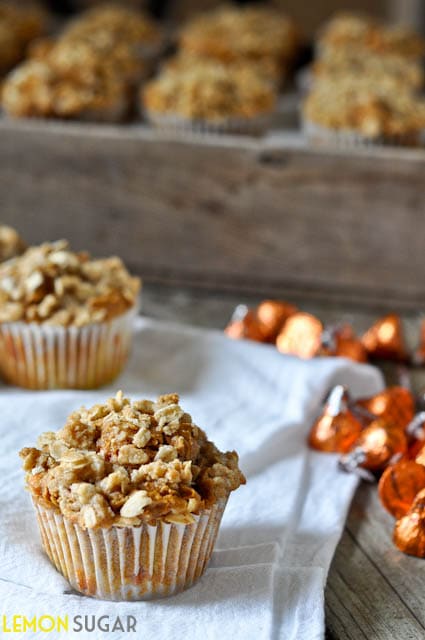 I've had an extra box of spice cake mix in my pantry since last winter.  I used it to make pumpkin cake balls, and it's just been staring at me, taking up space since then.  I had a vague recollection of a Pinterest recipe floating around the inter-webs that claimed to be the best ever pumpkin muffins, using just cake mix and pumpkin puree.  So, I thought today would be a great time to try it out!
Of course, a two-ingredient recipe wouldn't cut it for me, so I added some chopped walnuts, chopped Pumpkin Spice Kisses, and a streusel topping.  Still a VERY easy recipe, but now it's a bit more special, and I have a smidgen less guilt about making muffins with a cake mix.
I have guilt about things like that.  I don't know why.
(Actually, I do know why.  But I'm trying not to think about it.  Shh...)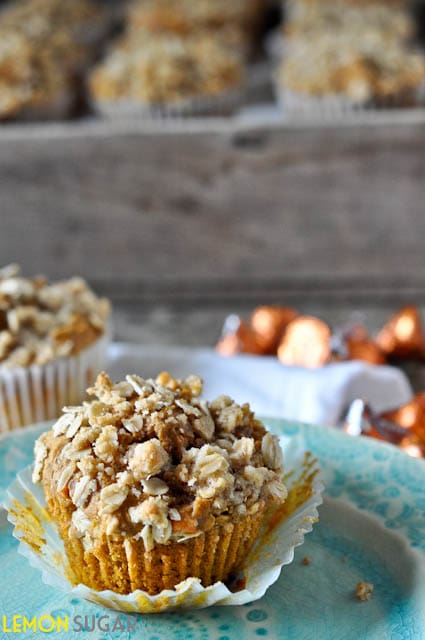 Now, if you want to keep things simple, just omit the walnuts, candies and topping – just mix the cake mix and the pumpkin puree, and you'll have a quick, two-ingredient muffin that will definitely do the job.  And, if you don't have Pumpkin Spice Kisses hanging out in your pantry, you can add your own mix-ins; think chocolate chips, white chocolate chips, pecans, or even a cream cheese filling.
The great thing about these simple muffins is soft, crumbly texture.  The pumpkin flavor is just about perfect, complemented by the spices in the cake mix.  The pumpkin puree makes them extremely moist, and the bit of sugary crunch on the top makes them a true treat.
Plus, if you want to eat cake for breakfast, this is a pretty sneaky way to do it.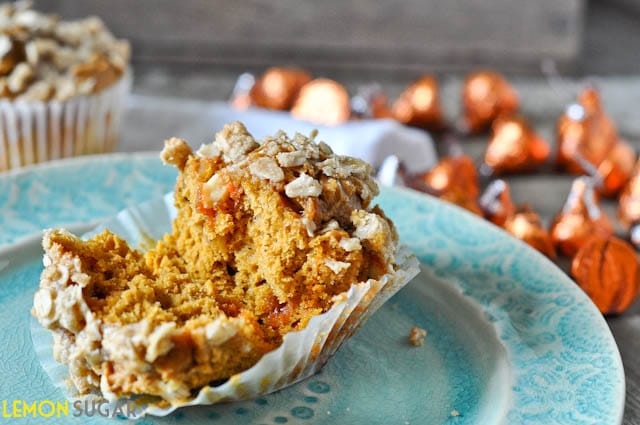 The Pumpkin Spice Kisses get soft and melt-y (it's a word, really) and give a little extra punch of flavor.  You will loveeeee these.
Enjoy!
Don't forget, if you haven't yet, make sure you stop by my Facebook page and follow along – you can also find me on Twitter, Instagram and Pinterest!
Thanks for stopping by today!  Leave me a comment below so I know you were here!
♥erin
Pumpkin Kisses Muffins
An easy muffin recipe is fancied up with Hershey's Pumpkin Spice Kisses, walnuts and an easy streusel topping. So good, and so quick! Recipe source: It's a Pinterest recipe gone amuck. 😉
Ingredients
1 box spice cake mix
1 (15oz) can pumpkin puree (not pumpkin pie filling)
16-18 Hershey's Pumpkin Spice Kisses, chopped
½ cup chopped walnuts
½ cup oats
2 Tablespoons all-purpose flour
4 Tablespoons unsalted butter, cut into small cubes
3 Tablespoons brown sugar
Instructions
Preheat oven to 350 degrees (F).
Chop Pumpkin Kisses candies, and set aside.
Roughly chop walnut pieces, and set aside.
Prepare muffin tin with cupcake papers, and set aside.
In a small bowl, combine butter, flour, oats and brown sugar.
Using a fork (or your fingers) combine the mixture until it starts to pull together and become less crumbly. Set aside.
In a large bowl, beat together cake mix and pumpkin puree until well combined.
Add pumpkin candies and walnut pieces. Fold into batter until evenly distributed.
Fill cupcake papers ⅔ full with batter. You will get 16-18 muffins.
Carefully spoon about a half-Tablespoon of oat mixture on top of each muffin.
Bake 20-22 minutes, or until a tester comes out clean.
Allow to cool completely on a wire rack.
Enjoy!
0
leave a comment your way - using facebook or disqus: