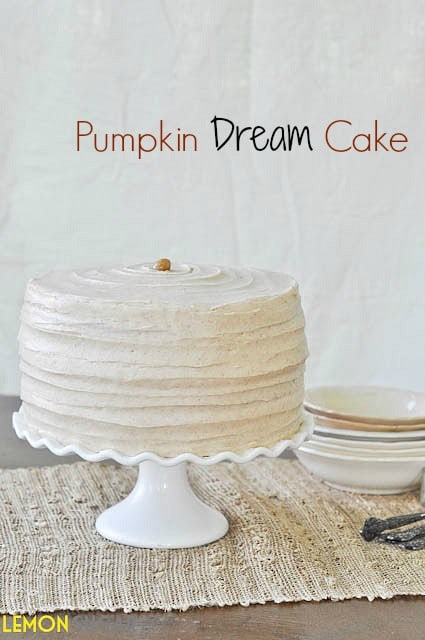 So, it's been hovering around the 100 degree mark here the last few days.  In September.
I know I live in Kansas, but that's NOT ok with me.  September is in the fall section of the calendar.  Once Labor Day is over with, it's pumpkin and legging season, dang-it! How am I going to wear my Uggs, hoodies and yoga pants  cute vintage boat neck tees and boyfriend cords if it's 100 degrees outside?
So, I'm officially rebelling against Mother Nature.  I lit my pumpkin spice candles, bought some Mums and preheated my oven to 300 degrees.  It's Pumpkin Dream Cake time.
It's a real thing.
Know what else is a real thing?  That whole thing when they tell you not to use your oven when it's really hot outside. Turns out that's pretty good advice.  But whatever.  I sat in front of a fan and ate a slice of Pumpkin Dream Cake.   I win, Mother Nature.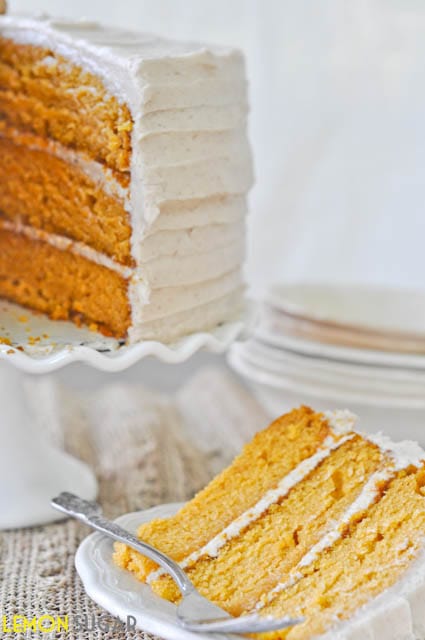 This cake is aptly named, because it is, in fact, DREAMY.  The pumpkin flavor is perfect, and the maple cinnamon cream cheese frosting was born to cover this cake.  It's so good that after his first bite, my brother had already reserved this cake for his birthday (next February!)  It was a big hit, all around.
The baking method is interesting for this cake, which is probably the reason I decided to try it in the first place.  After baking it at a relatively low temperature, it immediately goes into the freezer to cool to room temperature.  This stops the baking immediately (most cakes continue to bake for a bit when they come out of the oven) and keeps it ultra-moist.
And while a stand mixer is always helpful, you don't need one for this cake so that's a bonus.  I would recommend 8-inch pans, because they keep the layers nice and thick.  Now that I have 8-inch round pans, I rarely use my standard 9-inch pans anymore, so they're definitely worth the investment.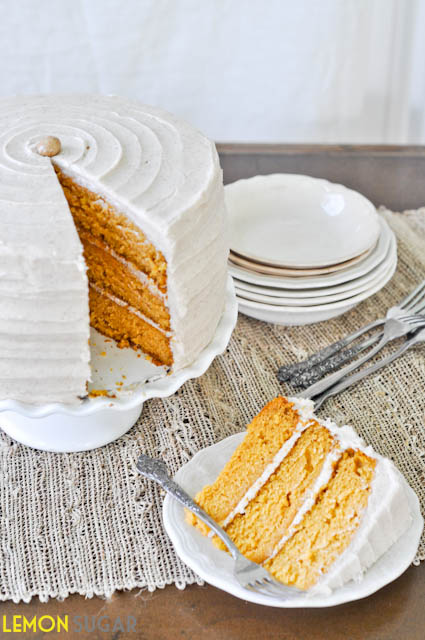 Even as a chocolate-cake kind of girl, we had this and my latest Chocolate Layer Cake side by side, and I honestly can't tell you which one I liked best.  That's saying a lot about this cake!
Hope you enjoy it as much as we did!
Don't forget, if you haven't yet, make sure you stop by my Facebook page and follow along – you can also find me on Twitter, Instagram and Pinterest!
Thanks for stopping by today!  Leave me a comment below so I know you were here!
♥erin
Pumpkin Dream Cake
This 3-layer cake from
The Novice Chef
became an instant favorite in our house. The perfectly-pumpkin-flavored layers and sandwiched between a creamy maple cinnamon cream cheese frosting. This cake is a winner! Recipe Source:
The Novice Chef
Serves:
3 layer, 8-inch cake, about 12 servings
Ingredients
Cake:
3 cups all-purpose flour
1 and ½ teaspoons baking soda
½ teaspoon salt
¾ cup unsalted butter, softened
2 cups granulated sugar
3 large eggs
1 tablespoon vanilla extract
1 (15 oz) can pumpkin
¼ cup vegetable oil
1 cup milk
Frosting:
12 oz (1 and ½ packages) cream cheese, softened
¾ cup unsalted butter, softened
3 Tablespoons pure maple syrup
2 teaspoons vanilla extract
2 teaspoons cinnamon
6 cups powdered sugar
Instructions
For cake:
Preheat oven to 300 degrees (F). Grease 3, 8-inch round cake pans. Set aside.
In a medium-sized mixing bowl, use a whisk to combine flour, baking soda and salt. Set aside.
Pour milk into a measuring cup, and set aside.
In the bowl of a stand mixer (or a large bowl), cream together butter and sugar until light and fluffy.
Add the eggs one at a time, and beat each one until just incorporated.
Add vanilla, pumpkin and oil. Beat until combined.
Add flour alternately with milk, using the following method:
Add ⅓ of flour mixture. Beat until just combined.
Add ½ of milk, and beat until just combined.
Add ½ of remaining flour, and beat until just combined.
Add remaining milk, beat until just combined.
Add remaining flour, beat until just combined.
Divide batter evenly into prepared cake pans. I use a kitchen scale to help.
Bake for 35-40 minutes or until a cake-tester comes out clean.
While cakes are baking, make room in your freezer for the pans.
As soon as they come out of the oven, immediately place them in the freezer for about 30-45 minutes or until completely cooled.
Frosting:
In a large bowl (or stand mixer) beat together cream cheese and butter until very smooth.
Add maple syrup, vanilla and cinnamon and beat to combine.
Add powdered/confectioners sugar and beat on low speed until just combined.
Increase speed to medium/high and beat until frosting is light and fluffy.
If frosting is too thick, add a Tablespoon of heavy cream at a time until desired consistency is met. If frosting is too thin, add more powdered sugar to achieve your target consistency.
Assembly:
Place bottom layer onto a cake stand and/or turntable.
Spread a generous amount of frosting over the top of the layer.
Add second cake layer, and again cover the top with frosting.
Add top layer, and spread a thin layer of frosting over the tops and sides of cake. This is your crumb coat. It will "glue" all of the crumbs in place and prevent them from showing in your final coat.
Refrigerate or freeze crumb coat for 10-15 minutes or until stiff.
Generously cover the crumb coat with additional frosting, and smooth and decorate as desired.
Refrigerate once again to set frosting, and enjoy!
1
leave a comment your way - using facebook or disqus: