Have I ever told you about my brother-in-law?  His name is Jacob.  He's a few years younger than me, but I've known him since he was about nine years old.  He used to field relentless phone calls from me back when I discovered I was hopelessly in love with his big brother, back in my middle-school years.
Jacob left our small town in Kansas for college, and has never moved back.  He lived in Minneapolis for awhile, then Seattle, and now lives in New York City.  We miss him, a lot.  He and my husband text each other constantly, like, teenage-girl constantly, and over the years, they've become much, much closer than they were growing up.  We look forward to "Uncle Jakey's" visits during the holidays, and enjoy his company so much that even MY brothers and sisters clear their calendars for our annual sibling party.
You know those people you meet that just have that special, one-in-a-million magnetic personality?  That's Jacob.  He has THE BEST stories, with a vocabulary that would, could and does put everyone else's to shame.  I used to tease him that he had word-of-the-day toilet paper, or something.
One of these days, folks – he's going to be famous.  He has an amazing, beautiful singing voice (check him out on YouTube), he's hilarious, and he's pretty darn cute.  😉  Mark.  My.  Words.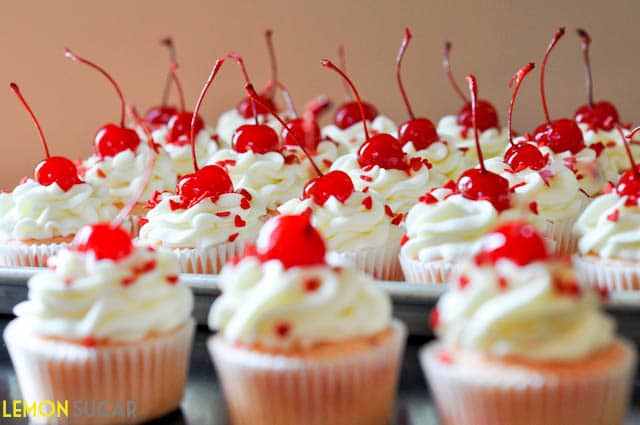 Anyway, he really has nothing to do with these cupcakes except that I found myself really missing him today, and wishing he was home to eat cupcakes with me.  So Uncle Jakey, these cupcakes are for you!  ♥♥
These cupcakes are really very easy, yet another white cake recipe that starts with a box mix.  The texture is perfect, and is dotted with pieces of chopped cherries.  My favorite butter cream (made with an almond emulsion instead of vanilla) is a lovely complement to the cherry flavor, and of course, a cherry on top.
Hope you love these, and hope you enjoyed meeting Uncle Jakey.  He's one of my favorite people in the whole-wide world.  🙂
Don't forget, if you haven't yet, make sure you stop by my Facebook page and follow along – you can also find me on Twitter, Instagram and Pinterest!
Thanks for stopping by today!  Leave me a comment below so I know you were here!
♥erin
Maraschino Cherry Cupcakes
These delicious cherry cupcakes have undertones of almond flavoring, and who doesn't love a cupcake with a cherry on top? Recipe source: Adapted slightly from
Your Cup of Cake
Ingredients
cupcakes:
1 box white cake mix
3 eggs
⅓ cup vegetable oil
¾ cup milk (or buttermilk)
½ cup sour cream
¼ cup cherry juice (from Maraschino cherries)
2 teaspoons almond extract
1 cup Maraschino cherries, roughly chopped
frosting:
1 and ½ cups (3 sticks) unsalted butter, softened
6 cups powdered/confectioners' sugar
2 teaspoons almond extract
¼ cup heavy whipping cream
24 cherries with stems, for garnish
Instructions
Cucpakes:
Preheat oven to 325 degrees (F). Prepare a two 12-cup cupcake pans with papers, and set aside.
Rough-chop cherries, and set aside.
Combine remaining ingredients (cake mix, eggs, sour cream, oil, milk, cherry juice, almond) in a large bowl, and beat on medium speed with a hand mixer for two minutes.
Fold in chopped cherries.
Fill cupcake papers ⅔ full, with batter.
Bake 17-20 minutes or until a cake-tester comes out clean.
Allow to cool completely on a wire rack before frosting.
Frosting:
In the bowl of a stand mixer, beat butter until creamy.
Add powdered sugar and whipping cream, and beat until just combined.
Add almond extract, and beat until light and fluffy, about 4-5 minutes.
Frost as desired, and top with a cherry.
Enjoy!
39
leave a comment your way - using facebook or disqus: