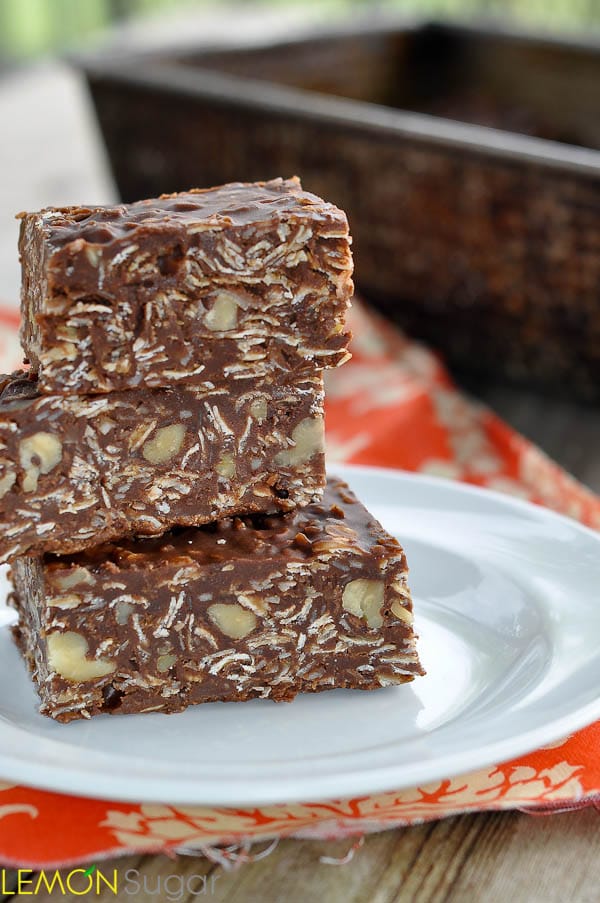 My girls have been begging me for no-bake cookies for a couple of months.  Since we always have a million other desserts on the agenda, I just haven't gotten around to it. But then, I saw this "heathier" version floating around Pinterest and I was intrigued.  I've always thought no-bake cookies were just kind of too-sweet and too-messy to get excited about, but the girls love them.   And I have to admit, I really like this version too.  Especially right out of the freezer.
Now, I'm certainly not going to proclaim that these are a super-health food, but they are chock-full of healthy ingredients.  While they still might be a calorie-dense food, at least the calories are coming from coconut oil, dark chocolate, honey and walnuts.  And really, you can control your calorie intake by cutting your bars into smaller pieces, but let's not rain on our parade here.   And plus, who has that kind of willpower?  😉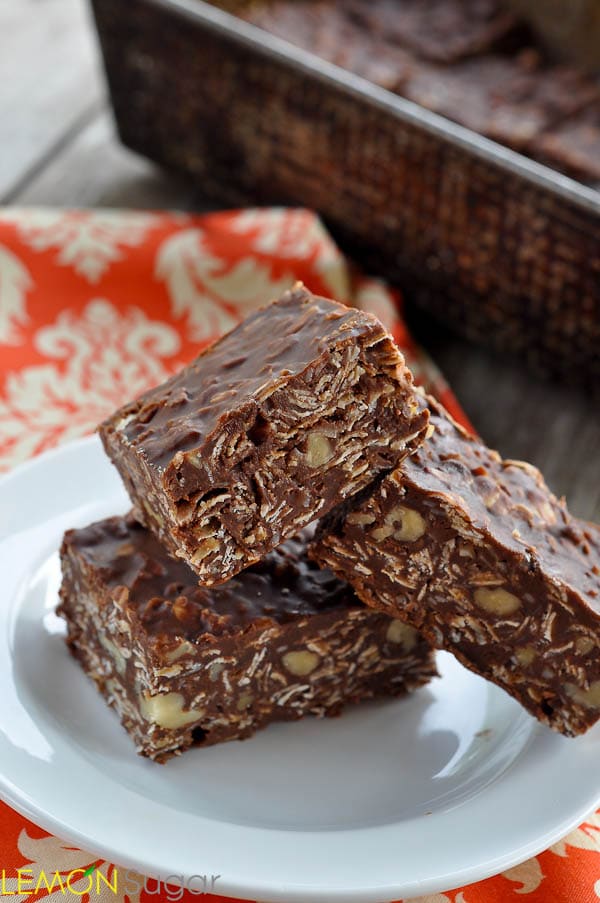 The coconut oil gives them a great creaminess and the honey tames down the sweetness just a bit.  Dark chocolate, rolled oats and walnuts work very well with the natural peanut butter flavors, and better yet, these go together in just minutes.
If you don't have coconut oil on hand, you can certainly replace it with butter, but the nutritional benefits of coconut oil are so great that I'd encourage you to read a bit about it and pick some up next time you're at the grocery store.  I was afraid that the coconut flavor would affect the flavor of the bars, but it was not noticeable at all, and since the bars already have shredded coconut in them, I really couldn't tell if the flavor was from the oil or the flakes.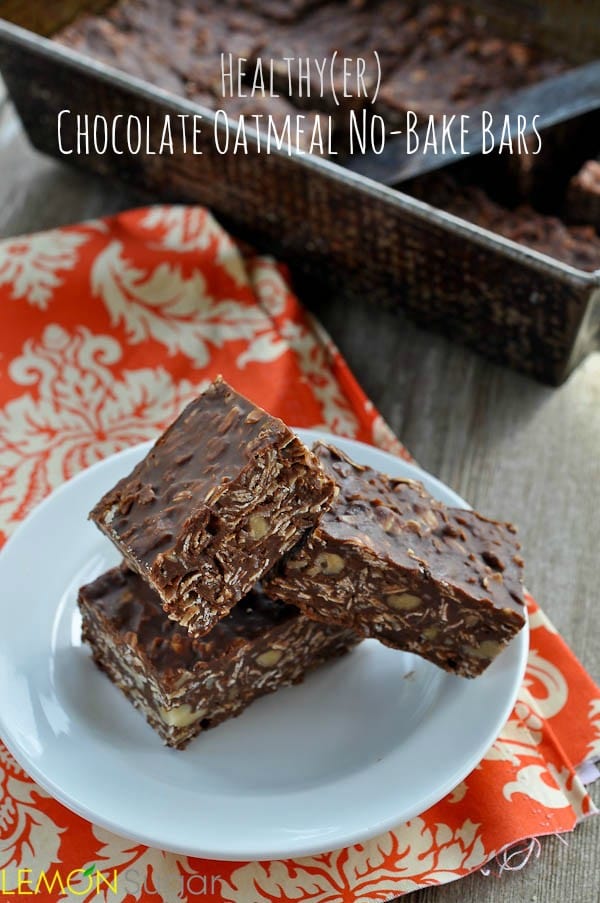 For a really easy, really quick dessert, you should give this a try.  My girls gobbled up this healthy(er) version with no complaints, and it made me feel good to know they were enjoying a nutritionally-rich dessert.
Hope you love this one.  Enjoy!
Don't forget, if you haven't yet, make sure you stop by my Facebook page and follow along – you can also find me on Twitter, Instagram and Pinterest!
Thanks for stopping by today!  Leave me a comment below so I know you were here!
♥erin

Chocolate Oatmeal No-Bake Bars
Ingredients
1 cup peanut butter
½ cup honey
½ cup coconut oil
2 cups old fashioned oats
1 cup shredded coconut
½ cup chopped walnuts, raisins, or dried cranberries
1 and ¼ cups dark chocolate chips (or regular semi-sweet chocolate chips, if you prefer)
1 teaspoon vanilla extract
Instructions
Prepare a square, 9x9 pan with cooking spray (and parchment, if desired) and set aside.
In a large bowl, combine oats, coconut, chopped nuts (and/or dried fruit) and chocolate. Set aside.
In a medium sized, heavy bottomed saucepan, heat coconut oil, peanut butter and honey until completely melted and combined. Keep heat low so it doesn't burn, and stir frequently.
Pour the hot mixture over the oat mixture, and combine with a spatula until chocolate is melted.
Press mixture into pan and smooth top. Tap on counter top to even out the top.
Refrigerate (or freeze) until chocolate is hardened.
Run a knife around the edge of the pan to loosen, then turn on to a large cutting board.
Cut into bars, and store in refrigerator for up to a week.
Enjoy cold.
0
leave a comment your way - using facebook or disqus: