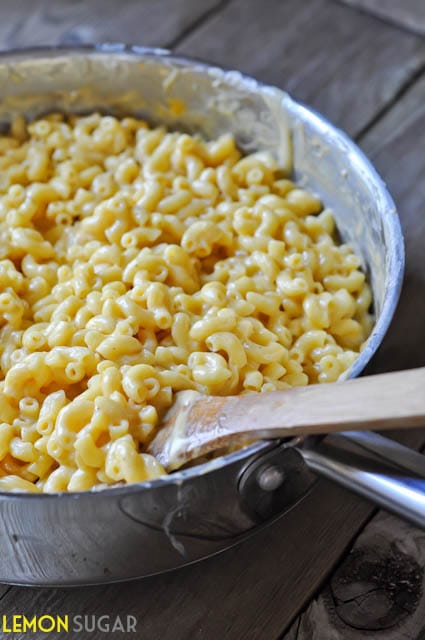 My oldest daughter is learning a hard lesson this week.  She's found her independence a bit, and has used her new-found "power" to voice her opinions rather loudly and forcefully to her Dad and me.
In other words, she's a back-talking fool.
We've noticed it more lately, the back-talking with a twinge of sassy-attitude, and it's just gotten worse.  She's particularly offended by chores it seems, and when her Dad told her to go "pick up the office a little bit before lunch," she did just what she was told.  As in, she picked up one thing.  When he asked her why she wasn't in the office picking up, she said, in her sassiest, eye-rolling voice, "You told me to pick it up a little bit. So that's what I did."
While I was in the kitchen stifling a laugh (good one, Maddie!) we knew that it was time to take some action.  And after the day spiraled further out of control, we decided that drastic measures were in order.
We totally boxed up every toy in her room (except her books) and put them in another room. She has to earn them back with good behavior.  She was NOT happy.  While my husband was in her room, she was upset,  and I was frantically Googling "long-term psychological effects of taking toys away from children" and practically in tears myself.  We are the positive-reinforcement-type parents, not the you're-grounded-type parents.
It was a traumatic, dramatic day around here.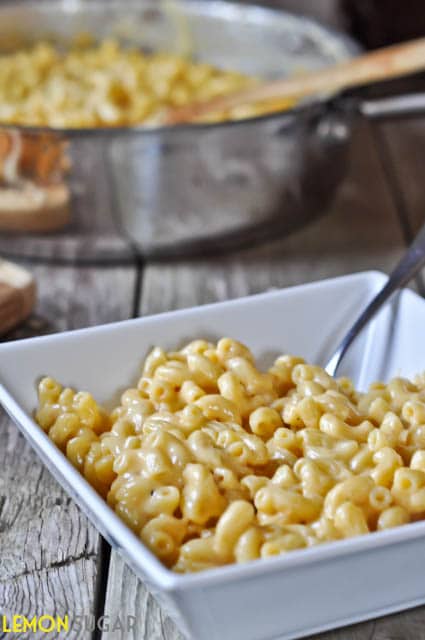 But.
Her behavior?  It changed, almost immediately.  We've gone a week without a single "trouble-chair" incident.  (Our version of time-out.)  She's hardly back-talked at all.  She's been more smiley, talkative and generally willing to do her chores and help around the house.  It's like I have my old kid back!
So today, I decided that I would reward her good behavior and make her a little treat for lunch.  She wanted Mac & Cheese, but "the real kind, not the box kind," so I happily obliged and whipped up her favorite homemade recipe.
This recipe is great because it's super-quick.  You can make it start to finish in almost as much time as the boxed version, but there's no fluorescent orange powdered cheese here!  And what's even better – it takes just two dishes; the skillet and a measuring cup.
The cheese is added in small batches, so it stays extra creamy, and the pasta is cooked in an evaporated milk mixture which takes the decadence up a notch.  A hint of dry mustard and hot sauce give it a bit of a kick.  It's so, so good.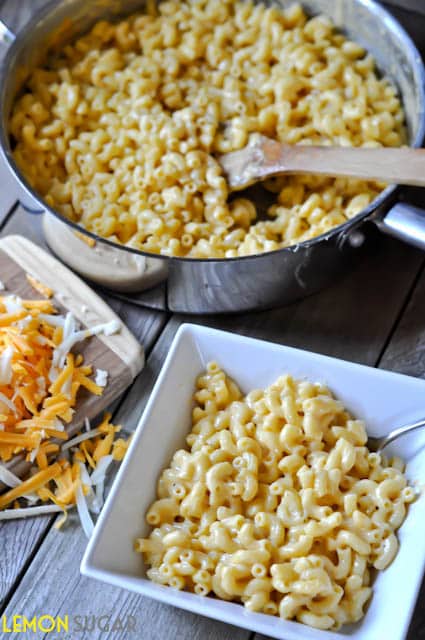 I think we've all learned a lot this week.  The hubs and I learned how to stand our ground and stick with a "real" punishment, even though it was tearing us apart.  I'm pretty sure Maddie has figured out that disrespectful behavior isn't going to fly in our house, and I think we've all gotten back on course.  I'm happy to report that she's earned a couple of toys back already, and I'm finally letting go of some of my "mean-Mommy" guilt.
Plus, we have leftover Mac & Cheese.  Things are looking up.
Hope you love this one, and hope you all have a great week!
Don't forget, if you haven't yet, make sure you stop by my Facebook page and follow along – you can also find me on Twitter, Instagram and Pinterest!
Thanks for stopping by today!  Leave me a comment below so I know you were here!
♥erin
Creamy Skillet Mac & Cheese
This homemade Mac & Cheese can be made in just a few minutes, and it's made with all real ingredients (no powdered cheese, here!). Recipe source:
Mel's Kitchen Cafe
Ingredients
3 and ½ cups water, plus extra if needed
1 (12-ounce) can evaporated milk
16 ounces (1lb) elbow macaroni
½ cup milk or half and half
½ teaspoon salt
1 teaspoon cornstarch
½ teaspoon mustard (regular or dry)
¼ teaspoon hot sauce
6 ounces cheddar cheese, shredded (1 and ½ cups)
6 ounces Monterey Jack cheese, shredded (1 and ½ cups)
2 tablespoons unsalted butter, cut into small chunks
Black pepper to taste
Instructions
In a large, 12-inch skillet, combine water, evaporated milk, salt and macaroni.
Heat over medium-high heat until simmering.
Simmer for 9-12 minutes, or until pasta is tender. Stir frequently to prevent sticking.
Meanwhile, shred cheese and set aside.
In a measuring cup, whisk together milk, cornstarch, mustard and hot sauce. Set aside.
Once noodles are tender, add milk mixture. Stir and simmer until sauce thickens slightly, about 2 minutes.
Remove from heat, and add cheese, one handful at a time. Stir to combine after each addition.
If you need additional liquid at this point, you can add a bit of water or milk/half and half to reach desired consistency. I did add a couple of splashes of milk to mine.
Add butter and stir.
Season to taste with additional salt and black pepper.
Enjoy warm.
3
leave a comment your way - using facebook or disqus: