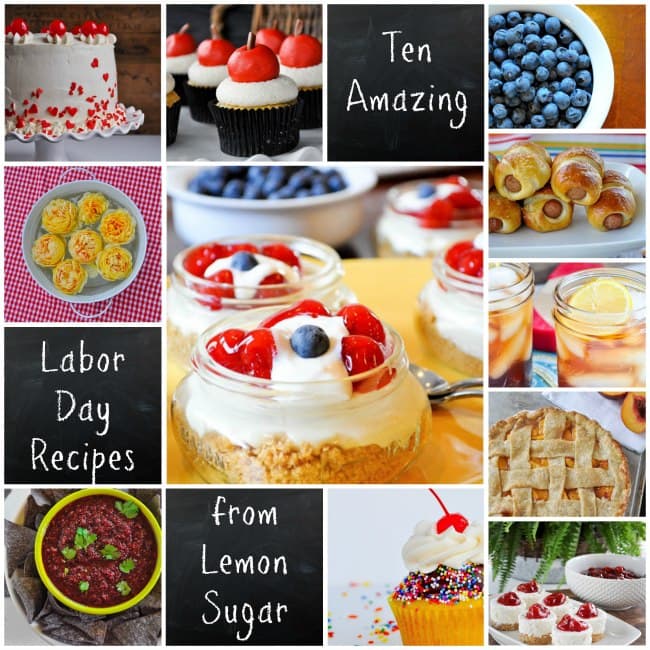 My family is celebrating Labor Day this year with a pot-luck, swimming and lots of good food and drink.  The weather is expected to be sunny and hot, perfect for swimming, firing up the grill and enjoying the company of our enormous family.
Over the years, my family has perfected the pot-luck – most everyone brings the recipe that they're famous for – with names like "Mary Ann's potato stuff," or "Cathy's cookies" or "Amanda's cake balls," "Holly's pasta salad."  (Yes, those are all real, and they're all amazing.)  These past few years I've been tasked with dessert (hmm…wonder why?) and I always spend way too much time deciding what to bring.
While I was digging through my cookbooks, bookmarks and recipe archives, I decided that I must not be the only one out there trying to decide what to contribute to a Labor Day gathering, so today I've put together this quick little round-up of recipes for you.  They would all be a welcome addition to your Labor Day holiday, so pick your favorite, and enjoy!
Cherry Almond Sour Cream Cake
Caramel Apple Cupcakes
No-Bake Cheesecake in a Jar
Pretzel Dogs
Secret Ingredient Sweet Tea
No Bake Cheesecake
Dipped Vanilla Sprinkle Cupcakes
Sweet Cherry Salsa
Summer Grilling Menu Ideas
(There's more, too.  Just click the All Recipes button above, and it you'll get to my recipe index.)
Have a lovely holiday, everyone!  Be safe!
Don't forget, if you haven't yet, make sure you stop by my Facebook page and follow along – you can also find me on Twitter, Instagram and Pinterest!
Thanks for stopping by today!  Leave me a comment below so I know you were here!
♥erin
0
leave a comment your way - using facebook or disqus: