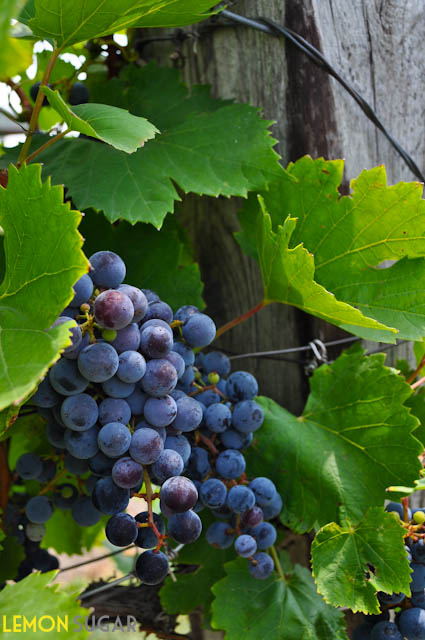 I am fortunate to live with a quick drive of two local gems:  Holy-Field Winery & Vineyard and Grinter's Sunflower Farm.  Since we have the first week of school behind us now, and since the sunflowers are in their prime this week, a visit to our local winery and sunflower field were definitely in order.
Holy-Field Winery & Vineyard is an award-winning Kansas winery.  They grow about ten different varieties of grapes, and offer about 18 different wines – from semi-sweet to dry.  It's a lovely place, with an event space, summertime entertainment, and really, really friendly people.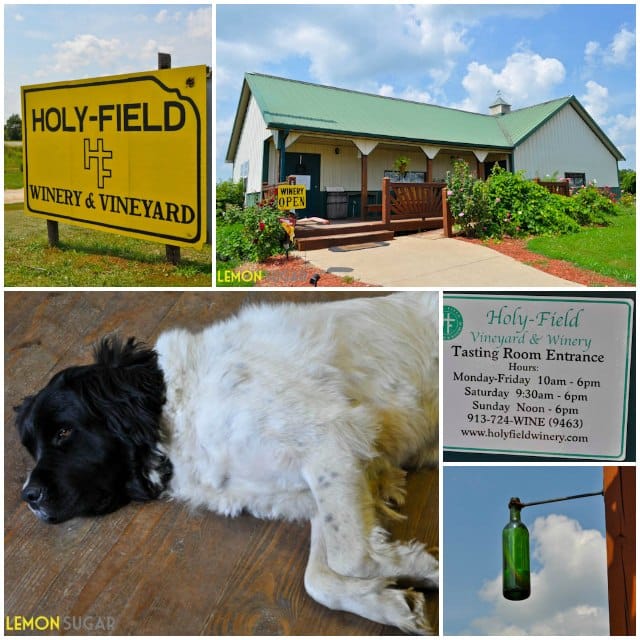 The first vines were planted back in 1986, and their doors opened in 1994.  They offer Native American and French Hybrid grapes, which are hand-harvested (no big machines here!) and pressed immediately.  They are pressed, fermented and bottled on site, in the cellars beneath their tasting room and gift shop.
Which, I have to say, is an adorable gift shop.  I love to spend quite a few minutes browsing, and I always find something I have to have.
The 14-acre vineyard is owned and tended to by the father-daughter team, Les and Michelle Meyer.  Their focus is simply growing superior grapes, and their collection of awards proves that they're doing it right.  The six bottles of Cynthiana in my wine cellar prove something, too.  🙂
I think my favorite part about the winery (well, besides the wine, obvs) is that almost every time I'm in there, I'm greeted by Cooper (or one of the other Wine Dogs).  Cooper is a Landseer Newfoundland, and he is huge, cuddly, and sweet.  The Wine Dogs even have their own Facebook Page, so be sure to check them out.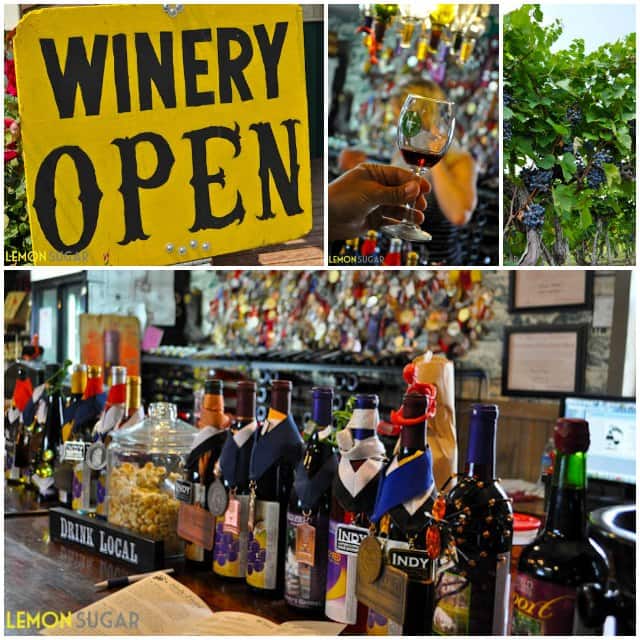 You are almost guaranteed to be welcomed by Mandy in the tasting room, who will always offer a smile, a taste (or two or three) of wine, and always helpful advice when choosing your wine.  She's a pleasure and takes all of the intimidation out of choosing and tasting wine.  There's absolutely nothing snooty or intimidating about this winery, so my local readers – I highly recommend a visit.
Aside from the wine, Holy-Field offers  some other fun activities:  from Murder Mystery Dinners to summer concerts and Oktoberfest, so there's always something going on at the winery.  In August and September, they take reservations for picking days – where "people, groups, clubs and families from all over get together to enjoy the vineyard experience of bringing in the grape harvest."  If I could trust my girls not to eat every other grape, we'd be there this year for sure.  Maybe next year.  😉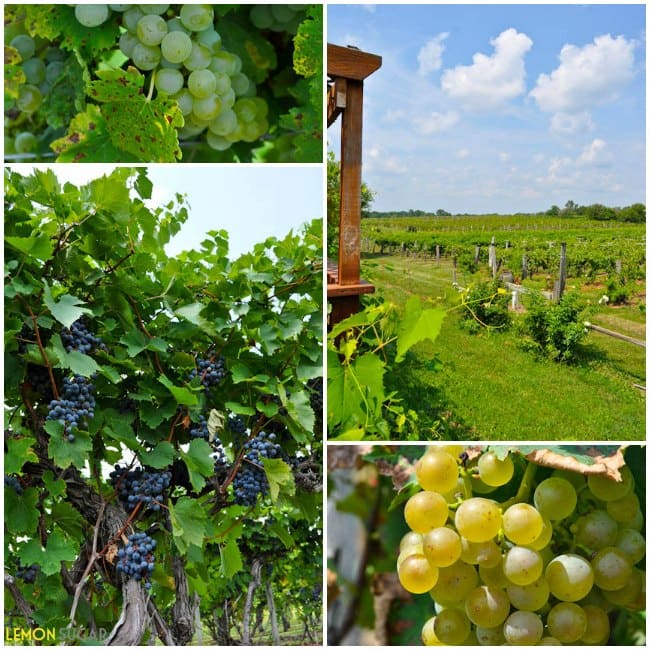 We spent some time wandering around the vineyard today before we left, and the grapes are just gorgeous.  A big thank you to Holy-Field for letting us spend some time with you today.  For more information about this Kansas gem, visit their website, here and like them on Facebook, here.
After our trip to the winery, we headed down the road a few minutes to our second stop of the day, Grinter's Sunflower Farm.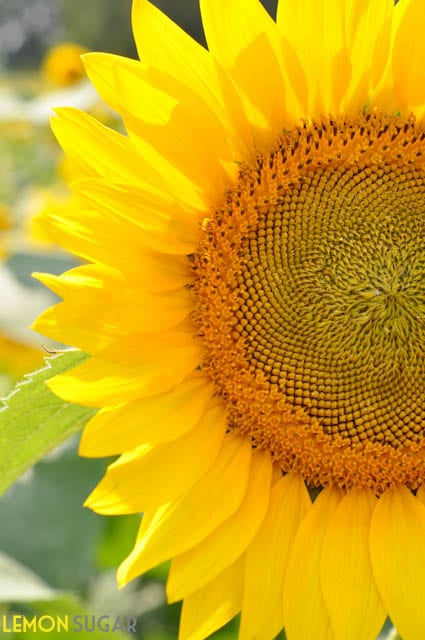 I have driven past this field so many times in my life, but I have never stopped to take pictures.   Wow, was I missing out.  Gorgeous, you guys.
A field full of sunflowers?  It was a sea of yellow.  There were honeybees everywhere – it was magical.  (We're honeybee people.  We were almost as excited about seeing a field of happy, working honeybees as we were about the sunflowers!)
Overly dramatic wording?  I think not.  Magical.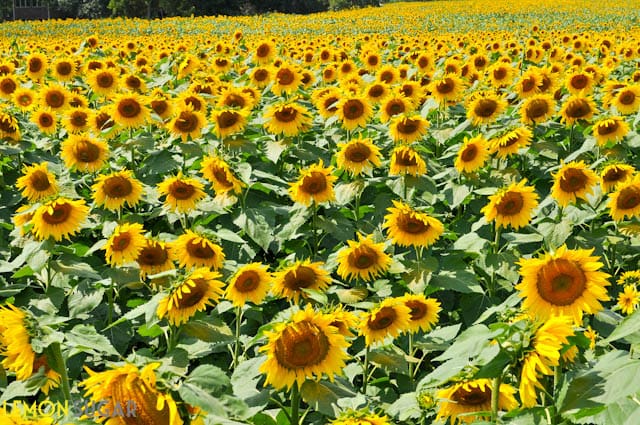 This field is a photographer's mecca, and today was no exception.  We came around the bend in the road, and first we saw sunflowers, and then, we saw photographers.  And then, I whipped out my big old camera bag, and joined right in.
My girls were grungy and windblown from our time at the vineyard, but I was not going to miss this opportunity to snap some pictures of the little monsters.  The Grinter family is very generous and accommodating with their sunflower crop, and they were kind enough to dot the edge of the field with hay bales to make photography easier.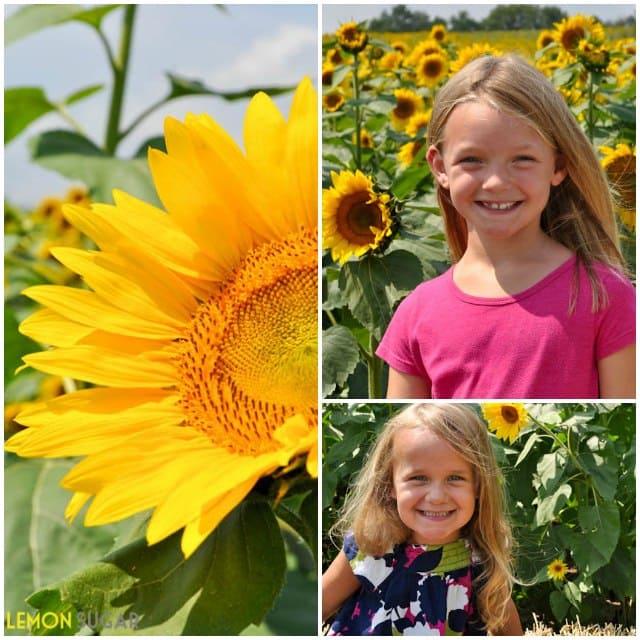 In return for their generosity, they do ask for a small donation if you are able.  For a mere $1 per flower, you can even cut your own to take home with you!  (Bring garden cutters if you have them, the stalks are extremely thick!)  Just look for the "money tube" and deposit your donation before you leave.  Photographers are also encouraged to donate whatever they think is fair.  It's all on your honor, which makes me love the field even more.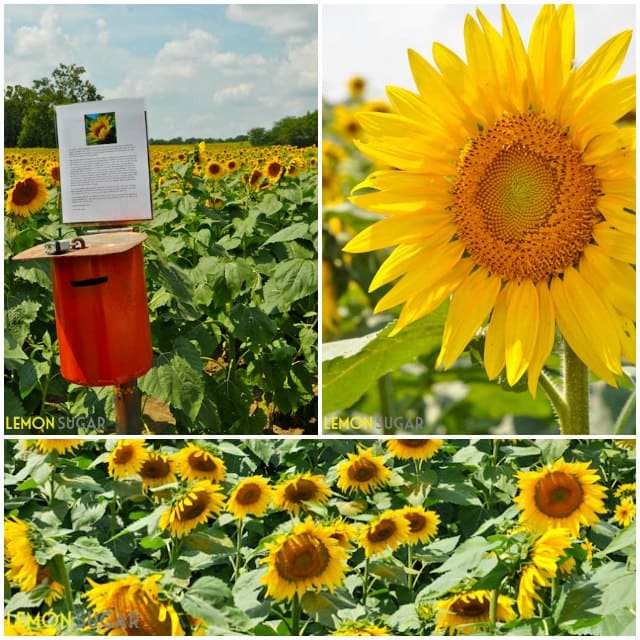 I'm not exaggerating when I tell you that I snapped over 300 pictures of sunflowers today.  I could barely narrow down my favorites for you,  and I'm almost certain that I will soon have a sunflower gallery on my dining room wall in the near future.
So far though, I think this photo is my favorite.  Doesn't it just make you happy?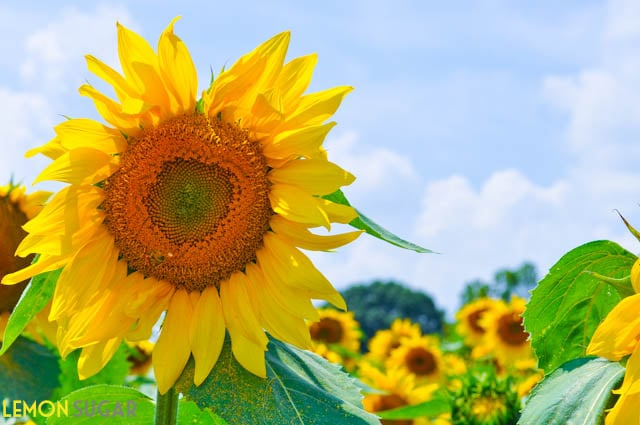 For more information about Grinter's Sunflower Farm, visit the family blog, here.  It's a lovely place, and the sunflowers should continue to bloom for the next couple of weeks.  After that, you'll have to wait until next summer.
Hope you enjoyed this week's Out and About.  If you liked what you saw, be sure to check out the other posts in the series as well.
Don't forget, if you haven't yet, make sure you stop by my Facebook page and follow along – you can also find me on Twitter, Instagram and Pinterest!
Thanks for stopping by today!  Leave me a comment below so I know you were here!
♥erin
0
leave a comment your way - using facebook or disqus: