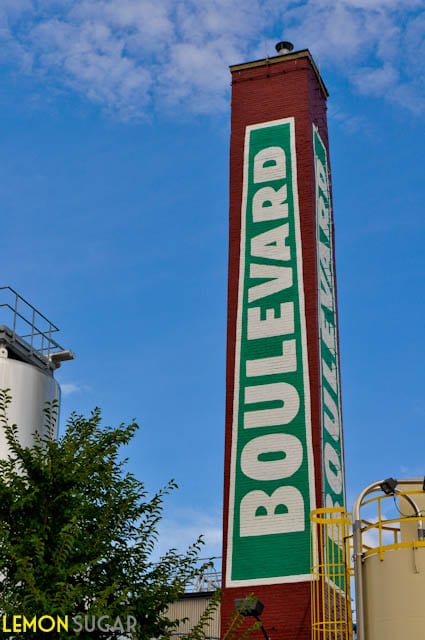 As part of a new series here on Lemon Sugar, I've been spending some time exploring some of my favorite places so I can share them with all of you.  By now, most of you know that I live in the Kansas City area, so hopefully these segments will help you learn a bit more about the city I love!
Recently, my husband and I participated in the public tour of the Boulevard Brewing Company.  This free tour is offered every day of the week, and offers an hour-long tour of the facility, and a 30-minute tasting immediately following the tour.
Did you hear that?  Free tour.  Free tasting.  Yes.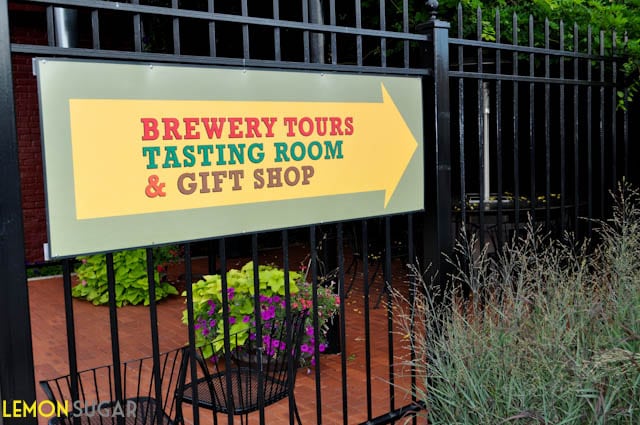 The brewery is located right off of Kansas City's historic Southwest Boulevard, (which is also home to some FANTASTIC mexican restaurants) and has been in operation since 1989.  They've since grown to be the largest specialty brewer in the Midwest.
Founder John McDonald started the company in an old brick warehouse, where he installed his first brew house and planned to brew about 6,000 barrels of beer a year.  Several years later, after a major expansion, Boulevard brews about 600,000 barrels a year.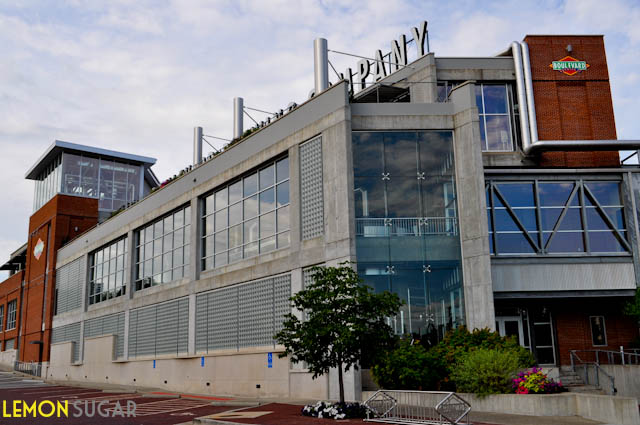 This place is awesome.  Not only do I appreciate their fantastic final product, but after the tour I learned that they are really a company that I can feel good about supporting.  Their sustainable packaging and daily environmentally-aware business practices  really make you wonder why everyone doesn't do it their way.  They don't have waste cans in their offices – they recycle everything!  Check out their page on sustainability – it's pretty awesome stuff!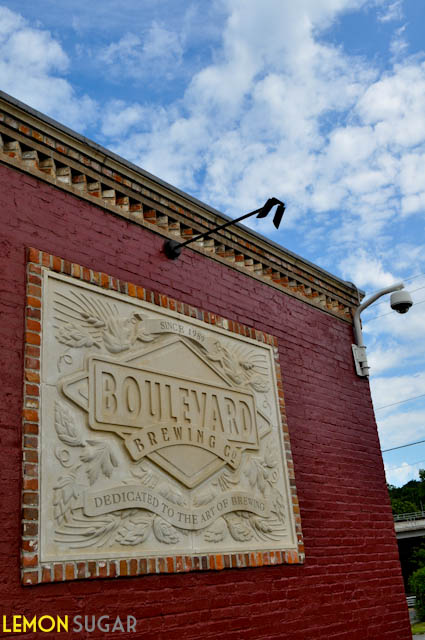 It used to be that you had to reserve your tour date months in advance using an online-ticket system.  They've recently changed things to a first-come first serve lottery system. It's strongly suggested that you show up when they open for the day (at 10am) and wait in line for tickets.  They offer tours all day long, so when it's your turn in line, you can pick up as many tickets as you need for any remaining open tours.  We arrived about 30 minutes before the doors opened for the day, and we were fourth in line, so we had our choice of tour times.
I will say that the tickets for the day were completely spoken for in about 18 minutes, so don't be late.  And if you want a specific tour, get there early.  As you can see, the line gets pretty long!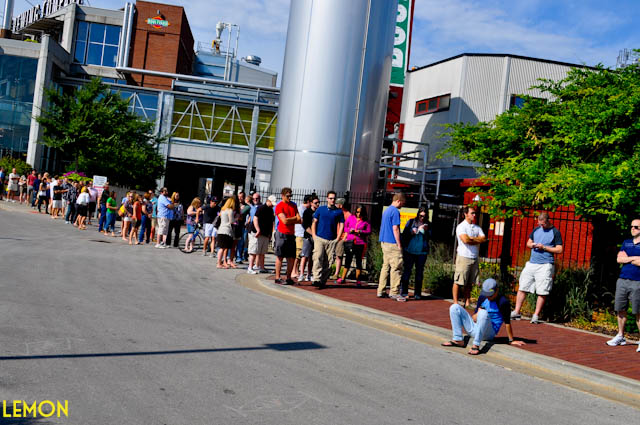 If you want to hang out and wait for your tour to start, you can browse their gift shop, which offers everything from t-shirts to bottle openers to yes, beer!  They have glassware, cookbooks, coasters, tin wall signs…lots of fun stuff.
Once your tour time arrives, be ready with your tickets (you don't need to be 21 for the tour part, just the tasting part) and they'll lead you into their original brew house.  A quick intro from your tour guide, and a very well-done informational video about how beer is made, and you're on your way.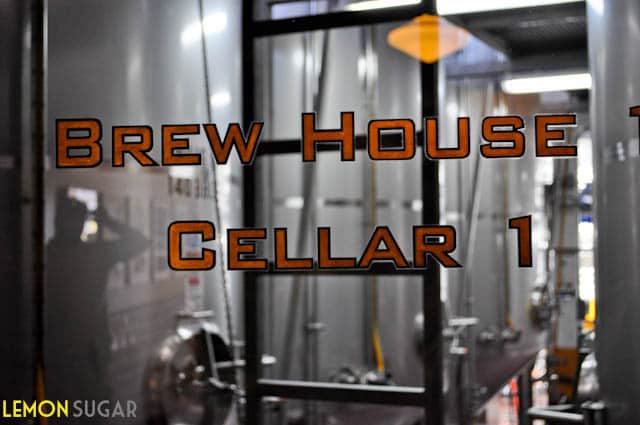 Since it was a gorgeous day (seriously, this has been the most amazing summer weather-wise) we stopped outside for a look around.  You'll get a look at their original brewer (left, below) and their giant fermentation barrels (center, below:  eight, 300-barrel tanks – the equivalent to about 100,000 12-ounce beers in each tank!) and some vintage beer barrels on display in their main entrance.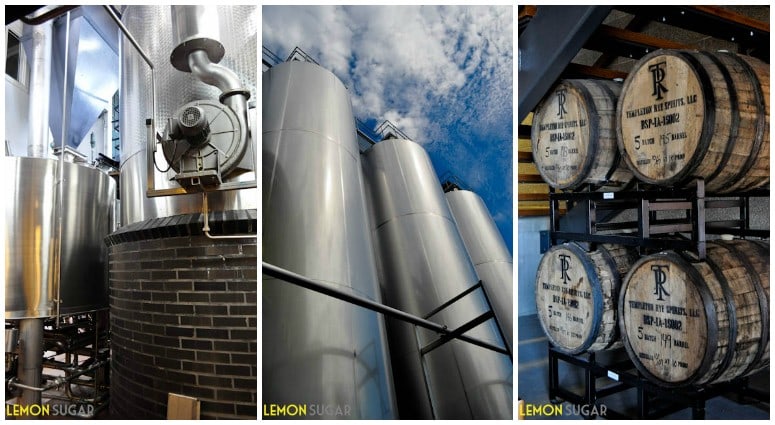 After checking out their amazing bottling and packaging facility, we also got to see their rental facility (which is a popular wedding reception venue here in KC) and I snapped this gorgeous picture of the Kansas City skyline.  I love this town!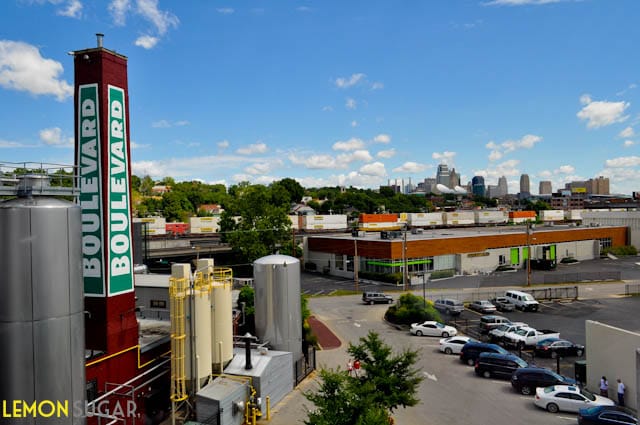 Everyone's favorite part of the tour comes at the end, when you're given four tokens to taste a variety of Boulevard's brews on tap.  You do have to show identification to get your tokens, so don't forget your ID!
Of course I had to go with the Unfiltered Wheat (my favorite beer, EVER) as well as some of the seasonal offerings.  For more on their selection, check out their site: here.  They really do have something for everyone.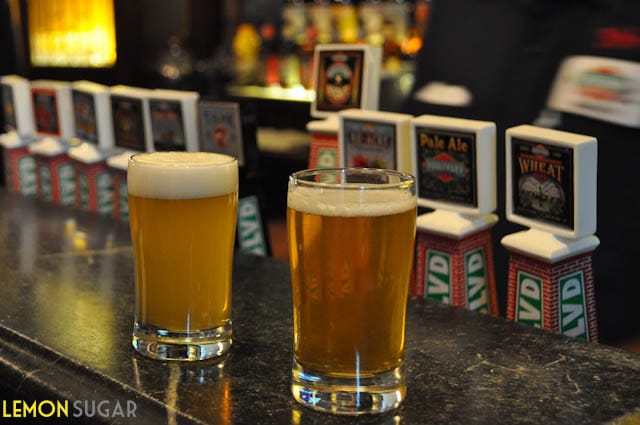 My husband and I sampled  eight different varieties between the two of us, and while my favorite remains a good old fashioned Boulevard Wheat, I did find that I really enjoyed their Stout as well as the seasonal 80-Acre.
Yum.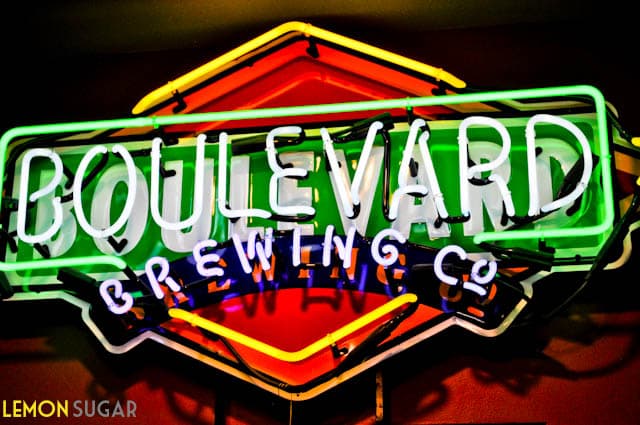 For the Kansas City locals, I'd love to hear about your experience with Boulevard Brewing Company.  And for those of you NOT from KC, have you ever tried a Boulevard Beer?  They do have distributors all over the country, but to find one near you, check out Boulevard's Beer Finder.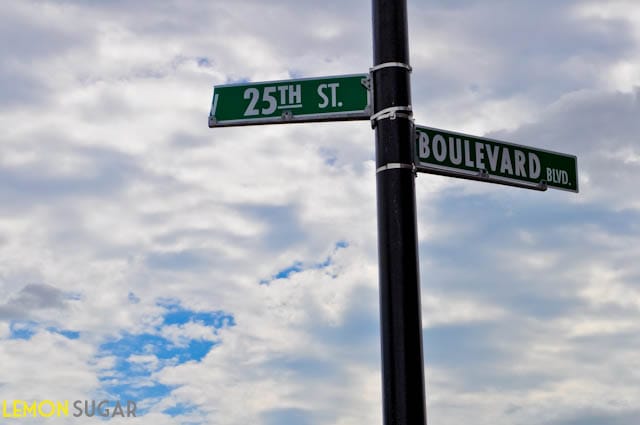 Thanks for having us, Boulevard.  We're happy to support such a fabulous local company.  Cheers!
Stay tuned for the next Lemon Sugar: Out and About. I hope to post once a week! I'd love to hear suggestions from my fellow Kansas-Citians as well as our neighbors in the Midwest. There's lots to see and do around here, can't wait to share it with you all!
Don't forget, if you haven't yet, make sure you stop by my Facebook page and follow along – you can also find me on Twitter, Instagram and Pinterest!
Thanks for stopping by today!  Leave me a comment below so I know you were here!
♥erin
0
leave a comment your way - using facebook or disqus: