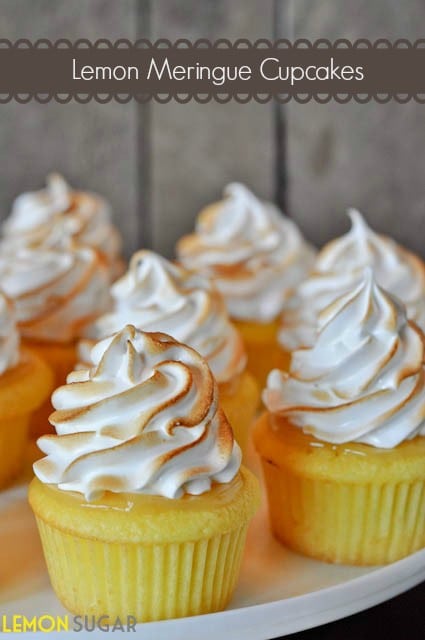 This is officially my favorite cupcake ever.  If you've been reading Lemon Sugar for a while, you realize how strong this statement actually is…I've made a LOT of cupcakes in recent years.  There are a lot of contenders for the top spot, but I'm pretty sure that these just knocked the Fauxstess Cupcakes down a notch.
Clearly, I love a good lemon cake, but something about this one – this combination of flavors – it's just over the top perfection.   The cake is SO tender and moist, and it's topped with a layer of lemon curd, so you get this punch of sweet-tart lemon flavor.  But then, the frosting.  THIS FROSTING.  It's sweet and creamy and works with the lemon curd.  It's toasted, so the outside layer firms up while the inside stays soft, fluffy and sweet.
You will get frosting on your nose, and you won't care one single bit.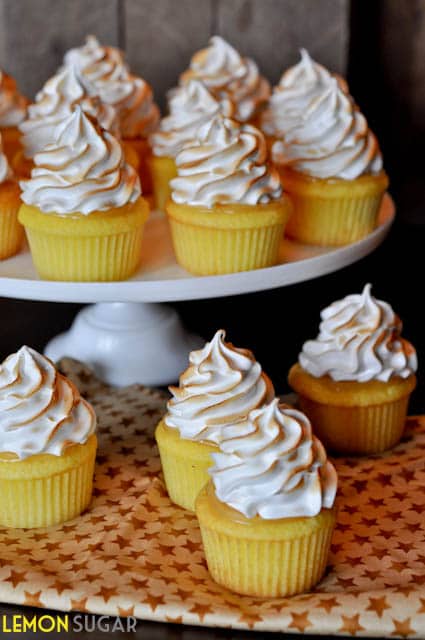 All around, today was a pretty good day – not only did I have these cupcakes happening, but I also got to meet my new niece!  My brother and his wife welcomed a baby girl into the world today, and she's just fantastically precious.  She has a adorable chubby cheeks, a full head of dark hair, and I can't get enough of her.
To be honest, when I woke up this morning, the plan was to make some Lemon Drop Cupcakes in the hopes that maybe I could help my overdue sister-in-law go into labor, but since she went to the hospital overnight, I was able to switch gears and make these Lemon Meringue cupcakes instead.  A good day, indeed!
Confused?  Read this post about my lemon cupcakes inducing labor.  🙂
I should note that these cupcakes do start with a boxed cake mix.  I usually advocate for making everything from scratch, but we all know that sometimes we just need a shortcut.  Along those lines, if you don't have time to make your own lemon curd, store-bought lemon curd is just fine.  These cupcakes do take a bit of special equipment to make (a candy thermometer, an instant-read thermometer and a culinary torch) so keep that in mind before you get started.  If you buy your lemon curd in lieu of making it at home, you won't need the instant-read thermometer, and and you could use your oven broiler in place of the culinary torch – but you can't walk away, because it will take just a few seconds in the oven.  I would even suggest testing one before you do the whole batch.
Hope you love these.  I sure did!  Let me know if you make them!!
Finally, a big congratulations to my brother and his family – and welcome to the world, baby Quinn!  ♥  (Stay tuned to social media, I'll share some pictures of their sweet little girl in the days to come.)
Don't forget, if you haven't yet, make sure you stop by my Facebook page and follow along – you can also find me on Twitter, Instagram and Pinterest!
Thanks for stopping by today!  Leave me a comment below so I know you were here!
♥erin
Lemon Meringue Cupcakes
Perfectly tender, lemon cake is topped with a tart lemon curd and mounds of toasted, fluffy 7-minute frosting. You don't have to be a lemon-lover to enjoy this special treat! Recipe source: Inspired by Martha Stewart Cupcakes
Ingredients
1 box lemon cake mix
1 small box (3.4oz) instant lemon pudding mix
1 cup sour cream
¾ cup water
¾ cup vegetable oil
4 eggs
Lemon Curd:
8 large egg yolks (save the whites for the frosting)
Zest of 2 lemons
½ cup plus 2 Tablespoons lemon juice
1 cup sugar
1 stick (1/2 cup) salted butter, cold, cut into pieces
Frosting:
8 egg whites
2 cups plus 2 Tablespoons sugar
3 Tablespoons light corn syrup
¾ cup water
Special Equipment:
Candy thermometer
Instant-Read thermometer
Culinary torch
Instructions
For cupcakes:
Preheat oven to 350 degrees (F).
Line 2 cupcake tins with paper liners. Set aside.
Add all ingredients to a large bowl. (Cake mix, pudding mix, sour cream, water, eggs, and oil.)
Beat with an electric mixer for 2 minutes.
Fill cupcake liners ⅔ full.
Bake for 20-22 minutes or until a cake tester comes out clean. Don't overbake!
Allow to cool completely on a wire rack before frosting.
For Lemon Curd:
Combine yolks, lemon zest, lemon juice, and sugar in a heavy-bottom saucepan and whisk to combine.
Cook over medium-high heat, stirring constantly with a wooden spoon (be sure to scrape the sides of the pan), until the mixture is thick enough to coat the back of the spoon. about 8 to 10 minutes, and registers 160 degrees on an instant-read thermometer.
Remove saucepan from heat. Add salt and butter, one piece at a time, stirring until smooth.
Cover with plastic wrap, pressing it directly onto the surface of the curd to prevent a skin from forming.
Refrigerate until chilled and set, at least 1 hour or up to 1 day. (Mine only took 30 minutes)
For frosting:
In a medium sized, heavy bottomed saucepan fit with a candy thermometer, combine water, corn syrup and 2 cups of sugar. Stir to combine.
Heat sugar mixture over medium heat, stirring occasionally until it reaches precisely 230 degrees.
Meanwhile, in the bowl of a stand mixer fitted with the whisk attachment, beat egg whites until soft peaks form.
Add 2 Tablespoons of sugar and beat for 20 seconds to combine.
Once sugar mixture reaches 230 degrees, CAREFULLY stream it down the side of the egg white bowl, while beating at medium speed.
Continue beating until firm peaks form, and frosting holds it's shape, about 7-10 minutes.
Assembly:
With an offset spatula, spread about 1 Tablespoon of Lemon Curd over the top of each cupcake.
Pipe a large, swirled mound of frosting over the meringue.
Use a culinary torch to brown the outside of the frosting.
Serve and eat within 24 hours.
Enjoy!
3
leave a comment your way - using facebook or disqus: