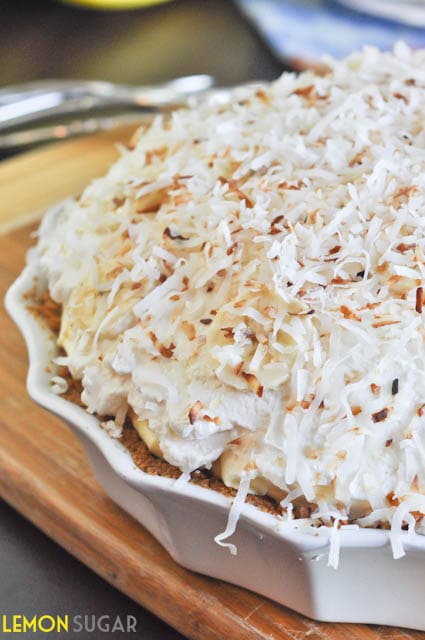 I'm pretty sure that you aren't supposed to make cream pies when it's 100 degrees outside…I'm pretty sure that could probably get you in big trouble in some parts of the world.
But when you catch a summer cold, are stuck inside in the air conditioning with a sore throat and a fever and really need to update your blog, that's exactly what you do.  You make a cream pie. You also dip extra bananas into the filling and eat them like a fruity-creamy fun dip, but seriously, who wouldn't do that?  Half a leftover banana and extra filling?  That's a no-brainer dip situation right there.
Ok, I'm sick you guys.  Cut me some slack.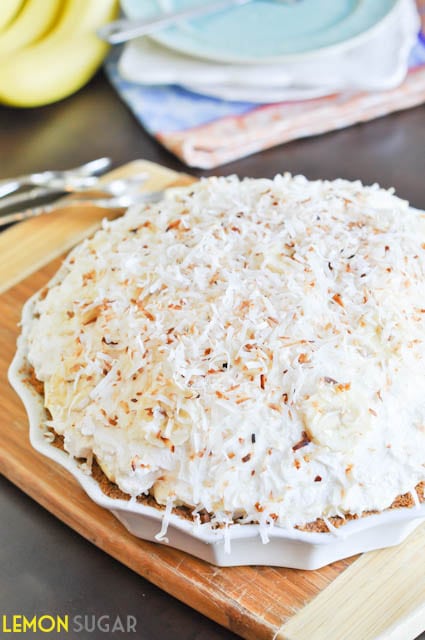 To be honest, I just had tons of bananas sitting around that needed to be used, and I got a really cute jug of heavy cream from my CSA delivery this morning.  So it was really just the banana-cream-pie-gods speaking to me, I think.
Apparently the banana-cream-pie-gods didn't realize how hot my kitchen was today.
Since I cheated and used instant pudding in the recipe, I didn't even have to turn on my stovetop, and the crust only bakes for about 8 minutes, so this actually isn't a bad dessert for summertime.  I'm just being dramatic because I'm sick and that's what I do when I'm sick.
Ok, you get the point.  Poor me.  Pie, Erin.  They want to hear about pie.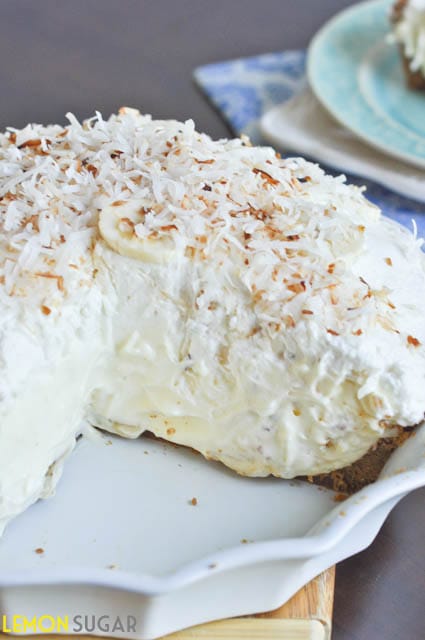 So, a few things about this pie – one, you can totally buy a store-bought graham cracker crust, but trust me when I say that you'll like a homemade one better.  It's buttery, crumbly, sweet and perrrrrrfect for this pie.  Plus, it just takes a few minutes.  If you don't have a food processor, you can even make it all by hand.
Secondly, the filling for this pie is WAY easier than it sounds.  If you have a stand mixer, just use that.  Otherwise grab your handheld mixer and it's just a matter of whipping your cream and then beating everything else together.  Then you fold the cream into the pudding mixture and voila! Cream pie, baby!
Don't know how to fold ingredients?  Watch this video from Better Homes and Gardens.
I hope you love this one.  And don't forget, if you haven't yet, make sure you stop by at my Facebook page and follow along…you can also find me on Twitter, Instagram and Pinterest if Facebook isn't your thing.
Thanks for stopping by today!  Leave me a comment below so I know you were here!
♥erin
Vanilla Coconut Banana Cream Pie
Sky-high banana cream pie made with a vanilla filling and topped with toasted coconut, this easy pie is sure to impress! Recipe source: Adapted from A Spicy Perspective
Serves:
1 9-inch pie, approx 8 servings
Ingredients
For crust:
12 ounces graham crackers
⅓ cup sugar
8 Tablespoons melted butter
½ teaspoon salt
1-2 Tablespoons water (if necessary)
For filling and topping:
3 cups heavy whipping cream
¼ cup sugar
1 Tablespoon vanilla extract
8 ounces cream cheese, softened
1 (14 ounce) can sweetened condensed milk
1 cup milk
1 box (3.4 ounce) instant vanilla pudding
½ cup sweetened flaked coconut
3 ripe bananas
Instructions
For crust:
Preheat oven to 375 degrees (F).
Spray a 9-inch pie plate with cooking spray, set aside.
In a food processor, pulse graham crackers to a coarse crumb.
Add sugar, salt and butter, and pulse until crumbs are moistened. Crumbs should stick together when pinched. If they don't stick, add water a teaspoon at a time until proper consistency is met.
Pour mixture into greased pie plate, and press down to evenly cover bottom and sides of pan.
Bake for 8 minutes. Allow to cool completely before filling.
For Filling:
In a large, clean bowl (or the bowl of a stand mixer) beat whipping cream until it begins to thicken (about 2 minutes but can be up to 5 minutes.)
Add sugar and vanilla, and beat until thick and creamy. Set aside, or empty into another bowl if using stand mixer.)
In a measuring cup, whisk together instant pudding and 1 cup of milk. Set aside.
In another bowl (or now-empty stand mixer bowl), beat cream cheese until light and fluffy.
Add vanilla pudding mixture and sweetened condensed milk, and beat until smooth and slightly thickened.
Fold in half of the whipped cream mixture. Reserve the remaining whipped cream for topping.
Pour a small amount (about a cup or so) of filling into cooled crust. Spread evenly over bottom.
Slice bananas, and line bottom and sides of crust with sliced bananas.
Pour remaining filling over banana slices.
Top filling with remaining whipped cream.
Refrigerate for at least one hour. Cover with plastic wrap if necessary.
Before serving, toast coconut flakes over medium heat in a non-stick skillet until golden brown.
Garnish pie with additional sliced bananas and toasted coconut.
Enjoy!
4
leave a comment your way - using facebook or disqus: