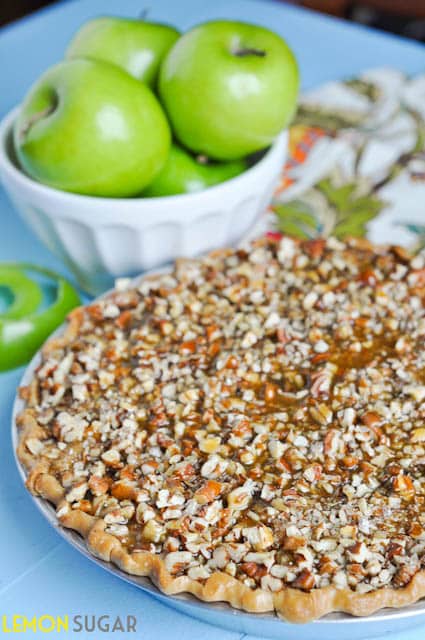 So, you really can't go wrong with apple pie.  Am I right?  Even bad apple pie is usually pretty tasty.  Or maybe I've never had bad apple pie?  Aaannnd, now that I say that, I'm envisioning really bad apple pie, so I guess I could theoretically imagine an apple pie so bad that it might not be worth the calories.
But this one?  For Pete's sake, it's covered in a crumb topping.  And then.  THEN.  That crumb topping?  It's topped with toasted pecans and caramel sauce.  It's half apple crisp, half apple pie and fully awesomely amazing.
Can you imagine this hot out of the oven with a big scoop of vanilla ice cream?  You guys, I can't even deal.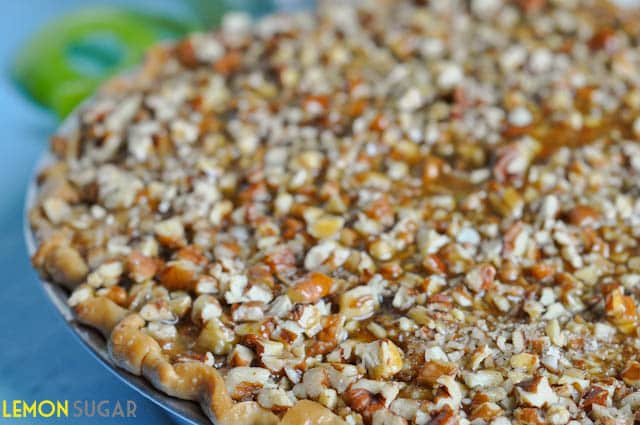 The really great thing about this recipe is that it's way, way easier than you think it should be.  I had a frozen pie crust in the freezer, so I just used that.  And I had leftover homemade caramel sauce in the refrigerator, so I used that.  But store-bought pie crust and store-bought caramel ice-cream topping are both totally legit baking shortcuts, so go for it.
Ok, true story:  When I was making this pie, my four year old was lurking around my kitchen hoping for treats.  She asked what I was chopping (pecans) and I told her that they were nuts, and in an effort to derail her efforts said, "You don't like nuts, remember?"  She, thinking she didn't like nuts, went back to playing.  I won, and my pecans were safe.
Then, later when I let the girls have some pie, she said, "Yucky.  I don't like nuts."
I said, "Yes you do.  You like these nuts.  These aren't the nuts you don't like."
She ate the pie.
I shouldn't feel this good about manipulating a four-year-old, should I?  Small victories, folks.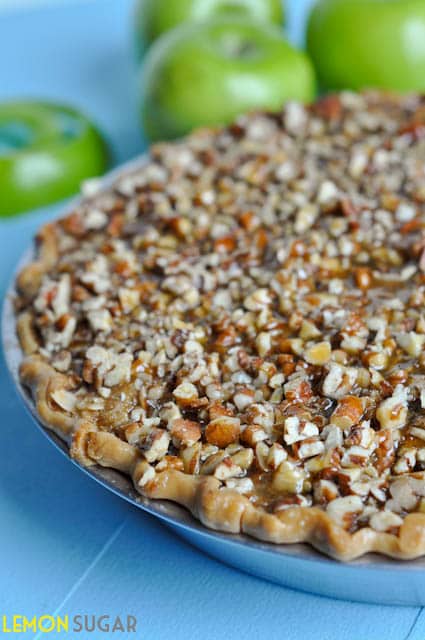 True story #2:  While I was baking this, I was watching Twister.  Because I DVR'd it.  It was an intentional-Twister watching.  And I'm not ashamed.
So.  Make this pie.  I hope you love it as much as I did.
Don't forget, if you haven't yet, make sure you stop by my Facebook page and follow along – you can also find me on Twitter, Instagram and Pinterest!
Thanks for stopping by today!  Leave me a comment below so I know you were here!
♥erin
Caramel Pecan Apple Pie
This decadent apple pie is quick and easy, and best served warm over big scoops of vanilla ice cream. Recipe source: Adapted slightly from
The Pioneer Woman
Serves:
One 9-inch pie, approx 12 servings
Ingredients
For filling:
1 9-inch pie crust
6-7 cups peeled, cored and sliced Granny Smith apples
2 Tablespoons lemon juice
½ cup sugar
⅓ cup all-purpose flour
¼ teaspoon salt
For topping:
½ cup flour
¾ cup (12 Tablespoons) cold, unsalted butter, cut into pieces
1 cup brown sugar
½ cup quick oats
¼ teaspoon salt
½ cup pecans, chopped
1 cup caramel sauce
Instructions
For filling:
Preheat oven to 375 degrees (F).
Prepare pie crust using a 9-inch pie plate. Set aside.
Peel, core and slice apples into ⅛-inch slices. Immediately after slicing, toss in a large bowl with lemon juice.
Add sugar, flour and salt, and mix well to combine. Set aside.
For topping:
Place the flour in a large bowl. Add the cold butter pieces.
Using a pastry cutter (or fork) cut the flour and butter until butter resembles coarse crumbs about the size of a pea.
Add the brown sugar, oats and salt, and stir to combine.
Chop pecans, and set aside.
Assembly:
Pour apples into pie crust.
Carefully pour topping over the top of the apples.
Gently cover the crusts with a pie-crust protector, or fold strips of aluminum foil to cover the exposed crust.
Place pie plate on a large cookie sheet (to catch drips) and bake for 25 minutes.
At the 25-minute mark, remove the foil, and bake for an additional 25 minutes.
Sprinkle the pie with chopped pecans, and bake just 5 minutes more.
Pour caramel sauce over the top of the warm pie.
Allow to cool slightly before serving.
Enjoy!
0
leave a comment your way - using facebook or disqus: