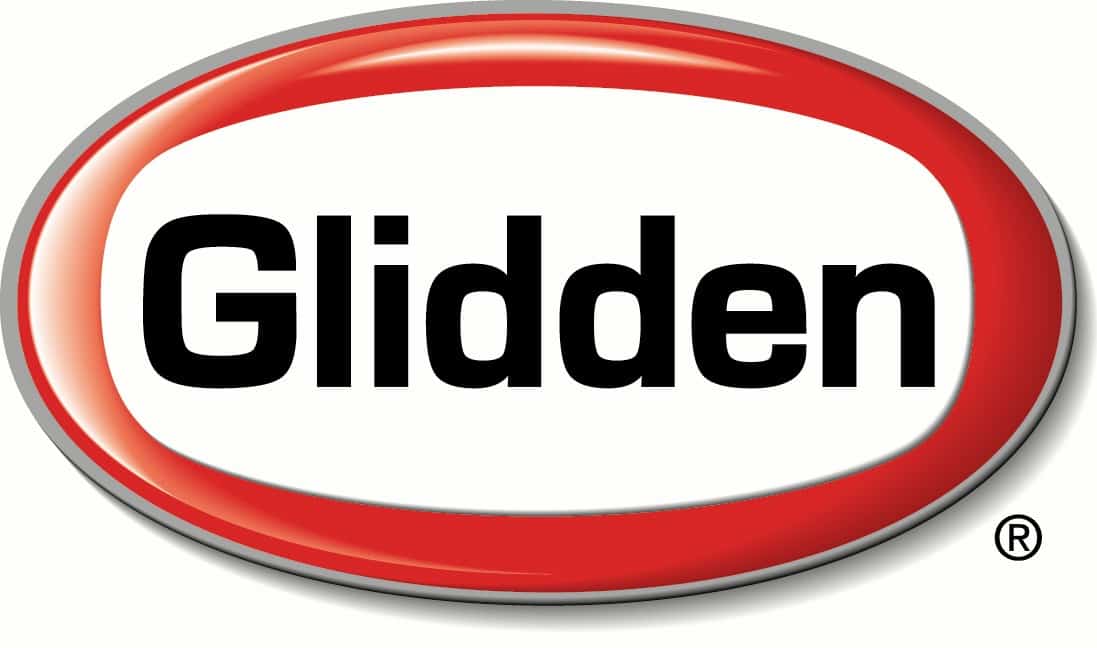 When we built our house just over five years ago, I was so overwhelmed with decisions that I just took the easy road when it came to our paint colors. With the exception of my daughter's room, I went all-out subdivision beige. I just couldn't make another decision. Floors, appliances, windows, furniture, lighting, faucets…I couldn't do it. So, subdivision beige it was.
Over the years, we've slowly been updating rooms to fit our taste and decor style. It's been a slow, arduous process and I really wish I knew then what I know now. Cue Glidden paint. They have made my life so much easier this time around. They have an awesome set of design tools that really help you narrow down and choose the paint color that will work best with your design. I used the My Image Inspiration Tool and it couldn't have been easier!
As you know, our most recent house project was a fairly major pantry remodel. We have a lovely walk-in pantry, with dark wood floors, white trim and a dark wood doorway. The old shelving was perfectly adequate, but our new shelving and organization system is a beautiful clean, bright white, and needed a wonderful "greige" (gray with beige undertones…it's the new "it" hue!) backdrop to keep it clean and simple.
If you're like me, when you're planning a remodel or redesign project, you start with a collection of inspirational images and ideas. I tend to tuck these photos away, Pin them on my Pinterest boards and save them to my computer. Not all of my inspirational photos are wall colors, pantry designs or decor ideas – sometimes I'm inspired by patterns, by a painting, or by a photograph. But when you put them all together, it's very clear that I'm drawn to a certain color palette and that's exactly where Glidden paint will step in and help you make a decision. By simply visiting this page and uploading your inspiration photo, the tool will walk you through a quick and easy process to narrow down your choices and present you with a color palette that is created based entirely off your inspiration photos.
Amazing, and the process worked perfectly for us. I am in LOVE with our new paint color. The inspiration photos I submitted are below.
As you can see, I am definitely drawn to a certain shade of gray. The My Image Inspiration tool immediately narrowed things down for me, and I really believe I ended up with the color I've been dreaming about. Just to give you an idea of what I'm working with, here are a few before photographs of my pantry. As you can see, it's very beige, so this will definitely be a nice change of pace.
So, tell me what you think? Do you think the gray will add something to my dreary, boring-beige pantry? Do you have an "inspiration file?" What images inspire you? Head over to Glidden's site, and give their My Image Inspiration tool a try. Come back here and leave a comment telling me what color you get, and be sure to weigh in on my color choice:

Glidden Paint's Granite Gray
Be sure to visit the Glidden Pinterest Page as well for a great collection of inspirational images, and stay tuned for another post soon showcasing our finished project. Thanks for stopping by today, and thanks to Glidden paint for getting me going on this long-overdue pantry remodel!
Let us know what inspired your last home decor project in the comments section below for a chance to win a $100 gift card!
Sweepstakes Rules:
No duplicate comments. You may receive (2) total entries by selecting from the following entry methods: Leave a comment in response to the sweepstakes prompt on this post Tweet (public message) about this promotion; including exactly the following unique term in your tweet message: "#SweepstakesEntry"; and leave the URL to that tweet in a comment on this post Blog about this promotion, including a disclosure that you are receiving a sweepstakes entry in exchange for writing the blog post, and leave the URL to that post in a comment on this post For those with no Twitter or blog, read the official rules to learn about an alternate form of entry. This giveaway is open to US Residents age 18 or older. Winner will be selected via random draw, and will be notified by e-mail. You have 72 hours to get back to me, otherwise a new winner will be selected. The Official Rules are available here. This sweepstakes runs from 7/1/2013 – 9/30/2013.
This post is sponsored by Glidden paint, but all thoughts and opinions are my own.
1
leave a comment your way - using facebook or disqus: