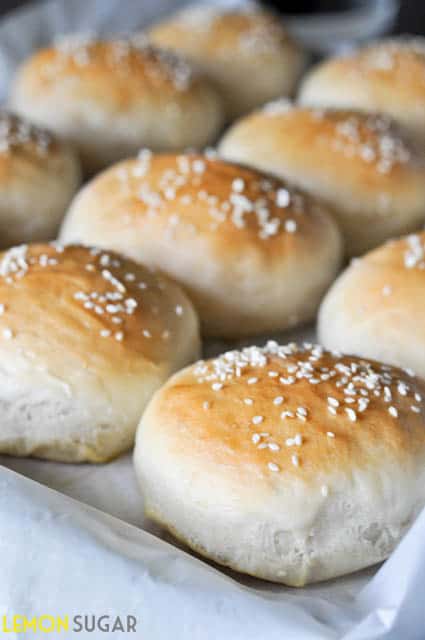 On Mother's Day, back in May, we also celebrated my Dad's birthday at the same time.  My family all gathered at my parent's house, and we had a lovely cookout, complete with hamburgers, hot dogs, brats and lots of yummy sides (which is my favorite part).  My brother stopped and bought hamburger and hot dog buns (that was his "job") and we enjoyed the day.
Now, fast-forward almost a month.  Last week, we found ourselves rushed for dinner so my husband just threw some hamburgers on the grill.  I looked in the pantry, and realized I didn't have any buns, so I called my Mom, who lives just a couple of minutes away.  She's used to us "shopping" in her kitchen, so I asked if she had any buns we could use for our quick dinner.
Guess what she STILL had in her pantry?  Yup – those leftover buns from weeks earlier.  They weren't even moldy or green or anything.  They looked exactly the same as when my brother dropped them by back on Mother's Day.
How the HECK does that happen?  How many preservatives and chemicals are in the bread we're eating at the store to keep them looking fresh nearly a month after they were purchased?
To me, that just reinforces exactly why we need to make our own bread at home.
Plus, these taste WAY better than those grocery store buns.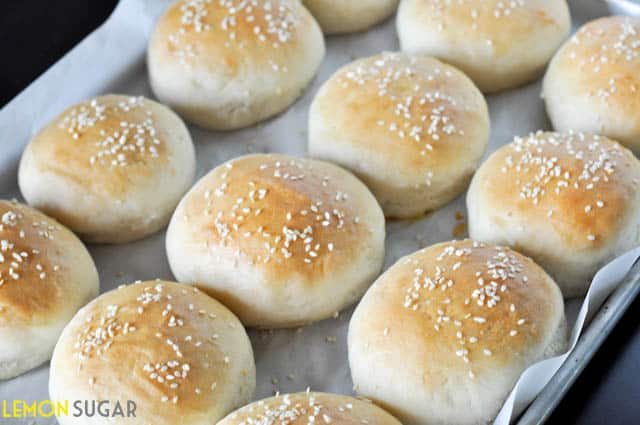 These are quick, they're easy, and they're the perfect consistency for a juicy grilled burger.  And if you're scared of yeast, this is the perfect recipe to cut your bread-baking teeth on.  It's really not hard and you will be so proud of yourself when these adorable little buns come out of the oven.  Plus, these can be made in less than two hours, with most of that time being hands-off proofing and baking time.
I've doubled this recipe before for a party, but otherwise it makes 12 generously sized buns which is perfect for our family of four.  Sometimes I sprinkle them with sesame seeds and sometimes I leave them plain, but mostly I leave them plain because my youngest doesn't like "nuts" on her hamburger buns.
I've explained to her a thousand times that they aren't nuts.
She still calls them nuts.
I wonder what it would be like to have kids that actually listen to what I'm saying??
Anyway, nuts or no-nuts, these are delish.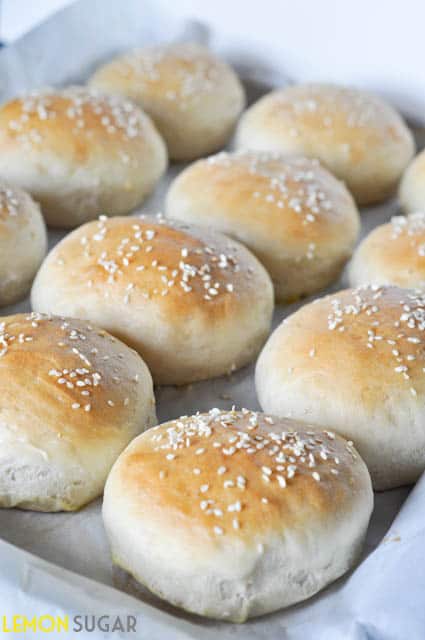 Since these aren't chock-full of preservatives and who knows what else, you'll want to freeze whatever you don't use within a couple of days.   They make awesome sloppy-joe buns, and if you butter them and toast them in the oven under the broiler, they make a pretty awesome turkey sandwich, too.
Give 'em a go, and let me know what you think.
Enjoy!
No-fail Homemade Hamburger Buns
Ingredients
1 and ¾ cups warm water
1 Tablespoon plus ½ teaspoon active dry yeast
2 Tablespoons plus ½ teaspoon sugar
1 and ½ teaspoons salt
3 Tablespoons unsalted butter, melted
4 and ½ to 5 cups organic all-purpose flour
1 large egg beaten with 2 teaspoons water, for glazing
Sesame seeds for garnish, if desired
Instructions
In a large bowl or the bowl of a stand mixer, pour in ½ cup of the warm water. Sprinkle the yeast and ½ teaspoon sugar over the water.
Stir to dissolve and let stand at room temperature until foamy, about 10 minutes.
Add the remaining 1 and ¼ cups water, remaining sugar, salt, and butter.
Add 2 cups of the flour.
Beat until creamy, about 1 minute. Add the remaining flour, ½ cup at a time, until a soft, shaggy dough that just clears the sides of the bowl is formed. Switch to a wooden spoon when necessary if mixing by hand.
Turn the dough out onto a lightly floured work surface and knead for about 4 minutes, dusting with flour only 1 tablespoon at a time as needed to make a smooth and soft dough.
If kneading by machine, switch from the paddle to the dough hook and knead for 3 to 4 minutes, or until the dough is smooth and springy and springs back when pressed. If desired, transfer the dough to a floured surface and knead briefly by hand,
Place the dough in a greased deep container. Turn once to coat the top and cover with plastic wrap. Let rise at room temperature until doubled in bulk, 1 to 1½ hours.
Gently deflate the dough. Turn the dough out onto a lightly floured work surface. Grease or parchment-line a baking sheet. Divide the dough into 12 equal portions. Shape each into a tight round ball and place each ball seam side down and at least 2 inches apart on the baking sheet. Use a second baking sheet rather than crowd the rolls. Flatten each ball with your palm. Cover loosely with plastic wrap and let rise until puffy, about 20 minutes.
Preheat the oven to 350˚F. Brush each roll with the egg glaze and sprinkle the tops with sesame seeds. Place the baking sheet on the rack in the center of the oven and bake 20 to 25 minutes, or until lightly brown and firm to the touch. Transfer the rolls immediately to a cooling rack.
45
leave a comment your way - using facebook or disqus: