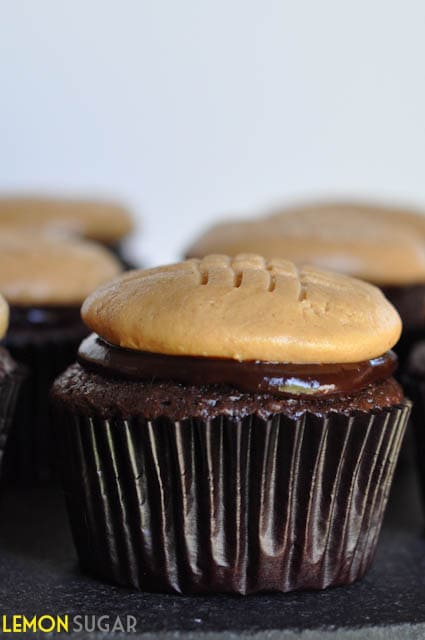 So, close your eyes for a minute, and imagine with me.
Wait, don't close your eyes yet.  You have to read this first.
Ok, in a minute, you're going to close your eyes and imagine a soft, perfectly-chocolate cupcake.  It peels away from the wrapper in one piece, and is just strong enough to hold the weight of the frosting without being too dense or heavy.
You bite through a soft, sweet layer of peanut butter "cookie" nestled atop a generous layer of dark, slightly-sweet chocolate.  The crumbly cake has just enough dark chocolate flavor to bring the whole thing together.   You take a big swig of cold milk, and then repeat.  And then, you'll probably grab another cupcake.  Or six.
What I'm trying to say is that these cupcakes are the bomb-diggity.
(PS – according to Urban Dictionary, the definition of bomb-diggity is:  totally the awesomest, no lie.)  I would say that's the perfect way to describe these cupcakes.  Totally the awesomest, no lie.
(PPS – I think if you have to lookup the definition of slang to be sure you're using it correctly, then you're probably too old to be using it in the first place.  Am I right? )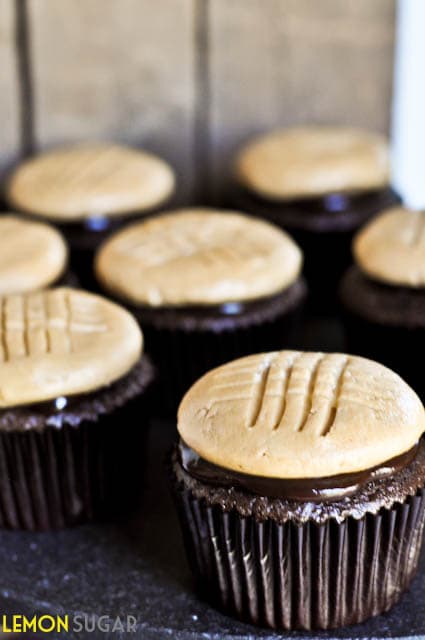 I've made these cupcakes four times in the past month or so because they are so incredibly popular among my friends.  I feel like I should apologize for holding out on you all so long!  I'm not even a huge peanut butter fan, and I am completely smitten with these.  In fact, I'd go so far as to say that these are probably in the top-five on my list of favorite cupcakes.
You have a favorite cupcake list, right?  If you don't you should start one.  These would definitely be on it.
And as much as I adore buttercream cupcakes,  I'm not sure you can beat a chocolate cupcake topped with ganache.  (Also on my favorite cupcake list are Fauxstess Cupcakes…which you should also make right away if you haven't yet. )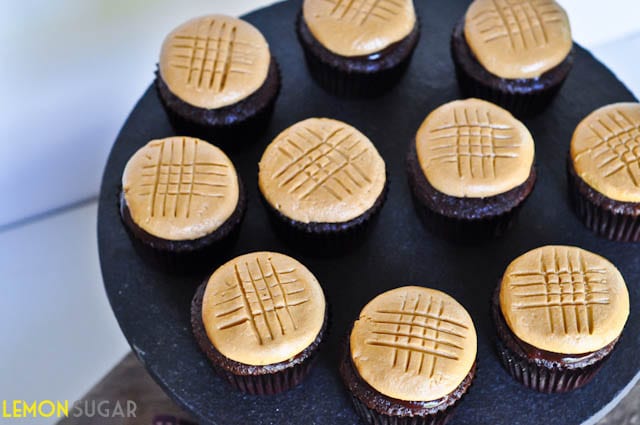 The "cookie" frosting is basically a "Buckeye Candy" flattened into a cookie shape.  For those of you unfamiliar with buckeyes, they're basically just peanut butter, butter and powdered sugar, mixed until crumbly enough to form into a ball.   Smoosh the ball into a cookie shape, then use a fork to make the traditional peanut butter cookie criss-cross on top.  It's kind of fun to watch people take their first bite, because most of them think it's a real cookie on top.
Please make them soon.  They're totally the awesomest, no lie.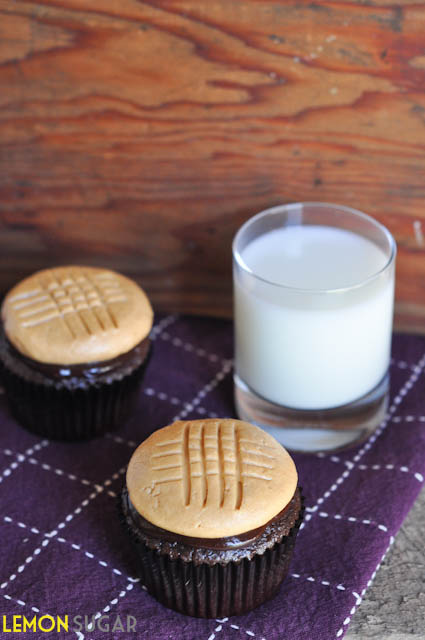 I really hope you'll give these a try, and when you do make sure you leave me a note below and let me know what you thought about them.
And don't forget, if you haven't yet, make sure you stop by at my Facebook page and follow along…you can also find me on Twitter, Instagram and Pinterest if Facebook isn't your thing.
Thanks for stopping by today!
♥erin
Chocolate Cupcake with Peanut Butter Cookie Frosting
Serves:
Approximately 24 cupcakes
Ingredients
Cupcakes:
1 and ½ cups hot brewed coffee
¾ cup unsweetened cocoa powder
2 and ¼ cups all-purpose flour
1 and ½ teaspoons baking soda
¾ teaspoon baking powder
½ teaspoon salt
12 Tablespoons (1 and ½ sticks) unsalted butter, at room temperature
1 and ½ cups packed brown sugar
¾ cup granulated sugar
3 large eggs at room temperature
1 Tablespoon vanilla extract
Ganache:
6 ounces semi-sweet chocolate, finely chopped
½ cup heavy cream
Peanut Butter Cookie Frosting:
9 Tablespoons (1 stick plus 1 Tablespoon) unsalted butter, at room temperature
1 and ½ cups creamy peanut butter
3 cups confectioners' sugar
Instructions
For cupcakes:
Preheat oven to 350 degrees (F). Line cupcake pans with paper liners.
Whisk the brewed coffee and cocoa powder together in a large measuring cup until well combined. Set aside.
In a medium bowl, whisk the flour, baking soda, baking powder and salt together. Set aside.
In the bowl of a stand mixer fitted with the paddle attachment, beat the butter and both sugars on medium speed until light and fluffy, about 3-4 minutes.
Add the eggs one at a time, beating to incorporate each before adding the next.
Stir in the vanilla.
With the mixer on low, add ⅓ of the dry (flour) mixture and beat until just combined.
Add ½ of the coffee mixture, and again beat until just combined.
Add ½ of the remaining dry mixture, beat until combined.
Add the rest of the coffee mixture, beat until combined.
Add the rest of the flour mixture, and beat until just combined. Take care not to over beat in these steps.
Divide the batter among the liners, filling each about ⅔ full. Bake the cupcakes for 17-20 minutes, or until they spring back when lightly pressed and a toothpick inserted in the center comes out clean.
Transfer the pans to wire racks and let the cupcakes cool for a few minutes before removing them to the racks to cool completely.
To make ganache:
In a medium sized glass bowl, heat the cream in the microwave until it's steaming hot but not boiling (about 1 minute.)
Add the chopped chocolate to the hot cream and allow it to sit for about a minute.
Using a clean wire whisk, slowly stir the chocolate until it's completely melted and smooth. Set aside to thicken slightly while you make the cookie frosting.
To make Peanut Butter Cookie Frosting:
In a large bowl, beat together butter and peanut butter until smooth and creamy.
Add confectioners' sugar and beat until completely combined and crumbly.
A Tablespoon at a time, roll the peanut butter mixture into balls, then flatten slightly to create a cookie shape.
Place the "cookie" on a piece of parchment paper, then use the tines of a fork to create the grid pattern on top.
Repeat, and make 24 cookies.
Assembly:
Spread a layer of ganache on top of each cupcake.
Place a "cookie" on top of the ganache. Chill briefly to set up ganache and prevent cookie from sliding around.
Enjoy!
0
leave a comment your way - using facebook or disqus: