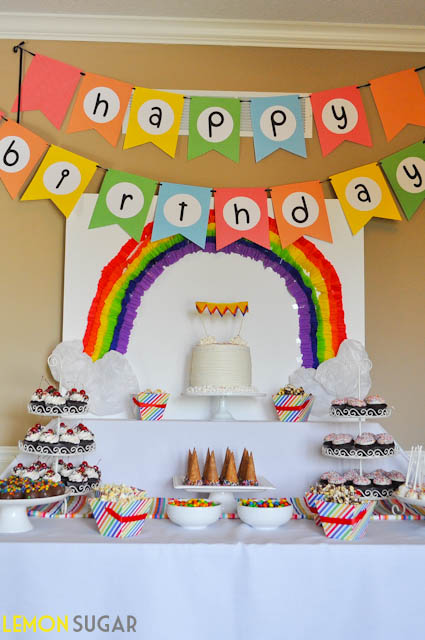 Last weekend we celebrated my daughter's and niece's 4th birthday with a Rainbow party.  They've been talking about it forever, pretty much since the day after their Princess Party last year.  We were a bit hurried, especially after we ate dinner because the weather was supposed to get bad, and everyone kind of left in a mad rush to beat the storms.
As usual, I focused the decoration for the party around my dessert table.  A simple white table cloth allowed the rainbow colors to really pop, and my crepe-paper rainbow to stand out.
Let's not talk about how long the ruffled-crepe-paper-rainbow-project took.  Let's just not.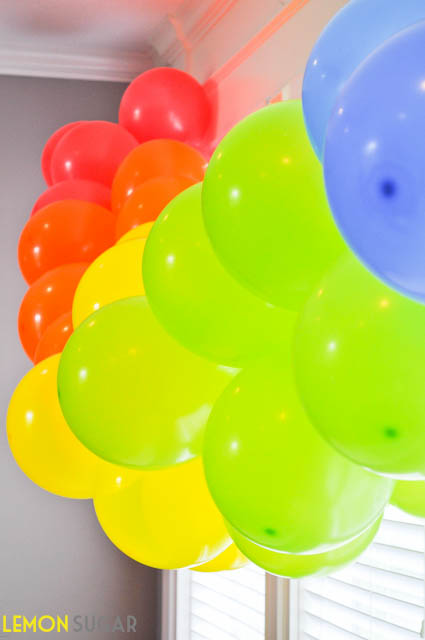 Because the kids all love balloons, I also made a rainbow balloon garland, which also took more time than I'd like to admit.  I blew up 72 balloons, 12 of each color of the rainbow, and sewed them together with fishing line before stringing them in a garland that was about 20 feet long.
The things we do for our children!
I have to admit though, that it was a fun pop of color for very little expense.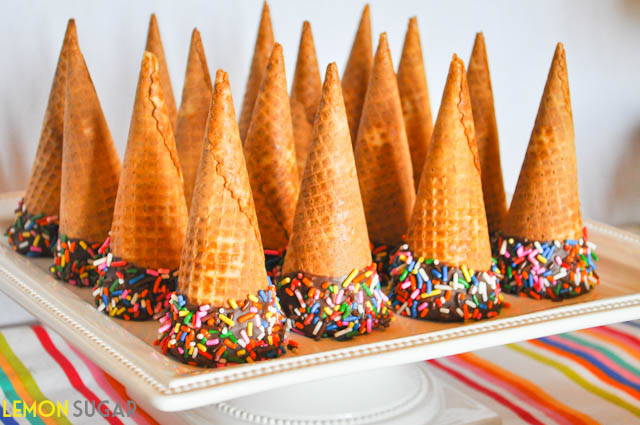 I kept the desserts relatively simple this year, mostly because I wanted to make a rainbow layer cake and I wasn't sure how it was going to go.  The chocolate dipped ice-cream cones made another appearance, and not only are they very popular with our guests, they're super easy to make.  Just melt 12 ounces of chocolate bark, dip the cones in the chocolate and shake off the excess, then sprinkle with your favorite candy and allow to harden on wax paper.   Easy!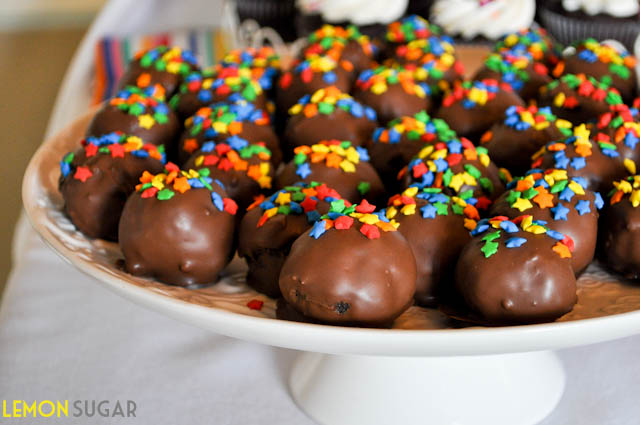 And one of my very favorite desserts of all time – the cake ball.  Of everything I make, from macarons to cheesecake to bazillions of cupcakes, I still love these little treats the best.  I do make homemade cake and mix in homemade frosting, but either way they're delicious.  I don't know what it is about them, but they get me every single time.  I had to wrap up the extras and send them with the hubs to work the next day, because I certainly don't need them hanging out at my house.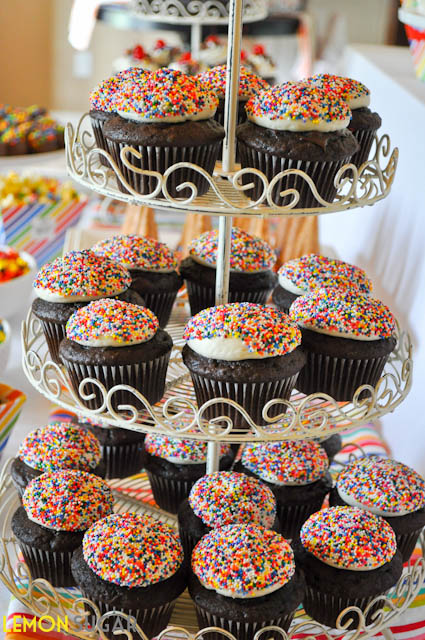 A simple chocolate cupcake filled with chocolate ganache and topped with vanilla ice-cream buttercream was the perfect cupcake to roll in rainbow sprinkles.  Super easy, super cute and very popular with the kiddos.  Look for the recipe soon on the blog.  Vanilla ice-cream buttercream is to die for!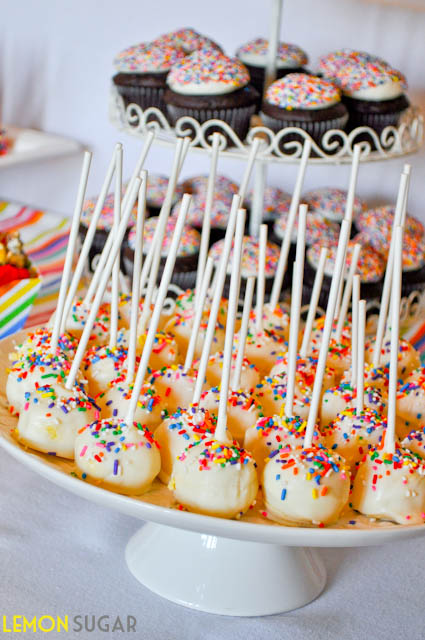 A cousin of the cake ball, the cake pop is just a cake ball on a stick.  These are lemon cake with vanilla frosting, dipped in vanilla almond bark.  I was surprised that the lemon flavor on these didn't come through as much as I thought it would, but they were pretty darn tasty anyway.  I dip my sticks into almond bark before I stick them into the cake ball, and then I flash freeze them for 30 minutes before dipping them, and it works like a charm.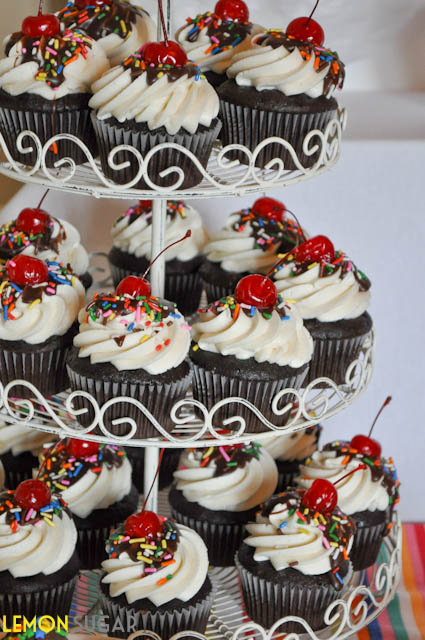 I absolutely adore these Hot Fudge Sundae Cupcakes.  I've made them many times since they first appeared on the blog, and they're always a hit.  I love how festive and fun they are and of course all of the kids love the cherry on top.  I filled these with tons of hot fudge, so they were totally decadent and indulgent.  I also added some extra vanilla bean to the frosting, which to me makes taste even more like an ice-cream sundae.  Delish.
Another look at the dessert table reveals some cute little rainbow boxes which I filled with candy covered popcorn, and of course some rainbow-colored candies.  You can also see the towering rainbow cake in the background.  I shaped the cutest little rainbow out of modeling chocolate, but it didn't want to stand up and I was out of time, so instead we went with a rainbow pennant as a cake topper.  Not as cute, but still fun.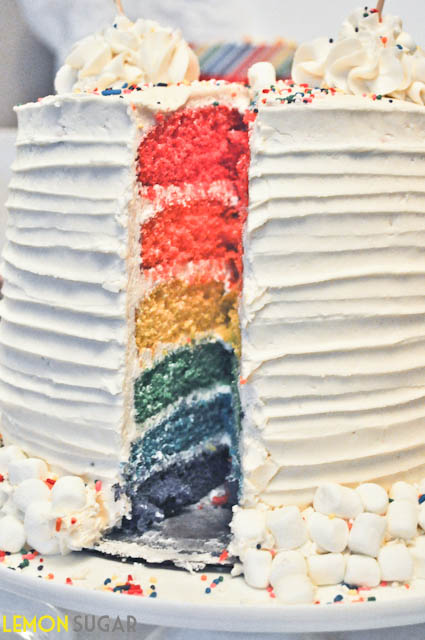 The inside of the cake reveals six layers, one for each color of the rainbow.  I used gel food coloring to reduce the amount necessary, and otherwise just used my favorite white cake recipe, doubled.  I measured and weighed each layer and baked them all at the same time, and loved how the colors stayed vibrant and bright.  Topped with copious amounts of buttercream and marshmallows (clouds), it was a lot of fun to cut open and reveal the hidden inside.
I do apologize for the awful picture, the storm was moving in about this time and I had a serious lack of natural light.
Still looks yummy though, doesn't it?
My sister made the adorable door signs for the girls, and in retrospect I should have had her make one of those cute rainbows for my cake topper.  I also made a rainbow backdrop for my beverage table, which you can sort-of see in the photo below but I didn't get a good shot of it before the party started…and you know what it's like after the party starts!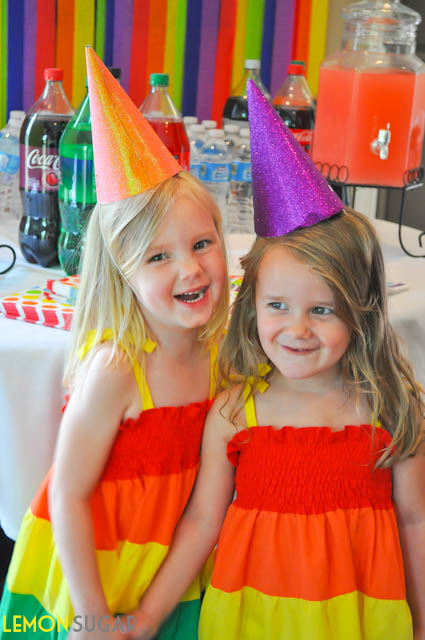 I think the birthday girls had a great day.  These two are sure to be best friends for life, and I'm happy to help them create lots of fun memories from their childhood.  And aren't their dresses adorable?  We found them at a great Etsy shop just a week before the party.  Who doesn't love a rainbow maxi dress?  😉
I hope you enjoyed the pictures of our party!  It really was a special day for these special little girls.
♥erin
2
leave a comment your way - using facebook or disqus: