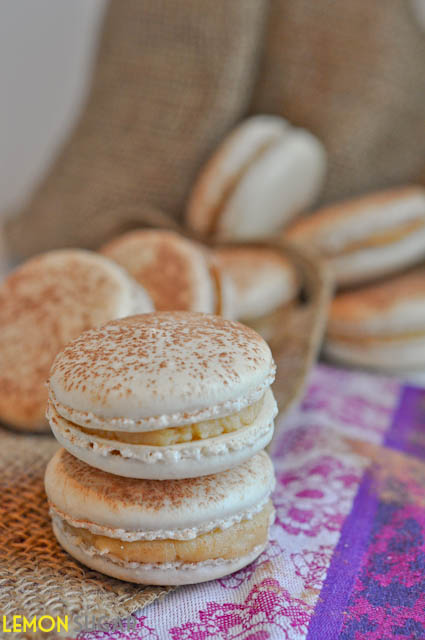 While I was making these the other day, my Mom called me, and asked what I was doing.  I told her I was making Macarons, and she said "Macaroons?"  No…MacaRONS.  Different.  Then, I tried to explain to her what they were – kind of like a meringue sandwich cookie, though with an almond-flour base…but I'm still not sure if she knew what I was talking about.
So, here you go Mom.  MacaRONS.  (Mack-uh-RONs).  I'm very confident that I didn't do a good job explaining them to her, so I'll try to do better here for you all.
Have you had baked meringue before?  You know how it gets a crispy shell, but the middle stays soft?  That's kind of what these cookies are like, too.  These have a slightly coarse texture, though – which is thanks to the almond meal.  The cookie itself doesn't have a lot of flavor so the filling is where it's at.
Macarons can be found in all different flavors – I made a Chocolate Macaron with Espresso Ganache a couple of years ago that was incredible.  Actually, I'm pretty sure that I've never had a macaron I didn't like.
When you bite into a Macaron, the shell of the cookie is light and crisp, but then you hit the center of the cookie, which is soft and slightly creamy.  The burst of flavor from the filling will pretty much ensure that your first bite won't be your last.
And if you like Tiramisu as much as I do?  These cookies will  make you very, very happy.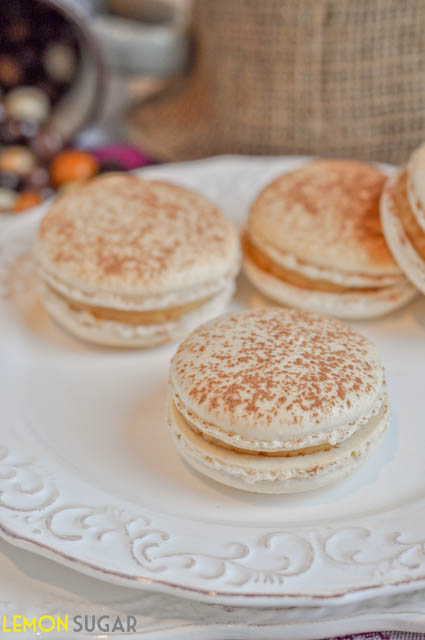 Making macarons used to really intimidate me, but just like any other complicated recipe, it's really just a matter of planning, the right equipment and precisely following the instructions.  If you break it down, you're really just making a light, egg white-based batter.  To do that, you have to make the meringue, and then gently fold it into an almond-flour base, and then pipe the batter on to cookie sheets.  Since egg-whites are finicky, you have to take care to fold the batter instead of stirring, but really – that's as far as the complications go.  You know you've made a successful macaron when you see the "feet" appear at the base of the cookie while they're baking.
If you just follow the recipe, they're really not as hard as they seem.  And they're totally worth the time investment.
This particular recipe makes a plain, "white" macaron.  You can add food coloring and change up the filling – think ganache, fruit, cream, pudding…endless possibilities for tons of flavor combos.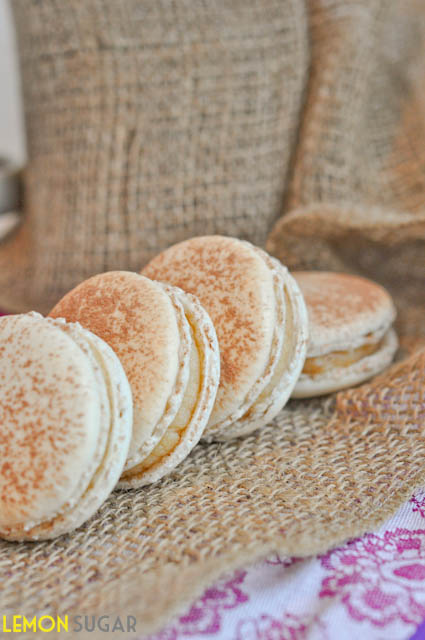 I highly recommend this recipe, and even if you aren't up to conquering the homemade macaron, I hope you'll at least seek one out at your favorite bakery.
If you've made macarons before, I'd love to hear from you.  This is one of the easiest recipes and methods I've found, so please give it a try!
And don't forget, if you haven't yet, make sure you stop by at my Facebook page and follow along…you can also find me on Twitter, Instagram and Pinterest if Facebook isn't your thing.
Thanks for stopping by today!  Enjoy!
Tiramisu Macarons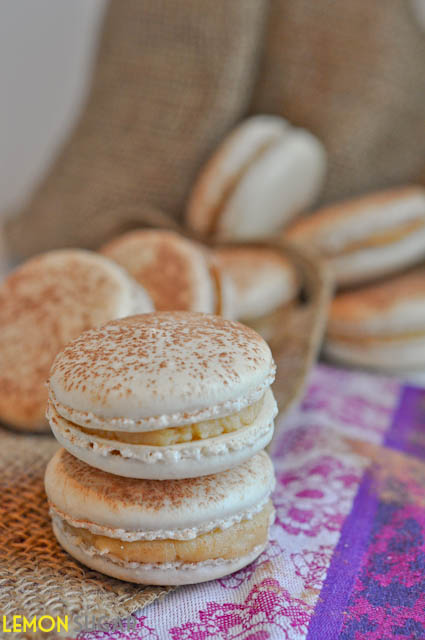 These delicate French cookies are filled with a creamy Marscapone & coffee liqueur filling, and dusted with cocoa powder for a perfect, Tiramisu-inspired Macaron. Recipe Inspiration:

Bouchon Bakery

by Thomas Keller

Serves: Approximately 30 Macarons

Ingredients

Macarons:
212 grams (approx ¾ cups + 2½ tablespoons) Almond meal
212 grams (approx 1¾ cups + 1 tablespoon + 2 teaspoons) Powdered/Confectioners' Sugar
82 grams (approx ¼ cup + 1½ tablespoons) egg whites
90 grams (approx ¼ cup + 2 tablespoons) egg whites
236 grams (approx 1 cup + 3 tablespoons) granulated sugar, plus a pinch for egg whites
158 grams (approx ⅔ cup) water
Filling:
8 ounces Marscapone cheese
¾ cup powdered/confectioners' sugar
2 Tablespoons coffee liqueur
Equipment:
Candy thermometer
Pastry Bag with ½-inch round tip
Digital kitchen scale for measuring ingredients
Instructions
Preheat oven to 350 degrees (F).
Weigh all ingredients and place in separate bowls. The egg whites should be measured into two different portions, one 82 grams and one 90 grams.
Sift together the almond meal and powdered sugar into a large bowl.
Create a well in the middle of the mixture.
Pour the smaller egg white portion (82 grams) into the well, and combine the egg whites and dry mixture with a spatula, stirring until well combined and pasty. Set aside.
Pour the other portion of egg whites (the 90 gram portion) into the bowl of a stand mixer fitted with the whisk attachment. Do not turn on the mixer at this time.
Then combine the water and granulated sugar in a medium-sized, heavy-bottomed saucepan fitted with a candy thermometer. Heat the sugar and water over medium-high heat until the syrup reaches 200 degrees. Continue to heat the syrup while you complete the next step, however keep an eye on it because it needs to come off the heat at 248 degrees.
Add the sugar to the egg whites in the bowl of your stand mixer, and beat eggs on medium speed until they reach soft peaks. If you reach soft peaks before the syrup mixture is done, reduce the stand mixer speed to low, just to keep the egg whites moving.
When the syrup reaches 248 degrees, remove it from the heat. Turn your mixer up to medium speed, and slowly pour the syrup down the side of the bowl.
Increase the speed to medium high, and beat until stiff, glossy peaks form.
Pour ⅓ of the beaten eggs into the almond mixture. Using a rubber spatula, gently fold the eggs into the almond paste until well combined.
Then, ½ cup at a time, add the rest of the egg whites into the almond mixture. Fold the eggs gently into the batter, taking care not to deflate your egg whites.
Continue adding egg whites ½ cup at a time until the batter pours off the spatula in a thick, continuous ribbon. You will use most, but not all, of the egg whites.
Transfer the batter into a pastry bag fitted with a ½ inch round tip. Twist the tip-end of the pastry bag closed while filling to prevent the batter from running out.
Holding the bag at a 90-degree angle, pipe 1.5 inch circles on to one of your parchment-lined cookie sheets, about a inch apart. If the batter is the right consistency, any peaks will smooth themselves out while baking.
Reserve the rest of the batter for the next batch.
Reduce the temperature of the oven to 325 degrees, and bake for 9-12 minutes or until the shell is crisp and satiny.
Allow to cool completely on the baking sheet, and repeat the process with the next batch of cookies.
Once the cookies are completely cooled, gently peel them off the parchment paper, and prepare the filling.
For filling:
In a small bowl, beat together Marscapone cheese, powdered sugar and coffee liqueur.
Transfer to a small piping bag, and pipe a dallop on to half of each cookie, then sandwich them together.
Dust assembled cookies with cocoa powder, if desired.
Store cookies in an air-tight container in the refrigerator for up to 4 days.
Enjoy!
2
leave a comment your way - using facebook or disqus: