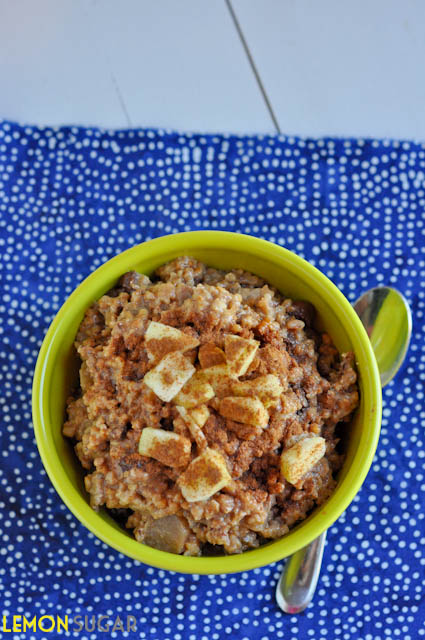 If there's one meal of the day that I'm really bad at, it's breakfast.  For one, I'm not a morning person at all.  I like to sip on my coffee for at least an hour before I eat breakfast, but on weekday mornings, that's just not an option.  The first-grader has to eat breakfast just 20 minutes after she rolls out of bed, and she never, ever wants anything easy – she always wants pancakes, waffles, french toast…cereal is always frowned upon, as are toast, scrambled eggs and yogurt.
I do freeze homemade waffles and pancakes for an occasional "treat" breakfast, but I'm always looking for quick and easy (but healthy) breakfast options to get us through the week.   My girls do really like oatmeal, but steel-cut oats take a bit too long to cook to get us out the door in time.
Cue the slow-cooker.
My husband actually came across this recipe and we had everything we needed so we whipped it up one night.  HUGE hit.  The girls loved it, I loved it, and he loved it!  You can easily double this recipe and have plenty for an entire week, and you could easily play with the flavors (omit the apples and add maple syrup, leave it plain, etc.).  It's absolutely perfect for a crazy weekday morning.
I like to add ground flaxseed to ours, it's one of those hidden, awesomely healthy ingredients that the kiddos don't even realize is in there.  Flaxseed is a super-food, full of Omega-3 fatty acids, lignans (antioxidants) and fiber. Plus, if you aren't on the steel-cut oats train, you better hop aboard.  Steel cut oats are far less processed than rolled oats, and are a great source of fiber, complex-carbs and even fiber.
We use almond milk in our version of this recipe, which is not only a heart-friendly option, it also tastes amazing – especially in oatmeal.  I switched to almond milk from cow's milk several months ago and haven't looked back, so give it a try!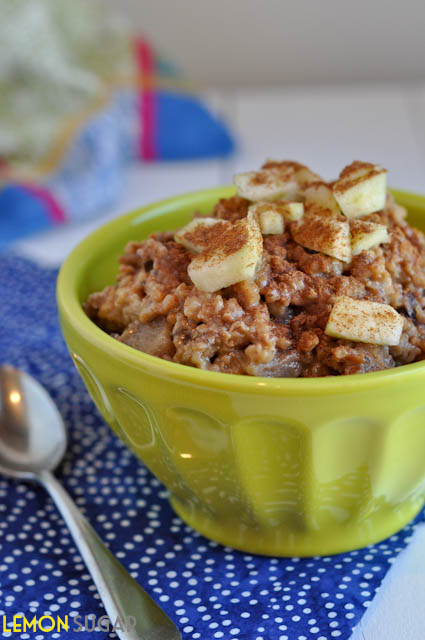 Please note that all slow-cookers are different, so while the recipe says to cook for 7 hours, yours could be very different.  I doubt it would take much longer than 7 hours, in fact ours was done in about 4 hours – I also had to add a bit more milk to get it to the right consistency for us.  If you can, I'd recommend that you try this during the day once while you can monitor it.
You can also change up the ingredients to suit your tastes – so if apples aren't your thing just don't put them in!  I like to top ours with some more chopped apple for a bit of crunch, and another sprinkle of cinnamon, and my girls like another splash of milk on theirs.  The best part about this whole meal is that you can save the leftovers and just reheat them in the microwave for a quick, 60-second breakfast.
Hope you love it!
And don't forget, if you haven't yet, make sure you stop by at my Facebook page and follow along…you can also find me on Twitter, Instagram and Pinterest if Facebook isn't your thing.
Thanks for stopping by today!
♥erin
Slow Cooker Apple-Cinnamon Steel-Cut Oatmeal
A delicious, no-fuss, healthy breakfast that's prepared the night before, this slow-cooker oatmeal is infused with comforting apple and cinnamon flavors. A lifesaver for busy mornings! Recipe source: Adapted from
The Yummy Life
Ingredients
2 large apples, peeled, cored and cut into ½-inch pieces
2 and ½ cups fat-free milk (we used almond milk)
1 and ½ cups water
1 cup uncooked steel-cut oats
3-4 tablespoons brown sugar
3 Tablespoons butter, cut into 5-6 pieces (optional)
½ teaspoon cinnamon
1 Tablespoon ground flax seed
¼ teaspoon salt
Instructions
Generously spray the inside of a 3.5 quart (or larger) slow cooker with cooking spray.
Combine all ingredients in slow cooker.
Stir and cover.
Set cooker for 7 hours. Remember, cooker times can vary widely.
Top with garnish of your choice - raisins, sugar, milk, butter, nuts, etc.
Store leftovers in an airtight container in the refrigerator. Enjoy!
0
leave a comment your way - using facebook or disqus: